World Indoors Day 2 AM Recap: Keely Hodgkinson Withdraws (Is Ajee' Wilson the Favorite?), Jakob Ingebrigtsen Cruises, & High Jump Gold for Ukraine
By LetsRun.com
March 19, 2022
BELGRADE, Serbia – The biggest news of the second morning of competition at the 2022 World Athletics Indoor Championships came off the track as Great Britain's Keely Hodgkinson, the Olympic silver medalist and heavy favorite for gold, withdrew from the women's 800 meters due to a quad injury. With Hodgkinson out, Sunday's final figures to be a wide-open affair and an opportunity for American Ajee' Wilson to upgrade the silver medals she earned at these championships in 2016 and 2018 to a gold in 2022.
In the 1500 meters, Olympic champion Jakob Ingebrigtsen cruised into his first World Indoor final while Americans Josh Thompson and Sam Prakel both earned time qualifiers to advance in their first global championships.
Article continues below player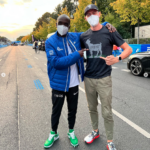 Kipchoge loves the 1:59:40 Shirt Get Yours Today
What a legend!
Christian Coleman (6.51) and Marcell Jacobs (6.53) both made it safely through the first round of the men's 60 meters ahead of tonight's semis and finals, winning their heats, but the fastest qualifier was 2014 World Indoor silver medalist Marvin Bracy of the US (6.46), who set a personal best to win heat 4.
In the sole final of the morning session, Ukraine's Yaroslava Mahuchikh took the gold in the women's high jump, clearing a world-leading 2.02 meters, as Australia's Eleanor Patterson took silver with an indoor Oceania record of 2.00 and Kazakhstan's Nadezhda Dubovitskaya the bronze at 1.98. Considering Mahuchikh's journey to Serbia involved "hundreds of phone calls, many changes of direction, explosions, fires, and air raid sirens" after Russia invaded her country, hers may be the performance of the meet. More on Mahuchikh's journey here.
Analysis below. Full results here.
Women's 800 Quick Takes – Wilson, Goule to Square off in Final, Baker Out
With Hodgkinson out, Jamaica's Natoya Goule is one of the favorites for gold, and she looked good in winning heat 1. The USA's Olivia Baker ended up last in the heat. She ran in 6th until the bell when she moved up into 4th trying to get into the top 2 to advance to the final, but ran out of steam the final straight.
Hodgkinson and Wilson were slated to square off in heat #2, but with Hodgkinson out Wilson had no trouble taking control of her heat when it mattered. Hedda Hynne or Norway led with Wilson in second, and at the bell Wilson powered away to win the heat with ease.
Embed from Getty Images
In heat 3, Ethiopia's Habitu Alemu got the win in 2:01:12, the fastest time of the day, as Halimah Nakaayi, the 2019 World Champ, only advanced to the final as a time qualifier in 3rd.
Hodgkinson is second British 800m star to withdraw within 24 hours
On Friday, Great Britain's Elliot Giles, the second-fastest 800m man in history indoors, withdrew prior to the men's 800 prelims due to injury. A day later, Olympic silver medalist and 2022 world leader Keely Hodgkinson withdrew from the women's 800, making for a rough stretch for fans of British athletics.
Hodgkinson dealt with injuries to her Achilles and quad following her breakout 2021 season, but appeared to be no worse for wear when she opened her indoor season in Birmingham on February 17, clocking 1:57.20, the fastest time in the world indoors for 20 years. She then finished second in the 400 at the British championships on February 27.
She made the trip to Serbia, where she featured in the pre-meet press conference, and a British athletics staffer told us that she went through her warmup Saturday morning but ultimately felt it would be unwise to compete as her quad was still bothering her.
Ajee' Wilson is now the favorite for her first global gold medal
After she was effectively blocked from gold by intersex athletes Caster Semenya and Francine Niyonsaba during the prime years of her career from 2015-2018, things have swung the other way for Wilson in 2022. With Hodgkinson out and her fellow Olympic medalists Athing Mu and Raevyn Rogers skipping the meet, Wilson is the (slight) favorite for Sunday's final, though on paper Jamaica's Natoya Goule and Uganda's Halimah Nakaayi, who upset Wilson to win the 2019 World Outdoor title will be serious threats. Nakaayi however, only made Sunday's final as a time qualifier.
With Hodgkinson out, only two of last year's Olympic finalists will run tomorrow's 800 final: Goule (who was 8th in Tokyo) and Ethiopia's Habitam Alemu (6th). 
Halimah Nakaayi is hoping to run better in Sunday's final
Nakaayi is the reigning World Outdoor champion but failed to make last year's Olympic final in Tokyo as she said she battled a tendon injury all year. That said, she still ran pretty well in 2021 (1:58.03 sb) and has run 1:58 and 1:59 so far this year indoors. She needed a time qualifier to advance to the final today, but she also said she was feeling a little sick today and was optimistic that she would be feeling better by tomorrow evening. She's certainly capable of winning, but the same could be said for most of the finalists now that Hodgkinson is out.
Aussie Catriona Bissett learned a lot when she flamed out in the first round of Tokyo.
The Aussie record holder said she learned a lot from her first-round flame out in the Olympics – it's important to have a plan and to stay relaxed.
Olivia Baker Gets Experience at Her First Worlds
Men's 1500 – Ingebrigtsen Cruises, Americans Get in on Time
All of the major names advanced to Sunday evening's 1500 final, though Americans Josh Thompson and Sam Prakel only advanced as time qualifiers.
Thompson ran 3:38.61 in heat 1 to finish 3rd behind Ingebrigtsen, while Prakel was 4th in heat #3 in 3:38.69 and was the final time qualifier for the final after 3rd place in heat #4 only ran 3:39.38.
Embed from Getty Images
Americans are grateful to be in the final and hope to run stronger tactical races in the final
Both Thompson and Prakel were disappointed with how they ran today, feeling that they allowed too many athletes to pass them and putting them in poor position at the bell (both men were 5th at the bell with only the top two qualifying automatically.). Still, neither gave up and both were able to move up on the last lap – Prakel to 4th, Thompson to 3rd – to nab time qualifiers.
The jump in competition at a World Championships can be jarring if you've never experienced it before, and Thompson and Prakel both got a lesson today. The problem is, even if they improve their tactics tomorrow, it is hard to see either factoring for a medal. The competition level will be even better in the final with the Olympic champ Jakob Ingebrigtsen, a 3:29 man and Olympic 4th placer in Abel Kipsang of Kenya, an in-form Ollie Hoare, and reigning champion Samuel Tefera of Ethiopia. The good news for Thompson and Prakel is that they have nothing to lose.
Jakob Ingebrigtsen is super confident and ran like it
The Olympic champ and indoor WR holder ran the beginning of his race in the back of the pack for the first 300 (48.5) before moving up to the front at 800 (1:59.66) and controlling things from there. He let up at the line and was passed but looked great in finishing second in 3:38.42.
We filmed a smiling and laughing Jakob Ingebrigtsen in the mixed zone after his the heat, but it's all in Norwegian. We asked a member of the Norwegian press to tell us what they were talking about it.
He said that yesterday Jakob had told him something along the lines of, "Usually I'm humble, but if you want to be the world champion you can't be humble.."
"If you come here as the Olympic champion and WR holder, you have a confidence with you. You can't pretend you're not confident. It's really important to use that confidence in his racing as well."
The reporter said that Jakob said he'd only run in the back of the pack early if he was super confident in himself.
Ollie Hoare: "I'm thinking [of] winning."
In the last heat of the day, the former Olympic 1500 record holder Abel Kipsang went out super fast (55.73) and then kicked hard for the win late (3:37.67) as Ollie Hoare smartly stayed off the pace early (56.99 at 400) but cruised into final by finishing second in 3:38.43.
Hoare was in a great mood after the race and when we asked him what he's thinking of the final he said, "I'm thinking winning."
Hoare said he had a nice chuckle with Ingebrigtsen while they were running outside the stadium. When we asked him what they were laughing about , he said it's that they both were aware the stadium is gaining a quick reputation for not having much, if any, toilet paper in the toilets.
Hoare feels like he learned a lot from the Olympics where he didn't enjoy himself enough and is trying to follow the advice Nick Willis gave him of trying to find something besides track to be obsessed about and to just relax. As a result, he just binged on Season 4 of Drive to Survive – the Netflix series on F1.
Neil Gourley said the guys at Virginia Tech will love the big inside move he made to move to the lead and win his heat.
Men's 60: The Big 3 Move On To The Semis
The men's 60 meters got underway this morning and the Big 3 – the two American Christian Coleman and Marvin Bracy as well as reigning Olympic 100 champ Marcell Jacobs of Italy all had zero problems in their first=round heats.
Coleman, the indoor world record holder and defending champ as well as world leader (6.45), started things off with a dominant 6.51 victory in heat 1. Even though he eased off before the line, he won by 0.10, the largest margin of victory of the morning and one equaled by the Olympic champ Jacobs (6.53) in heat #5. Jacobs was really moving at the end of his race. However, the fastest time of the day came from Bracy in heat #4 who PR'd for the second straight race – running 6.46 to win heat #2 (his previous pb of 6.48 got him 2nd at USAs).