World Athletics Bans Russian and Belarussian Athletes Because of Russia's Invasion of Ukraine
by LetsRun.com
March 1, 2022
Due to the invasion of Ukraine, World Athletics has banned all athletes, officials and support personnel from Russia and Belarus from all World Athletics Series events "for the foreseeable future."
This means no athletes from either country will be allowed to compete at any of the global track and field team competitions in the world, including the World Indoor and Outdoor Championships, the World Relays, the Diamond League, or even this weekend's race walking team championship.
Article continues below player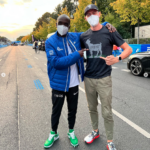 Kipchoge loves the 1:59:40 Shirt Get Yours Today
Shirts are $10 off if he breaks the world record and you order today.
Correction: The World Athletic Series does not include one day meetings, like the Diamond League, or World Indoor Tour so Russian athletes will be allowed to compete at thes meets.
Yesterday, the International Olympic Committee had called on all sports federations to ban Russian and Belarusian athletes.
World athletics head Seb Coe said he is normally against punishing individual athletes for the actions of their government, but it was time to act.
Coe said, "Anyone who knows me will understand that imposing sanctions on athletes because of the actions of their government goes against the grain. I have railed against the practice of politicians targeting athletes and sport to make political points when other sectors continue about their business. This is different as governments, business and other international organisations have imposed sanctions and measures against Russia across all sectors. Sport has to step up and join these efforts to end this war and restore peace. We cannot and should not sit this one out."
Quick Take: This action needed to be taken. Russia needs to be treated as a pariah for the invasion of Ukraine.
Discussion: Russian athletes banned from WA series events.
*Full World Athletics Release