Who!? Unheralded Shane Streich Breaks American Record in 1000m
By LetsRun.com
February 12, 2022
An American middle distance record did fall this weekend. Just not the one everybody expected.
Fifteen hours after Cooper Teare and Cole Hocker came oh-so-close to breaking the American record in the mile in Chicago, little-known Shane Streich of the Atlanta Track Club ran 2:16.16 this morning at the American Track League Eastern Indoors in Louisville to break Bryce Hoppel's year-old American indoor 1000-meter record of 2:16.27.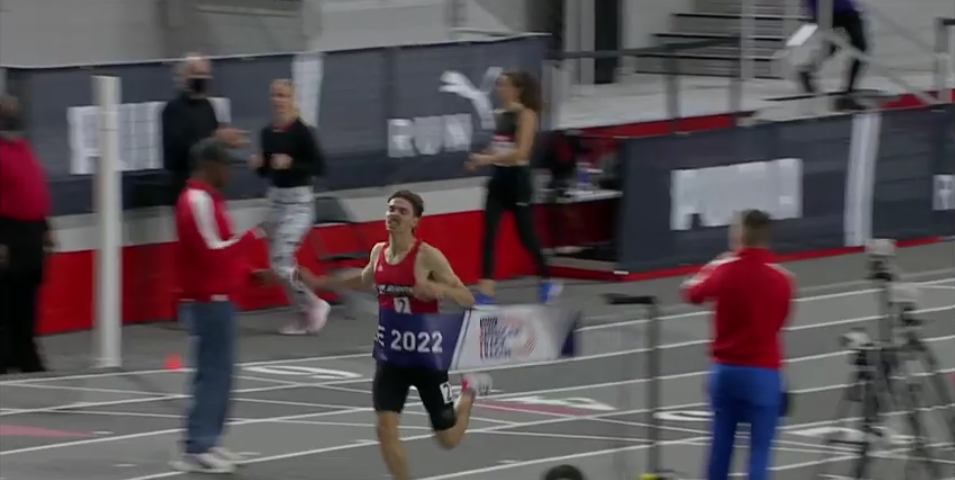 Article continues below player
---
After following pacemaker Erik Sowinski through the first three laps, Streich took over at 600 meters (1:21) and when he hit 800 and the bell in 1:48, it was clear the American record was in jeopardy. He closed hard, pushing through the line and stopped the clock at 2:16.16 to shave .11 off Hoppel's mark.
The result was unlikely, partly because the race was billed on the ESPN2 broadcast as an Irish record attempt by Luke McCann (that attempt would succeed as McCann finished second in 2:17.40 to break the record, just ahead of Streich's Atlanta Track Club teammate Abraham Alvarado who was third) and partly because…who the heck is Shane Streich?
"It's amazing," Streich said after the race. "I knew I could do it. I know a lot of people don't really know my name, and that's okay."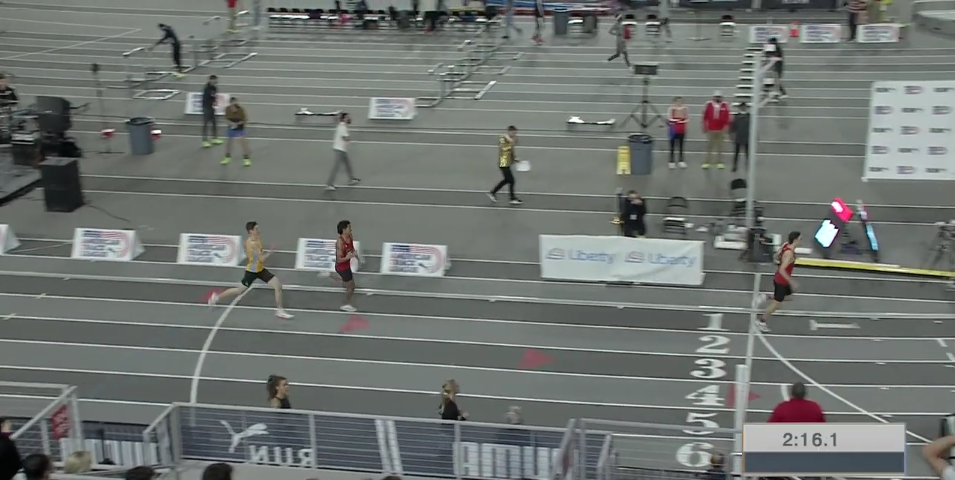 Streich, for the record, is a 25-year-old Minnesota native who ran five years of track & field at the University of Minnesota. He graduated in 2020 with a personal best of 1:48.83, having never qualified for NCAAs and with a best Big 10 finish of 4th (in the indoor mile in 2017). But he still had eligibility remaining and used his sixth COVID year at Lipscomb University in Nashville, where he made it to NCAAs outdoors last year and ran a pb of 1:46.70, finishing 6th in the 800m final. He then went to the Olympic Trials, where he missed qualifying for the final by one spot and would lower his pb to 1:45.85 after the Trials, signing with the Atlanta Track Club shortly thereafter. 
This year Streich has continued to improve. He opened with a 1:47.85 for 3rd at the Vanderbilt Invitational, then won the "B" mile at the Millrose Games in in 3:57.98, then won the Norb Sander Invite in a PB of 1:46.07 (his indoor PB before this year was 1:49.50). Now he is the American record holder.
"It's amazing," Streich said. "I never would have thought that about two years ago. There's been multiple times throughout my career I've thought about hanging up the spikes, and now here we are, American record holder."
Despite his limited success, Streich said he knew the American record was a possibility today even though it was the first 1,000m race of his life. 
Streich was playing with house money as Atlanta Track Club coaches Amy and Andrew Begley reward athletes who PR with a free meal. Stretch was guaranteed a free meal because it was his 1,000m debut. Not sure what the club policy is for American records.
"[I'll] probably get a nice craft beer just to celebrate," Streich said. 
He earned it.
Results and post-race video below.
Streich's 200m splits (courtesy Paul Doyle): 26.61, 26.99, 27.63, 27.45, 27.50.