Cooper Teare Beats Cole Hocker Again in the Mile as Both Just Miss American Record
by LetsRun.com
February 11, 2022
Bernard Lagat's American record in the mile lives another day.
364 days after Cooper Teare and Cole Hocker ran 3:50.39 and 3:50.55 and to obliterate the NCAA record in the mile, they took to the track at Gatley Park in Chicago targeting Lagat's 3:49.89 American record in the mile.
Both men ran personal bests but came up just a little bit short of making history. The result was the same as last year as Teare edged Hocker, running 3:50.17 to Hocker's 3:50.35, as they remained the third and fourth fastest American indoor miler of all-time.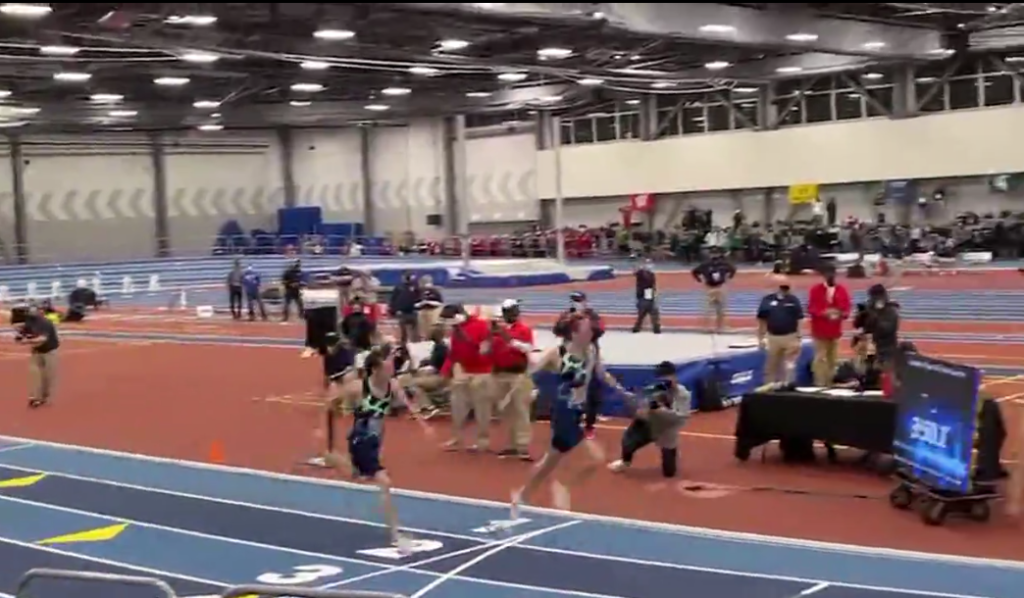 "It kind of sucked to PR but not get it just because it was so close," said Teare after the race.  "I felt really good doing it even though [I was not] not feeling great coming into the meet."
This actually was a three man race at the bell, shortly after which Michigan State senior Morgan Beadlescomb, who sports a 13:21 5000 pb, tried to go by Hocker. Hocker held him off and he and Teare would pull away over the final lap, but Beadlescomb was rewarded with a massive PB of 3:52.03 – making him the fourth fastest collegiate indoor miler in history, not bad for someone who had never broken 4:00 before tonight (previous pb of 4:01.22 for mile and 3:41.69 for 1500).
Results
The Race
You can watch the race below:
(When we heard the race wasn't going to be streamed live, we got a LetsRun.com fan to stream it live on our youtube channel. Oregon Track and Field also streamed it on their Instagram, and the best video below was put up after the fact by Beer Mile Media)
Article continues below player.
When you miss a record by .28, it really makes sense to nit-pick the splits.
This one got out really slow, the first 209 meters in 30.4, led by the rabbit Matt Wisner with Teare coming through in 31.37. That's 4:01.6 pace (Hocker was slightly ahead at 31.13- 3:59.7 pace). 
That left them with ground to make up and they knew it. The three finishers all ran the second lap in 28.1 which would be the fastest of the day except for the bell lap. 
Wisner hit 809 in 1:56.89 which was .5 slower than the rabbit last year. Then, the second rabbit James West took over and tried to lead through 1209, but Cole Hocker was getting antsy and seized the lead just before 400m to go (2:55.0). Teare would pass Hocker and lead onto the backstretch heading into 300 meters to go. Teare hit the bell in 3:23.48 and would need a 26.4 to get the record. He closed in a very respectable 26.69 but it wasn't enough.
QT: Teare and Hocker closed faster than last year but it still wasn't enough.
Last year Tear ran his last 200 in 27.19. This year it was half a second faster (26.69) but he had too much ground to make up. After Millrose, both Teare and Hocker thought they were in better shape than last year. Teare reiterated that thought tonight after the race, but it's not significant better shape (unless this track is somehow much slower than Arkansas) and the pacing on the first lap may have been what cost them the record.
Hocker revealed after the race the plan was to run a slight negative split and to cut things down over the second half (he said they wanted 1:55 at 800 and they were over 1:56). "We had to cut it down a little bit more aggressively than we wanted," said Hocker.
Plus it's harder to accomplish due to expectations.
"I think last year it was just kind of like my brain was off and we were just going. I think this year when you have it in your mind that you want to run this time, it's a little scarier than when you just go and randomly run 3:50 which is kind of how it worked last year. But I think you could see with how we finished [that we had more in the tank as] neither of us was keeled over," said Teare. "But at the end of the day, I think there is a little more left in the tank if we run the race a little differently."
To break an American record, nearly everything was needs to be spot on and that wasn't the case. "I'd say it was 9 out of 10," said Hocker who also talked about how he knew he'd be in the hurt box for most of the race today as a time trial produces a different type of pain than a tactical race.
Quick Take: Teare said that the focus is now USA indoors and that World Indoors isn't in the cards
Cooper Teare interview
Cole Hocker Interview
Discussion: Official American mile record attempt – Official discussion thread and live stream