USATF Indoors Women's Recap: Ajee' Wilson x 8, Elle Purrier St. Pierre Crushes Monson on Final Lap
by LetsRun.com
February 27, 2022
SPOKANE, Wash. — The 2022 USATF Indoor Championships came to a conclusion on Sunday in Spokane and we recap the women's Sunday distance action below. All of our 2022 USATF indoor coverage is here.
Women's 3000: A Extra Motivated Elle Purrier St. Pierre Crushes Monson on Final Lap
Article continues below player
A day after being upset in the women's 1500 and denied a spot on the US's World Indoor team, Elle Purrier St. Pierre (PSP) returned with a vengeance in the women's 3000 tonight as she blasted a 28.88 final 200 to destroy Alicia Monson and win going away in 8:41.53 to Monson's 8:43.86 as both booked their tickets to World Indoors. Weini Kelati was third in 8:47.77.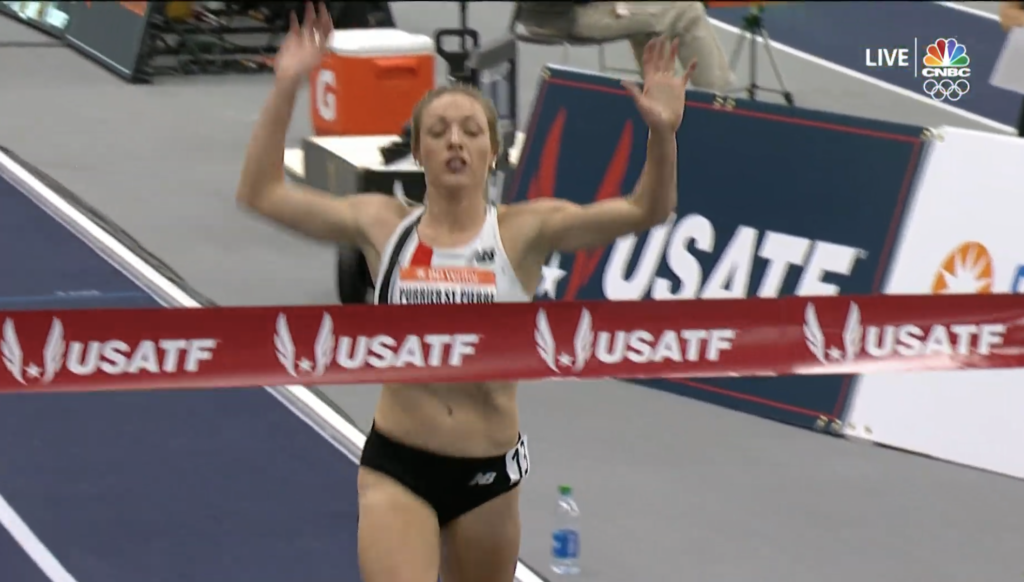 Monson did all of the work in this one – sometimes a bit unevenly – as she led from the start until just before the final 200. The opening splits were 2:56.28 at 1k, and 5:55.51 at 2k (2:59.23 2nd 1k, 4:42.61 @ 1600).
With 600 to go, Dani Jones had been dropped from the lead pack and it was your eventual top 3 clear of everyone else.
On the penultimate lap, Monson ratcheted the pace down from 34/35 seconds to 32.6, but all that did was drop Kelati. It did nothing to shake PSP, who went by just before the bell and crushed Monson on the final lap 28.88 to 31.10. These two were clearly better than everyone else.
Top 10 Results below. Full results here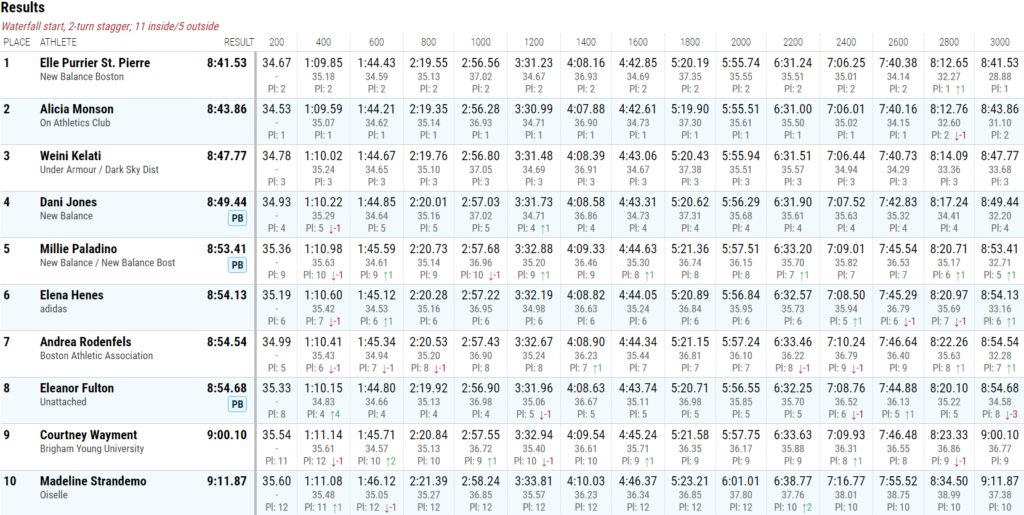 Quick Take: Being left off the Worlds team at 1500 gave Elle some extra motivation today
PSP finished a disappointing third yesterday in the 1500, so she had to run the 3k today if she wanted to go to Worlds. That loss gave her extra motivation. "I don't think I would have had such a fuel under my butt [if I hadn't lost the 1500]. I think I probably still would have raced (the 3,000 if she won the 1500)," she said.
PSP didn't want to get into the details of what she thought happened in the 1500 saying, "I was just asleep. I could really get into the details, they're a bit personal, but I really just wasn't feeling myself on the line at all."
"This sport is always testing me. Yesterday was really tough but it's done. I knew it wasn't a great representation of me so I wanted to come back here with a bigger fire and get the job done," said PSP.
She said she'll probably do the Worlds, but a firm decision had not been made.
Quick Take: Another great US championship for New Balance Boston
At the Olympic Trials last year, Purrier St. Pierre and New Balance Boston teammate Heather MacLean went 1-3 in the 1500 to claim two of the three spots on Team USA, a massive success for the team and its coach Mark Coogan. And while PSP disappointed in the 1500 yesterday, overall it was another successful US championship for NB Boston in Spokane as the team claimed wins in both the 1500 and 3000 thanks once again to the performances of MacLean and Purrier St. Pierre. (The LetsRun.com Coaches Tour Talk with NB Boston Coach Mark Coogan is here).
QT: Another Worlds team for Monson, who tried to dampen PSP's kick
Alicia Monson has yet to win a US title on the track, but she has made the two World/Olympic teams she has tried out for as a pro and has won a US title in cross country.
There's nothing wrong with getting beat by PSP in the 3k. PSP looks like a medal contender at Worlds with her 1500 speed and ability to close.
While it looked like Monson just rabbited the first 2800m for PSP, she was varying the pace hoping to tire the kick out of PSP.  Monson felt just leading the entire race and pushing a consistent pace would be too difficult without a rabbit. 
"I kind of tried to kind of go back and forth to take a bit out of the kick but obviously she had a good one," said Monson. The splits reveal Monson's strategy, as after 800, she'd run a faster lap (roughly 35 seconds) and then a slower lap (37 seconds) until the final 1000m.
None of it worked to shake off PSP. PSP afterwards said of Monson's front running, saying, "I was very thankful for Alicia's pacing. I mean leading that whole race and doing all the work."
Women's 800 Ajee' Wilson x 8
The women's 800 was a classic Ajee' Wilson 800 race on the US domestic scene. Grab the lead early, control things from there, and win.
Just when it looked like Wilson was going to cede the lead, she edged into the lead at 200 (29.38). Wilson led the rest of the way as she hit splits of 61.61 and 1:32.58. Former Stanford runner Olivia Baker, now of the Atlanta Track Club, moved into second just before 600 and she and Wilson would pull away from the rest of the field the rest of the way.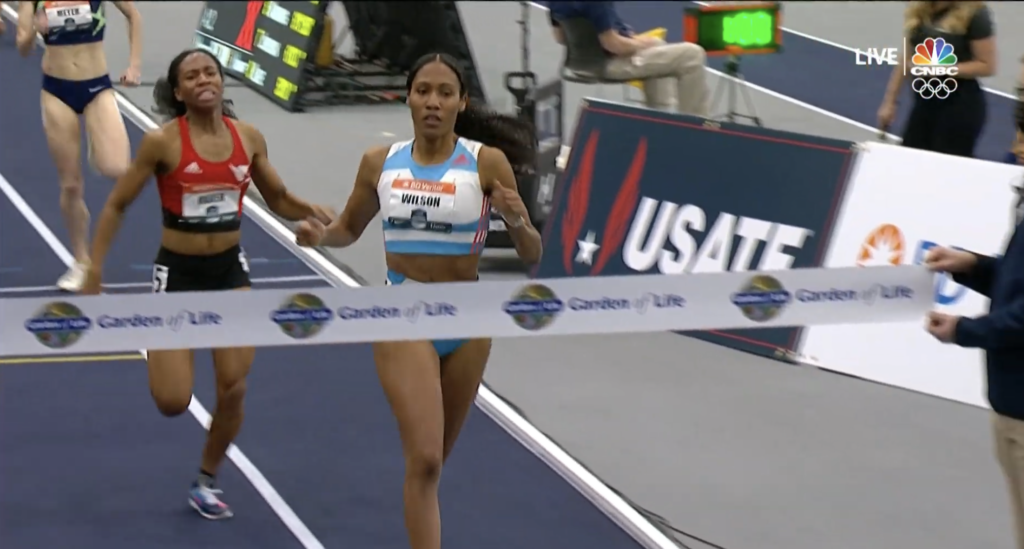 There was no drama over the final 200. Wilson was better than Baker and Baker was way better than everyone else. Wilson got the win in 2:01.72 to Baker's 2:02.14 as Brooke Feldmeier, who briefly held the world lead this winter, was best of the rest in 2:03:01 – the same time given to former UVA runner Michaela Meyer, the 2021 NCAA 800 outdoor champ, whom she edged at the tape.
This was Wilson's 8th USA indoor title (6 at 800, 1 at 600, 1 at 1000), surpassing the 7 of Joetta Clark Diggs.
Results
Quick take: Can Ajee' upgrade to gold?
Ajee' Wilson has won so many US titles that it can be hard to keep track of them all. But she does remember her first one (2013 as an 18-year-old), which will celebrate its 10th anniversary next year.
US titles may be taken for granted, but world titles definitely aren't for Ajee'. A world title and an Olympic medal are the only things missing on her resume. She has won silver at the last two World Indoor Champs, and will have her hands full with 1:57 indoor runner Keely Hodgkinson this year (assuming Hodgkinson runs; she ran the 400 at the British champs this weekend), but the goal is to take home gold in Serbia.
Quick Take: Olivia Baker's move to the Atlanta Track Club pays off
After failing to advance out of the first round at the Olympic Trials last year and being accepted to medical school, Baker was pondering retirement at the end of the 2021 season. Instead, she relocated from Texas to Atlanta to join the Atlanta Track Club, and the decision has paid off big-time as she has run 2:00 twice this year and is now heading to her first World Championships. Yes, it helped that American stars Athing Mu and Raevyn Rogers weren't at this meet, but that left the second spot on Team USA behind Wilson wide open. Baker made the most of that opportunity, and while she won't be favored in Belgrade, history has shown that anything can happen in the 800 at World Indoors.
For more on Baker, check out this profile by Alison Wade of Fast Women.
We spoke to Baker after the prelims here.
All our 2022 USATF Indoor Coverage here