Sunday in Spokane: Cole Hocker Doubles Up, Bryce Hoppel is Very Good
by LetsRun.com
February 27, 2022
We recap the men's distance action from the final day of the 2022 USATF Indoor Championships below. All of our 2022 USATF indoor coverage is here.
Men's 1500: Cole Hocker x2.
Article continues below player
Like our coverage from Albuquerque?
A year ago at the end of the indoor season, Cole Hocker arrived as the teenage hope for US distance fans when he completed the mile/3000 double at NCAAs.
A year later, after finishing 6th in the Olympic 1500 final, Hocker ended his first professional domestic indoor season by completing the 3000/1500 double at USAs. Hocker got the win in a meet record of 3:39.09 thanks to a 26.89 last lap that took him from fourth to first as Josh Thompson was second in 3:39.24.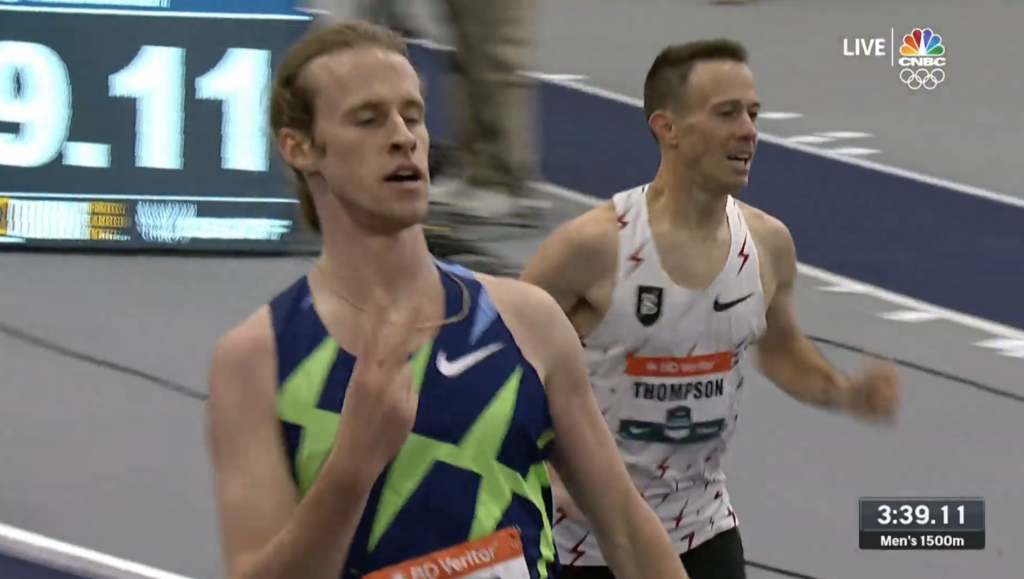 The race
Despite this year's double being physically easier than last year's (two single races in different days, vs last year the 3000 win at NCAAs coming less than an hour after the mile), Hocker did not choose to run in the front early on in today's 1500. At 700, Hocker was 10th in the 12-person field but soon started to move up and passed 800 in 2:00. By 900 (2:14.41 for Hocker), he was in 6th and at the bell (3:12.20 for Hocker) he was in 4th. He didn't pass Thompson until 10 meters before the finish line, but he got there in time thanks to his 26.89 final lap and he flashed up two fingers as he broke the tape to signify his second US title of the weekend.
Top 10 (Full results here)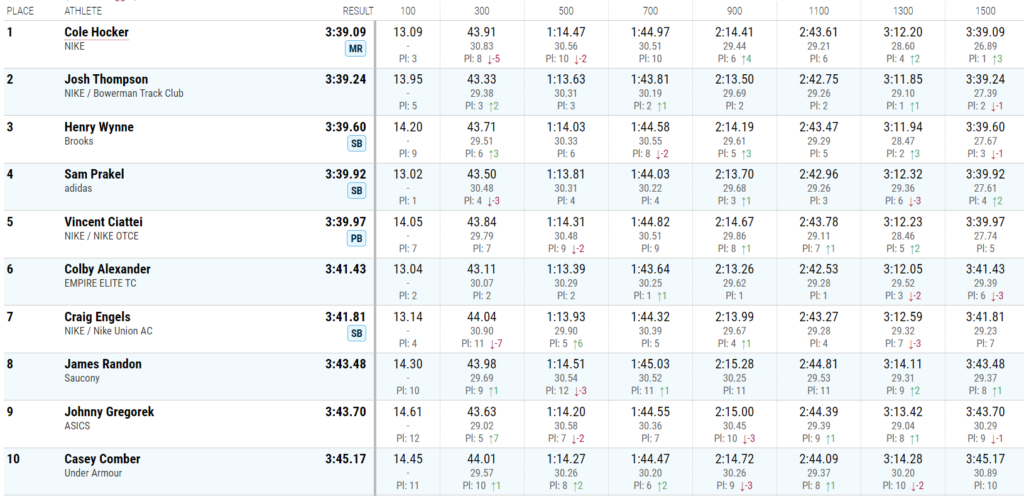 Quick Take: Hocker has accomplished an awful lot before his 21st birthday
Cole Hocker is still only 20 years old, yet if he were to retire today, he'd finish with a career most American milers would kill for. Already, he's won three NCAA titles, three US titles, run 3:50 in the mile and 3:31 for 1500 and finished sixth at the Olympics. While his wins this weekend were expected, it doesn't make what he has accomplished any less impressive. If anything, it's a testament to how great Hocker is that, at 20, many viewed it as a foregone conclusion that he would win two US titles this weekend – and he did.
As far as we can tell, Hocker is just the third man to win both the 1500 and 3000 (or their equivalents) at the same USA Indoor champs, joining Will Leer (2013) and Paul Chelimo (2018). Hat tip David Woods of the Indy Star for the research on that one.
Quick Take: Hocker's talent won out today, but he'll have to be in better position if he is to be a factor at World Indoors
With 70 meters to go, Hocker was in third place, boxed in, and about three meters behind leader Josh Thompson. But he managed to free himself, and in a similar race to last year's Olympic Trials final, he ran down a different member of the Bowerman Track Club to earn the win (this time it was Thompson instead of Matthew Centrowitz).
If he is to medal at World Indoors (if he goes; Hocker said he is still undecided), Hocker will not be able to leave it so late. Hocker was able to spot Thompson a couple of meters coming off the turn, but the competition will be a lot better at Worlds. If Hocker gives a runner like Ollie Hoare the same sort of lead at Worlds, he won't catch him.
Quick Take: Josh Thompson finally makes it onto a US Worlds team
Thompson was the only Bowerman Track Club athlete at USAs this year but he delivered, taking second to make his first World Championship team. It's been a few years in the making.
In 2019, Thompson was 3rd at USAs in the 1500 but didn't have the qualifying standard for Worlds. In 2020, Thompson won the 1500 at USA Indoors, but World Indoors that year was cancelled due to COVID-19. In 2022, Thompson will finally be heading to Worlds, assuming things don't deteriorate further in Europe after Russia's invasion of Ukraine (in a statement earlier this week, World Athletics said it had no reason to expect Worlds would not happen as scheduled).
"With everything going on, I sure hope Worlds still happens," Thompson said. "I'm pretty pumped about it."
Men's 800: Bryce Hoppel Too Good
Bryce Hoppel looked magnificent as he earned his second US Indoor title in the men's 800.  Hoppel took the lead just before the bell and never looked back as he won by one full second in 1:45.30.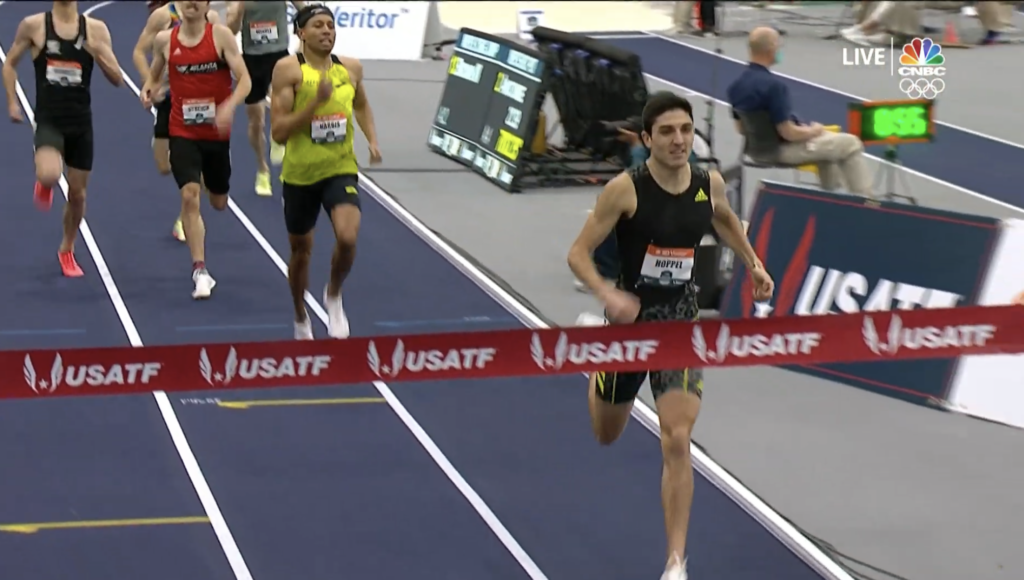 New Brooks Beasts team member Isaiah Harris, the 2018 NCAA champ and 2017 world outdoor team member, went from fourth to second over the final 200 to grab the second Worlds team spot in 1:46.30 as the Atlanta Track Club's Shane Streich, the new American record holder at 1k, was third in 1:46.86, just ahead of unponsored Colin Schultz (1:46.90). 
Erik Sowinski, the 2016 World Indoor bronze medallist who has been rabbiting many top races this winter, served as the unofficial rabbit in this one as he led things up until almost 600, hitting splits of 25.62 and 52.07 before finishing fifth in 1:47.26.

Quick Take: Hoppel was fantastic today
Going in, this looked like it could be a competitive race between Hoppel, Harris, and Streich. But only one of those guys has run 1:43 and finished fourth at the last World Championship. At his best, Hoppel is a class above Harris and Streich and he showed it today.
Today's result was also a nice step forward for Hoppel after he was upset in his last 800 at the New Balance Indoor Grand Prix. Only two Americans (Brazier and Hoppel) have ever broken 1:45 indoors, and while Hoppel didn't do that today, running 1:45.30 with a big close is a great performance. Even though Harris was mowing down the field behind Hoppel on the last lap, Hoppel still closed faster than Harris over the final 200 (26.46 to 26.90). A medal at World Indoors won't be easy, but Hoppel will have as good a shot as anyone in the field.
Quick Take: Isaiah Harris is heading back to Worlds for the first time in almost five years
Harris made his first US team in 2017 as a 20-year-old sophomore at Penn State, but it took him almost five years to make his next one. Though Harris hasn't PR'd outdoors since 2018 (1:44.42), he hasn't been running poorly. He just happens to be running the 800 at one of the deepest times ever for the event in the US: Brazier is the reigning world champ, Clayton Murphy is a 1:42 guy and an Olympic bronze medalist, and Hoppel was 4th at the last Worlds. It's hard to make teams in the US.
Harris switched to the Brooks Beasts this year and the transition is going well.
Quick Take: Colin Schultz was one of the surprises of the meet
If you had heard the name Colin Schultz before the weekend, it's likely because of a project the Flagstaff-based photographer/videographer has worked on (he produced behind-the-scenes content for Molly Seidel at the NYC Marathon and NAU at the 2021 NCAA XC champs).
On the side, Schultz trains under NAU assistant Jarred Cornfield as a member of Run Team Flagstaff. Turns out, he's a pretty good runner as he finished fourth today in 1:46.90, his second pb in two days (he ran 1:47.38 in the prelims). That's pretty remarkable considering Schultz's pb coming in was just 1:48.96 and he hadn't run the 800 since 2018 (he was focusing on the 1500 last year and ran 8 1500/miles between 3:40-3:45 for 1500m). But he managed to qualify for USAs with a 2:21.92 1000m and took advantage of the fast first heat yesterday to nab a time qualifier for the final. Now he's fourth in the country.
All our 2022 USATF Indoor Coverage here