Seb Coe Is Right: Cross Country Needs to Be in the Olympics — the Winter Olympics
By LetsRun.com
December 21, 2021
Last week, LetsRun.com had the chance to interview World Athletics president Seb Coe, and one of the topics that came up was his push to make cross country an Olympic sport. Though Coe made his mark as an 800/1500m runner, he grew up running cross country and even raced the famed Cinque Mulini XC race in Italy in the lead up to his gold medal-winning run at the 1980 Olympics.
"I do actually genuinely feel, for all sorts of reasons, and some of them athletic as well, that cross country is really important," Coe said.
Article continues below player
Should cross country make it into the Olympics, however, it currently looks as if it will be in a form unrecognizable to most of the world. The format World Athletics proposed for cross country's inclusion in the 2024 Paris Olympics was not a mass race, but a mixed-gender relay, with teams of four athletes (two men, two women) each running two legs around a 2.5k course.
That bid failed, but World Athletics is already pushing for cross country at the 2028 Games in Los Angeles.
"I'm not coming off this agenda," Coe said.
Coe would actually prefer to see XC in the Winter Olympics, and has asked the International Olympic Committee (of which he is a member) about the possibility. But the IOC says all Winter Olympic sports must be contested on snow or ice. As a result, Coe said, if XC is to be part of the Olympic program, it would likely be at the Summer Games.
Not so fast. We at LetsRun.com love cross country. The NCAA Cross Country Championships is one of our favorite events every year, and we have traveled the globe to cover the World Cross Country Championships, from Jordan to Poland to China to Uganda. We'd love to see cross country in the Olympics.  But — and this is a big but — it has to be done the right way. And that's what worries us. We at LetsRun.com have the perfect solution: add World XC to the Winter Olympics and hold it on snow and ice. 
The LRC Proposal
Have you taken a look at World Athletics' proposed format of Olympic cross country? Let us repeat what it is: a 4 x 2 x 2.5k mixed-gender relay.
Their current proposal is a non-starter for us. When have you ever heard of a cross country relay taking place in the middle of summer? Please show us the list of 75 countries on four continents that have currently hold XC relay races as for a Summer Olympic sport to be added, it's supposed to be in at least 75 countries on four continents. 
And yet that is the format they're going to use to hand out Olympic gold medals? It makes no sense. It would be like including 3-on-3 basketball at the Olympics (which actually is a thing and is in the Olympics), but not 5-on-5. We deserve proper cross country at the Olympics, not a bastardized version.
Seb Coe is right: cross country belongs in the Olympics — the Winter Olympics. But it needs to the traditional format — a men's 10k and a women's 10k with individual and team medals handed out.
What the IOC has seemingly failed to realize in recent years when they've added a bunch of obscure events and crazy formats is what makes the Olympics popular and so dramatic. The classic appeal of the Olympics has always been easy to understand: the very best in the world devote years of their life for one opportunity to shine that comes around just once every four years. It's the same format behind the world's most popular sporting event — the World Cup.
Olympic events that don't feature the best in the world — like baseball or men's soccer — or traditional formats — say 3 x 3 basketball — aren't popular. A mixed-gender relay in the midst of the Summer Olympics won't feature the world's best runners, it won't feature an event people have devoted their lives to, and it won't be must-watch television. If anything, it will come across as desperate.
Let us now make the case for why the traditional cross country format that is run at the World Cross Country Championships, but with no U20 races or relays, is perfect for the Winter Olympics.
Three reasons why traditional cross country should be in the Winter Olympics
1. The event will make the Winter Olympics must more diverse and give hundreds millions of people, including much of Africa, a reason to tune into the Winter Olympics when they otherwise would have little reason to do so. The event is almost guaranteed to produce the first African Winter Olympic medal. 
Guess how many people Africans have ever won a Winter Olympic medal? Zero.
(There were just eight African countries represented at the entire 2018 Winter Olympics — and that was still the most ever).
Guess how many black people have ever won a Winter Olympic medal? Just 12.
Instead of adding break dancing to the Olympics in a desperate attempt to get new fans, why doesn't the IOC just add cross country and instantly draw the interest of potentially hundreds of millions of people?
Since 2000, World XC individual titles have been won by individuals hailing from eight different countries with a total population of nearly 340 million.
Countries That Have Won World XC Individual Gold Medals Since 2000
Country 
Population (in millions)
Ethiopia
115.0
UK
67.2
Kenya
53.8
Uganda
45.7
Australia
25.7
Netherlands
17.4
Belgium
11.6
Eritrea
3.2
Total
339.6
And that table may be underselling it. If you add XC to the Winter Olympics, 1.2 billion Africans will have a reason to watch and hopefully see something historic — the first Winter Olympic medal awarded to an African athlete.
Once they are watching the Winter Olympics, hopefully, they stick around and watch some more. It's the same marketing/TV strategy employed by the NFL. Most of their games are in the early 1 p.m. ET window as they hope people into their home teams will tune in and then stick around for the other games shown right after.
The counterargument here is that cross country isn't very popular to begin with. If hundreds of millions of people were tuning in to World XC every year, it wouldn't have shifted to a biennial format. But the Olympic brand is powerful. Stick "Olympic" in front of something, and people suddenly care a lot more. And adding XC would at least give the Winter Olympics one sport that appeals to Africans as opposed to the — ah yes, zero — that they currently have.
If Thomas Bach is really serious about his claim that the Olympics are about "diversity and unity", then adding cross country, which has featured a black individual winner at the last 30 men's world championships and last 11 women's, to the Winter Olympics is a no-brainer.
2. The event will double down on what makes the Olympics (and World Cup) so special: the very best in the world in a very common activity going for gold.
As stated above, the best Olympic events normally market themselves. The best in the world devoting years of their life for one shot every four years for Olympic gold. But the problem with the Summer Olympics is that the talent can get diluted. Was Venuste Niyongabo really the best 5000-meter man in 1996? Probably not, but Haile Gebrselassie didn't double back from the 10,000. Is Poland really the best country in the world in the mixed-gender 4×400 relay? Of course not, but the United States and the Bahamas didn't take the event seriously at the Olympics this year because their stars were focused on their individual events. If you add XC to the Summer Olympics, you're going to get the same thing. The best 1500/5000 runners are going to run those events at the Olympics, not the cross country relay.
If you have XC in the Winter Olympics, there will be no dilution. Instead, you'll have enrichment and the greatest footrace on planet Earth. Everyone will be tempted to give it a go — milers, steeplechasers, 5000 runners and 10,000 runners. Can you imagine how many people in Norway — a traditional Winter Olympic power — will want to watch Jakob Ingebrigtsen go for Olympic XC gold? Plus a ton of track fans will also want to watch — many of whom normally have no connection to the Winter Games.
Plus the Winter Olympic XC champs would essentially have bragging rights over the entire sport. On the track, you have an Olympic 1500 champ, an Olympic 5k champ, an Olympic 10k champ…in cross country, there's just one race. Crowning Olympic XC champs would be a great way to create new superstars. It would be like choosing a king and queen of distance running for the next four years.
3. Cross country most definitely isn't a summer sport. It belongs in the Winter Olympics.
The World Cross Country Championships have been held 43 times. Zero of those 43 championships have been held in the summer. 41 of the 43 championships have been held in March (one was held in February and one in April) when the calendar turns from winter to spring (winter normally ends on March 20). 36 of the 43 championships have been held in winter or the first week of spring.
If the IOC insists that the race must actually be held on snow, that's not a problem. Guess what? Cross country can be run on snow. Anyone remember the last time the US hosted World Cross Country in 1992?
And what about NCAA XC in Madison in 2018?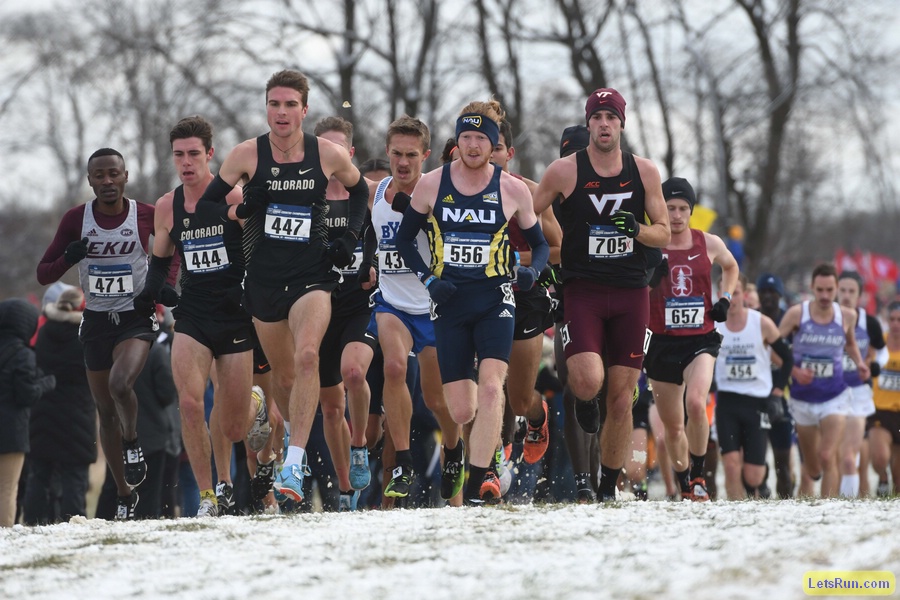 Both worked out just fine. In the year 2021, the IOC is well aware that snowmakers work quite well. Beijing features bone-dry winters and often appears to get less than 10 inches of snow a year. The average February high in Sochi, which hosted the 2014 Winter Olympics, is 51 degrees Fahrenheit.
Cross country on snow would be fun. Tennis has its majors on different surfaces. Cross country could work the same way. In every four-year cycle, you could have one World XC in a warm climate, one World XC in a cold/muddy climate, and the Olympics on snow; only a true cross country master would be able to excel in all three. Plus the images, as you can see above, would be pretty cool.
In fact, purposely adding snow to the event might help make cross country more popular. In addition to looking great on TV and adding an X-Games appeal to the event (which seems to be something the IOC is interested in), the sloppy footing might add more mystery to the event, which is something distance running could benefit from as we always say there are no fluke goals or interceptions in distance running.
***
So there you have it, World Athletics and IOC. Olympic cross country in a format that remains loyal to the sport and that fans will enjoy while expanding the appeal of the Winter Olympics to a whole new continent. You're welcome.
Talk about this proposal on the world-famous LRC fan forum/messageboard. MB: Seb Coe is right. Adding XC to the Winter Olympics would be AMAZING… But adding it to the summer as a relay would be a mistake