Riley Hough Uses Big Late Move to win 2021 Eastbay Cross Country Championships
By Jonathan Gault
December 11, 2021
Using a perfectly-timed kick coming off the major hill at Balboa Park for the second time, Riley Hough of Fenton, Mich., pulled away to win the 2021 Eastbay Cross Country Championships in 15:11.4 for the 5k course. 
Descending the hill, Hough, the Midwest Regional champion, was in a tight three-man pack along with Northeast Regional champion Gavin Sherry of Connecticut – who pushed the pace for much of the race – and Kenan Pala, the West Regional runner-up and San Diego native who attends the Francis Parker School just five miles from the Balboa Park course.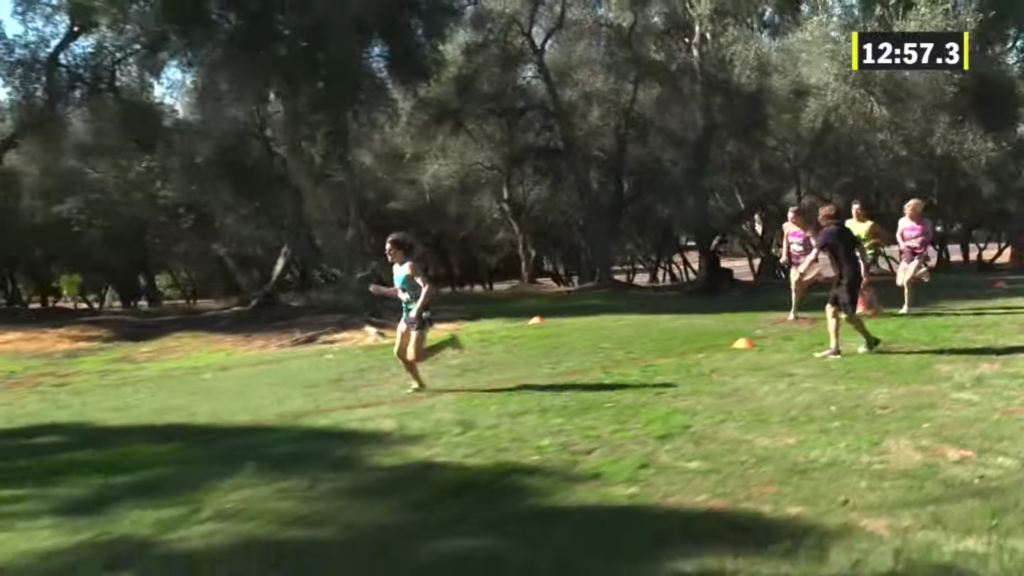 Article continues below player
Hough Battles Back
Sherry had tried to open a gap on the downhill, but as they reached the bottom, Hough came over the top with a move of his own. Before either Sherry or Pala had time to react, Hough had put 10 meters on them, and he would run unchallenged the rest of the way home, winning by 3.4 seconds over Pala, who closed well to finish in 15:14.8, holding off Sherry (third in 15:17.3).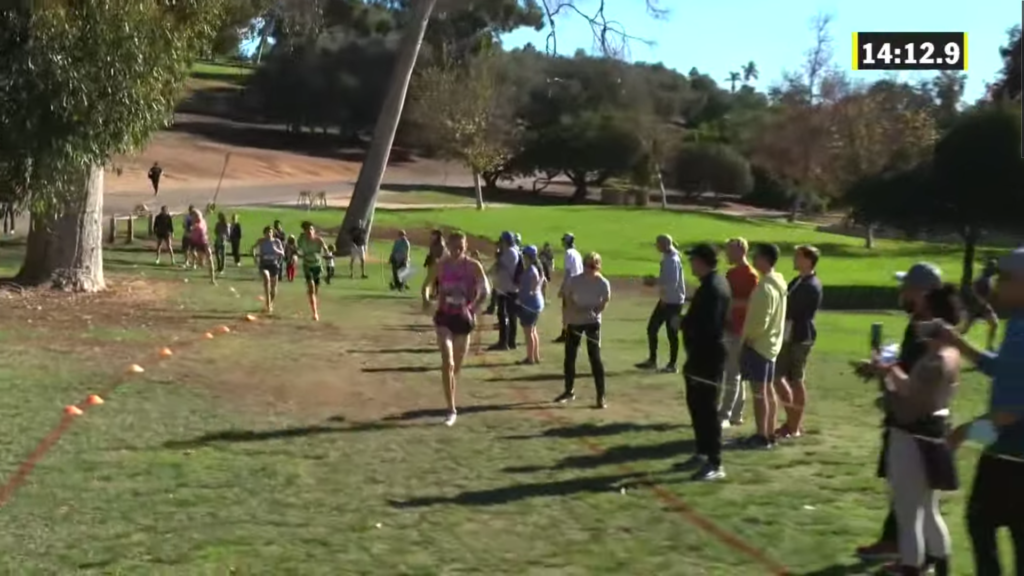 "I was honestly not expecting to be able to do that," Hough said after the race. "All these people were moving down the hill faster than I was. I was getting a little worried, especially on this last downhill, that I wasn't going to be able to catch up…
"The last 400 meters was basically just not listening to my body, because my body was trying to shut down and just listening to my head. I have to stay up here, I have to stay up here or else these people are going to catch me."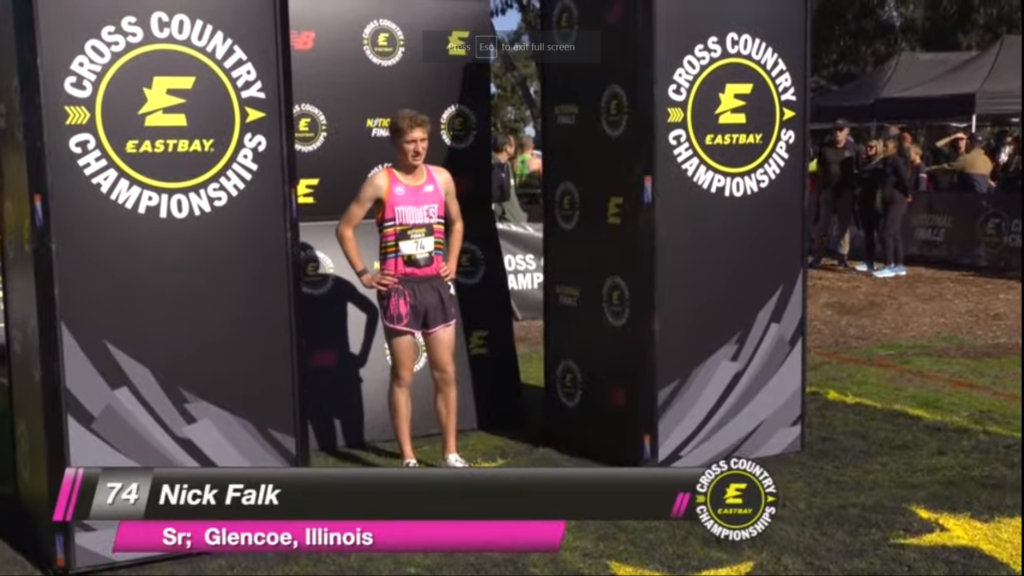 Quick Take: Riley Hough keeps the Midwest (and Michigan) dominance going
Hough's win was the fourth straight by a boy from the Midwest Region, and the ninth in the last 14 years, meaning the Midwest has almost double the wins during that span as the other three regions combined. Those nine champions have come from just three states: Michigan (Grant Fisher in 2013 and 2014, Hough in 2021), Indiana (Mike Fout in 2007, Cole Hocker in 2018), and Illinois (Lukas Verzbicas in 2009 and 2010, Dylan Jacobs in 2017, Josh Methner in 2019).
Historically, though, Michigan is the best of the Midwest Region – and now tied with California for the best in the country as both states have produced eight Foot Locker/Eastbay champions. The full list of Michigan champs:
Brian Grosso, 1988
Abdul Alzindani, 1995
Dathan Ritzenhein, 1999/2000
Timothy Moore, 2001
Grant Fisher, 2013/2014
Riley Hough, 2021
Pretty impressive for a state that only ranks 10th in the US in population (at 10 million people, Michigan is roughly ¼ the size of California). Hough will stay in state next fall as he will attend Michigan State.
Quick Take: Hough bounces back from 5th-place finish at RunningLane; could Newbury Park have gone 1-2-3 today?
For the fifth year in a row on the boys' side, the winner of the Foot Locker/Eastbay title was beaten at a national championship the week before (Hough was 5th at the RunningLane Cross Country Championships in Alabama last weekend in 14:10.6). Eastbay still attracts tremendous talent (you may have heard of the 2018 champion, Cole Hocker), but these days, the winner at NXN (or in 2021, RunningLane) is usually the top boys' cross country runner in the nation.
So would the Newbury Park trio of Colin Sahlman, Leo Young, and Lex Young, who went 1-2-3 at RunningLane last weekend, have been able to go 1-2-3 today? Sahlman finished 7.3 seconds ahead of Hough in Alabama, while Leo Young was 5.5 seconds ahead and Lex Young was 5.1 seconds ahead. It's certainly possible.
But realistically it's impossible to say. Athletes are not always consistent from week to week – Zane Bergen beat Hough at RunningLane but was only 4th today – and also perform differently on different courses. Balboa Park is a lot tougher and hillier than the John Hunt Park course at Running Lane; Hough ran over a minute slower today than he did last weekend (15:11.4 vs. 14:10.6).
Quick Take: Gavin Sherry: "Leading the race killed me"
Sherry, who broke the Van Cortlandt Park course record at the Northeast Regional two weeks ago, was LetsRun's slight pre-race favorite and he conducted himself very well in third place. Sherry wanted to make it hard and was a fixture at the front of the race, but his eagerness may have cost him as he had nothing left for the final 600m when Hough made his winning move.
"Leading the race killed me," Sherry said. "When I got to the top of the hill the second time, I could feel the lactic acid, and I was like ooh, that's gonna hurt. I'm happy with third place. I obviously was going for the win but Riley's a great runner, so is Kenan."
Results
1
Riley Hough
Midwest
15:11.4
2
Kenan Pala
West
15:14.8
3
Gavin Sherry
Northeast
15:17.3
4
Zane Bergen
Midwest
15:20.2
5
Kole Mathison
Midwest
15:22.3
6
Tyrone Gorze
West
15:26.4
7
Shane Brosnan
Northeast
15:27.9
8
Izaiah Steury
Midwest
15:27.9
9
Marco Langon
Northeast
15:28.1
10
Emmanuel Sgouros
South
15:29.4
11
Kevin Sanchez
South
15:30.1
12
Michael Maiorano
West
15:33.7
13
Aidan Puffer
Northeast
15:33.9
14
Peter Baracco
Midwest
15:34.0
15
Charlie North
West
15:34.6
16
Sahil Dodda
South
15:34.9
17
Gitch Hayes
Northeast
15:36.7
18
Jefferson McMullin
West
15:36.8
19
Nick Falk
Midwest
15:39.9
20
Luke Athay
West
15:40.3
21
Zachary Ayers
West
15:44.6
22
Max Sannes
West
15:48.2
23
Ethan Ashley
South
15:52.3
24
Michael Bohlke
Northeast
15:53.1
25
Luke Venhuizen
Midwest
15:53.4
26
Luke Anthony
Northeast
15:53.7
27
Myles Hogan
Northeast
15:54.3
28
Owen McArdle
South
15:54.6
29
Sam Burgess
Northeast
15:56.4
30
Michael Toppi
South
15:57.4
31
Gabe Hinrichs
Midwest
15:58.8
32
Caleb Jarema
Midwest
15:58.9
33
Hunter Jones
Midwest
16:00.7
34
Ferenc Kovacs
South
16:01.1
35
Keegan Smith
South
16:02.8
36
Mark Trammell
West
16:10.7
37
Patrick Koon
South
16:14.1
38
Jack Gregorski
Northeast
16:14.8
39
Nathan Solomon
South
16:23.0
40
Caleb Lakeman
West
16:27.1