Natalie Cook Wins Eastbay Cross Country to Become Undisputed 2021 High School National Champion
Completes RunningLane/Eastbay Sweep
By LetsRun.com
December 11, 2021
For the second week in a row, Natalie Cook of Flower Mound, Tex., used a hard mid-race move to break away from the field and run her way to a national title. A week after claiming victory at the RunningLane Cross Country Championships in Alabama, Cook crossed the line in 17:15.0 to win the Eastbay Cross Country National Championship in San Diego.
Article continues below player
After a 5:19 first mile, the knock-kneed Cook made a strong move to the front as the field hit Balboa Park's biggest hill for the first time. As she reached the summit, she had opened a five-meter gap over RunningLane third-placer Riley Stewart and that gap would continue to grow until Cook hit two miles in 10:55, 30 meters clear of Jenna Mulhern (West Chester, Pa.) and Northeast Regional champ Angelina Perez (Ringwood, N.J.).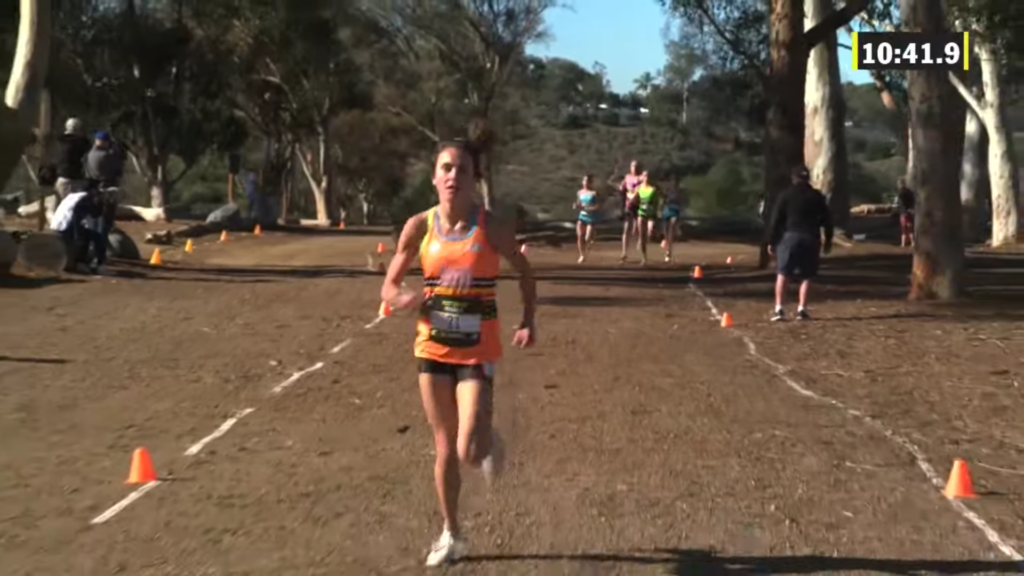 Cook seemed to be cruising to the title, but as she hit the hill for the second time, the gap began to narrow, and then narrow some more. By the top of the hill, it was a three girl race as Mulhern had closed the gap to five meters, with Perez a couple meters farther back. Cook, however, had something in reserve and she started extending her lead on the downhill.
Just before the three-mile mark, Perez drew level with Mulhern and would eventually pass her, but she did not have a kick to match Cook, who had found her second wind and removed all drama over the final 200 meters by blasting away from her rivals to win by 4.7 seconds over Perez (17:19.7), with Mulhern another 1.1 seconds back in third (17:20.8).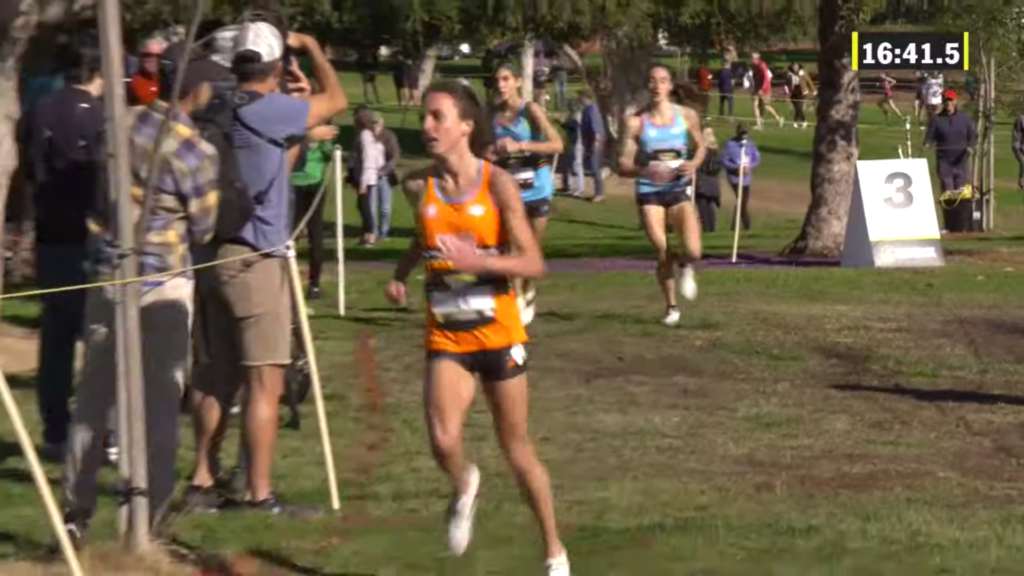 Quick Take: Natalie Cook is the undisputed national champion, a serious talent, and the first national champ from Texas
No girl has ever won NXN and Foot Locker/Eastbay in the same year, and while that didn't happen this year either, what Cook did today was essentially the same thing. Plus she became the first girl from Texas to win Eastbay Nationals. Between the two races, Cook, who will run at Oklahoma State next year, faced all of the top girls in the United States and beat them all.
While Cook dominated last weekend winning by 18 seconds, she faced a challenge at the top of the hill the final time, and responded like a champion. 
Cook didn't annihilate her competition this fall to the degree of Katelyn Tuohy a few years ago – she was actually beaten at the Woodbridge Classic back in September – but her last two months have been absolutely sensational.
Results
Place
Name
Team
Time
1
Natalie Cook
South
17:15.0
2
Angelina Perez
Northeast
17:19.7
3
Jenna Mulhern
Northeast
17:20.8
4
Karrie Baloga
Northeast
17:29.1
5
Riley Stewart
Midwest
17:30.3
6
Kate Peters
West
17:34.0
7
Sophia Kennedy
Midwest
17:34.7
8
Mia Cochran
Northeast
17:35.2
9
Sophia Nordenholz
West
17:36.7
10
Caroline Wells
South
17:38.4
11
Ali Weimer
Midwest
17:39.1
12
Zariel Macchia
Northeast
17:43.3
13
Arianne Olson
Midwest
17:43.4
14
Irene Riggs
South
17:48.5
15
Sadie Engelhardt
West
17:51.5
16
Kaiya Robertson
West
17:51.9
17
Olivia Williams
West
17:55.1
18
Ava Parekh
Midwest
17:57.6
19
Lilly Shapiro
Northeast
17:58.0
20
Gretchen Farley
Midwest
17:59.8
21
Lauren Pansegrau
Midwest
18:07.5
22
Lauren Ping
West
18:08.9
23
Karina James
Midwest
18:12.7
24
Julia Flynn
Midwest
18:13.5
25
Nelah Roberts
West
18:14.2
26
Ciara O'Shea
South
18:17.0
27
Anna McNatt
West
18:18.8
28
Juliette Whittaker
Northeast
18:19.8
29
Emily Toth-Ratazzi
Northeast
18:21.1
30
Taylor Rohatinsky
West
18:22.1
31
Abby Faith Cheeseman
South
18:22.7
32
Aishling Callanan
West
18:25.7
33
Rachel Forsyth
Midwest
18:41.2
34
Thais Rolly
South
18:41.3
35
Ava Gordon
South
18:41.7
36
Allie Zealand
South
18:41.8
37
Daphne Banino
Northeast
19:29.4
38
Maddie Gardiner
South
19:58.5
DNF
Ellie Shea
Northeast
DNF
Crawford West
South