The 2021 New York City Marathon ESPN2 Broadcast Was Very Frustrating To Watch At Times — 5 Ideas To Improve All Marathon Broadcasts
By Robert Johnson
November 10, 2021
On Sunday, as the 50th TCS New York City Marathon was coming to a close and three women were side by side battling for the title in a thrilling race, I got a text from a buddy of mine. This guy ran for me at Cornell University, is a longtime follower of the sport, and was a columnist for the Cornell Daily Sun in college.
"This race coverage is a new low," it read.
He wasn't the only one upset. A messageboard poster started this discussion thread: MB: To grow the sport, we need better coverage than this (NYC marathon broadcast)
Article continues below player.
At times, I, too, was getting very frustrated while watching the ESPN2 broadcast live. So on Tuesday, I decided to rewatch the broadcast from start to finish to see what went wrong and try to offer up some solutions for the future. Inspired by a tweet I saw by Jake Tuber, the founder of endeavorun.com, I also decided to track how much of the race broadcast was devoted to the race, how much to commercials, human interest stories, etc.
Project: Using a stopwatch, I'm timing the amount of time the @nycmarathon is actually shown on the TV broadcast.

Starting at the gun of the elite women's start, I'm tracking how much time racing vs. non-racing actually appears on the screen.

Will continue to update below…

— Jake Tuber (@heycoachpotato) November 7, 2021
In the 2:22.39 it took Jepchirchir won the women's race, approximate 1:06:45 of racing was shown.

I'm probably off by about 1-3 minutes total.

That's approximately 46% of the event (a race) coverage actually showing mens + women's racing (including split screen).

— Jake Tuber (@heycoachpotato) November 7, 2021
As I rewatched the broadcast, I couldn't believe at first that I was so frustrated while watching on Sunday as I actually enjoyed a lot of it. The commentators — John Anderson, Carrie Tollefson, and Bernard Lagat — looked sharp, were energetic, and had a great rapport. There were some interesting features thrown into the broadcast about the history of the New York City Marathon and how it became five-borough race and the rise of Molly Seidel under coach Jon Green. And they incorporated split-screen technology — a must for any marathon broadcast.
Plus, my data revealed that the broadcast did not devote an exorbitant amount of time to commercials. From the start of the broadcast to the moment Albert Korir crossed the finish line to win the men's race, 20.2% of the broadcast consisted of commercials. That's less than the 27.6% I counted for the Baltimore Ravens game later in the day.
| | |
| --- | --- |
| 2021 New York City Marathon Race Coverage By The Numbers | Time |
| Women's race coverage (includes studio analysis but not Seidel feature) | 46:24 |
| Men's race coverage (includes studio analysis and them standing at start) | 36:54 |
| Commercials | 33:25 |
| Features | 28:10 |
| Coverage devoted to mass participation race | 8:45 |
| Coverage of both races (split screen) | 7:20 |
| Coverage devoted to wheelchair races | 6:05 |
| # of minutes shown of women's actually running (before winner crosses line) | 40:07 |
| # of minutes shown of men's actually running (before winner crosses line) | 32:34 |
| % of broadcast devoted to showing racing from moment women's race starts to men's winner finishes | 51.70% |
| % of women's race shown before winner cross line, including split-screen | 33.20% |
| % of men's race shown before winner crosses line, including split-screen | 31.10% |
But all together, the broadcast was much worse than the sum of its parts. Why?
Marathon TV producers face a nearly impossible task — they are trying to broadcast two sporting events at once on the same channel at the same time. And neither of those sporting events has any breaks in them. By definition, that's almost automatically going to result in a bad viewer experience. There is a reason why MLB and the NFL never schedule more than one playoff game at the same time. There is a reason why TV's don't come with picture-in-picture in them anymore.
And I may be underselling how hard of a task the producers face. It's not much of a stretch to say they are really broadcasting five sporting events at once — the women's elite race, the men's elite race, the two wheelchair races, and the mass participation race.
Having rewatched the event, I realized it was so frustrating to watch live simply because the broadcast — like most major marathon broadcasts — missed most of the most important part of the race: the break(s). And that's not a shock. Even though the time spent on commercials wasn't exorbitant, only a third of each race is actually being shown on TV so it's easy to miss things, particularly when race broadcast after race broadcast seems not to realize the one thing they should be focused on is the break or breaks.
There were four key moments in Sunday's New York City Marathon: Kenenisa Bekele losing contact with the leaders in the men's race, Molly Seidel losing contact with the leaders in the women's race, Albert Korir pulling away from Kibiwott Kandie ("the break"), and the women's finish. The broadcast missed the first three of those moments. Here's what they showed instead:
Bekele was dropped during a 25-minute window of the men's race (between 49:30 and 1:15:00) during which they showed a grand total of 30 seconds of the men's action (all of it split-screen).
The broadcast was actually focused on the women's race when Jepchirchir picked up the pace up during mile 18. One could clearly tell this was the much-anticipated big break we'd been waiting more than 95+ minutes for. What did the producers do? They went to commercial, and then when they came back they went not to the women's race but rather to a feature on the Achilles Track Club, then to interviews of the wheelchair winners, then to the men's race, before finally going back to the women's race almost 10 minutes later. At that point, Seidel — the biggest American star in the race — had been dropped from the lead group.
We missed the start of Korir breaking away from Kandie in the men's race because the producers decided to throw in a 70-second pre-taped feature on the USATF 5k road champs from the day before. Why they waited until the men were almost at the 20-mile mark and the women almost at mile 22 to put in this feature is almost beyond comprehension. They then came back from the segment to show 10 seconds of split-screen action that clearly showed Korir pulling ahead. But instead of focusing on that, they went to a two-minute commercial break before coming back for a little race coverage and then 3:45 more of commercials.
Frankly, the producers kind of got lucky that we got to see the key moment in the women's race. If it hadn't happened at the very end of the race, we almost certainly would have missed the most important part of the closest top-three finish in NYC Marathon history. Even though three women were racing side by side in Central Park, the broadcast was showing very little of it. In the 15+ minutes that the women ran from mile 22 to 25 (from 2:00:30 to 2:15:55 in the women's race), there was zero coverage shown of either race for 10:40. In all, during that 15+ minute span, the women's race was shown for a total of just 2:35 (with 65 seconds of that being in a split screen).
Tightest total gap between top three women's finishers in NYC Marathon history:
2021 – 18 seconds
2011 – 27 seconds
2009 – 32 seconds
Looking to the future, here are five suggestions to improve marathon broadcasts.
5 Proposed Solutions To Improve The Broadcast
1) The finish times between the men's and women's races must be increased. I've long argued that ideally one race would end when the other race was at halfway – certainly before the other race gets to 30k.
The biggest problem in televising a marathon is it's very hard to televise two sporting events at the same time on the same channel. It's also very hard to watch two at the same time. So let's essentially eliminate that problem since not much of significance normally happens in the first half of a marathon. If the professional men had started first and just started one minute after the handcycle athletes (who went off at 8:22 a.m.), the men's winner would have crossed the line when the women were in the 16th mile. Perfect.
If for some reason it isn't safe to start the elites so close to the wheelchair/handcycle athletes, then I have a solution for that. Instead of having six majors with roughly $900,000 in prize money for the wheelchair athletes, have a single major with $1 million in wheelchair prize money. (The wheelchair prize money in NY this year was $155,000). It will generate great publicity for that one wheelchair race and make the other races much easier to conduct logistically. Able-bodied runners don't do six majors — why should the wheelchair racers?
2) Split-screen technology needs to be used during profiles and commercials.
New York did use some split-screen. But they need to take a page from ESPNs wildly successful Monday Night Football with Peyton and Eli and always keep the race action on. Initially, ESPN didn't always show the game during the Manning brothers telecast. Now they always show the plays. Marathons need to do the same, particularly if they are going to finish on top of each other.
What the NYC broadcast never did was use the split-screen technology when a commercial or profile piece was being played. If they did that, their biggest problems would be solved. When you are doing the cool three-minute profile of Molly Seidel, have that take up 80% of the screen but keep the race on on the left or right.
On Sunday, there were 13 minutes of uninterrupted coverage of the women's finish and celebrations — which was 13 minutes of the men's race we didn't get to see as it approached the two-hour mark. That can't happen. Ideally the producers will read suggestion #1, which will help address this situation. Until then, they need to use the split-screen.
Some split screen layouts that might work. You could put the profile/feature on the left and the races on the right. Or vice versa.
3) Time/mile splits need to be a much bigger part of the broadcast.
It blows my mind that every major marathon in the world doesn't list mile-by-mile splits for their races. During an NFL broadcast, the score and down and distance is always shown. During a marathon broadcast, the equivalent is almost never shown. They should always show the total elapsed time, the last mile split, and the projected finishing time.
During Sunday's broadcast, not once did I hear a men's mile split. Not once. I heard two mile splits on the women's broadcast. That would be like watching an NFL game without showing any statistics. Viewers at home had no idea a super-fast time for NY was happening until we were a minute out from the finish or that Molly Seidel was on American course record pace until after it was over. Similarly, when people were being dropped or caught, we had no idea why. The fans need to know, "Albert Korir has broken away after a *blank* last mile."  That's the equivalent of saying, "The Tampa Bay Buccaneers have pulled ahead after a Tom Brady 7-yard TD pass."
And it seems that TCS is always looking for some stat to sponsor that makes them look cutting-edge. How about converting each mile to a flat mile, factoring in the elevation change and wind?
4) Every single marathon should show the halfway split and leaderboard
Half-time is universal in every sport — even golf. When the runners reach halfway, show us their times, show us the top 10 or 20 competitors on a graphic and then go to commercial. While you're there, get a lot of your profiles and ads out of the way in the first half as you don't want to be missing key moments in the second half.
Then maybe every five miles, throw up the top 20 leaderboard again so we can see where the stragglers are. It takes five seconds. Instead, the viewer on TV actually knows less than the person following the race online.
5) The entire race broadcast team needs to remind itself everything is a buildup to the "break" or "breaks." The moment it happens, you must focus on it. Tell us what is happening and why. Do not go to a planned commercial or profile.
There you have it. Some suggestions to try to help improve marathon broadcasts that consistently miss the mark. Sunday's broadcast wasn't that much worse than normal. For over a decade, I've convinced myself that the race directors must not watch the broadcasts as the same things happen over and over again, regardless of the city. Either that or it's just not much of a priority.
Ironically, one thing that made Sunday's broadcast worse than some others was it was of higher quality. With a bigger production budget, they have more promos/features they wanted to put in there and unfortunately many of them were put in around the two-hour mark of the women's race.
PS. I do have another proposal that is pretty radical, along the lines of having one super wheelchair race. If the World Marathon Majors expand, the elite fields are going to start to get pretty diluted. So why not have only one elite race each year in a given city? You could have elite men in NY, elite women in Boston, etc. Then flip it the next year. It certainly would solve the problem of having to cover two elite races at once. I'd rather watch one real high quality race on a high quality broadcast than two watered-down races on subpar broadcasts. Another option would be to broadcast one elite race on ESPN2 and another on ESPN. Don't try to show both at once.
PPS. There was one decision specific to the NY broadcast that blew me away when I rewatched it. Kenenisa Bekele's name was not mentioned during the intro as one of the featured athletes. Not only that, his name wasn't mentioned at all until more than 25 minutes had passed. Talk about burying the lede. It's almost the equivalent of covering the opening game of the 2001-2002 Washington Wizards season and failing to mention that Michael Jordan was playing simply because he may not be as good as he once was.
PPPS. I forgot to share a LetsRun.com secret. At LetsRun, we have an unofficial rule. The first time we mention a runner's name in an article, we try to describe them. Most people don't know who Albert Korir is. So the first time you talk about someone, give a description like this Alberto Korir, the 2019 NYC runner-up and 2021 champion…. Similarly, when the tv broadcasts are listing the elites in the field, they shouldn't just provide their name as most people don't know who they are, try to list their PB/accomplishments or even world rank. Something to give people context as shown below.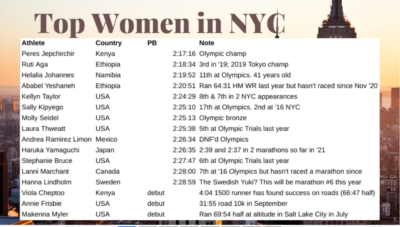 Talk about the marathon broadcast on our messageboard. MB: To grow the sport, we need better coverage than this (NYC marathon broadcast)
---
Robert Johnson is the co-founder of LetsRun.com. He can be reached at robert@letsrun.com or 844-LETSRUN (538-7786).