2021 Zurich Diamond League Final Day 1: Francine Niyonsaba & Berihu Aregawi Win DL 5K Titles; Ryan Crouser Wins First DL Shot Put Title

September 08, 2021 to September 09, 2021
By Jonathan Gault
September 8, 2021
The two-day 2021 Weltklasse Zurich Diamond League final got underway on Wednesday with a seven-event street meet in Zurich's Sechseläutenplatz that crowned Diamond League champions in the men's and women's 5,000 meters, shot put, long jump, and women's high jump. The stars of the show were the female high jumpers, where Mariya Lasitskene (world-leading 2.05m clearance) led three women over two meters. American Ryan Crouser threw 22.67m to win his first DL shot put title), while distance runners Francine Niyonsaba (14:28.98) and Berihu Aregawi (12:58.65) impressed by winning the 5,000m titles.
Full recap and analysis of day one action below.
Article continues below player
Women's 5k: Niyonsaba wins fourth Diamond League in 20 days
Francine Niyonsaba was robbed of the opportunity to run the 5,000-meter final at the Olympics in Tokyo. Since then, she has completely dominated the distance events on the Diamond League circuit, claiming wins at the Pre Classic (two-mile), Paris (3,000), and Brussels (5,000). In this evening's Diamond League 5,000 final in Zurich, Niyonsaba made it four-for-four, outsprinting Olympic silver medalist Hellen Obiri to win in 14:28.98 to Obiri's 14:29.68.
The race took place on a unique, three-lane banked 563m track, with the tight turns around the Zurich Opera House giving it a throwback, indoor track feel similar to the old Millrose Games at Madison Square Garden.
The race itself played out similarly to last week's 5,000 in Brussels, with the main difference being that instead of a group of four together at the bell (Niyonsaba, Obiri, Ethiopia's Ejgayehu Taye, Kenya's Margaret Kipkemboi), it was a group of five (those four plus Kenya's Eva Cherono).
Unlike in Brussels, where Niyonsaba was fourth with 100 meters to go, she elected to go much earlier this time, moving to the front just before the bell. Obiri put up a spirited fight, going wide and making a big effort to pass Niyonsaba as they rounded the opera house for the final turn, but it was to no avail. Niyonsaba was too strong, using a 2:44 final kilometer to take the win in 14:28.98, just three seconds off her pb from Brussels last week.
Elise Cranny, the only American in the field, really struggled and finished last in 15:55.17.
| | | | |
| --- | --- | --- | --- |
| 1 | BDI | NIYONSABA Francine | 14:28.98  |
| 2 | KEN | OBIRI Hellen | 14:29.68  |
| 3 | ETH | TAYE Ejgayehu | 14:30.30  |
| 4 | KEN | KIPKEMBOI Margaret Chelimo | 14:31.18  |
| 5 | KEN | CHERONO Eva | 14:36.88  |
| 6 | ETH | WORKU Fantu | 14:43.60  |
| 7 | KEN | RENGERUK Lilian Kasait | 14:50.75  |
| 8 | NOR | GRØVDAL Karoline Bjerkeli | 14:59.91  |
| 9 | KEN | CHEBET Beatrice | 15:11.27  |
| 10 | USA | CRANNY Elise | 15:55.17  |
| DNF | CAN | van BUSKIRK Kate |   |
Quick Take: Niyonsaba is unbeatable right now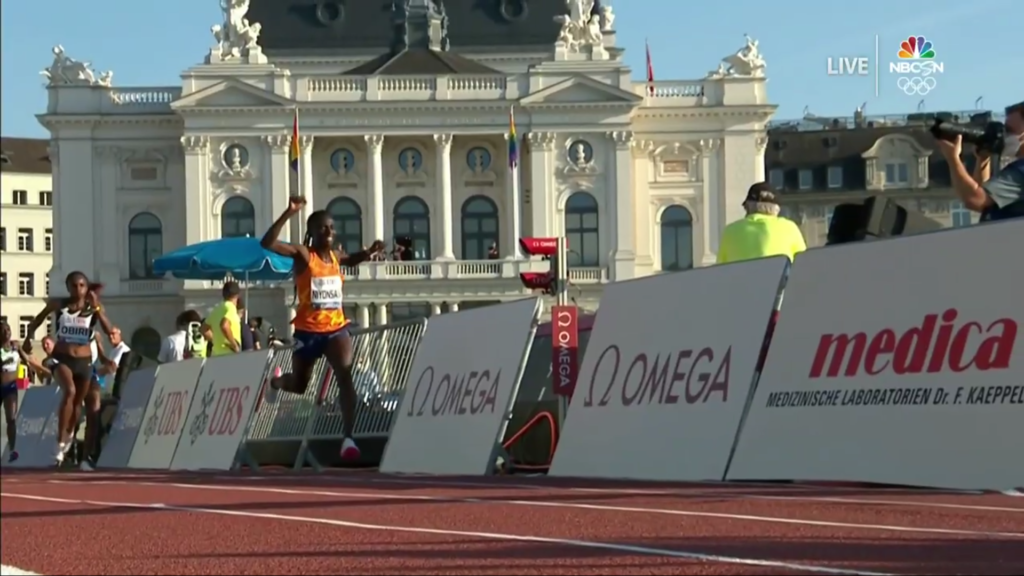 Over the past three weeks, Niyonsaba has dominated the world in the distance events. And there doesn't seem to be a good strategy to beat her. She has run super fast (8:19 3k, 9:00 2-mile) while showing the closing speed that made her an Olympic silver medalist at 800 meters. And given this is her first full year as a distance runner, she could be even better in 2022 — assuming Niyonsaba is still allowed to compete as a DSD athlete.
That is the big question hanging over this event right now. If World Athletics doesn't change its DSD rules, Niyonsaba will be a medal favorite at the 2022 Worlds in Eugene — perhaps gold, depending on which events Sifan Hassan ends up running (Niyonsaba has not raced Hassan during her post-Olympic win streak).
Quick Take: Niyonsaba deserves major props for reinventing herself
Regardless of whether you believe Niyonsaba should be competing in the women's category, you have to applaud her perseverance. Once she was banned from the 400 through mile, she moved to Kenya and began training like a distance runner. That is a big commitment, especially since there was no guarantee of success (Caster Semenya tried running the 5,000 this year but could manage no faster than 15:32).
And then, when Niyonsaba made it back to the Olympics, she was DQ'd in an event where it is clear she would have been a serious medal contender. Yet rather than wallow in frustration, Niyonsaba kept racing and has made a lot of money winning races on the DL circuit.
Quick Take: The DL needs to scrap this track moving forward
Zurich and the Diamond League moved the 5,000 finals out of the stadium tonight, but after watching the races, it's unclear who that benefited. Because of the way the track and stands were constructed, most of the in-person fans could only see small portions of the race. And for the TV viewers, it was hard to keep up with splits and how far the athletes were into the race because of the odd 563-meter distance of the track.
One other issue that surfaced: the finish line wasn't clearly marked. Though there was a finish line on the track, there was also an overhead structure — the kind you see placed over the finish line at road races — except this structure was about 10 meters past the finish line. A number of athletes in the men's race were confused and kept running past the line until they were under the structure — even though the race was already over. It's a good thing none of the races were close.
I can understand why the DL/Zurich might have wanted to move the 5,000 out of the stadium — especially considering they would tack on another 30+ minutes to a TV broadcast that will already run to three hours. But what happened today isn't the solution. How about doing what the Pre Classic does and having a "distance night" the night before the main program? Keep the street meet portion for the field events (all of which were wrapped up by 7:30 p.m. local time) and then have the 5ks in the stadium at 9 p.m., when conditions are best for distance running. Distance diehards will love it, the 5k runners get their own spotlight, and you don't add to an already lengthy main program on Thursday.
Men's 5,000: Berihu Aregawi wins in a quick 12:58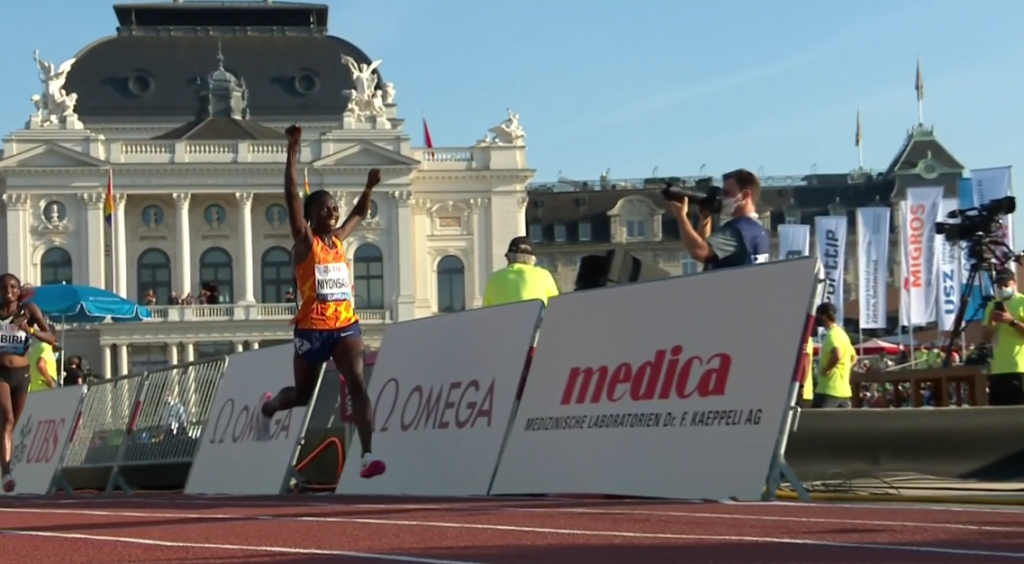 With many of the event's biggest stars skipping this meet, the DL title and the $30,000 that goes with it was there for the taking. Twenty-year-old Ethiopian Berihu Aregawi was the man who stepped up and grabbed this race by the scruff of the neck over the final two laps, winning comfortably in the end in 12:58.65 and showing that he will be a man to watch moving forward.
Aregawi took the lead with just over a kilometer to go, at which point it was a six-man race. Aregawi's surge quickly whittled the lead pack three, with fellow Ethiopian Yomif Kejelcha and Bahrain's Birhanu Balew the only men to hang with him at the bell. At that point, Aregawi attacked again, and by the final turn around the opera house, he had broken both of his rivals, allowing him to cruise to a comfortable victory in the home straight. Balew, almost three seconds back at 13:01.27, was his next-closest rival, as Kejelcha totally ran out of gas after trying to stay with Balew and faded to fifth in 13:04.29. Aregawi ran his final 1k in 2:25 — assuming the kilometer splits are accurate (commentators Steve Cram and Tim Hutchings expressed some doubt). 
1
9

ETH

12:58.65

 

2
5

BRN

13:01.27

 

3
2

KEN

13:01.81

 

4
1

KEN

13:02.43

 

5
7

ETH

13:04.29

 

6
8

KEN

13:15.36

 

7
11

SUI

13:43.47

 

8
6

GBR

14:03.13

 

DNF
3

KEN

 
DNF
10

RSA

 
DNF
4

AUS

 
Quick Take: Remember the name Berihu Aregawi
Aregawi, who earned bronze in the 10,000 at the World U20 champs in 2018 as a 17-year-old, wasn't widely known before this year but is quickly making a name for himself. He ran an impressive 26:50 to make the Ethiopian Olympic team at 10,000 meters, then finished fourth in that event in Tokyo. He then put up a good fight against Jakob Ingebrigtsen in Lausanne, narrowly losing out over 3,000 meters, before winning his first DL in dominant fashion today. Aregawi's time of 12:58.65 was over 10 seconds faster than his pb (13:08.91, which itself was run at altitude in Nairobi last year), though it won't count for record purposes due to the irregular track. He's still only 20 years old and will be a serious threat to win global medals over the next few years.
Quick Take: Where's Jakob (and everyone else)?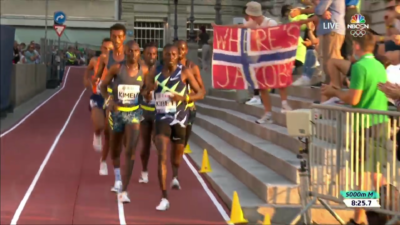 It was hard to miss the fan holding up the Norwegian flag painted with the words "WHERE'S JAKOB?" Clearly this fan had been expecting Olympic 1500 champ Jakob Ingebrigtsen to be running tonight — and Ingebrigtsen was initially entered before dropping the 5k to focus solely on the 1500 (a totally understandable decision since he's the Olympic champ in that event).
Did the unusual track setup discourage anyone from running the final? Paul Chelimo, speaking on the LetsRun podcast last week, mentioned that one of the reasons he was skipping the DL final was that if he ran a personal best, it wouldn't count for record purposes. And on the broadcast today, Steve Cram indicated that one of the reasons Ingebrigtsen decided to run only the 1500 in Zurich was that it wouldn't be a great idea for his legs to run on the strange new track.
Ingebrigtsen and Chelimo were hardly the only stars to skip the DL final, however. Olympic champs Selemon Barega and Joshua Cheptegei weren't here either, nor was Olympic silver medalist Moh Ahmed. As a result, this was a very watered-down field for a DL final.
One has to wonder whether the Diamond League's decision to cut prize money at the DL final by 40% is having an effect on the quality of the fields. In 2019, winners at the DL final received $50k, second was worth $20k, and third was worth $10k. This year, those numbers have been cut to $30k, $12k, and $7k, respectively. (Discussion: Prize money down 40% at DL final)
Quick Take: Yomif Kejelcha is with adidas now, has left coach Tim Rowberry
Kejelcha, the former Nike Oregon Project star, has been with adidas for a couple of months, but seeing him in the adidas singlet tonight made me curious about his coaching situation. He had been with former NOP assistant Tim Rowberry since NOP was shuttered in 2019, but Rowberry told me today that he stopped coaching Kejelcha once he switched to adidas. It's unclear who is coaching Kejelcha now.
Women's high jump: Lasitskene wins a great competition
Unlike the shot put and long jump, in which the men and women shared the circle/runway, the women's high jumpers had the apron to themselves and put on a show. For just the second time outside of a major championship, three women cleared 2.01m or better, with Olympic champ Mariya Lasitskene clearing a world-leading 2.05m — just a centimeter off her pb — to take the victory from 19-year-old Olympic bronze medalist Yaroslava Mahuchikh of Ukraine (2.03m). Olympic silver medalist Nicola McDermott of Australia was third after clearing 2.01m.
Men's shot put: Ryan Crouser wins his first DL title
Incredibly, despite winning two Olympic titles and breaking the world record indoors and out, American Ryan Crouser had never won a Diamond League title before today. Crouser put that right in Zurich, throwing 22.67 meters on his third throw to clinch the victory (the DL final does not use the Final Three format in effect during the regular season).
Crouser's 2021 season has been the greatest in the history of the shot put, but he does finally look to be running out of steam as his last two winning marks (22.39 in Chorzow on Sunday, 22.67 today) were his shortest since May. Of course, Crouser has set such a ridiculously high bar this year that his 22.67 today was still a meet record.
Women's shot put: Maggie Ewen earns win & spot at 2022 Worlds
Maggie Ewen did not make the American Olympic team this summer, finishing 4th at the Trials in Eugene. She will not have to worry about her spot at Worlds next year, however, as she threw a season's best of 19.41 meters in round one to earn the DL title and a bye to Worlds.
Embed from Getty Images
Men's long jump: Montler goes big in final two rounds to win it
American Steffin McCarter, who did not even make the Olympic final, was leading the competition through four rounds with a best jump of 8.14m, but he could not hold on as Sweden's Thobias Montler went 8.15m in round five and 8.17m in round six to take the win.
Women's long jump: Spanovic takes title
The women's LJ played out similarly to the men's as Sweden's Khaddi Sagnia led through four rounds before another athlete took the title with a big final two jumps. That athlete was Serbia's Ivana Spanovic, who went 6.88 in round five and 6.96 in round six to surpass Sagnia's 6.83.