The Casual Fan's Guide to Track & Field at the 2020 Tokyo Olympics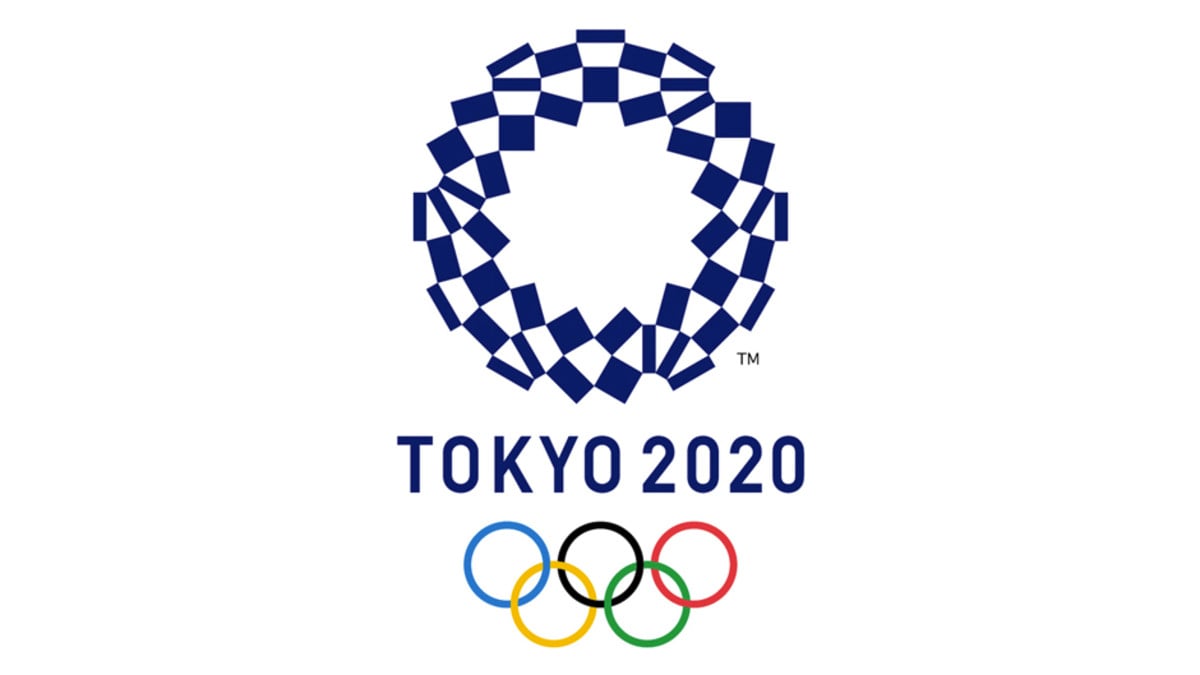 July 30, 2021 to August 08, 2021
By Jonathan Gault & Robert Johnson
July 20, 2021
The biggest track meet on Earth is upon us: the Summer Olympics in Tokyo. And if you clicked on this article, it means you want to know a bit more about it.
You came to the right place. Welcome to LetsRun.com. We cover the sport 24/7/365. For us, the Olympics is like the Super Bowl and World Cup Final all rolled into one. You could even say that for us, the Olympics are the "Olympics" of track & field.
Article continues below player
If you don't know anything about track & field, don't worry. That's exactly what this article is for. Track & field kicks off in Tokyo on July 30 (because of the time difference, the first session is actually on the night of July 29 for US viewers) and wraps up in traditional fashion with the men's marathon on August 8 (August 7 in the US). Here's your guide to all the athletes, events, and controversies you need to know about before you watch.
If you are a track diehard, we still think you'll enjoy this article but please share it with your friends and family. And have them come back to LetsRun.com each day of the Olympics as we are hoping to find time to write a daily "Friends and Family Guide" to each day of the track & field action.
Stuff that's different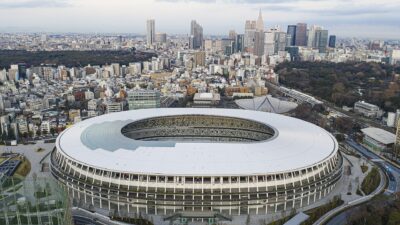 1. The biggest difference from a normal Olympics is that there will be no fans. Even though Japan is averaging less than 15 deaths per day of COVID (in the US, the figure is 268 per day), Tokyo is in a state of emergency until August 22, and as a result, the 68,000-seat Olympic Stadium will sit empty for the duration of the Games. In some ways, that's not so different from usual — track & field isn't drowning in popularity — but the fans' absence will definitely be felt in events such as the men's 100 meters and the marathons, where Tokyo 2020 has urged fans to stay off the streets.
2. Speaking of the marathons, they will be held over 500 miles north of Tokyo in Sapporo. This isn't a COVID-related change, but rather a response to Tokyo's brutally hot and humid August weather. So no tour of Tokyo and no finishing in the Olympic Stadium (though that's only happened in one of the last five Olympics anyway).
3. The shoes are also faster than ever before. At the 2016 Olympics, the three men's marathon medalists all wore prototypes of a super-cushioned, super-responsive Nike racing shoe that offered massive gains in running economy. Athletes wearing that shoe, which came to be known as the Vaporfly, proceeded to rewrite the road racing record books over the last five years. In 2019, Nike debuted a similar technology on the track for the middle and long-distance events, and records have begun to tumble there as well. Some brands have caught up to Nike (or significantly closed the gap), but others have admitted they're not quite ready to compete; at last month's US Olympic Trials, Brooks, On, and Reebok all allowed their sponsored athletes to wear shoes from a different brand.
The shoe technology wasn't thought to be impacting the sprints all that much but don't tell that to Usain Bolt — who is retired by the way and not competing — as he recently said the technology is "unfair" and said it's "laughable" that it's allowed to be used.
4, The medal ceremonies are going to suck. The three medalists won't even be allowed to take a group photo.
10 athletes you need to know
1) The GOAT: Shelly-Ann Fraser-Pryce, Jamaica, 100/200 meters
In 2008, a 21-year-old Jamaican sprinter burst onto the scene by winning the Olympic 100 meters in Beijing. Over the next decade, that sprinter proved almost unbeatable in major championships, running remarkable times and winning five more global titles, including a second Olympic gold in London in 2012. Eventually, most observers agreed: this was the greatest sprinter we'd ever seen.
Yes, Shelly-Ann Fraser-Pryce is a heck of an athlete. Who did you think we were talking about?
Unlike Usain Bolt, who has been retired for four years, the 5-foot-0 Fraser-Pryce (aka the Pocket Rocket) is still going strong at age 34. The reigning world champion, SAFP ran her fastest 100 meters ever, 10.63 seconds, in June; only Florence Griffith-Joyner, whose 10.49 world record is…dubious…has ever run faster. If Fraser-Pryce wins 100m gold in Tokyo, she'll make history: no woman has ever won the same individual event three times in Olympic track & field.
2) The Shohei Ohtani of Track & Field: JuVaughn Harrison, USA, high jump/long jump
It's not uncommon for high school athletes to double up in the high and long jump. At that level, talent trumps specialization. It's rare, but not unprecedented, to do it in college. But to be the best in the country in both events? Sorry, doesn't happen. High jumpers are tall and thin. Long jumpers are shorter and faster. No one has made the US Olympic team in both events since the legendary Jim Thorpe in 1912.
Until JuVaughn Harrison. The NCAA and US champion in both the high and long jump for LSU, Harrison will now go for double gold in Tokyo, something that has not been achieved since Ellery Clark did it at the inaugural Games in 1896. Harrison has the #2 long jump in the world in 2021 and the #3 high jump, so it's definitely possible. And though the schedule isn't ideal (the high jump final is on the night of August 1, the long jump final on the morning of August 2), it's better than the Olympic Trials, when the events were contested on the same day.
3) Wonderboy: Grant Holloway, USA, 110m hurdles
The 42-inch barriers that professional hurdlers must clear — 10 of them in 110 meters — are meant to be an impediment. But the 6'2″ Holloway is so fast, fluid, and athletic that he makes it seem natural.
With his time of 12.81 at the US Olympic Trials, Holloway, the reigning world champion missed Aries Merritt's world record by a mere hundredth of a second (he already owns the world record indoors for the 60m hurdles). He also boasts a megawatt smile, is always good for a quote (his response to how he would celebrate after winning the world title in 2019: "I'ma go find me a fat-ass glass of wine"), and is one of the few elite sprinter who races in short shorts rather than half tights — an homage to his idol, US hurdle great David Oliver.
Just 23 years old, the former Florida Gator is on a path to becoming the greatest hurdler of all time. Picking up Olympic gold in Tokyo would help in that quest.
4) Bred for Success: Mondo Duplantis, Sweden, pole vault
Speaking of future GOATs…Mondo Duplantis — born and raised in Lafayette, La., but competing internationally for Sweden, his mother's homeland — has been on the path to greatness since he cleared 2.33 meters in the pole vault in 2007 to set an age-7 world record. Training under his father Greg (a former elite vaulter himself) and mother Helena (a heptathlete and volleyball player at LSU) on a runway at the family home, Duplantis has spent the ensuing 14 years breaking age-group records until he finally broke the overall world record in February 2020. Duplantis is heavily favored for gold, but anything can happen in the pole vault…
5) The Master: Eliud Kipchoge, Kenya, marathon
So many things can go wrong over the course of a 26.2-mile race that it is rare for anyone who reaches the pinnacle of the event to stay there for long. Win two major marathons in a row and you're one of the best of the world; four in a row and you're one of the best of all time.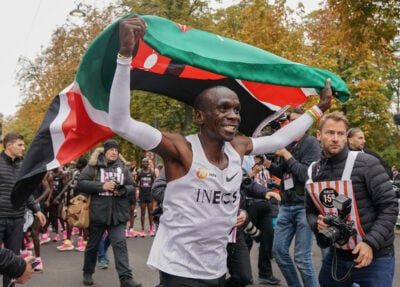 From 2013-2019, Eliud Kipchoge won 10 marathons in a row.
Midway through that stretch, Kipchoge was so clearly better than everyone else in the world that he had to start inventing one-off exhibition events to challenge himself. Though neither was eligible for the official world record, Kipchoge ran 2:00:25 at the first of those events in 2017, then became the first human to cover the 26.2-mile marathon distance in under two hours with his 1:59:40 in 2019.
Famous for his aphorisms ("marathon is life") and spartan living quarters Kipchoge, 36, is regarded as the wise old man of the marathon. During the COVID pandemic last year, he finally lost a marathon (he was only 8th in London) but will enter the Olympics favored to successfully defend the title he won in Rio in 2016.
6, 7, 8) The Phenoms: Athing Mu, USA, 800 meters; Erriyon Knighton, USA, 200 meters; Cole Hocker, USA, 1500 meters
When a track athlete runs really fast, it's noted in the results with shorthand. PB = personal best, WL = world leader, and so on. The track nerd's rule of thumb: the more letters next to your name, the better the performance. With that in mind, may we submit Athing Mu's 2021 season, courtesy of Tilastopaja.eu: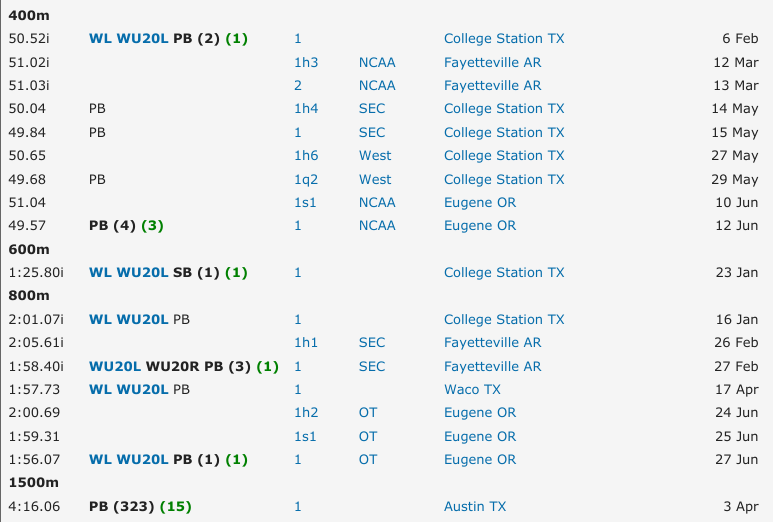 That's a whole lot of letters and it would be even more if Tilastopaja included NCAA records — Mu set five of them this year as a freshman for Texas A&M, most notably at 400 (49.57) and 800 meters (1:57.73). Mu turned 19 in June, just two weeks before running a world-leading 1:56.07 for 800 to win the US Olympic Trials (#2 in US history), which doesn't count as a collegiate record as she'd already gone pro and signed with Nike. The Trenton, N.J., native is the favorite for Olympic 800m gold, which would cap one of the all-time great freshman campaigns in any sport.
Comparing a teenager to Usain Bolt is usually patently unfair, but when it comes to 17-year-old Erriyon Knighton, Bolt is about the only guy you can compare him to. Back in May, Knighton, who just wrapped his junior year at Hillsborough High School in Tampa, ran 20.11 for 200 meters to break Bolt's world under-18 record of 20.13. A month later, Knighton ran 19.84 at the US Olympic Trials to break Bolt's world under-20 record. The long, lean Knighton is the youngest US male track & field Olympian since 1964 and a legit medal threat in his first Olympics. Something tells us it won't be his last.
We could spend a paragraph telling you about the precocity of the 20-year-old Cole Hocker, the NCAA 1500-meter champion for Oregon. Or we could just show you the final 200 meters of the US Olympic Trials, when Hocker took down reigning Olympic champion Matthew Centrowitz to win the title. Just look at this shit:
Now tell us you wouldn't sign up for more of that in Tokyo. Bring on the men's 1500.
9) The Tripler (?): Sifan Hassan, Netherlands, 1500, 5,000 and 10,000 meters
Track & field isn't swimming. Normally, two individual events is the maximum any athlete is capable of doing — the schedule is too demanding and athletes' skill sets too limited to excel in anything more than two events. Don't tell that to Sifan Hassan of the Netherlands. She's entered and a medal favorite in the 1500, 5000 and 10,000 (whether she actually competes in all three events remains to be seen). Her range is amazing. Earlier this year, she broke the world record in the 10,000 meters — that's 25 laps of the track (her record was broken two days later). Yet at the last Olympics, she ran in the 800.
10) The Superstar: Noah Lyles, USA, 200 meters
We put Lyles on the list as if you are American we are certain NBC is going to be pumping him up. Broadcasters like to market stars and at the beginning of the year, there was a possibility Lyles was going to take over from Bolt as the marketing face of track & field as Lyles said he'd be going for the 100/200 double. However, Lyles, the reigning world 200 champion, didn't qualify for the team in the 100. He's still favored to win the 200 however — his (and Bolt's) favorite event.
We probably should have had Allyson Felix on here as she is someone NBC is going to market the hell out of, but we're assuming you know who she is already as this is her fifth Olympic Games. The 35-year-old is the only female track & field athlete to ever win six Olympic gold medals, but only one of those is individual gold. It would be shocking if she won individual gold this year (she has the 5th-fastest seasonal best in the women's 400) but she's almost certain to win at least one and perhaps two relay medals, which would give her 10 total Olympic medals and break the tie she has with Merlene Ottey as the most decorated female Olympian in track & field history.
The Olympics have added in a mixed-gender 4×400 (men run two legs, women run two legs) which means there are more relay medals to hand out.
5 Best events
1. Women's 100 meters (July 31, 8:50 a.m. ET)
The men's 100 is the race that everyone watches as it's got a great marketing tagline — who is the fastest human on the planet? — but the women's 100 is far more interesting this year, even without Sha'Carri Richardson, the US star who will miss the Games after testing positive for marijuana. As noted above, the GOAT, Shelly-Ann Fraser-Pryce, will be trying to become the first women's track & field athlete to win the same individual event at three Olympics. She has the fastest season's best (10.63 seconds, #2 all-time) and was dominant at the Jamaican trials.
But Fraser-Pryce also lost her most recent race against her two biggest rivals. In Gateshead on May 23, she was 4th behind Great Britain's Dina Asher-Smith, the 200m world champion (though conditions were awful). And in her last Olympic tuneup in Hungary on July 6, Fraser-Pryce was smoked by Jamaican rival and reigning Olympic 100/200 champ Elaine Thompson Herah (apparently this event attracts three-part names).
2. Men's 100 (August 1, 8:50 a.m. ET)
The men's 100 is like the Super Bowl: it doesn't almost matter who is in the game, you still need to watch it to see who is the world's fastest human. It very well could end up being an American for the first time since 2004 as Trayvon Bromell — the former Baylor Bear — is the world leader. If he wins it, it would be an amazing story. The 26-year-old left the last Olympics in a wheelchair and has come back from very serious Achilles problems that cost him almost all of the 2017, 2018, and 2019 seasons.
3. Men's 400-meter hurdles (August 2, 11:20 p.m. ET)
The men's 400 features a potential world record and two contrasting runners.
Norway's Karsten Warholm loves to scream before (and after) races, celebrates with Viking helmets, and runs faster for the 400-meter hurdles than anyone in history. The USA's Rai Benjamin is, in many ways, Warholm's opposite. Where Warholm is emotive and outspoken, Benjamin is calm and reserved. Warholm attacks races from the very start; Benjamin likes to take things slow before exploding over the final 150 meters.
The one similarity: Benjamin is also historically fast, as his 46.83 personal best ranks #3 all-time behind Warholm's 46.70 world record. The two haven't raced since 2019, but their meeting in Tokyo will be special — winning the gold medal will likely require a world record.
4. Women's 400-meter hurdles (August 3, 10:30 p.m. ET)
Speaking of requiring a world record to win…the last three times American 400m hurdlers Sydney McLaughlin and Dalilah Muhammad have faced each other in a championship final, one of them has broken the world record. In 2019, it was Muhammad setting WRs at the US and world champs; this year, it was McLaughlin becoming the first woman ever under 52 seconds at the US Olympic Trials.
A victory in Tokyo for Muhammad, 31, would make her the first woman to win multiple Olympic 400 hurdle titles and cement her status as the GOAT of the event…though that GOAT status could eventually pass to McLaughlin, 21, who seems poised to own the event for the rest of the 2020s.
5. Men's 1500 meters (August 7, 7:40 a.m. ET)
In terms of pure drama, the 1500 is as good as it gets in track & field — long enough for the tension to build, short enough (under four minutes) to hold your attention throughout. The 2016 men's final is one of the most dramatic races we've ever seen. Matthew Centrowitz of the US found himself in the lead early, and American fans spent the next three-and-a-half minutes holding their breath to see if anyone would pass him. Even Centrowitz couldn't quite believe he had held everyone off once it was over.
The 2021 final could be very different, as the favorite, Timothy Cheruiyot of Kenya, is famous for setting a fast pace from the front. Will that be enough to scare off the top Americans, Centrowitz and Cole Hocker?
And what about Jakob Ingebrigtsen of Norway? The youngest of a trio of elite running brothers (the Ingebrigtsens have their own reality show in Norway), he became the youngest man in history to break 4:00 in the mile at the age of 16. By 17, he was the European champion, and by 19 he had run 3:28 for 1500m, one of the fastest times ever. Now 20, he will try for his first global title in Tokyo.
Who won't be in Tokyo
A bunch of American stars
Doping cases are one of the few stories that break through the track & field bubble and into the mainstream. And recently, there have been a lot of them — at this point, it feels as if half of the American team is banned from competing. Four US medal contenders have been banned in the last 13 months alone, even though only two of them failed drug tests (and one of those was for marijuana):
Christian Coleman — His absence has recently been overshadowed by Richardsons, which is insane because Coleman was the heavy favorite for the most famous Olympic race of them all, the men's 100 meters. The reigning world champion and sixth-fastest man in history (9.76) was suspended last year after missing three drug tests in a 12-month period.
Sha'Carri Richardson — You've probably heard about this one. The breakout star of the US Olympic Trials, where she won the women's 100, Richardson would have been a medal favorite in Tokyo but tested positive for cannabis at the Trials. That nullified her Trials result and kept her off the Olympic team.
Shelby Houlihan — The American record holder in the 1500 and 5000 meters tested positive for the anabolic steroid nandrolone in December. Houlihan said the nandrolone stemmed from a burrito she ate the night before her test. That explanation isn't as crazy as it sounds — a number of Americans have been cleared by the US Anti-Doping Agency by citing contaminated meats or supplements — but the Court of Arbitration for Sport didn't buy it and Houlihan was banned for four years.
Brianna McNeal — The reigning Olympic champion in the 100m hurdles missed a drug test in January 2020. McNeal explained that she missed the test because she was recovering from an abortion. But in trying to explain the missed test to the Athletics Integrity Unit, she altered the dates on some medical forms. That's tampering, and it resulted in a five-year ban, effectively a death sentence for McNeal's career.
Caster Semenya
In 2018, World Athletics, the governing body of track & field, published new rules for athletes with Differences of Sexual Development (DSDs).
What is DSD? Well, it's kind of complicated but the rules are mainly designed to prevent intersex athletes from dominating women's competition.
These rules, aimed at creating a level playing field, put a testosterone limit on female athletes racing events between 400 meters and the mile. In recent years, those events had featured a number of dominant intersex athletes — humans with XY chromosomes and testosterone levels far beyond the typical female range but sex characteristics that did not neatly fit into either the male or female category.
You may remember one of those women: Caster Semenya, the 2012 and 2016 Olympic 800m champion from South Africa. Semenya is no longer allowed to run the women's 800 (since she has refused to artificially lower her testosterone levels), and one of the biggest complaints from those opposed to the new rules was that they unfairly singled out Semenya.
But that was never the case, as the last three years have proven. All three women's 800m medalists in 2016 were revealed to have a DSD. Semenya and bronze medalist Margaret Wambui of Kenya won't be in Tokyo, but silver medalist Francine Niyonsaba moved up in distance and qualified in both the 5,000 and 10,000 meters, events where the testosterone limit does not apply. The world leader at 400 meters this year, 18-year-old Christine Mboma of Namibia, won't be allowed to run that event in Tokyo either (she is running the 200 instead) as she was also revealed to have a DSD.
Salwa Eid Naser
Salwa Eid Naser is the reigning world champion at 400 meters and owns a personal best of 48.14, third-best in history (the two women ahead of her are Eastern Bloc athletes from the 1980s widely assumed to have been doping). But Naser was banned for the Olympics after missing three drug tests in 2019. Her case, which involved a wrong address and a closet full of gas canisters, was controversial — a World Athletics Disciplinary Tribunal overturned her ban before the Court of Arbitration for Sport reinstated it — but she will not be in Tokyo.
Omar McLeod
The reigning Olympic champion in the 110m hurdles — and Grant Holloway's chief rival for gold — failed to make the Jamaican team after cramping up ahead of his race at the Jamaican trials. In a since-deleted tweet, McLeod ripped the Jamaican federation for holding the final at 8 a.m. on the morning after the semifinals, but his appeal fell on deaf ears.