Norway's Karsten Warholm Runs 46.70 to Break 400-Meter Hurdles World Record on Home Soil in Oslo
By Jonathan Gault
July 1, 2021
Karsten Warholm has always known how to put on a show. The 25-year-old Norwegian, the two-time defending world champion in the 400-meter hurdles, begins each race by pounding his chest and screaming into the camera, a ritual he took to a new level at tonight's Bislett Games in Oslo by flapping his arms up and down wildly, priming the crowd for what was to come. As usual, he did not disappoint.
Running in the final event of the night in front of a passionate home crowd, Warholm finally broke the world record he had spent the last two years chasing, clocking 46.70 to erase Kevin Young's 400-meter hurdles world record of 46.78, which had stood since the 1992 Olympics, four years before Warholm was born. Entering 2021, Warholm had run 46.87, 46.92, 47.07, 47.08, 47.10, and 47.12 within the last two years but Young's record had withstood assault after assault. Last week, Warholm's rival Rai Benjamin ran 46.83 to win the US Olympic Trials, the closest yet anyone had come to breaking Young's mark, but still the record stood.
Article continues below player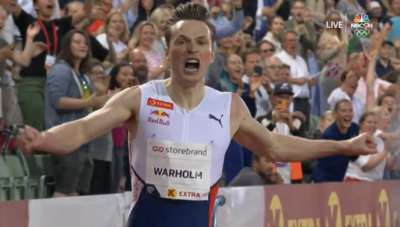 Today, running in his first 400m hurdles race of 2021, Warholm finally took it down. Running in lane 7, Warholm used his traditional fast start to make up the stagger on France's Ludvy Vaillant on his outside by hurdle two, and had built an enormous lead halfway through the race. Warholm's lead would actually shrink over the final 100 meters as Brazil's Alison dos Santos — who ran a South American record of 47.38 for second, tied for #15 all-time — closed hard. But he could not catch Warholm, who pumped his arms furiously off the final hurdle to stop the clock at 46.70 and send the crowd into rapture.
Warholm now has the world record he has so craved, but will have to work to protect it. He is scheduled to face Benjamin in Monaco on July 9 — the pair's first encounter since the 2019 World Championship final, won by Warholm — and the two will presumably square off again in the Olympic final on August 3. With both men in the shape of their lives, it would not be a surprise to see the world record fall again before the year is out.
Warholm's run tonight marked the second time in five days that a 400-meter hurdle world record has fallen on home soil. American Sydney McLaughlin ran 51.90 to break the women's world record at the Olympic Trials in Eugene on Sunday.
Talk about Oslo on our world famous fan forum / messageboard.
MB: Official 2021 Oslo DL Discussion Thread
MB: Karsten Warholm 46.70 WR In Oslo!! Cast
MB: Stewart McSweyn 3:48.37 to win the Dream Mile!!! Craig Mottram's Aussie record falls
MB: Kate Grace destroys her pb and the world champion- 1:57.60 FTW in Oslo.
MB: Eilish McColgan 14:28.55 – breaks Paula Radcliffe's 17-year old British record!!!
---
More coverage:
LRC Rai Benjamin Rips 46.83 (#2 All-Time) to Win 400m Hurdles at 2020 US Olympic Trials
LRC Sydney McLaughlin Runs 51.90 at 2020 US Olympic Trials to Break 400-Meter Hurdles World Record
From 2020: LRC Karsten Warholm & The Greatest 400-Meter Hurdle Season Ever