2021 Bislett Games Recap: Kate Grace (1:57) Wins Her First DL, Yomif Kejelcha Runs 7:26, and Stewart McSweyn Gets (Another) Aussie Record
By LetsRun.com
July 1, 2021
After a three-week break for countries to hold their Olympic trials, the Diamond League returned in style on Thursday with Karsten Warholm setting a world record of 46.70 seconds in the 400-meter hurdles at the Bislett Games in Oslo. Warholm's run, which gets its own article here, was the capper to a terrific night of track & field, which also included a super fast men's 3000 won by Yomif Kejelcha in 7:26.25, an Australian record of 3:48.37 and win in the mile by Stewart McSweyn, and a dominant first career Diamond League win in the 800 by Kate Grace, who ran a pb of 1:57.60.
Hellen Obiri also got back on the winning track by taking the women's 5,000, where Eilish McColgan broke Paula Radcliffe's 5000 British record in a losing cause, and Andre De Grasse looked good in winning the men's 200. 
Article continues below player
Full meet recap below.
Women's 800: Kate Grace earns dominant win
Four days and almost 5,000 miles ago, Kate Grace finished seventh in the 800 meters at the US Olympic Trials in 1:59.17. Tonight, Grace earned a measure of redemption by running a personal best of 1:57.60 to earn her first career Diamond League win in dominant fashion, taking down world champion Halimah Nakaayi of Uganda in the process. Nakaayi ran 1:58.70 for second — a big improvement from the 2:00.62 she'd run this year coming in.
The race 
Grace was fourth racer at bell, and really made her move on the backstretch. Heading into the final turn she was second and midway through the turn she went past Nakaayi and never looked back.
"I really wasn't sure what to expect tonight so to get such a huge PB I am really happy. I only flew here two days ago after three big races at the US trials and the big disappointment of not making the team," said Grace. "Tonight proved that I am doing things right with my new coach and my new training set up. Things are paying off."
Results
Quick Take: Props to Kate Grace
If we came up short at the Olympic Trials, the first thing we'd do is get on a plane and get to Europe and try to PR. If you stay here and try to process what went wrong, you may end up wallowing in misery for a few weeks and then lose the whole season as the racing opportunities during the Olympics for non-Olympians will be extremely limited.
What Grace has done this year — her first under coach Joe Bosshard — is very impressive. Not many athletes would move back down to the 800 at age 32 after moving up to specialize in the 1500, but Grace did and clearly she still had room to improve as she has now run her fastest time ever.
This also shows just how difficult it was to make the US team this year — though Grace didn't help herself by running a subpar tactical race in the Olympic Trials final. She has developed a reputation as an athlete who runs well with rounds, and after the race her coach Joe Bosshard quipped that she needed four rounds, not three, at the Trials. Tonight was Grace's fourth race in eight days.
MB: Kate Grace destroys her pb and the world champion- 1:57.60 FTW in Oslo.
Quick Take: Don't sleep on Nakaayi
At this point in time in 2019, Nakaayi had yet to break 2:00.00 on the year. She ended up going it three times in July, running 1:59.57 before Worlds and then winning the World title in 1:58.04. Yes, Worlds was at the end of September, but we're just pointing out that her CV shows she might be much improved come the Olympics.
Quick Take: Kate Grace becomes the fifth American woman to win a Diamond League 800
The full list of US women to win a DL 800:
Ajee' Wilson (5)
Brenda Martinez (2)
Alysia Montaño (2)
Hanna Green (1)
Kate Grace (1)
Men's 3000: Yomif Kejelcha runs the fastest time outdoors since 2007
There has been plenty of talk the last two years about the amount of emergent talent in the distance events on the track, including Norway's Jakob Ingebrigtsen and Ugandans Jacob Kiplimo and Joshua Cheptegei running crazy times and smashing records. Over the course of  3,000 meters this evening, Ethiopia's Yomif Kejelcha sent a reminder: I'm still here.
Kejelcha dominated the field tonight to win in a Diamond League record of 7:26.25, moving to #7 on the all-time outdoor list. It was the fastest time outdoors since Kenenisa Bekele ran 7:25.79 in 2007 (though Getnet Wale did run 7:24.98 indoors in February). The win was Kejelcha's seventh on the DL circuit.
Pacer Vincent Kibet took the field through 1600 meters in 4:02 (7:33 pace) — quick, but not quick enough for Kejelcha, who assumed the lead and dropped a 58.44 lap from 1800 to 2200 to string out the field with only Jacob Krop (fourth in the Kenyan Olympic trials in the 5000) strong enough to hold on. Kenyan 5k trials champ Nicholas Kimeli was third, 20 meters back.
Kejelcha dropped a 58.40 on the penultimate lap, and Krop was struggling to hang on now; on the back straight, Kejelcha, gritting his teeth, would push even harder and eventually break Krop, dropping s 56-second lap to close out a superb 2:23.88 final kilometer and earn the win.
Behind him, Krop ran 7:30.07 and Kimeli 7:31.33 as the top eight men all broke 7:40 and set personal bests.
Results
Quick Take: Kejelcha's set of personal bests is truly impressive
Kejelcha's pbs from the mile to 10,000 are unprecedented; no one has ever run as fast as Kejelcha in the mile (3:47.01, a world indoor record) and the 10,000 (26:49.34) (although to be fair Mo Farah's 1500 pb equates to a 3:45 mile and he's run 26:46 for 10,000). Add in 7:26.25 for 3000 (#7 all-time outdoors) and 12:46.79 for 5000 (#6 all-time) and a 59:05 half marathon for good measure and his personal bests are something most runners in history would be jealous of.
The big question, of course, is whether those pbs will translate to a medal this summer. Kejelcha has won two world indoor titles at 3000, but has not been able to translate that to the 5000 outdoors as he was 4th at Worlds in 2015 and 2017 and was not selected to the Ethiopian Olympic team in 2016. 
He moved up to the 10k in 2019 and earned the silver at Worlds, which is the event he will run in Tokyo this summer. Clearly he is fit, but that's still no guarantee of a medal. Kejelcha was beaten at the Ethiopian trials by Selemon Barega, Geoffrey Kamworor ran great (27:01 at altitude) to win the Kenyan trials, and Uganda has the world record holder Joshua Cheptegei as well as Jacob Kiplimo, who ran 26:33 in May in Ostrava. Only three of those men can medal. Good luck.
"I am working hard for the Olympics but it will be very difficult as there is a lot of competition," Kejelcha said after the race. "I have no more competitions now before Tokyo so I will just train hard."
Dream Mile: Stewart McSweyn beats Craig Mottram's Aussie record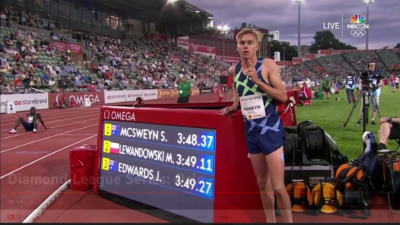 The Dream Mile ended up being a thriller as Stewart McSweyn took down Craig Mottram's Australian record of 3:48.98 by running 3:48.37. 
The race, like most on the night, was perfectly rabbitted with a combination of Wavelight and France's Mounir Akbache doing a wonderful job of covering the first 800 in 1:53.28. McSweyn then took command and gapped the field as he ran a 57.50 third 400 to hit 1200 in 2:50.78. McSweyn had 5-6 meters on a four-man chase pack.
Coming off the final turn, McSweyn still had a gap on the field; he was maxed out, but so were they. The man closing the fastest was 2019 Worlds bronze medallist Marcin Lewandowski. Close to 10 meters down with 100 to go, he went from 4th to 2nd in the final 50 and grabbed second in a Polish record of 3:49.11 as Australian champ Jye Edwards was third in 3:49.27 with Kenyan champ Charles Simotwo fourth in 3:49.40. Brit Charlie Grice was actually the one closest to McSweyn for most of the race as he tried to overcome his British Trials disappointment with a big pb but he totally blew up in the last lap and ended up 9th in 3:54.97.
Results
Quick Take: McSweyn now holds Aussie records in the 1500, mile, and 3000 meters
McSweyn, who turned 26 last month, is at the point in his career where the Australian record is in danger in every race he runs. Entering tonight, he already held national records in the 1500 (3:30.51) and 3k (7:28.02), and he used to own the 10k record (27:23.80) before Patrick Tiernan broke it last year. McSweyn is steadily building an argument as the greatest distance runner Australia has ever produced, but to separate himself he will need to do a few things that Craig Mottram accomplished. One is break 13:00 (Mottram's national record is 12:55; McSweyn's pb is 13:05). The other is medal at a global champs (which Mottram did with a bronze at the 2005 Worlds).
MB: Stewart McSweyn 3:48.37 to win the Dream Mile!!! Craig Mottram's Aussie record falls
Hellen Obiri wins as Eilish McColgan breaks Paula Radcliffe's British record
Hellen Obiri of Kenya picked up her first Diamond League win of the year as she used a 61 last lap to hold off Ethiopia's Fantu Worku to win the women's 50000 in 14:26.38. Worku, the 4th placer at the Ethiopian Trials in 14:29, was second in 14:26.80 as the Kenyan Trials 4th placer, Margaret Kipkemboi, the 2019 worlds silver medallist, was third in 14:28.24.
But the story of the night came in 4th. Brit Eilish McColgan stuck with the back of the lead pack, which was running 70 second laps, from start to finish thanks to the Wavelight pacing lights and then kicked it home in 62.8 to break Paula Radcliffe's British record of 14:29.11 which had stood since 2004.
14:28 was a massive pb for McColgan. Mccolgan's pb before tonight was 14:46.17.
"I couldn't be happier with that British record. The last kilometer was fast out there but it brought out the competitiveness in me. It really has been a long time coming. My race times haven't reflected my training which has been going really well," said McColgan. "My aim in Tokyo will be a PB. I know there are some fast girls out there — their speeds make me giddy."
MB: Eilish McColgan 14:28.55 – breaks Paula Radcliffe's 17-year old British record!!!
Results
Quick Take: Obiri's form is improving but….
Obiri has won an awful lot during her career — the 2017 and 2019 world 5000 titles on the track, the 2019 world XC title — but the big void on her resume is the Olympic gold. The problem is she's going to have her hands full in Tokyo as it came out earlier today that 1500 ace Gudaf Tsegay is opting for the 5000 for Ethiopia. And it's possible Sifan Hassan does as well.
The reality is at the Ethiopian trials Worku, who was right with Obiri tonight, was 14+ seconds down of third as the top 3 Ethiopians ran 14:13-14-15.
Obiri realizes she faces a tough task.
"I still have a lot of work to do before the Olympics especially as I am doubling up there (5000 and 10000m). I have a lot of speed work to do between now and then. I have worked hard on my endurance and now I need to concentrate on the last 300m," said Obiri.
Men's 200: De Grasse wins it comfortably
World/Olympic silver medalist Andre De Grasse of Canada was in front after the curve and the only question in the home straight was how much he would win by. Almost three-tenths of a second, it turns out, as he clocked 20.09 to defeat countryman Aaron Brown, who was second in 20.38.
De Grasse has been one of the best sprinters in the world over the past seven years, but has rarely had the opportunity to run fast with a legal wind, dating back to his breakout meet at the 2015 NCAAs, when he won the 100/200 in 9.75/19.58 with +2.7 and +2.4 winds. It's hard to believe De Grasse's pbs are just 9.90/19.80 for 100/200. Tonight the wind was legal, but unfortunately it was a headwind of 1.0, which slowed his time.
Women's 400 hurdles: Bol sets Dutch record (again)
Femke Bol's great form continued as the 21-year-old Duch athlete lowered her pb from from 53.44 to 53.33 as she got yet another victory. She has now PR'd in each of her last two 400 races (50.56 and 50.37) and 400 hurdle races (53.44 and 53.33).
"I am really pleased to take another national record but I do think I can go faster. It would be good to be able to have someone to chase so I can get closer to that sub 52 mark," said Bol. "My ambition this year is to make the Olympic final as it is my first Olympics. Of course I want to do well in the 4 x 400m as well."
Women's 100: Ta Lou dominates
The Ivory Coast's Marie Josée Ta Lou, who won silver at Worlds in 2017 in both the 100 and 200, won her third straight 100 of the year and this time she dipped under 11.00 for the first time of the year as she ran 10.91 into a -0.3 m/s wind. If you convert today's run to zero wind, it's equal to a 10.89 which isn't far off what she ran to win silver in 2017 (10.86). That's the good news. The bad news is 10.86 isn't likely to get a medal this year as four women have run 10.78 or faster already.
Field events
Women's javelin: Hussong wins on final attempt
Germany's European champion Christin Hussong only had the second-best throw during the first five rounds as Poland's Maria Andrejczyk threw 62.67 to Hussong's 62.62, but in the new DL format, your sixth-round throw is your most important. Hussong went 60.95 on her last attempt and Andrejczyk only threw 60.35, which meant Hussong took the win.
Men's triple jump: Triki earns first DL win
Yasser Mohamed Triki, the 2018 NCAA champion for Texas A&M, won his first career Diamond League, going beyond 17 meters on four of his six attempts — a feat no one else could achieve even once tonight. Triki got out to 17.24 in round one to clinch his spot in the final and came just one centimeter shy on his sixth-round attempt to take the win.
Interestingly, Cuba's Andy Diaz, the man with the best pb in the field (17.63m), took only one jump in the first five rounds — his first-round jump of 16.78, which was far enough to put him in the final. But after four straight passes, he fouled his sixth-round attempt and wound up second (third placer Tiago Pereira of Portugal also fouled in the sixth round).
Women's long jump: Mihambo takes it
World champ Malaika Mihambo of Germany had the three best jumps of the competition tonight — 6.87 and 6.67 meters in rounds two and three, then 6.83 meters to clinch the win in round six. This was revenge of sorts for Mihambo, who had the best jump of the competition in Florence on June 10 but lost to Ivana Spanovic in the final round; today, Spanovic could only manage second by jumping 6.61 in the final round.
Men's pole vault: Mondo is only man over six meters
World record holder Mondo Duplantis earned his 10th win in 11 events this year, clearing 6.01 meters while runner-up Sam Kendricks missed all three attempts at 6.01 after clearing 5.91 on his final attempt.
Kendricks was responsible for Duplantis' only loss of the year, defeating him in horrible conditions in Gateshead on May 23.
Men's discus: Stahl wins
World champion Daniel Stahl and European U23 champ Kristjan Ceh of Slovenia both threw 65.72 in the final round, which meant the victory went to whichever man threw farther in the first five rounds of competition. That was Stahl, whose 68.65 best in round five easily outdistanced Ceh's 66.68 from round four.
Talk about Oslo on the messageboard.
MB: Official 2021 Oslo DL Discussion Thread
MB: Karsten Warholm 46.70 WR In Oslo!!
MB: Stewart McSweyn 3:48.37 to win the Dream Mile!!! Craig Mottram's Aussie record falls
MB: Kate Grace destroys her pb and the world champion- 1:57.60 FTW in Oslo.
MB: Eilish McColgan 14:28.55 – breaks Paula Radcliffe's 17-year old British record!!!