Paul Chelimo Runs 13:09.90 to Win Boost Treadmills 5,000 as American Record Attempt Falls Short
By LetsRun.com
March 18, 2021
VIRGINIA BEACH, Va. — Olympic silver medalist Paul Chelimo may not have got the American record he craved tonight, but he did extract a measure of revenge on training partner Emmanuel Bor in the Boost Treadmills 5,000, using a 27.32 last lap to outkick Bor and win in 13:09.90 to move to #9 on the all-time US indoor 5,000m list. Bor, who beat Chelimo two weeks ago on the same Virginia Beach Sports Center track at the FireFly Recovery 5,000, wound up second in 13:11.10, closing in 28.32 for his final 200.
In their previous race on March 4, Chelimo was dropped at three kilometers after Bor came through in 7:47. Tonight, the pace was deliberately more relaxed, with coach Scott Simmons asking for the Light Speed Pacing system to be set up for his athletes to attempt a negative split, and the result was Bor and Chelimo came through 3k together at 7:52.99. Ultimately, however, neither man could pick it up to the 30-second laps required to break Galen Rupp's 13:01.26 American record from 2014.
Article continues below player
For Chelimo, though, tonight's run — which was broadcast live for free on LetsRun.com — was a significant step forward as he could only manage 13:12.51 in a losing effort last time out.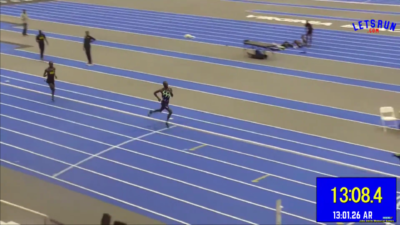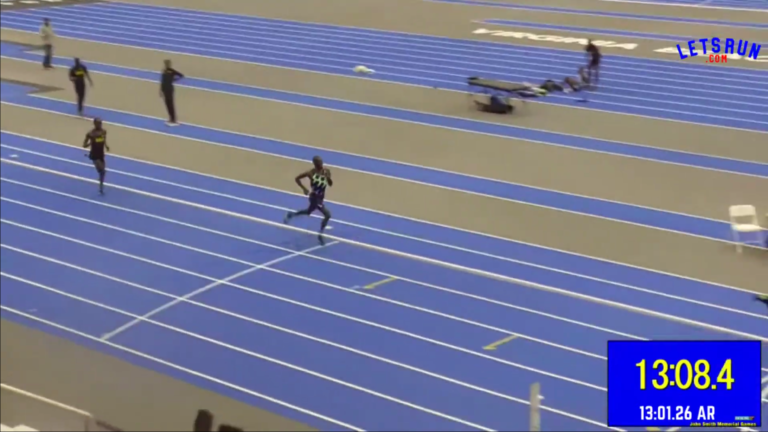 "If you count me out in any race, I come back and get back at you," Chelimo said after the race. "So they can count me out at the Olympic Trials. I know I'm not the favorite at the moment, but we will see what goes down that day. Honestly I feel like people talk too much. That's all I can say, people talk too much, but I love the people who love me."
The men's 5,000-meter squad will be one of the toughest to make at the US Olympic Trials, which begin exactly three months from tonight in Eugene, Ore. And Chelimo, who secured the final spot on Team USA by .06 over Eric Jenkins five years ago, hinted he may have something crazy up his sleeve this time around.
"The race might start at the Olympic Trials, first lap I'll go 52," Chelimo said. "You're going to see what's going to go down."
That sounds more like an 800 split than a 5,000 split, but Chelimo did go out in 60.93 in the 2017 USA final en route to a dominant victory. So be ready for anything in Eugene.
Results (full lap-by-lap splits)
1. Paul Chelimo, Nike 13:09.90
2. Emmanuel Bor, Army WCAP 13:11.10
3. Leonard Korir, Army WCAP 13:39.77
4. Augustus Maiyo, Army WCAP 14:14.20
DNF Anthony Rotich, Army WCAP (7:52.90 at 3k)
DNF Hillary Bor, HOKA ONE ONE (7:53.57 at 3k)
DNF Willy Fink, Under Armour (8:00.35 at 3k)
DNF Benard Keter, Army WCAP (8:07.32 at 3k)
DNF Frankline Tonui, Army WCAP (8:08.62 at 3k)
DNF Lawi Lalang, Army WCAP
*Rotich, Keter, and Tanui all pre-planned to drop out of the race at 3k
Full race replay