Grant Holloway Breaks 60-Meter Hurdle World Record To Cap Greatest 60 Hurdle Season Ever
by Jonathan Gault and Robert Johnson
February 24, 2021
American Grant Holloway broke Colin Jackson's men's 60-meter hurdle world record of 7.30, which had stood since 1994, by running 7.29 at the Villa de Madrid World Athletics track and field meeting tonight.
In the prelims tonight, Holloway crossed the finish line with an unofficial 7.34 showing on the scoreboard but it was adjusted down to 7.32 — equal to Holloway's American record set in Lievin two weeks ago. In the final, another timing adjustment meant the 23-year old Holloway had to wait a few minutes after the race was over to be confirmed as the world record holder. When he initially crossed the line, the clock stopped at 7.32 but it was adjusted down to 7.29, at which point Holloway was handed a world record board and began to celebrate.
Article continues below player
Like our coverage from Albuquerque?
Watch Holloway's race here:
Grant Holloway breaks world indoor 60m hurdles record in Madrid #WorldIndoorTour

Stunning hurdling from @Flaamingoo_ to clock 7.29 ?

?: https://t.co/zCi4oRJwyr pic.twitter.com/1oM4G3DKP2

— World Athletics (@WorldAthletics) February 24, 2021
Quick Take: Holloway just finished the greatest hurdling season ever in style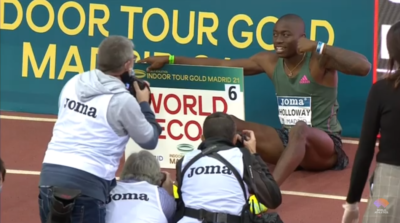 Obviously, any time you break a world record, you're making history, but Holloway's 2021 campaign as a whole has been historic and easily the greatest 60-meter hurdles season the world has ever seen. Holloway competed in five meets this year. He won all five prelims and all five finals, and his times were remarkable. He tied his own American record of 7.35 in his season opener in Fayetteville on January 24. He broke that AR in his next meet, running 7.32 in Lievin on February 9. After wins in Val-de-Reuil and Torun, he tied his AR again in the prelims today with his 7.32 before finally taking down the WR in his final race of the year.
His top times this year, and where they rank on the all-time list:
7.29 (#1 all-time)
7.32 (T-#3)
7.32 (T-#3)
7.35 (T-#7)
7.38 (T-#18)
7.38 (T-#18)
7.38 (T-#18)
So he ran the world record and now owns three of the four fastest times ever — all from this year. We've never seen a season like this before in the 60m hurdles.
Quick Take: Grant Holloway has NEVER lost a 60m hurdle race over 42 inch hurdles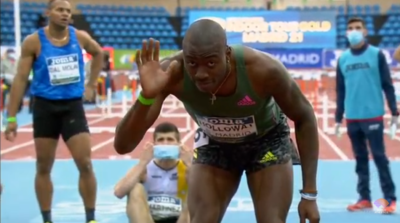 This statistic sounds made up, but it's true. Grant Holloway has run 41 races in the 60-meter hurdles over the senior hurdle height of 42 inches (21 prelims, 20 finals). He has won all 41.
That streak dates back to his first race as a University of Florida freshman in January 2017 (Holloway did lose a race in the 60 hurdles in high school — as a sophomore, he was second at New Balance Indoor Nationals, though that was over 39-inch barriers).
That's simply remarkable. In the 60m hurdles, there is almost zero margin for error. Make a big mistake and you don't have time to recover. The consistency required to win in the hurdles, time after time, is incredible.
When you think of hurdle streaks, naturally you think of Edwin Moses and his 122 straight wins in the 400 hurdles (107 straight finals). That streak lasted almost 10 years, from 1977-1987. Could Holloway one day eclipse it?
Holloway has run 41 races in the 60 hurdles over the last five years, for an average of just over eight races per year. So he'd have to keep racing (and winning) at his current rate for the next 10 years in order to eclipse Moses' record.
Holloway is still only 23 years old, so it's not totally out of the question. But the fact that the indoor season is much shorter than the outdoor season is a big…pardon the pun…hurdle. For Moses to go undefeated for 10 straight years was absurd. For Holloway to do it for 15 would defy description.
Quick Take: If Holloway wins Olympic gold this summer, he'll be a hurdling legend at at just 23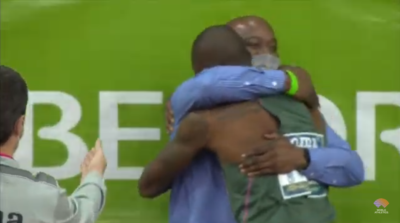 Holloway has accomplished quite a lot in his career and he's just getting started as a professional.
As a collegian at Florida from 2017-2019, Holloway was a perfect six-for-six in NCAA hurdling championships as he won three indoor and three outdoor hurdle titles. Add in a flat 60m title as well as a 4 x 100 title and it was quite a career, as along the way he also set NCAA indoor (7.35 — also an American record) and outdoor (12.98) hurdle records, with his outdoor record being the only sub-13 in NCAA history.
Talk about Holloway's record run on our messageboard.
MB: Grant Holloway 7.29 WR
MB: Live now: Official Madrid Discussion Thread – How many world records will fall (0, 1, 2, or 3)?