Galen Rupp Says He's Going for Gold in Sapporo, Aliphine Tuliamuk Will Be Back to Running Soon, & More Updates on the US Olympic Marathoners
By Jonathan Gault
February 25, 2021
Sunday marks the one-year anniversary of last year's US Olympic Marathon Trials in Atlanta (well one year minus one day; the Trials were held on February 29, making a true one-year anniversary impossible). The world has turned upside down over the last 12 months, but the six athletes selected on that day to represent Team USA in Japan are in the same spot they were this time a year ago: 23 weeks away from the Olympic Marathon.
Of course, some things have changed. Galen Rupp is healthier. Jake Riley and Molly Seidel picked up new sponsors. Abdi Abdirahman is 44 years old (doesn't it still seem impossible he made this team?). And none of them have the leg soreness from racing 26.2 miles on Atlanta's hills — though Aliphine Tuliamuk does have the challenge of restoring her body to racing shape after giving birth to daughter Zoe on January 13.
Article continues below player
With that one-year anniversary in mind, USATF hosted five of the six Olympians on media calls over the last two days. Sally Kipyego spoke yesterday (you can read our story on her here). Today's call featured Rupp, Riley, Seidel, and Tuliamuk (Abdirahman was not on either call). Here's what we learned.
Galen Rupp: "I want to win [the Olympic marathon]. There's no ifs, ands or buts about it."
Yesterday, Kipyego mentioned her goal was to medal in Sapporo in August. Rupp went one step further.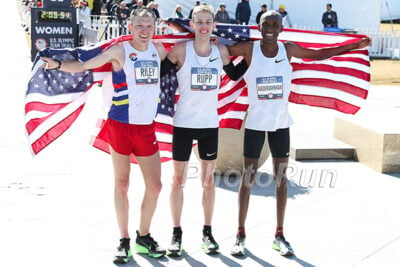 "I want to win," Rupp said. "There's no ifs, ands or buts about it. That's definitely my goal. I've gotten a silver medal in London, a bronze medal in Rio, and so hopefully I'll be shooting for gold for sure in Tokyo. I know it's not going to be an easy ask. It will be a tall task. There's obviously a tremendous amount of great marathoners out there right now and the Olympics are always going to be a tough test. But I thrive on competition and I can't wait to have the opportunity to go in there with the best in the world and really see what I can do."
Rupp said that while gold is his aim, he wouldn't be disappointed if he fails to win — indeed, in the last 113 years, only one American man, Frank Shorter, has accomplished the feat. Not all of his fellow Olympians shared that perspective, however.
"I'm going to be disappointed if you don't win," Tuliamuk joked. "No pressure."
The one-year delay has helped Rupp more than most. Even before the pandemic, Rupp spent much of his time in his Portland home, which is equipped with a device that strips oxygen from the air to mimic the effects of high elevation. Staying home was not much of a challenge, though it did limit the amount his coach Mike Smith could visit him to oversee workouts.
From a running perspective, the extra year has given Rupp more time to adjust to Smith's system. Under previous coach Alberto Salazar — whose appeal of his four-year ban for anti-doping violations will be heard by the Court of Arbitration for Sport next month — Rupp would hit each rep of his interval sessions "as hard as [he] could" and take a full rest before tackling the next one. Until he trained under Smith, Rupp had never run a fartlek. When Smith, the coach at Northern Arizona University, began working with Rupp in December 2019, he asked Rupp to turn over his previous training logs. The first thing he told Rupp after examining them?
"He didn't think I was training much like a marathoner," Rupp says. "There was still so much track stuff that I was doing."
Now Rupp is growing accustomed to Smith's system. He feels he works just as hard in practice, but the workouts are different: slower, with more reps and less recovery.
"Having some new stimulus, having some different workouts that I've been doing, it's been a challenge, but it's been really fun for me at the same time," Rupp said. "…I couldn't be happier with the way that things have worked out and where things are going."
The delay has also allowed Rupp's body extra time to heal. The Trials was just the second race Rupp finished following Achilles surgery in October 2018, and though Rupp estimated he was 90-95% healthy by the time of the Trials, he had not been able to string together a significant amount of pain-free running. Rupp admitted that, even after the Trials, "it hasn't always been pretty," but he feels he's in a better spot now than he was a year ago.
"I'm optimistic about where I'm at physically and I couldn't have said that over the last year," Rupp said. "But I was really pleased with the way the Trials went and I think that I've grown a lot since then."
The one annoying thing for Rupp has been the inability to race. Since the Trials, he has run just one: 60:22 for a low-key half marathon in October on an Oregon bike path. In years past, Rupp could at least gauge his fitness by comparing workouts splits to what he'd done before, but with a whole new set of workouts under Smith, even that is impossible. So Rupp is itching to race, but exactly where and when that will happen remains uncertain.
Rupp was hoping to do a marathon this month, but that proved untenable due to COVID travel restrictions. He is considering racing some shorter distances in the leadup to the Games. Given the flat course in Sapporo, Rupp believes it is important to improve is speed, which has been a recent emphasis in training.
"We want to get back into the swing of racing again," Rupp said. "I think it's important."
Aliphine Tuliamuk expects to return to running two weeks from now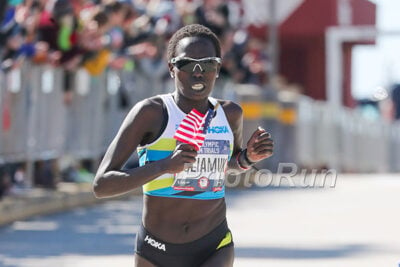 Tuliamuk gave birth six weeks ago, and said that, after cross training for three to four weeks on the elliptical and lifting ("I feel I can lift heavier weights than before"), her body feels ready to run now. But her pelvic floor therapist asked that Tuliamuk hold off until she hits the eight-week mark (she would have recommended 12 had Tuliamuk not been training for the Olympics) before resuming running. Tuliamuk is following that advice and playing it safe.
So far, Tuliamuk is loving being a mother — Zoe feeds well and doesn't fuss much, though sleeping can still be an issue. Growing up in Kenya, Tuliamuk was one of 32 siblings. Here, Zoe is one of one — but that presents a different challenge. In Kenya, raising a newborn is very much a family affair — Kipyego has spent much of the last three years in Kenya for that exact reason following the birth of her own daughter. Tuliamuk has not had that sort of support, in part because of COVID-19.
"We have so much help over there," Tuliamuk said. "Here, it's just me and my fiance. So that's definitely been different and hard. It makes me sad, in a way, especially during a pandemic that I'm raising my child and she's not hanging around with family."
Tuliamuk is in no rush to return to racing, but does hope to get at least one in before the Olympics. And though some have discounted her chances in Sapporo because of the quick turnaround from her pregnancy, Tuliamuk is ready to surprise people. She ran the 2019 New York City Marathon off of less than 10 weeks of training following a femoral stress fracture. Four months after that, she won the Olympic Trials.
"I dream about going to Tokyo and doing things that no one can imagine that I'm going to be able to do," Tuliamuk said. "Even myself."
Odds & Ends
Of the six future Olympians, Molly Seidel has been the most active by far when it comes to racing. She went to London last fall and cranked out a sixth-place finish in a pb of 2:25:13, and followed that up with a 69:20 half marathon pb in Las Vegas in January. Seidel will be in action again this weekend in a half marathon staged by the Atlanta Track Club, and plans to run the USATF 15K champs in Jacksonville on March 20. She may also hop into a 10,000 on the track this spring. "I'd absolutely love the chance to get to race a 10k on the track at the Trials," Seidel said…Jake Riley did race once last fall, clocking a 62:29 half marathon pb in Michigan in October, and was planning on racing at the Track Meet in December but did not feel safe traveling and decided against it. Until he receives the COVID vaccine, Riley is fine with minimizing his travel. The only race on his schedule right now outside of the Olympics is a half marathon in Nebraska at the end of April. If he gets more opportunities to compete this spring, he may take them, but Riley is not stressing. "I don't really feel the need to go out and prove fitness before the final buildup. I think we can get most of what we need to get done in workouts."…Seidel said she is considering buying a house in Flagstaff, if she can avoid getting outbid by "some Phoenician that can pay $50,000 over asking." "I'm spending four to six months [a year] out here," Seidel said. "Boston is obviously where I spend a lot of my year as well, but I've got a lot of friends out here. My boyfriend's out here. Rachel Schneider and Mike Smith are two of my best friends, they've been very well-established out here. And I just feel that the training I get in Flagstaff is pretty incomparable to anything I've found. I've been coming out since I was 18 or so. It's just a very special place to me."…Tuliamuk said she has been worrying a bit about whether the Olympics will be cancelled, in part because she wouldn't consider herself a "full Olympian" until she actually competes at the Games and isn't sure if she will have another opportunity to make a team in her career. Rupp wasn't having any of it, jumping in to console Tuliamuk. "Regardless, you should still look at yourself as an Olympian," Rupp said. "These are circumstances beyond any of our control. You made it. You qualified, you won the Trials. I wouldn't be too concerned about that."…One last thing: can anyone explain the double Nike shirt Rupp was wearing during his interview?
---
Talk about the US Olympic marathoners on our messageboard. MB: Galen Rupp isn't afraid to admit he's dreaming BIG, "I want to win [Olympic gold]. There's no ifs, ands or buts about it."
More: Sally Kiypego wants to get in sub-2:20 shape and medal in the Olympic marathon "The objective for this season for me is to be able to medal [in the Olympic marathon]….I'm trying to get myself into — 2:20 or sub-2:20 shape going into Tokyo, and I think if I am in that kind of shape, my chances are pretty good at medaling."