How Many Americans Will Get Lapped at the 2020 London Marathon? A Scientific Exploration
An American will almost certainly get lapped on Sunday. It's not as bad as it sounds.
By Jonathan Gault
October 1, 2020
It's not often a professional runner goes into any race — let alone a marathon — with the goal of not getting lapped. Sponsors pay good money for pros to wear their shoes with the idea that, in return, the feet carrying those shoes will be near the front of the pack. Yet ahead of Sunday's Virgin Money London Marathon, where the possibility of a world record has been floated, American Jared Ward is choosing to embrace that more modest goal. He's even coined a hashtag: #DontGetLapped.
Article continues below player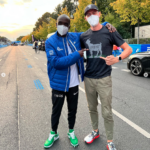 Kipchoge loves the 1:59:40 Shirt Get Yours Today
What a legend!
That may sound like a low bar to clear for a man who was 6th at the most recent Olympic marathon, but dive into the numbers and it's anything but.
Unlike the traditional point-to-point course, the 2020 London Marathon will be staged on a 1.34-mile loop around St. James's Park that runners will complete 19.6 times. Which means Ward needs to be within 1.34 miles of the leaders when they pass the finish line on the Mall for the penultimate time at 24.9 miles.
Last year, the winning time in London was 2:02:37. If the winning time is the same in 2020, Ward will need to hit 24.9 miles in faster than 2:02:37. That's 2:09:11 pace for a full marathon — a time only eight Americans have ever run. What if Eliud Kipchoge runs world record pace? Well in that case, Ward will have to come through 24.9 miles in 2:01:39 or faster — which is 2:08:10 pace.
Ward's personal best is 2:09:25. He may have to break it — perhaps by a lot — in order to avoid getting lapped on Sunday. Below, a look at the pace Ward has to be on through 24.9 miles to avoid that fate: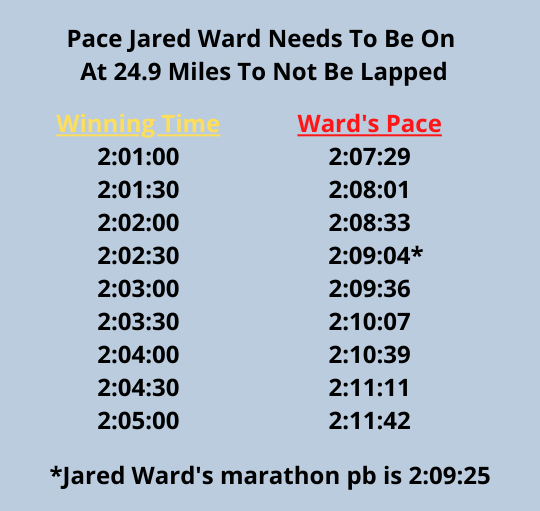 The task is similarly daunting for the American women — Sara Hall, Molly Seidel, and Lindsay Flanagan — who will be competing against a field including world record holder Brigid Kosgei (2:14:04 pb) and world champion Ruth Chepngetich (2:17:08 pb, #4 all-time). Last year's winning time of 2:18:20 would require them to hit 24.9 miles on 2:25:45 pace in order to avoid getting lapped. Mary Keitany's women's-only world record of 2:17:01 is reportedly the target in London. If 2:17:01 is the winning time, the Americans would need to be on 2:24:22 pace or better to prevent lappage — which would rank them in the top 10 all-time among US marathoners should they hold that pace to the finish.
Here's the same chart as above, utilizing potential women's winning times: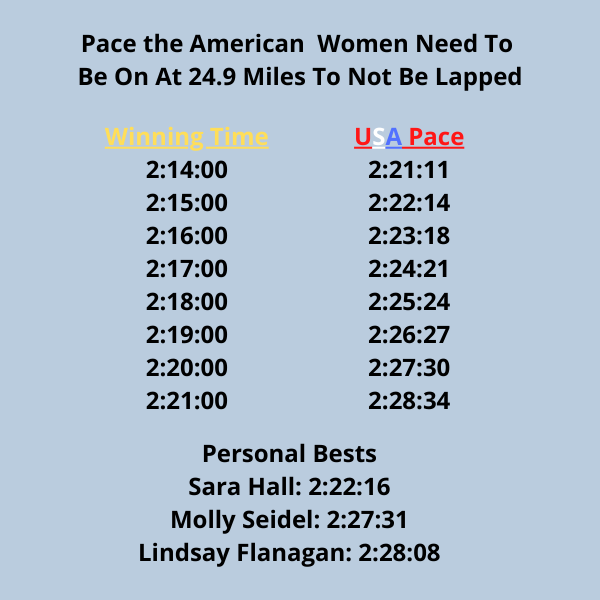 The bottom line: there is no shame in getting lapped on Sunday. Which is a good thing, because — barring all four of them running out of their minds — it's probably going to happen to multiple Americans in London.
***
So those are the target times to hit. What are the chances the Americans can run them? Let's take a closer look at each of them.
Jared Ward — Saucony, 32 years old, 2:09:25 pb (2019 Boston), 61:36 half
Last two marathons: 6th 2019 New York (2:10:45), 27th 2020 Olympic Trials (2:15:55)
A string of impressive results over the last two years (6th 2018 NYC, 8th 2019 Boston, 6th 2019 NYC) made Ward one of the favorites entering February's Olympic Marathon Trials, he said beforehand his buildup for that race was among his best ever. But whether it was the tough course, constant wind, or a nagging foot injury that never quite healed, Ward was far from his best in Atlanta — when it came time to move during the second half, he could never get out of second gear and struggled home in 27th place.
The pandemic hit shortly thereafter, and Ward mostly tried to maintain a base level of fitness, sprinkling in the occasional virtual race and staying ready to ratchet up the serious training should the opportunity arise. That opportunity came in early August when London reached out, and Ward seized upon it.
With London just two months away at that point, Ward did not have time for a full buildup. Instead, says his longtime coach Ed Eyestone, they've essentially cut the front half off of Ward's typical 14-to-16-week build. Instead of the steady ascension to peak mileage, the week-after-week of grinding that steadily builds fitness and callouses the body for the 26.2-mile test awaiting it, Ward was only able to log a few weeks of mega-mileage (for him, that's 110+ miles a week in six days).
"When you run at the level Jared does, you're always at a pretty high base fitness level, and then it's just wrapping it up into marathon training," Eyestone says. "…We'll be looking at doing a lot of the same things that we do typically over the last seven or eight weeks, we just won't have had the other weeks building into that."
The upside of this approach, Eyestone hopes, is a fresher Ward on the start line in London — less time for things to go wrong and injuries to pop up. Whether he has enough residual volume to carry him through 26.2 miles will be revealed on Sunday.
If Ward's body is ready, London represents a rare opportunity to run fast. During his career, Ward has, almost exclusively, opted for championship-style marathons without pacemakers. In London, however, there is a fast course and a pace group reportedly targeting 64:15-64:30 at halfway. Should the weather cooperate (the expected temperature of high 40s looks great for marathoning, but there could be a light rain as well as near 15 mph wind with gusts up to nearly 30), he may never get a better chance at a pb — which he'll likely need to avoid getting lapped.
A personal best would be great, but Eyestone is mainly just happy Ward has had something to focus on — "any port in a storm," Eyestone says.
"I wouldn't be surprised by [a 2:08], but I'll be happy with it," Eyestone says. "I'll be very happy with it. I think even if he's 2:09, I would say the same thing."
Sara Hall — Asics, 37 years old, 2:22:16 pb (2019 Berlin), 68:18 half
Last two marathons: DNF 2019 New York, DNF 2020 Olympic Trials
There are plenty of reasons to be optimistic about Hall entering London. She's just one year removed from her personal best, a breakthrough 2:22 in Berlin last year, and has run the three fastest half marathons by an American in 2020 — a 68:58 pb in Houston in January, a 69:03 treadmill world record in June, and a 68:18 in a solo half in Oregon in August.
She's also put in a full buildup — though Hall wasn't confirmed for London until August, she was already planning on a big effort in the fall and had begun preparations. Because Hall responds well to very high elevation, she left the 7,000 feet of Flagstaff to spend six weeks of this buildup in Crested Butte, Colo. (you may know it as Emma Coburn's hometown), where she slept at almost 9,500 feet. Her husband/coach Ryan says this resulted in Hall's "best buildup ever" and believes she is in "PR shape, no doubt about it."
"A PR would be really special coming off this COVID season," Ryan Hall wrote in an email to LetsRun.com.
However, before hopping on the Hall hype train, there is a discouraging fact to confront: Hall has bombed four of her last five marathons. That includes three DNFs, including DNFs in her last two marathons in New York last fall and the Olympic Trials in February. Obviously, that's cause for concern.
But we know Hall can run 2:22; that's not projecting, that's a fact. If everything comes together, and London is as fast as appears on paper, a time in the 2:20's or 2:21's is attainable.
"Right now we are hearing there is a lead group at 68:15-68:30, the next group at 69:15-69:30, and the third group at 71:30-72," Ryan wrote on Tuesday. "So we are thinking [Sara will run with] the second group but we will see if anyone in the third group wants to go out quicker. Wishing we could just slow down that second group a little…If I had my way I would send her out in 70:00, but not sure we will have that option…With that said, no one has run this course. We have heard it is very fast but this will be the first run over these roads so we shall see how it actually plays out."
Molly Seidel — Saucony, 26 years old, 2:27:31 pb (2020 Olympic Trials), 69:35 half
Last two marathons: 2nd 2020 Olympic Trials (2:27:31)
Like Ward, Seidel's buildup for London was abbreviated — just eight weeks, due to the lateness of her confirmation for the race. Still, her coach Jon Green tells LetsRun that Seidel was able to average around 120 miles a week for the period, training mostly in Flagstaff, and has been impressed with what he's seen.
Green, who only began coaching Seidel a year ago, says that while Seidel was unable to log as many big workouts as before the Trials, her training has been far more consistent as a whole and feels she's in "pretty good shape."
Is that enough for a personal best? It definitely could be — at some point, Seidel figures to smash her 2:27 debut time from a harsh, windy Atlanta course. But that's not the aim on Sunday. For Seidel, London is all about gaining more experience in the marathon ahead of next year's Olympics, particularly when it comes to things she mostly overlooked heading into the Trials, like nutrition and fueling. However Seidel runs, the most important thing will be the knowledge she gains from just her second outing over 26.2 miles.
For more on Seidel, check out this insightful Q&A with Women's Running.
Lindsay Flanagan — Asics, 29 years old, 2:28:08 pb (2019 Chicago), 69:37 half
Last two marathons: 7th 2019 Chicago (2:28:08), 12th 2020 Olympic Trials (2:32:05)
Flanagan has made steady progress over the last few years, notching her first two top-10 major finishes last year (9th Boston, 7th Chicago in a 2:28 pb) before finishing 12th at the Olympic Trials in February, a two-spot improvement on her 2016 result. She doesn't have a performance on the level of Hall's 2:22 in Berlin or Seidel's runner-up finish at the Trials, but at 29 she still has room to improve. Flanagan wasn't confirmed for the race until late August, meaning her buildup lasted only six weeks, but she's still hoping to PR in London.
For more on Flanagan, read David Monti's pre-race profile in Race Results Weekly: RRW After Trials Disappointment, American Linsday Flanagan Ready For Fast London Marathon On Sunday.
LetsRun.com's coverage of the 2020 London Marathon
LRC Men's Preview: What to Expect from Eliud Kipchoge & Kenenisa Bekele in the Race of the Year
LRC Women's Preview: WR Holder Brigid Kosgei Vs. World Champ Ruth Chepngetich In Clash Of World #1 Vs. World #2
*TV/streaming information *All LRC 2020 London Marathon coverage