2020 London Marathon Men's Preview: What to Expect from Eliud Kipchoge & Kenenisa Bekele in the Race of the Year
By Jonathan Gault
September 30, 2020
Update: Kenenisa Bekele will not start the 2020 London Marathon
It's here. We made it, people. We may have lost Boston, Berlin, Chicago, and New York, but the world's greatest marathon, London, has found a way to survive the pandemic. And on Sunday, we will be treated to the marathon showdown the entire world has been waiting a year to see, a battle between the only two men in history with personal bests under 2:02. Eliud Kipchoge and Kenenisa Bekele are both in London and in the "secure biosphere" (Americans may know it better as "the bubble") and are set to race each other just four days from now. This is really happening.
Article continues below player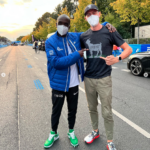 Kipchoge loves the 1:59:40 Shirt Get Yours Today
Shirts are $10 off if he breaks the world record and you order today.
You may have heard, but things are going to be a little different this year in London. The race is in October instead of April, and while the finish on the Mall in front of Buckingham Palace remains the same, the rest of the course has changed dramatically: it now consists of 19.6 laps of a 1.34-mile loop around St. James's Park. The mass race has been eliminated too, along with spectators. It's elites only.
*TV/streaming information *All LRC 2020 London Marathon coverage
Now that we've got those details out of the way, let's dive into the elite men's race. With a 5:15 a.m. EDT start time, it will require an early wakeup call for US viewers, but Kipchoge and Bekele alone make it worth it — and the depth goes well beyond the two headliners. So set those alarms and put on a pot of coffee. This is going to be fun.
2020 Virgin Money London Marathon men's elite field (sub-2:10)
| | | | |
| --- | --- | --- | --- |
| Athlete | Country | PB | Comment |
| Eliud Kipchoge | Kenya | 2:01:39 | The GOAT |
| Kenenisa Bekele | Ethiopia | 2:01:41 | Almost broke Kipchoge's WR in at '19 Berlin but 0-4 head-to-head over 26.2 |
| Mosinet Geremew | Ethiopia | 2:02:55 | 4th-fastest man ever. 2nd at London & Worlds in '19. |
| Mule Wasihun | Ethiopia | 2:03:16 | His 2:03:16 last year was #8 all-time but only good for 3rd in London |
| Sisay Lemma | Ethiopia | 2:03:36 | 3rd in his last 2 marathons ('19 Berlin, '20 Tokyo) |
| Tamirat Tola | Ethiopia | 2:04:06 | 6th London, 4th NYC in '19. Dubai champ and Worlds silver in '17 |
| Marius Kipserem | Kenya | 2:04:11 | Has won last two marathons ('18 Abu Dhabi, '19 Rotterdam) |
| Shura Kitata | Ethiopia | 2:04:49 | London/NYC runner-up in '18 dropped to 4th and 5th in '19 |
| Vincent Kipchumba | Kenya | 2:05:09 | Making WMM debut after wins in Vienna & Amsterdam in '19 |
| Benson Kipruto | Kenya | 2:05:13 | '18 Toronto champ was 10th in Boston last year |
| Sondre Nordstad Moen | Norway | 2:05:48 | Former Euro record holder making WMM debut |
| Gideon Kipketer | Kenya | 2:05:51 | Only ran 2:09 his last time out in Valencia |
| Arne Gabius | Germany | 2:08:33 | Now 39, he hasn't cracked 2:10 since '17 |
| Jared Ward | USA | 2:09:25 | 2016 Olympian was 27th at '20 Olympic Trials |
| Cam Levins | Canada | 2:09:25 | Canadian marathon record holder clocked 62:14 HM pb in Jan in Houston |
Setting the stage
Before digging into the nitty-gritty, can we take a moment to appreciate the remarkable longevity of Eliud Kipchoge and Kenenisa Bekele?
At the 2003 Worlds in Paris, Kipchoge won the 5,000 meters and Bekele the 10,000.
Seventeen years later, they're still at the top of the sport, headlining the London Marathon.
That is insane.
During that period, the sport of marathoning has progressed remarkably. When Kipchoge and Bekele won their world titles in Paris, the marathon world record stood at 2:05:38. Since then, 88 men have bettered that time, and the world record has dropped by almost four minutes.
Which brings us to the next point. It's been seven months since the last major marathon. And in case you forgot (considering we're in the middle of a global pandemic, you're forgiven for forgetting), when we last left off, the marathon had gone completely mad. The five fastest marathons in history have all been run since September 2018, all in some form of Nike's Vaporfly shoes.
Just take a look at the results of the most recent World Marathon Major, March's Tokyo Marathon. Hidekazu Hijikata of Japan ran 2:09:50…and finished 28th. Kenya's Simon Kariuki ran 2:07:56…and finished 17th. Fifteen men from Japan alone ran under 2:09 — which is four more than have done it in the history of the United States. As recently as 2015, only two men broke 2:05 in the entire year. In Tokyo, three men went under that mark, and no one batted an eye because the same thing happened in London in 2019. And Berlin. And Dubai. And Valencia. In the marathon, we are living in a different universe than even five years ago.
World Athletics did introduce new shoe regulations in January, but those were geared more toward limiting future innovation than regulating the technology that has already been developed. The toothpaste is out of the tube at this point — something Kipchoge's shoes on Sunday make clear.
? OFFICIEL ! Eliud Kipchoge dévoile ses nouvelles chaussures qu'il portera dimanche matin lors du London Marathon ! pic.twitter.com/O6hOGVREQ4

— run_ix (@RUN_IX) September 30, 2020
So that's a reminder of where we're at heading into London. On to the race…
(Editor's note: The new rules do outlaw the marathon shoes from being used on the track but that has no impact here).
Kipchoge vs. Bekele
I have some bad news.
This Kipchoge-Bekele showdown? The race of the year, the event the running media (myself included) has been hyping up for nine months?
It's probably not going to be that close.
That's just simple probability. While Bekele's marathon personal best (2:01:41, just two seconds off Kipchoge's WR) says he should be competitive with Kipchoge, the truth is that they've raced four times in the marathon and Bekele has never come within 90 seconds of his Kenyan rival. Overall, Bekele has run 11 marathons (including four DNFs). In only two of them did he produce performances in which he would be competitive with Kipchoge (his 2:03:03 at '16 Berlin and his 2:01:41 at '19 Berlin). That's an 18% hit rate.
(Editor's note: Jonathan is probably right in coming up with the 18% stat but Bekele also has run 2:05:04 for the win in Paris in 2014 and a 2:05:57 for 2nd in London in 2017 when Kipchoge wasn't in London).
And to challenge Kipchoge, Bekele will need to be at his absolute best, because Kipchoge's consistency is just as impressive as any of his individual performances. Everyone has a bad marathon from time to time. But not Kipchoge. Never Kipchoge.
Counting his sub-2 attempts, Kipchoge has run 14 marathons and every single one of them has been a strong performance. He's won 13 of them — his only loss came when Wilson Kipsang ran a WR to beat him, and Kipsang is now suspended for whereabouts violations — and run 2:05:00 or faster in all of them save for his debut (2:05:30) and his Olympic win (2:08:44).
There is a school of thought that says Kipchoge will be vulnerable in London because of the uncertainty and disruption caused by the coronavirus. But the effects of COVID-19 on Kipchoge's preparation have been minimal, according to Kipchoge's agent Valentijn Trouw.
Trouw says that Kipchoge was confirmed for London three or four months ago, and even before that had been targeting a fall marathon in the late September-early October window. As a result, Kipchoge has been able to put in a full buildup ahead of London, and Trouw reports training has gone well.
"If you compare INEOS and London 2019 and Berlin 2018, it's always hard to judge exactly which marathon he was in best shape [for]," Trouw says. "But if you consider those last three to four marathons, he is in a similar kind of shape [now]."
The only real difference in Kipchoge's preparations for 2020 London is that his beloved training camp in Kaptagat remains closed. As a result, his training sessions have featured fewer athletes, though the workouts have been mostly the same.
"Of course, it's mentally a little bit challenging because the training camp brings a wonderful atmosphere and focus and training from home is a different situation," Trouw says. "I do feel that all the athletes have coped really well with that situation and still the training rhythm during the week has been exactly the same, so the same days, the same routine, the same kind of training sessions."
So Kipchoge seems ready to go. As a result, determining whether Kipchoge-Bekele V lives up to the hype will rest almost entirely on Bekele's shoulders.
There's always a degree of mystery surrounding Bekele ahead of major marathons, but perhaps never as great as ahead of 2020 London. Between COVID-19 and the country's recent political unrest, many Ethiopians were unable to leave their homes for training for large chunks of the summer. That doesn't mean all is lost — Bekele's agent Jos Hermens told LetsRun that Bekele is a great treadmill runner — but it seems likely Bekele's buildup was affected in some way.
Check back later today as we'll have an update after speaking to both Bekele and Kipchoge at the press event.
(Editor's note: Here is that article: Kenenisa Bekele and Eliud Kipchoge Speak Ahead of 2020 London Marathon: WRs, Shoes, and Kipchoge's COVID Message of Hope for the USA Great news fans. Bekele says he's in the same shape at Berlin 2019 and admits its "really difficult" to see his track WRs fall. Kipchoge says Covid-19 shows why fans need to accept the new shoe technology and offers a message of hope to the USA)
Bekele could still be capable of something special in London, however. While Kipchoge is unquestionably the greatest marathoner in history, there's a case to be made that Bekele is the more talented marathoner. Kipchoge's monastic dedication to his craft is legendary, he's never injured, he's had the same coach for going on two decades, and his training environment is basically perfect — Nike's scientists studied it ahead of Breaking2 looking for changes to make and and concluded it was already optimized. Bekele, by comparison, has at times struggled with motivation since switching to the marathon, has cycled through a number of coaches/advisors in search of training advice, and has battled a series of injuries over the last decade. Yet he has still run 2:03:03 and 2:01:41. To run those sort of times with those sort of disruptions shows one thing: his talent is enormous.
So even if Bekele's London buildup wasn't perfect, he could run something absurdly fast. Remember, ahead of 2016 Berlin he said his training was at "80%" and he ran 2:03:03. Even prior to 2019 Berlin, Hermens said Bekele's preparation was "not ideal."
Truth is, no one knows what to expect from Bekele this weekend, which is part of the race's appeal. No doubt, Kipchoge remains the heavy favorite. But we've seen Bekele's otherworldly talent too many times to count him out. Of all the men who have lined up against Kipchoge since his ridiculous 10-marathon win streak began in 2014, this version of Bekele — the greatest overall distance runner in history, coming off a marathon pb last time out — may be the one with the greatest potential to beat him.
The Other Absolute Studs
It seems absurd that we're 1,500 words into this preview and have yet to mention the 2:02 guy and two 2:03 guys lining up in London, but that's what happens when two 2:01 guys are racing each other for the first time ever. But while Bekele may have the best odds to straight-up beat Kipchoge, you could argue that several of these guys have a better chance than Bekele to win given Bekele's inconsistency.
To be honest, if Kipchoge loses, we think it's more likely that he has an off day (which has never happened before at the 26.2-mile distance) and therefore someone else wins almost by default than a peak Bekele (or peak anyone else) beats a peak Kipchoge.
Here's what you need to know about the other contenders. We certainly think the odds that Bekele beats all of the guys listed below is less than 50%.
Mosinet Geremew — Ethiopia, 28 years old, 2:02:55 pb (2019 London), 59:11 half
Last two marathons: 2nd 2019 London (2:02:55), 2nd 2019 Worlds (2:10:44)
Geremew isn't as good as Kipchoge, but he's just as consistent: he has finished first or second in five of his six career marathons, and in his one other marathon (2017 Berlin), he was third behind a pair of guys who ran 2:03. Last year in London, Geremew hung with Kipchoge through 24 miles and was only dropped after Kipchoge ran a ridiculous 4:26 for his 25th mile. Geremew wound up running 2:02:55, which makes him the 4th-fastest man in history. After three straight runner-up finishes in majors (2018 Chicago, 2019 London, 2019 Worlds), Geremew would love to break through with a win in London, but Kipchoge's presence makes that difficult.
Mule Wasihun — Ethiopia, 26 years old, 2:03:16 pb (2019 London), 59:34 half
Last two marathons: 3rd 2019 London (2:03:16), DNF 2019 Worlds
Wasihun has steadily improved in the marathon, dropping his pb every year since debuting in 2015, culminating with his 2:03:16 runner-up effort at 2019 London. Like Geremew, he was with Kipchoge through 24 miles, and even though he faded slightly late, he still held on to become the 8th-fastest man ever.
Sisay Lemma — Ethiopia, 29 years old, 2:03:36 pb (2019 Berlin)
Last two marathons: 3rd 2019 Berlin (2:03:36), 3rd 2020 Tokyo (2:04:51)
Lemma has wins in Warsaw, Vienna, Frankfurt, and Ljubljana, has broken 2:05 four times, and is coming off back-to-back podium finishes in WMMs. That's a killer resume, but it still might not be enough to get him on the podium against this field.
Marius Kipserem — Kenya, 32 years old, 2:04:11 pb (2019 Rotterdam)
Last two marathons: 1st 2018 Abu Dhabi (short course), 1st 2019 Rotterdam (2:04:11)
It took Kipserem five years (and 11 marathons) to break 2:09 before breaking out with a 2:06:11 win in Rotterdam in 2016. After wins in Abu Dhabi (though the course was short) and a course record in Rotterdam last year (a two-minute pb of 2:04:11), the 32-year-old Kipserem will finally get to test himself against the world's best: London will be his 18th marathon, but just his second major (he was 23rd at 2017 Tokyo).
Shura Kitata — Ethiopia, 24 years old, 2:04:49 pb (2018 London), 59:16 half
Last two marathons: 4th 2019 London (2:05:01), 5th 2019 New York (2:10:39)
After a breakout 2018 season that saw Kitata finish #2 in LRC's world rankings following runner-up finishes in London and New York, Kitata took a small step backwards in 2019, dropping to 4th in London and 5th in NYC. Those results are nothing to be ashamed of, but he'll need to recapture his 2018 form if he is to finish on the podium against this field.
Vincent Kipchumba — Kenya, 30 years old, 2:05:09 pb (2019 Amsterdam), 60:32 half
Last two marathons: 1st 2019 Vienna (2:06:56), 1st 2019 Amsterdam (2:05:09)
Kipchumba began 2019 as a 2:10 marathoner and then, out of nowhere, ran two huge pbs at age 28/29 to earn wins in Vienna (2:06:56) and Amsterdam (2:05:09). Winning Amsterdam is a pretty big deal; Daniel Wanjiru won it in 2016 and went on to win London the next year; Lawrence Cherono won it in 2017 and 2018 and went on to win Boston and Chicago in 2019.
Other notables
Tamirat Tola (2:04:06 pb): Tola has some impressive results on his resume ('16 Olympic 10k bronze, '17 Dubai champ, 2:04:06 at '18 Dubai) but has just one WMM podium (2nd at '17 Worlds). He's finished 4th in NYC the last two years.
Sondre Nordstad Moen (2:05:48 pb): The Norwegian set the (since-broken) European marathon record of 2:05:48 to win Fukuoka in 2017, but spent a good chunk of 2018 and 2019 injured. He returned at the end of '19 to run 2:06:16 in Valencia in December, and after running 21,131m for the hour run on the track in August (59:54 half marathon pace), he could be in line for another pb in London.
Cam Levins (2:09:25 pb): The two-time NCAA champ at Southern Utah and former NOP member smashed his debut in Toronto in 2018 by running 2:09:25 to break the 43-year-old Canadian record. Marathon #2 didn't go as well: he could only manage 2:15:01 for 12th at 2019 Toronto in a race that doubled as the Canadian Olympic Trials.
There's one American in the men's elite field: 2016 Olympian Jared Ward. We address his chances in a separate article (coming soon).
What to Expect
So that's the "who" covered. What about the "how"? As in how is this strangest of London Marathons going to look?
The first thing to address is the athletes' fitness, and when it comes to that topic, the range of outcomes is large. Joshua Cheptegei and others have already shown that, despite a global pandemic, it's possible to get incredibly fit and run incredibly fast in 2020. For those able to recharge in the spring and launch into a full buildup in the late summer, we may see no ill effects.
But the London Marathon isn't the same as the track. A typical marathon buildup can stretch from anywhere from 12-18 weeks, yet many of the athletes entered in London didn't know for sure they would be running there until roughly eight weeks out. Also consider that a significant number of the top athletes in the field are Ethiopian — a country that has seen hundreds of deaths this summer due to riots brought on by ethnic tension, many of them in the capital of Addis Ababa. Addis Ababa also happens to be where many of the country's top pros are based, and with people urged to stay indoors during the rioting, those pros' training could have been affected.
All of that is to say that we could see a bunch of guys run 2:01 or 2:02, but we could also see some blowups. Given the course and shoe technology available, I'm inclined to bet on the former.
The course will be flat and fast. Yes, there are four turns per lap, but there are turns on a track as well and no one calls tracks slow. And there are a ton of turns in a normal London as well.
(Related: LRC VIP: Question #1: Will the 19 x 1.3 mile loop course make a difference? )
And while there won't be laser pacing technology, the loop format means we should be more likely to reach halfway in an even fashion. With more frequent pacing feedback and a flat course (as opposed to the regular London course, which features a huge downhill just before 5k), we should be able to avoid pacing gaffes like the ridiculous 13:48 opening 5k in 2018.
The opening split being discussed for the lead group right now is 60:45-61:00, right around world record pace. Assuming the forecast holds (high of 56 in London on Sunday) and the top guys are fit, that's reasonable, though that may have to be relaxed should it rain (70% chance according to Weather.com).
We can talk about tactics, but when you're racing Eliud Kipchoge, there's really only one tactic: try to keep up with him as long as possible. Kipchoge's record four victories in London have all played out the same way: fast first half, a few guys manage to hang onto Kipchoge but never create any sort of gap, Kipchoge drops them with a mile or two to go. Is there any reason to expect Sunday will play out differently?
Coming through in 60:45 or 61:00 may seem daunting, but to Kipchoge it's not. He went out in 61:37 last year and came back in 61:00 to win. He came through in 61:06 during his WR in Berlin and came back in 60:33. Kipchoge even ran a negative split at the INEOS 1:59 Challenge after coming through halfway in under 60:00, and he still looked plenty fresh at the end.
As for Bekele, don't panic if he gets dropped at some point. He's gotten dropped in both of his greatest marathon victories — he was seven seconds back of Wilson Kipsang late in the race at 2016 Berlin, and 13 seconds back of Birhanu Legese at 35k in Berlin last year before coming back to win.
Bottom line: tactics aren't going to beat a colossus like Kipchoge. You just need to be insanely fit. For the last seven years, no one has been able to match his fitness. We'll see on Sunday if that's still the case.
***
Update:: Here is a 2nd article that tells you what I learned when I spoke to Bekel and Kipchoge at today's press event.
Kenenisa Bekele and Eliud Kipchoge Speak Ahead of 2020 London Marathon: WRs, Shoes, and Kipchoge's COVID Message of Hope for the USA Great news fans. Bekele says he's in the same shape at Berlin 2019 and admits its "really difficult" to see his track WRs fall. Kipchoge says Covid-19 shows why fans need to accept the new shoe technology and offers a message of hope to the USA.
Talk about 2020 London on our messageboard. And be sure to come back to the messageboard for the live discussion thread as the race takes place.