2020 Memorial Van Damme Recap: Mo Farah Breaks One-Hour World Record, Mondo Duplantis Clears 6.00m Again
By LetsRun.com
September 4, 2020
Friday's Memorial Van Damme meeting in Brussels was all about world records, with athletes in the men's and women's one-hour run and women's 1000 meters all stating their intentions to challenge the best marks ever in those events. By the end of the night, two of those records had fallen, with Sifan Hassan and Mo Farah claiming the WRs in the one-hour runs (Faith Kipyegon just missed in her 1000m attempt).
Hassan, who beat out marathon world record holder Brigid Kosgei to set the women's record, gets her own article here. We recap the rest of the meet below, which also featured strong performances from young Scandinavian stars Jakob Ingebrigtsen (3:30 to win the 1500) and Mondo Duplantis (6.00m to win the pole vault).
Men's one-hour: Farah returns to track with a world record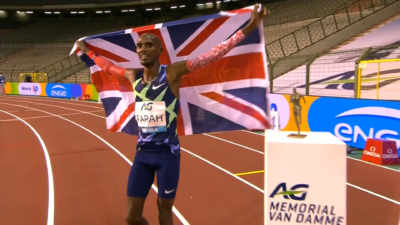 Four-time Olympic champion Mo Farah celebrated his return to the track after a three-year absence in fine fashion, covering 21,330 meters/13.25 miles in one hour (4:31 mile pace) to break the 13-year-old world record previously held by Haile Gebrselassie (21,285m). Having not raced since his 2:09:58, eighth-place showing at the Chicago Marathon in October 2019, there were some questions coming in about whether the 37-year-old Farah would be fit enough to break a record that would require him to run at 59:28 half marathon pace for slightly more than the half marathon distance. But Farah spoke confidently in the days leading up to the attempt and looked strong tonight in Brussels in toppling Gebrselassie's mark.
While Farah is the most decorated distance runner in history on the track, with four Olympic golds and six world titles, he had not broken a world record until tonight (he also owns the fastest time ever at two miles indoors — 8:03.40 — but the indoor two-mile is not an official WR event). And while the one-hour run is rarely contested these days, the list of previous record holders — which includes Gebrselassie, Paavo Nurmi, Emil Zatopek, and Ron Clarke — reads like a who's who of distance running icons. Farah is now a member of their exclusive club. And interestingly, he did it at the expense of Gebrselassie — with whom Farah feuded prior to last year's London Marathon after Farah had cash, two phones, and a watch stolen from his room in Gebrselassie's hotel while training in Ethiopia.
The race in Brussels came down to Farah and his training partner, Belgium's Bashir Abdi, the #2 man in European history at the marathon (2:04:49). The duo were clear of the field by the time the final pacer stepped off just after halfway. From there, Farah did almost all of the leading, with the pair staying just behind Gebrselassie's record pace, which was illuminated on the rail by Wavelight technology.
Just after the 46-minute mark, Farah and Abdi moved ahead of Geb's mark and they would stay ahead of it for the rest of the race. The record seemed likely to fall; the question now was which training partner would claim it? Abdi passed Farah at 19,600m (55:12) but could not open a gap, and when the gun fired to signal one minute remaining, Farah took off, running his final full lap in 63.92 and streaking away to register 21,330 meters — just ahead of Abdi's 21,322. Abdi did earn a consolation prize, however: because he was in the lead at 20,000 meters (56:20.02), he now owns the world record at that distance, bettering Gebrselassie's 56:25.98 from his one-hour attempt.
Quick Take: Mo Farah's still got it
We don't want to leap to any conclusions about what this race means for Farah's decision to return to the track to contest the 10,000 at the 2021 Olympics. Yes, this was an impressive performance, but it was essentially a 59:20 half marathon on the track. Does that mean he has the speed to kick with the likes of Joshua Cheptegei and Yomif Kejelcha in a 10,000m final? We still have no idea.
But what we do know is that Farah is in a good spot and clearly very fit right now. At 37, and without any races yet in 2020, there was no telling what kind of performance we would see from him tonight. A world record was the best possible outcome.
Quick Take: Haile G's name is almost gone from the record books
Haile Gebrselassie broke 27 world records (some of them multiple times) in his career as part of a quest to become the greatest distance runner of all time — a title many gave to him upon his retirement. With his 20,000m and one-hour run world records going down tonight, his tally of world records/world bests is now down to one: the 10-mile road record of 44:24, which he set at the Tilburg Ten Miles in 2005.
Women's 1000: Kipyegon goes for WR but comes up just short
For the second time in three weeks, Olympic 1500 champion Faith Kipyegon gave Svetlana Masterkova's 1000-meter world record of 2:28.98 a scare, but for the second time, she came up just short. Three weeks ago in Monaco, Kipyegon ran a negative-split 1:59.15 and today she decided to go out more aggressively. But she fell off pace during the last 200 and had to settle for 2:29.92, joining 2000 Olympic 800 champ Maria Mutola as the only women with two sub-2:30 clockings.
Article continues below player.
Kipyegon went out faster than she did in Monaco as the rabbit Noelle Yarigo went out a little quick. We timed Kipyegon unofficially at 29 low, 59 low and 1:28.9. When she hit 800 in 1:59.19, she was exactly on world record pace but the problem was her 200 from 600 to 800 had been run in over 30 seconds. Could she pick it back up? No. Kipyegon faded ever so slightly as the Wavelight technology on the rail that was moving at world record pace edged ahead of her ever so slowly.
Men's 1500: Ingebrigtsen solos a 3:30
There was talk ahead of this race that Norwegian superstar Jakob Ingebrigtsen would be targeting 3:27 — a time that only five men have ever run — but that never seriously materialized. The first pacer, Mounir Akbache, went out way too fast for the first 400 (53.6, or 3:21 pace), and while Ingebrigtsen smartly hung back — he came through 400 perfectly on pace at 55.4 — the demanding pace proved too much for him, as he hit 800 almost two seconds off pace in 1:51.8.
By the time the final pacer, Collins Kipruto, stepped off with 500 to go, Ingebrigtsen was well clear of the field and held on to win comfortably in 3:30.69. Spain's Jesus Gomez was a clear second in 3:34.64, continuing a fine 2020 season that has seen him run 3:33, 3:33, and 3:34 in his last three 1500s — the three fastest times of his life.
Quick Take: This one was very predictable — but still impressive
With no Timothy Cheruiyot, Ingebrigtsen was expected to dominate, and did just that. Even though Ingebrigtsen's brilliance has become routine, his performance today was very good and should be appreciated. Running 3:30 to win a race by four seconds is fantastic running — especially for a 19-year-old. Speaking of 19, this may have been his last race as a teenager as Jakob turns 20 on September 19.
Men's pole vault: Mondo clears 6.00m again
Duplantis continued his remarkable 2020 season by clearing 6.00 meters for the second time in three days, and the ninth time in total this year, including indoor meets. Duplantis needed only three jumps to secure the win, clearing 5.50, 5.70, and 5.80 on his first attempt. He then skipped to 6.00 — which he also cleared on the first time of asking. As is becoming tradition this year, Duplantis took three attempts at an outdoor WR of 6.15m, but missed all three.
The rest of the meet really wasn't up to Diamond League quality so we don't recap it here. Full results can be found here.
Talk about the action on our world famous messageboard / fan forum.