Sifan Hassan Breaks One-Hour Run World Record at 2020 Memorial Van Damme
By LetsRun.com
September 4, 2020
Dutch long distance star Sifan Hassan broke the world record for the one-hour run at the Memorial Van Damme track and field / atheltics meeting in Brussels today, covering 18,930 meters/11.76 miles (5:06 mile pace). The record was previously held by Ethiopian Dire Tune, who logged 18,517 meters/11.51 miles in Ostrava in 2008. Hassan's pace, had she held it for 13.1 miles, would come out to 66:52 for a half marathon, well off her personal best of 65:15.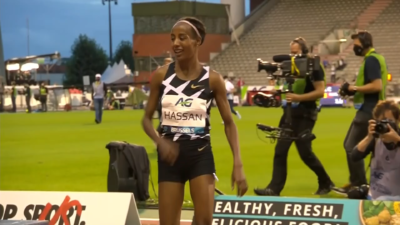 As expected, the race in Brussels came down to a duel between mile world record holder Hassan and marathon world record holder Brigid Kosgei of Kenya. By 45 minutes, Hassan and Kosgei were the only women remaining, with Hassan doing the leading. Around the 55 minute mark, Hassan went into the lead as the pace slowed (one of the laps was 78.64) but Kosgei retook the lead around 56:30. When the gun was fired to signal one minute to go, Kosgei still led. But Hassan, still running just behind, looked the more comfortable of the two, and at the 59:10 mark made a hard move to seize the lead.
Kosgei battled gallantly, holding on for almost half a lap, but Hassan's speed won out in the end as she began to pull away at the 59:35 mark en route to victory. Hassan covered her final full 400m lap in a quick 65.80 seconds. Kosgei finished roughly 50 meters behind Hassan, but was ultimately disqualified for stepping on the rail with just under seven minutes to go.
Article continues below player.
After struggling to train amid political and social unrest in Ethiopia, where she spent the early months of quarantine, Hassan did not race this year until August 14. And when she did, in the 5,000 meters in Monaco, she struggled to match her world-beating form of 2019, dropping out of the race with one kilometer remaining. But with three weeks of extra training to build her fitness, Hassan looked better today and claimed the world record to go with her mile (4:12.33) and 5k road (14:44) world records from 2019.
Quick Take: A strong run for Hassan, but this was a soft record
Hassan looked comfortable and had quite a bit of energy left at the end of the race, as evidenced by her 65.80 final lap. But it's no surprise that the world record fell today, as the one-hour run is hardly ever run these days. Remember, Hassan has a half marathon personal best of 65:15. She only ran 66:52 pace today for a shorter distance (11.76 miles vs. 13.11), but still broke the previous record handily.
Hassan's pace today was actually only a tiny bit faster than Kosgei's marathon WR pace (2:14:04 – 67:02 half pace). Kosgei's half marathon pb is 64:49.
Quick Take: Track needs to rethink its DQ rules
World Athletics Technical Rule 17.3.2 says that if an athlete steps inside the rail on the curve, he or she is disqualified. We understand why the rule is in place — if you step inside the rail, you're not running the entire distance.
But it seems absurd to punish an athlete for one misstep during a one-hour race. Rewatching the incident, it's clear that Kosgei, tiring after 41 laps of running in her first-ever track race, momentarily lost focus, ran slightly too close to the rail, and accidentally stepped on it to steady herself (the "rail" was actually a thick white strip, so Kosgei stepped on it, rather than inside it, but it was still an illegal move). If anything, stepping on the rail slowed Kosgei down — she would have been faster if she hadn't lost balance and simply remained on the track instead. And even if you want to argue that Kosgei did gain an advantage, it was a miniscule one that did not affect the outcome of the race.
Changing a rule like this would be complicated — you'd be introducing a judgment element into what is currently written as an objective rule. But officials have already been using their judgment when it comes to enforcing this rule. We've definitely been to meets where officials have chosen not to enforce this rule, most memorably the 2017 World Championship 10,000-meter final in London, where Mo Farah stepped inside the rail on the final lap – a point in the race when every inch matters – and went on to win gold without being disqualified.
Talk about Kosgei's DQ and Hassan's world record on our messageboard.