Will the American Record Fall? Will it Be Legal? What You Need to Know About Bowerman TC's 5K Races Tonight
By Jonathan Gault
July 10, 2020
Today, the Bowerman Track Club announced it will stage two 5,000-meter races this evening (July 10) in Portland. The races will be streamed live on USATF.TV (requires subscription), with the women's race at 11:25 p.m. ET followed by the men's race at 11:45. With an army of Bowerman Babes (and whatever you call their male equivalents…Bowerman Bros?) lined up to pace, the races are going to be fast. Here's what you need to know ahead of tonight's races.
Who's Running?
The fields are very small and consist solely of BTC members. The women's race features just two athletes, Shelby Houlihan and Karissa Schweizer, while the men's race features four: Moh Ahmed, Lopez Lomong, Marc Scott, and Woody Kincaid. It seems as if any healthy Bowerman athlete will be available to pace, which means the women could have Elise Cranny and Courtney Frerichs to tow them along, while the men could enlist the services of Sean McGorty, Grant Fisher, Evan Jager, and Ryan Hill.
How Fast Are They Trying to Run?
Article continues below player
It hasn't been explicitly stated, but the goal for the women seems pretty clear: Houlihan's American record of 14:34.45 (which, incidentally, was also set with pacing aid from a BTC teammate). Houlihan has raced only one 5,000 (a win at 2019 USAs) since she set the record in 2018, but given how she's looked the last two years (3:54 1500 at 2019 Worlds, 8:26 3k indoors in February 2020), she certainly seems capable of challenging the record.
Based on recent form, however, Schweizer has just as good a chance to break the record. Schweizer dropped her PR from 15:02 to 14:45 (which she ran in the World Championship final) in her first full year as a pro in 2019, and is still only 24 years old. Indoors, she ran 8:25.70 at Boston University in February to defeat Houlihan and run the fastest 3,000 ever by an American woman, indoors or out. And last week she ran a four-second 1500 pb of 4:02.81 (though she lost to Houlihan, who clocked 4:02.37).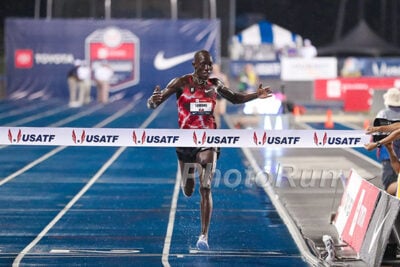 On the men's side, the guess is these guys would like to run a PR, which would mean a time in the 12:50s. As a reminder, here are the four entrants' PRs:
Woody Kincaid, 12:58.10
Moh Ahmed, 12:58.16 (Canadian record)
Lopez Lomong, 13:00.13
Marc Scott, 13:08.87i
So far, Bowerman has proven adept at producing fast times in these sort of events. They had three guys at 13:00 or faster in a 5k in Beaverton last year, an AR for Schweizer in the 3k in Boston indoors, and 13:11 PRs for McGorty and Fisher last week. The one downside is that Ahmed won't be able to reprise his role as the world's most overqualified 5k pacer — though he may end up having to over the final laps once the actual pacers drop out.
Given his World Champs bronze, Ahmed will be favored to take this. But Kincaid has a faster pb and it's never smart to count out Lopez Lomong.
What Does the Weather Look Like?
Weather.com calls for temps in the mid-70s, with minimal wind (5 mph). The sun will still be out (sunset in Portland is at 8:59 p.m., after both races have concluded) but will be low in the sky. Humidity is 41%. In other words, pretty good for running fast.
If Someone Breaks a Record, Will It Actually Count?
I spoke to Stephen Haas and Tom Ratcliffe, the agents for Houlihan and Schweizer, and they confirmed everything is in place for times from this meet to be ratified as records: i.e. a USATF event sanction and post-race drug testing.
There's just one other concern: shoes.
Yes, sorry to open that can of worms again, but it needs to be addressed. When Schweizer raced at the first BTC meet last week, she appeared to be wearing Nike's new Air Zoom Victory spikes. Though Nike announced the spikes back in February, they don't appear to have been officially released yet and aren't available to purchase on Nike.com.
That could be a problem. World Athletics' new shoe guidelines, released in January, state:
Any shoe that is first introduced after 30 April 2020 may not be used in competition unless and until it has been available for purchase by any athlete on the open retail market (i.e. either in store or online) for at least four months prior to that competition. Any shoe that does not meet this requirement is deemed a prototype and may not be used in competition.
Where that leaves us is unclear. It certainly doesn't appear that the Air Zoom Victory spikes have been available for purchase for four months. But does announcing the shoes in a press release in February count as being "first introduced" before April 30?
Any marks from tonight's meet would not count toward World Athletics rankings or Olympic qualifying anyway, since World Athletics suspended the qualifying period until December 1. The concern is whether the new World Athletics shoe guidelines will prevent any time run in them from being ratified as a national record.
The national records section of USATF's rules don't say much about shoes, but Rule 262.3 (a) does state competitors must be "eligible to compete under World Athletics Rules." The shoes themselves fit World Athletics' new guidelines, but if they haven't been released yet, does that make any athlete wearing them ineligible? We'll continue seeking clarification, because right now this issue appears muddy.
Update: USATF spokeswoman Susan Hazzard would neither confirm nor deny that the shoes would prevent an American record from being ratified. "It's like any record mark that's set. There's a process by which these records are ratified and verified. All marks are pending until that happens."
Hat tip to James McKirdy, who posed this question on Twitter.
Also a hat tip to an emailer Scott Okagawa who emailed us last night and noted Houlihan has been wearing shoes that have been released to the public. He wrote, "If you look closely at photos of Houlihan running races, workouts, etc., she always wears the OG Nike victory elite or victory elite 2 spikes (both of which are outdated)."
So Houlihan's shoes are legal. But will she beat Schweizer? Scott doesn't think so.
"Just from an eye ball test, I believe that Shelby and Karissa are probably around the same fitness; however, I believe at this upcoming 5k AR attempt, Karissa will beat Shelby by a slight margin due to the competitive advantage of the spikes. I understand that spikes are not everything, but that is just my thought on the matter at hand." Scott continued, "Even if my predictions are not true, I hope I was able to give you guys a small observation and something to think/ talk about on an upcoming podcast. I am a huge running shoes/ spikes nerd and I am excited to see where are sport is headed. If you guys have any comment on this topic, if would be awesome if you guys could email me back!"
Thank you Scott, we are emailing you back right now!
Bowerman 5k Discussion on the LetsRun.com Forums:
*Discuss
*Interesting Email on Shoes in Tonight's American 5k Record Attempt – Shelby Houlihan and Karissa Schweizzer