The Olympic Track & Field MVPs, Part II: 1964-2016
By Jonathan Gault
July 30, 2020
Welcome to Part II of my attempt to name a track & field MVP for each of the 28 Summer Olympics. If you missed Part I — where I explained why I'm taking up this thankless task and handed out awards for the first 14 Olympics, click below.
LRC The Olympic Track & Field MVPs, Part I: 1896-1960
Article continues below player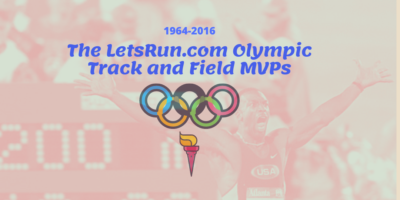 As a reminder, here's the criteria I'll be using to judge Olympic MVP:
Quality of the performance(s). I'm going to value a 9.63 100 more than a 43.94 400, even if both resulted in a gold medal. World records definitely help your cause.
Winning multiple golds helps your cause — but doesn't guarantee anything. We have to use common sense here. It's far more difficult for a javelin thrower to win two medals than it is for a sprinter. Two golds won with middling performances won't always outweigh one gold accompanied by a superior performance. Additional silvers and bronzes will also be considered, but the same caveats apply.
How iconic was the performance(s)? I'm borrowing this from Bill Simmons' NBA MVP criteria. Who is the first person you think of when I mention that year's Olympics?
Obviously, this whole exercise is just one man's opinion. Think I'm an idiot? Or maybe a genius? Head to our messageboard and sound off: MB: Let the debate begin. Here are our Olympic MVPs from 1896 to 2016.
Shoutout to Olympedia, whose reference tools were ultra-helpful in putting this project together.
And with that, let's get Part II started…
Tokyo 1964
Men's MVP: Abebe Bikila, Ethiopia
This was a tough one to pick, as two distance running legends were at the peak of their powers at Tokyo 1964. New Zealand's Peter Snell won the 800/1500 double — the last man to accomplish that feat, as of this writing — and did it with ease, taking over a second off the Olympic record in the 800 (he ran 1:45.1) and winning the 1500 by 1.6 seconds (38.6 final 300).
But I'm going with Bikila as MVP, who could not have done more in Tokyo. For the second straight Olympics, he won marathon gold in world-record time. And Bikila was even more dominant in Tokyo than he had been in Rome four years earlier (wearing shoes this time probably helped): he won the race by over four minutes and broke the world record by 1:44, taking it from 2:13:55 all the way down to 2:12:11.
Women's MVP: Tamara Press, Soviet Union
Press is the second (and most recent) woman to earn an Olympic double in the throws, winning the shot put and discus in Tokyo, both in Olympic records (18.14m in the shot, 57.27m in the disc). Honorable mentions to Ann Packer in the 800, Mary Rand in the long jump, and Press' younger sister Irina in the pentathlon, all of whom set world records.
Mexico City 1968
Men's MVP: Bob Beamon, USA
The high altitude of Mexico City produced a ton of world records in the sprints and jumps, but do we need to even debate this? Bob Beamon's long jump is on the shortlist of all-time greatest performances in any sport. To choose anyone else as MVP in '68 would be foolish. When the competition began, the world record stood at 8.35m (27-4.75). Beamon added almost two feet to the mark, pushing out all the way to 8.90m (29-2.5). Fifty-two years later, his leap remains the second-best jump in history.
A brief mention to Al Oerter, who won the discus for the fourth straight Olympics. Though remarkably consistent, none of his individual wins were quite enough to earn MVP honors on their own.
LRC A Leap For The Ages: Bob Beamon's 29-Foot Long Jump Turns 50
LRC Why Is the Long Jump World Record So Hard to Break?
Women's MVP: Wyomia Tyus, USA
Based on performance alone, this should go to East Germany's Margitta Gummel…and I already see you rolling your eyes because I said "East Germany." Gummel tacked almost a meter onto her own world record with a toss of 19.61m to win the shot put, but it was later revealed Gummel had taken steroids in the leadup to the '68 Games, so I'm ignoring her performance in Mexico City.
Instead, let's go with Tyus, who became the first athlete — male or female — to repeat as 100m champion, doing so in world-record time (11.0). She then anchored the US to victory in the 4×100 for her second gold — and second WR — of the Games.
Picking MVPs for the rest of the Olympics isn't easy as many of the candidates are people many believe were on drugs. I don't want to hand the award to someone I believe was on drugs. But when you're in consideration for Olympic MVP, there's usually going to be doping speculation around your name, even if you were clean. I tried my best to go case-by-case when weighing doping suspicions.
Munich 1972
Men's MVP: Lasse Viren, Finland
Viren didn't just win the 5,000 and 10,000 double — the first man to accomplish the feat since the Soviet Union's Vladimir Kuts in 1956. He did it in style. He began by winning the 10,000 in a world record of 27:38.35, despite falling midway through the race. A week later, he dusted everyone over the final 100 to win the 5,000 in an Olympic record of 13:26.4. And this was back when there were prelims in the 10,000.
For decades, there have been rumors that Viren blood doped in the '70s (which was not illegal at the time), though this has never been proven.
Women's MVP: Ulrike Meyfarth, West Germany
Several women set world records in these Games, but given the rampant Eastern Bloc doping during this time period, I'm discounting the performances of 100/200 champ Renate Stecher of East Germany and shot put champ Nadezhda Chizhova of the Soviet Union. Instead, let's go with Meyfarth, who tied the world record with her 1.92m clearance in the high jump — and in so doing, became, at 16 years old, the youngest-ever individual Olympic medalist in track & field, a distinction she still holds.
Montreal 1976
Men's MVP: Alberto Juantorena, Cuba
Montreal 1976 was a loaded Olympics. There are so many candidates for MVP here. Viren (5k/10k double, plus 5th in the marathon), Edwin Moses (WR to win the 400 hurdles), Miklos Nemeth (WR to win the javelin), Bruce Jenner (WR to win the decathlon) all have a great a case for MVP. Moses especially, considering he finished over a second ahead of silver and almost two seconds clear of bronze (though it helped that reigning champ John Akii-Bua was absent due to Uganda's boycott).
But Juantorena's remarkable 400/800 double is the performance that stands out. No man has claimed that double before or since, and few athletes now would even contemplate attempting it (Kenya's Emmanuel Korir gave it a shot at the 2019 Worlds; he finished 6th in the 400 but didn't make the 800 final). But the burly Cuban known as "El Caballo" was magnificent in Montreal, winning the 800 in a world record of 1:43.50 and turning around to claim the 400 four days later in 44.26 – with that 44.26 being a low-altitude world best as well.
He's my MVP, but I know what many of you are thinking — Communist Cuba, Polish coach, crazy double and his nephew was later banned for doping: MB: Was Alberto Juantorena Dirty When He Won the 400/800 Double at the Olympic Games?
Women's MVP: Irena Szewinska, Poland
Szewinska might be the most underrated sprinter in history. The only athlete in history to hold world records in the 100, 200, and 400, she earned three medals at the 1964 Olympics (silvers in the 200 and long jump, gold in the 4×100). Twelve years later, she won the 400 in Montreal in 49.28, taking almost half a second off her own world record. In between, she won the 200 at the '68 Olympics, piling up seven medals in all. Not bad for a woman you'd probably never heard of.
Moscow 1980
Men's MVP: Sebastian Coe, Great Britain
Miruts Yifter may have earned double gold in the 5,000 and 10,000, but let's be honest: this was the Coe-Ovett Olympics. The rivalry between British middle-distance stars Sebastian Coe and Steve Ovett dominated the Games, and unlike on the European circuit, they couldn't dodge each other in Moscow (this was just the second time the two had raced on the track, after the 1978 European Championships). The Games opened with Ovett upsetting world record holder Coe in the 800. With the harder victory under his belt, Ovett — who hadn't lost a 1500 in three years — seemed destined to complete the double, but Coe took advantage of the slow early pace in the 1500 final to kick his way to gold.
You could easily call Coe and Ovett co-MVPs in Moscow, but we're not doing ties. So Coe, with his 1500 gold and 800 silver, just edges out Ovett (800 gold, 1500 bronze).
Women's MVP: Sara Simeoni, Italy
Twelve of the 14 women's events were either won by Soviets or East Germans, which calls the outcome of almost every event into question. The most remarkable performance belonged to the Soviet Union's Nadezhda Olizarenko, who took a second-and-a-half off the 800 world record by winning gold in 1:53.43. But there's a better chance I end up marrying Emma Watson than that performance was clean.
Instead, I'm going with the gold-medal performance that had the best chance of being clean: Sara Simeoni's win in the high jump, which saw her clear an Olympic record of 1.97m.
Los Angeles 1984
Men's MVP: Carl Lewis, USA
Pretty easy choice here. Lewis followed in the footsteps of Jesse Owens in 1936 by winning the 100, 200, and 4×100, plus the first of four straight long jump titles. He owned the LA Games on home soil.
Women's MVP: Valerie Brisco-Hooks, USA
Michael Johnson made the 200-400 double famous, but Brisco-Hooks was the first athlete, male or female, to win both at the same Olympics. Her times were fast — Olympic records in both the 200 (21.81) and 400 (48.83) — and she added a third gold as part of the US's 4×400 relay.
Seoul 1988
Men's MVP: Carl Lewis, USA
Lewis set a world record of 9.92 to win the 100 (after Ben Johnson was famously stripped of the title) and jumped 8.72m to win the long jump (only Bob Beamon has gone farther in Olympic competition).
The case against Lewis in 1988 is that he tested positive three times for stimulants at that year's Olympic Trials. This information did not come to light until 2003, at which point it was revealed that USOC had quietly cleared Lewis to compete at the Olympics, citing inadvertent use of pseudoephedrine, ephedrine, and phenylpropanolamine.
While this has been hyped up as a big scandal, the reality is in the year 2020, Carl Lewis wouldn't be banned for what he tested positive for in 1988, so he's still my MVP. According to the LA Times, "in three separate tests conducted at the Olympic trials in July 1988, Lewis registered levels of two parts per million, four parts per million and six parts per million for a combined mixture of three stimulants found in common cold remedies: ephedrine, pseudoephedrine and phenylpropanolamine." A drug test result like that doesn't result in a ban in 2020.
Phenylpropanolamine isn't a prohibited substance now and you don't get banned for ephedrine unless the concentration is greater than 10 micrograms per milliliter. Pseudoephedrine only gets you banned if the concentration is greater than 150 micrograms per milliliter.
Women's MVP: Jackie Joyner-Kersee, USA
JJK won the heptathlon with a world-record 7291 points, which stands unbroken 32 years later. Five days later, she won the most loaded long jump competition in history: earlier that year, bronze medalist Galina Chistyakova had broken the world record (7.52m) and silver medalist Heike Drechsler had recorded the second-longest jump in history (7.48m), but JJK beat both of them in Seoul. Her 7.40m jump in round five still stands as the Olympic record.
Obviously I have to note here that Florence Griffith-Joyner won the 100 and 200 in ridiculous times (10.54 with a 3.0 wind & 21.34). FloJo and JJK will always be linked (FloJo married JJK's brother Al Joyner), and there is obviously doping speculation around both of them given their world records have stood 30+ years. But those whispers are far larger around FloJo, who improved dramatically in 1988 at the age of 28. This is a subjective exercise, and there's too much doubt around FloJo for me to hand her Olympic MVP.
Barcelona 1992
Men's MVP: Kevin Young, USA
Breaking an Edwin Moses record in the Olympic final — and seeing that record last 28 years and counting — is a pretty good way to earn Olympic MVP honors. Young's 46.78 in Barcelona made him the first man under 47 seconds in the 400 hurdles; it would be 26 years until someone else finally joined the club. Considering the only other WRs in Barcelona came in the relays, Young was an easy pick.
Women's MVP: Jackie Joyner-Kersee, USA
There were no world records or double champs (excluding relays) on the women's side in 1992, making the task of doling out MVP honors slightly harder. But a 7000-point heptathlon certainly stands out. JJK's winning total of 7044 points has only been surpassed by one athlete in history (JJK herself, who did it five times) and, according to World Athletics' scoring tables, was the greatest performance by any woman in Barcelona. That's good enough for me.
Atlanta 1996
Men's MVP: Michael Johnson, USA
Few athletes are more closely linked with a single Olympics than Johnson and Atlanta 1996. In one of the all-time great "calling your shot" moments, Nike designed special gold spikes for Johnson, and he more than delivered. First, he won the 400 by almost a second in an Olympic-record 43.49. Three days later, he destroyed his own 200m world record, taking it from 19.66 all the way down to 19.32 to win his second gold. Johnson tweaked his hamstring setting that record which meant he couldn't run the 4×400 relay and earn a third gold, but his runs in the 200 and 400 were more than enough to clinch MVP honors.
Of course, while Johnson may have been the Olympic MVP, all of Canada, including 100m Olympic champ Donovan Bailey, didn't like the fact that many in the US started referring to Johnson as the "world's fastest man" — normally that title goes to the 100 champ. So in 1997, they squared off for $1.5 million at 150 meters. Here is what happened:
Women's MVP: Marie-José Pérec, France
Pérec, like Johnson, won the 200 and 400 in Atlanta — a feat that no man or woman has replicated in the ensuing 24 years. And though she didn't get the same attention as America's golden boy, her feat was still mighty impressive. Her first gold, in the 400, was the better run — she ran 48.25, a time bettered only by two women both of whom were strongly suspected of having been dopers and Salwa Eid Naser, who is currently suspended due to whereabouts failures. Perec then came back to win the 200 in 22.12, defeating two-time defending world champ Merlene Ottey to earn the win.
Sydney 2000
Men's MVP: Haile Gebrselassie, Ethiopia
This was a tough one to call. There were no men's WRs in Sydney and only one man — race walker Robert Korzeniowski of Poland — won multiple individual golds. Sorry, but I'm not giving Olympic MVP to a race walker.
By World Athletics' scoring tables, Michael Johnson's 43.84 in the 400 was the best performance of the Games and he certainly has a case for MVP, as does the Czech Republic's Jan Zelezny, whose Olympic-record 90.17m in the javelin secured him a third straight gold.
But with no truly insane performances, I'm going to lean on my third criterion: how iconic was the gold? And in that case, the winner is Haile Gebrselassie, who triumphed in an all-time great 10,000 against rival Paul Tergat, edging the former WR holder by .09. Haile's final 200 of 25.4 (in a 27:18 race) was truly outstanding.
Women's MVP: Cathy Freeman, Australia
I initially decided to pick Ethiopia's Derartu Tulu, who blitzed a 30:17 to win the 10,000. Paula Radcliffe pushed the pace for the first five miles before Tulu blew everyone away with a 60.26 last lap (!) to win her second Olympic title by almost five seconds. At the time, Tulu's time was the fourth-fastest ever run, and #2 if you exclude the almost-certainly-doped Chinese duo of Wang Junxia and Zhong Huandi (Norway's Ingrid Kristiansen was the other woman ahead of Tulu, with her 30:13 from 1986).
On paper, Tulu's 30:17 in an Olympic final seems more impressive performance than Freeman's 49.11 in the 400 — which, though it was the fastest time in the world in 2000, was almost half a second off the 48.63 Freeman ran at the '96 Olympics to take silver. However, subsequent Olympics showed it's actually possible to run very fast in an Olympic 10,000 final (especially if someone like Radcliffe pushes the pace) as there simply aren't many fast 10,000 opportunities for women around the world. Tulu's 30:17 doesn't seem as fast now that we've seen Almaz Ayana run 29:17.
Meanwhile Freeman — the face of the 2000 Games — faced enormous pressure and delivered. Her 400m gold in front of a packed house was an iconic moment in Olympic history and made her the first and only athlete to win gold and light the Olympic torch at the same Games.
Athens 2004
Men's MVP: Liu Xiang, China
Morocco's Hicham El Guerrouj famously ended his Olympic drought in Athens with double gold in the 1500 and 5000 — the first man to win both at the same Games since Paavo Nurmi 80 years earlier. El Guerrouj was never banned for doping at any point in his career, but because his success came at the height of the EPO era and his world records have stood for 20+ years, many are suspicious of his accomplishments (in LetsRun's 2014 "Dirty or Clean" poll, 57% of LRC visitors believed El G was dirty). So I'll go with the safer pick here and take Xiang, who tied Colin Jackson's 11-year-old world record with his 12.91 in the 110 hurdles final.
MB: Jim Ryun calls out Hicham El Guerrouj?
Women's MVP: Kelly Holmes, Great Britain
After collecting two silvers and two bronzes at major championships, everything finally came together for Holmes at Athens 2004, as she won gold in the 800 and 1500, and ran fast in both finals: her 1:56.38 800 was the #2 time of the year, and just .17 off her British record, while her 3:57.90 1500 was the fastest time of the year and would stand as the British record for 12 years until broken by Laura Muir.
Beijing 2008
Men's MVP: Usain Bolt, Jamaica
Could it be anyone else?
Well in most other years, yeah. Kenenisa Bekele ran an Olympic-record 27:01 to win the 10,000 and followed it up with an Olympic-record 12:57 in the greatest 5,000 ever run. Sammy Wanjiru revolutionized the marathon with a remarkable 2:06:32 victory that took almost three minutes off the Olympic record.
But Bolt's 9.69/19.30 double gold/double WR (his 4×100 gold/WR was later stripped due to a doping violation by Nesta Carter) wasn't just the greatest performance of the 2008 Olympics, but perhaps the greatest performance in the history of Olympic track & field. Others have won doubles (and even triples/quadruples) and set WRs, but the combination of dominance, energy, and excitement Bolt brought to the Bird's Nest in 2008 may never be replicated. Twelve years on, no one (besides Bolt himself) has run faster in the 100 than he did in 2008, and no runner has captured the attention of the public in the same way.
Please, go ahead and find me a more exciting 10 seconds in the history of track & field than this:
Women's MVP: Tirunesh Dibaba, Ethiopia
Dibaba was a dominant winner in the 5,000 and 10,000, becoming the only woman in Olympic history to pull off that double. Though she faced stronger competition in the 5,000, defeating 2004/2012 Olympic champ Meseret Defar, the more impressive win was the 10,000 — after runner-up Elvan Abeylegesse was retroactively DQ'd for doping, Dibaba's winning margin wound up at a staggering 27 seconds. Her time of 29:54 was the second-fastest ever at the time, behind only suspected doper Wang Junxia.
London 2012
Men's MVP: David Rudisha, Kenya
If you want to give MVP to Bolt again — whose 100/200/4×100 times of 9.63/19.32/36.84 (with a world record in the latter) were, collectively, superior to 2008 — you'll find no argument here. But I'm going with the finest 800-meter performance in history, Rudisha's virtuoso 1:40.91 wire-to-wire world record in the Olympic final (which, don't forget, was his third race in four days). Eight years on, it remains a thing of beauty and a worthy winner of LetsRun's Race of the Decade bracket.
LRC David Rudisha Becomes A Legend By Winning Gold With A World Record In A Truly Historic 800

Women's MVP: Jessica Ennis, Great Britain
Ennis was one of the faces of the 2012 Games and carried the weight of a nation as Great Britain hosted the Olympics for the first time in 64 years. She responded not only by winning heptathlon gold, but by delivering the greatest performance of her life — a career-best 6955 points. Ennis began the competition by setting a British record in the 100 hurdles (12.54) and closed it out with a victory in the 800 on "Super Saturday" to secure the gold the Brits wanted the most.
Rio de Janeiro 2016
Men's MVP: Wayde van Niekerk, South Africa
Bolt won the 100/200 double for the third straight Olympics, but his winning times of 9.81 and 19.78 — though enough to earn him clear victories in Rio — weren't nearly as dominant as van Niekerk's stunning 43.03 400m out of lane 8, which broke Michael Johnson's 17-year-old world record.
LRC 43.03 From Lane 8! Wayde van Niekerk Takes Down Michael Johnson's 17-Year-Old 400M World Record to Win Olympic Gold
Women's MVP: Almaz Ayana, Ethiopia
Jamaica's Elaine Thompson impressively swept the short sprints (10.71/21.78), but Ayana's 10,000 world record of 29:17 on the first morning of the Games was the performance of the meet. Entering the Olympics, Wang Junxia' 29:31 WR had stood for almost 23 years and looked set to stand for another 23 — no one had come within 20 seconds of Junxia's time before or since.
Enter Ayana, the reigning 5,000m WR champ, who demolished a loaded field to crush the WR and win by 15 seconds.
LRC History In Rio: Almaz Ayana Smashes Women's 10,000 World Record With 29:17.45 In Greatest Women's 10,000 Ever – Molly Huddle Breaks American Record In 6th
---
What do you think of our picks? Talk about it on our fan forum/messageboard. MB: Let the debate begin. Here are our Olympic MVPs from 1896 to 2016.
Did you read Part I: LRC The Olympic Track & Field MVPs, Part I: 1896-1960.