Treadmill World Records Galore Set at the Chaski Challenge Led by Sara Hall's 69:03 Half Marathon
By LetsRun.com
June 7, 2020
The treadmill world records from the half marathon through 100k were set at the Chaski Challenge on Saturday, led by the 69:03 in the half marathon by Sara Hall.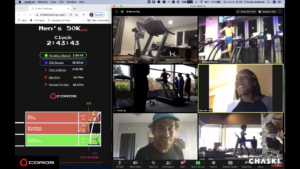 Hall, who was America's fastest marathoner in 2019, ran just missed her real PR of 1:08:58.
In the men's half marathon, John Raneri ran 63:08 to set a new world record. How fast is that? He set the treadmill as fast as it could go and ran that pace for the full half marathon.
Article continues below player.
Renee Metivier got the marathon (2:40:55) and 50k (3:11:42) bests for a woman while Tyler Andrews got the marathon (2:17:56) and 50k (2:42:56) bests for a man. And Mario Mendoza set the men's 100k record (6:39:25). (Results here)
While some of the treadmill world records were pretty soft (for example, race organizers didn't even know what the women's treadmill world record was prior to this race), the 50k mark by Andrews was believed to be the fastest 50k ever run (previously 2:43:38 by Thompson Magawana en route at the 1988 Two Oceans Marathon, a 56k race).
Women's Records Set at Chaski Challenge Up to 50k
| | | |
| --- | --- | --- |
| | New Record | Old Record |
| Half Marathon | Sara Hall 1:09:03 | |
| Marathon | Renee Metivier 2:40:55 | ??? |
| 50k | Renee Metivier 3:11:42 | Arielle Fitzgerald 3:51:25 |
Men's Records set up to 50k
| | | |
| --- | --- | --- |
| | New Record | Old Record |
| Half Marathon | John Raneri 63:08 | |
| Marathon | Tyler Andrews 2:17:56 | |
| 50k | Tyler Andrews 2:42:56 | |
Recap:
Women's HM – WR, Sara Hall
Women's Marathon – WR, Renee Metivier
Women's 50K – WR, Renee Metivier
Men's HM – WR, John Raneri
Men's Marathon – WR, Tyler Andrews
Men's 50K – WR, Tyler Andrews
Men's 100K – WR, Mario Mendoza

— Chaski Endurance Collective (@ChaskiEndurance) June 7, 2020