American Distance GOAT: Vote in the Women's Semifinals
By LetsRun.com
April 16, 2020
This month, LetsRun.com is determining the greatest American distance runner of all time (overview here). The first three rounds are in the books (recap here), and only 8 athletes remain – 4 men and 4 women.
Below you'll find the two remaining women's matchups for the American Distance GOAT bracket. Voting will be open until the end of the day (midnight ET) on Sunday, April 19. Seeds are in ().
Article continues below player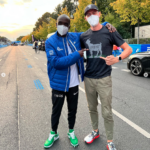 Kipchoge loves the 1:59:40 Shirt Get Yours Today
What a legend!
*AMERICAN DISTANCE GOAT OVERVIEW *MEN'S QUARTERFINAL MATCHUPS
Bios by Jonathan Gault.
Kastor Region Final
Matchup #1
1) Deena Kastor
Notable PBs: 8:42.59 3,000, 14:51.62 5,000 (#7 US), 30:50.32 10,000 (#4 US), 67:34 half marathon (#3 US), 2:19:36 marathon (AR)
Global medals: 3 (2nd 2002 World XC, 2nd 2003 World XC, 3rd 2004 Olympic marathon)
Major marathon wins: 2 (2005 Chicago, 2006 London)
USA outdoor track titles: 5 (all in 10,000)
Global outdoor finals: 6 (11th 1999 World 10,000, 11th 2001 World 10,000, 12th 2003 World 10,000, 3rd 2004 Olympic marathon, 5th 2007 World 10,000, 9th 2013 World marathon)
NCAA titles: 0
Bio: Two-time World XC silver medalist *2005 Chicago Marathon champ *2006 London Marathon champ *Former AR holder in 10,000 and half marathon
Kastor is best known for her marathon exploits, but she excelled across multiple distances and surfaces. On the roads: two major marathon victories, Olympic marathon bronze, and American records in the half (67:34, since broken) and full marathon (2:19:36; that record will turn 14 years old next month). In cross country: two individual silvers at World XC. On the track: an American record at 10,000 (and arguably one at 5,000 as well; when Kastor ran 14:51 in 2000, only doper Regina Jacobs had run faster among Americans) a 5th-place finish at Worlds, and five national titles.
She's also the only American woman in the last 30 years who can genuinely say she was the best marathoner in the world — she won Chicago and London back to back in 2005/2006, with her 2:19:36 in London holding up as a world leader and earning her the World #1 ranking from Track & Field News.
2) Shalane Flanagan
Notable PBs: 8:33.25i 3,000 (#7 US), 14:44.80 5,000 (#4 US), 30:22.22 10,000 (#2 US), 67:51 half marathon (#5 US), 2:21:14 marathon (#3 US)
Global medals: 2 (2nd 2008 Olympic 10,000, 3rd 2011 World XC)
Major marathon wins: 1 (2017 New York)
USA outdoor track titles: 5 (3 in 10,000, 2 in 5,000)
USA indoor track titles: 1 (3,000)
Global outdoor finals: 9 (7th 2007 World 5,000, 2nd 2008 Olympic 10,000, 9th 2008 Olympic 5,000, 13th 2009 Worlds 10,000, 7th 2011 Worlds 10,000, 9th 2012 Olympic marathon, 8th 2013 World 10,000, 6th 2015 World 10,000, 6th 2016 Olympic marathon)
NCAA titles: 3
Bio: 2017 NYC Marathon champ *2011 World XC bronze *3 NCAA titles (including 2 in XC) *Former AR holder in 5,000 and 10,000
The remarkably durable Flanagan became a dominant runner in college at North Carolina with back-to-back NCAA cross country titles in 2002 and 2003 and spent the next decade and a half as one of America's premier distance runners, retiring after finishing 3rd (top American) at the New York City Marathon at age 37 in 2018. In between, she made 10 straight World/Olympic teams, set American records in the 5k and 10k, and collected Olympic silver in '08 (the US's first distance medal on the track for 16 years), World XC bronze in 2011, and an NYC Marathon title in 2017.
LRC Shalane Flanagan Wins 2017 New York City Marathon – 1st American Winner in 40 Years
[gravityform action="polls" id="915″ mode="poll" cookie="1 month" show_results_link="false" display_results="true" percentages="true" counts="false" ajax="true"]
***
Benoit Region Final
Matchup #1
1) Joan Benoit Samuelson
Notable PBs: 2:21:21 marathon (#4 US)
Global medals: 1 (1984 Olympic marathon gold)
Major marathon wins: 4 (1979 and 1983 Boston Marathons, 1984 Olympics, 1985 Chicago)
USA track titles: 1 (10,000)
Global outdoor finals: 1 (1st 1984 Olympic marathon)
NCAA titles: 0
Bio: Won inaugural Olympic women's marathon in 1984 *Two-time Boston Marathon champ; her 1983 winning time of 2:22:43 was a world record *6-time Falmouth Road Race champ *1985 Chicago Marathon champ; her 2:21:21 winning time would stand as the American record for almost 18 years
The diminutive Maine native known lovingly as "Joanie" was simultaneously a pioneer of her sport — she won the inaugural Olympic marathon in Los Angeles in 1984 — and ahead of her time. When she ran 2:22:43 at the 1983 Boston Marathon, it was the fastest time by a woman (in any marathon) by almost three minutes. I took 28 years for an American to run faster than Joanie on that course, and 32 until an American ran faster than her time in Chicago in 1985 (2:21:21, which remains the fourth-fastest ever by an American woman, 35 years later). She was twice ranked World #1 in the marathon by Track & Field News.
Her 1984 campaign was remarkable, winning the US Olympic Trials in Olympia, Wash., just 17 days after undergoing knee surgery, and then using a bold move just three miles in to win the Olympic marathon handily, 1:26 ahead of Norway's Grete Waitz. She remains the only American woman to win Olympic gold in an event longer than 800 meters.
2) Jenny Simpson
Notable PBs: 3:57.22 1500 (#4 US), 4:17.30 mile (#3 US), 8:29.58 3,000 (#5 US), 14:56.26 5,000; 9:12.50 steeple (#4 US)
Global medals: 4 (1st 2011 World 1500, 2nd 2013 World 1500, 3rd 2016 Olympic 1500, 2nd 2017 World 1500) 
USA outdoor track titles: 7 (4 in 1500, 2 in steeple, 1 in 5,000)
USA indoor track titles: 4 (2 in 3,000, 1 in 1500, 1 in mile)
Global outdoor finals: 8 (8th 2008 Olympic steeple, 4th 2009 World steeple, 1st 2011 World 1500, 2nd 2013 World 1500, 11th 2015 World 1500, 3rd 2016 Olympic 1500, 2nd 2017 World 1500, 8th 2019 World 1500)
NCAA titles: 4
Bio: Most global outdoor medals (4) of any female American distance runner *Former American record holder in steeple *Collegiate record holder in 1500 (3:59.90), mile (4:25.91i), and 5,000 (15:01.70i) *2014 Diamond League champion (1500)
With four global medals, including a world title in 2011, Simpson is the most decorated American female distance runner in history, and one of the most decorated 1500 runners from any country. Thanks to her strength and a brilliant sense of pace, Simpson almost always measures her race perfectly, allowing her to run down countless foes over the final 100 meters. Though her finest hour came at the 2011 Worlds, where Simpson shockingly walked away with the gold, she was actually in better shape in all three of her subsequent medal runs (but faced tougher competition in each).
Simpson's dominant collegiate career at the University of Colorado and her steeplechase exploits (she finished 4th at Worlds in 2009 in an American record) should also be appreciated, but Simpson's greatest trait is her consistency. She first broke 4:00 for the 1500 as a 22-year-old college senior in June 2009; over a decade later, at age 33, she ran 3:58 in the World Championship final, with few dips in between.
LRC Daegu 2011: Jenny Simpson Pulls Shocker, Wins World 1,500m Title
[gravityform action="polls" id="916″ mode="poll" cookie="1 month" show_results_link="false" display_results="true" percentages="true" counts="false" ajax="true"]
---
Vote in the men's quarterfinals below:
*MEN'S QUARTERFINAL MATCHUPS  *AMERICAN DISTANCE GOAT OVERVIEW