American Distance GOAT Sweet 16 Recap: Ryun Defeats Centro, Rupp Takes Down Meb, & More
By LetsRun.com
April 16, 2020
Editor's note: LetsRun.com has created a 64-athlete bracket to determine who is the Greatest American Distance Runner of All Time. If you missed the intro to the tournament, catch up here.
You know we're getting down to the business end of our American Distance GOAT tournament when all-time American legends such as Matthew Centrowitz, Jr., Meb Keflezighi, and Bill Rodgers are getting eliminated. We're down to four men and four women, and no one from that incredible trio made the cut.
Centro vs. Jim Ryun looked to be the closest round of 16 matchup on paper, and it proved that way, though Ryun's margin of victory (59.1% to 40.9%) wasn't even all that close in the end. But it was still a lot closer than the other matchups on the men's side, which saw Galen Rupp (who drew 70.0% of the vote to Meb's 30.0%), Bernard Lagat (64.6% to Rodgers' 35.4%), and Frank Shorter (92.1% to Johnny Gray's 7.9%) cruise through.
Three of the women's Sweet 16 matchups were blowouts, with Jenny Simpson (over Emma Coburn), Joan Benoit Samuelson (over Ajee' Wilson), and Deena Kastor (over Molly Huddle) all earning at least 80% of the vote. Shalane Flanagan had the closest call, but her 62.6% to 37.4% margin over fellow Massachusetts legend Lynn Jennings still wasn't all that close.
Voting for the Elite Eight — which runs through Sunday night (midnight ET) — is now open and with the winners off to the Final Four, the matchups are the toughest yet. Check it out:
Article continues below player.
1) Frank Shorter vs. 2) Galen Rupp (Shorter Region)
Olympic gold and silver (Shorter) vs. Olympic silver and bronze (Rupp). Shorter had more marathon wins, Rupp had faster times on both the roads and the track. This is a tough one.
1) Bernard Lagat vs. 3) Jim Ryun (Lagat Region)
Lagat's medal haul (2 World Championship golds, 2 silver, 1 bronze outdoors) is unparalleled by an American, and he still holds the American records at 1500, 3000, and 5000. But unlike Ryun, he didn't set any world records.
1) Deena Kastor vs. 2) Shalane Flanagan (Kastor Region)
Flanagan couldn't succeed in breaking Kastor's American record in the marathon, but had the more successful track career, with Olympic 10k silver in 2008. Both were outstanding XC runners, with Flanagan winning NCAAs twice and earning a bronze at World XC and Kastor taking silver at World XC twice.
1) Joan Benoit Samuelson vs. 2) Jenny Simpson (Benoit Region)
Benoit Samuelson remains iconic not just for her times and wins, but for her role as a pioneer of women's running, winning the first women's Olympic marathon in 1984 — two years before Simpson was born. Simpson, meanwhile, has won almost everything there is to win, with world and Diamond League titles to go with an Olympic medal in 2016 (though it was bronze, not gold).
***FOURTH ROUND VOTING NOW OPEN, CLICK HERE TO VOTE NOW FOR MEN AND WOMEN! Voting closes at the end of Sunday, April 19 (midnight ET), so get your votes in.
Updated bracket: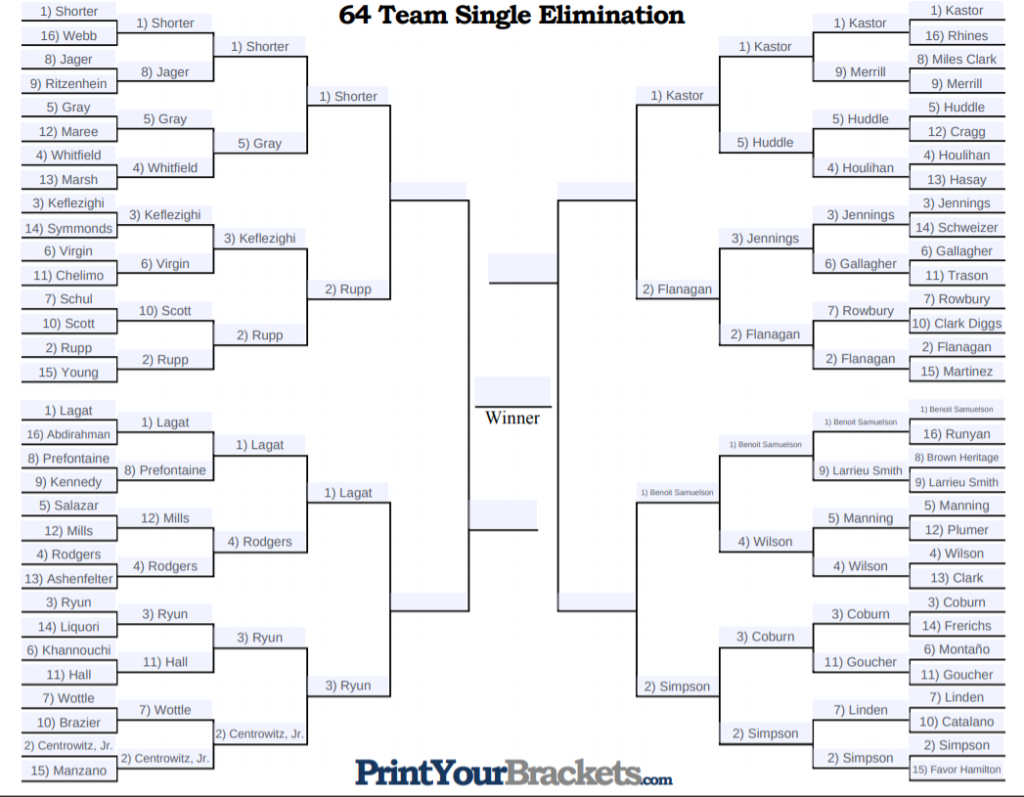 Third round results
Shorter Region
(1) Frank Shorter 92.1%
(5) Johnny Gray 7.9%
(2) Galen Rupp 70.0%
(3) Meb Keflezighi 30.0%
Lagat Region
(1) Bernard Lagat 64.6%
(4) Bill Rodgers 35.4%
(2) Matthew Centrowitz, Jr. 40.9%
(3) Jim Ryun 59.1%
Kastor Region
(1) Deena Kastor 82.8%
(5) Molly Huddle 17.2%
(2) Shalane Flanagan 62.6%
(3) Lynn Jennings 37.4%
Benoit Region
(1) Joan Benoit Samuelson 82.2%
(5) Ajee' Wilson 17.8%
(2) Jenny Simpson 82.7%
(3) Emma Coburn 17.3%