American Distance GOAT, First Round Recap: Billy Mills Pulls Off Biggest Upset. 2nd Round Voting Now Open
Look at Mills! Billy Mills Pulls Off Yet Another Upset
By LetsRun.com
April 10, 2020
Editor's note: Letsrun has created 64-athlete bracket to determine who is the Greatest American Distance Runner of All Time. If you missed the intro to the tournament, catch up here.
The first round of LetsRun.com's American Distance GOAT bracket is in the books and the action did not disappoint. Upsets are always the biggest story in the first round of any tournament and that was the case here. While the top four seeds in each region all advanced, we also saw our share of upsets. The biggest — perhaps unsurprisingly, in retrospect — came from the author of one of the greatest upsets in Olympic history, 1964 Olympic 10,000 champ Billy Mills. Heading into the tournament, Mills fans were irate that he was only seeded #12 – "How in the world can an iconic Olympic champion only be a #12 seed?" – and Mills backed them up by pulling off another upset to take down #5 seed Alberto Salazar (it turned into a blowout in the end, 68.6% to 31.4%).
After taking down an American marathon legend in round #1, Mills will now get to face another marathon legend in round #2, Bill Rodgers.
Another upset came in the same region, with #6 seed Ryan Hall defeating #11 seed Khalid Khannouchi, 65.4% to 34.6% in a battle of the two fastest American marathoners of all time. LRC nation sided with Hall — who never won a major — over Khannouchi who won three as an American, including a world record at 2002 London.
Article continues below player.
The closest first-round matchup came between America's last two global 800-meter champions, as #7 seed Dave Wottle edged out #10 seed Donavan Brazier, 53.7% to 46.3%. Wottle's reward for prevailing? A showdown with 2016 Olympic 1500 champion Matthew Centrowitz, Jr.
As you might expect, all four #1 seeds — Frank Shorter, Bernard Lagat, Deena Kastor, and Joan Benoit Samuelson — coasted through, each receiving more than 88% of the vote. Kastor's matchup against #16 seed Jen Rhines was the most lopsided of the round, with Kastor gaining a whopping 97.6% of the vote — just ahead of Benoit Samuelson (97.1% against Marla Runyan).
Now it's on to round two. Voting runs through [spp-featured-image][spp-tweet tweet=""] Sunday night (midnight ET), so be sure to vote for your favorites to advance. A few of the top matchups:
4) Mal Whitfield vs. 5) Johnny Gray (Shorter Region)
Two 800-meter legends face off. Do you back Whitfield's back-to-back Olympic titles in 1948 and 1952 or Gray's four Olympic finals in the '80s and '90s and his American record, which he held for over 35 years.
1) Bernard Lagat vs. 8) Steve Prefontaine (Lagat Region)
America's most decorated distance runner against America's most iconic distance runner.
2) Matthew Centrowitz, Jr. vs. 7) Dave Wottle (Lagat Region)
A battle between USA's last two Olympic distance gold medalists on the track.
4) Shelby Houlihan vs. 5) Molly Huddle (Kastor Region)
Two present-day Americans who have piled up US titles between them
4) Ajee' Wilson vs. 5) Madeline Manning
Wilson, America's best 800 runner of 2020 and the first American under 1:56, against the 1968 Olympic champ Manning, the first American under 1:58.
***SECOND ROUND VOTING NOW OPEN, CLICK HERE TO VOTE NOW FOR MEN AND WOMEN! Voting closes on Saturday Sunday at midnight ET so get your votes in.
Updated bracket: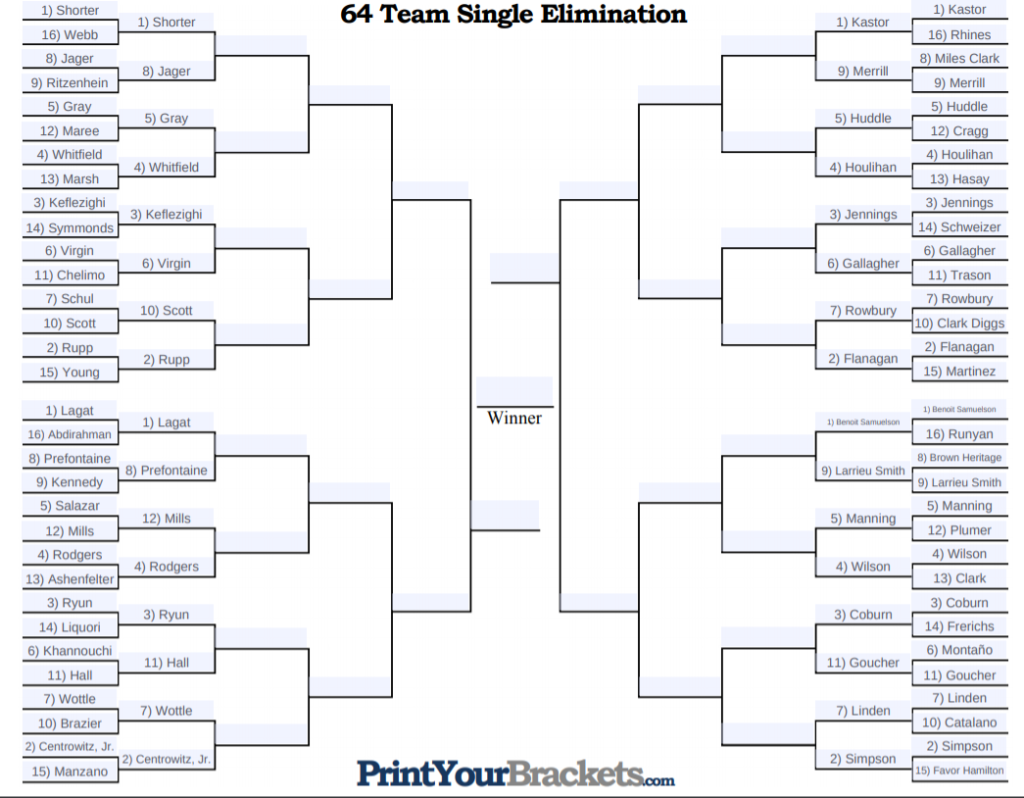 First-round results
Shorter Region
(1) Frank Shorter 88.3%
(16) Alan Webb 11.7%
(2) Galen Rupp 91.3%
(15) George Young 8.7%
(3) Meb Keflezighi 81.0%
(14) Nick Symmonds 19.0%
(4) Mal Whitfield 73.3%
(13) Henry Marsh 26.7%
(5) Johnny Gray 79.9%
(12) Sydney Maree 20.1%
(6) Craig Virgin 64.4%
(11) Paul Chelimo 36.6%
(7) Bob Schul 29.6%
(10) Steve Scott 70.4%
(8) Evan Jager 75.5%
(9) Dathan Ritzenhein 24.5%
Lagat Region
(1) Bernard Lagat 92.0%
(16) Abdi Abdirahman 8.0%
(2) Matthew Centrowitz, Jr. 89.8%
(15) Leo Manzano 10.2%
(3) Jim Ryun 95.8%
(14) Marty Liquori 4.2%
(4) Bill Rodgers 79.8%
(13) Horace Ashenfelter 20.2%
(5) Alberto Salazar 31.4%
(12) Billy Mills 68.6%
(6) Khalid Khannouchi 34.6%
(11) Ryan Hall 65.4%
(7) Dave Wottle 53.7%
(10) Donavan Brazier 46.3%
(8) Steve Prefontaine 63.5%
(9) Bob Kennedy 36.5%
Kastor Region
(1) Deena Kastor 97.7%
(16) Jen Rhines 2.3%
(2) Shalane Flanagan 96.0%
(15) Brenda Martinez 4.0%
(3) Lynn Jennings 81.9%
(14) Karissa Schweizer 18.1%
(4) Shelby Houlihan 88.6%
(13) Jordan Hasay 11.4%
(5) Molly Huddle 85.9%
(12) Amy Cragg 14.1%
(6) Kim Gallagher 63.1%
(11) Ann Trason 36.9%
(7) Shannon Rowbury 72.8%
(10) Joetta Clark Diggs 27.2%
(8) Jearl Miles Clark 46.8%
(9) Jan Merrill 53.9%
Benoit Region
(1) Joan Benoit Samuelson 97.1%
(16) Marla Runyan 2.9%
(2) Jenny Simpson 93.2%
(15) Suzy Favor Hamilton 6.8%
(3) Emma Coburn 94.6%
(14) Courtney Frerichs 5.4%
(4) Ajee' Wilson 95.5%
(13) Hazel Clark 4.5%
(5) Madeline Manning 82.5%
(12) PattiSue Plumer 17.5%
(6) Alysia Montaño 45.2%
(11) Kara Goucher 54.8%
(7) Des Linden 89.5%
(10) Patti Catalano 10.5%
(8) Doris Brown Heritage 38.0%
(9) Francie Larrieu Smith 62.0%