By LetsRun.com
December 23, 2019
(Editor's note: We are determining the RACE OF THE DECADE. You can find an overview of what is going on here.)
After nearly two weeks of voting, we are down to two. The 2012 Olympic men's 800-meter final and the 2018 Berlin Marathon. Both were legendary world records by the greatest athletes to ever run those events.
But only one can be crowned the LetsRun.com RACE OF THE DECADE.
So who will it be? David Rudisha, who, without the assistance of rabbits, took the lead from the gun in London and ran away from everyone to a mind-boggling 1:40.91? Or Eliud Kipchoge, who negative-split a 2:01:39, closing in…(checks math)…60:33? Yes, that really happened.
Article continues below player
While neither race was competitive in the sense that neither outcome was ever in doubt, the numbers behind the races are astonishing. For the 2012 Olympic 800, it's not just the winning time — Rudisha remains the only human ever under 1:41 — but the staggering depth behind it. The race, obviously, featured the fastest winning time ever. And, seven years later, Nijel Amos' 1:41.73 — by itself good for third on the all-time list — remains the fastest second-place time ever. It also featured the fastest third-place time. And fourth. And fifth and sixth and seventh. Only Andrew Osagie's 1:43.77 for 8th prevented a clean sweep for best-times-for-place (Adam Kszczot ran .01 faster to finish 8th in the 2016 Paris Diamond League).
For Kipchoge, it's the margin by which he broke the world record that amazed. For years, the running cognoscenti knew Kipchoge had a WR in his legs. But few would have predicted that he'd break it by 78 seconds on that day in Berlin — the biggest improvement on the marathon WR in over 50 years. Of course, few at the time understood that the 4% efficiency gains hyped by Nike for the Vaporflys weren't just marketing BS — they were actually real. Just over a year later, three other men have already broken the old 2:02:57 world record, including one who got within two seconds of Kipchoge's time.
To make it to the final, both races had to win their way through our bracket, but they traversed different paths to the final. The 2012 Olympic men's 800 began the tournament as our #1 overall seed and so far has lived up to the billing, garnering at least 70% of the vote in all five rounds, including 74.2% in the semis, where it ousted Chris Solinsky's 26:59 American 10k record at the 2010 Payton Jordan meet (25.8%).
On the other side of the bracket, the 2018 Berlin Marathon began as a modest #5 seed, ranked behind the likes of the epic 2010 Chicago Marathon duel between Sammy Wanjiru and Tsegaye Kebede, Geoffrey Kamworor's win after falling at the 2016 World Half, and Meb Keflezighi's stirring win at the 2014 Boston Marathon. But, just as he has in real life, Kipchoge has dispatched all comers, and in the semifinals, his run beat out Wayde van Niekerk's 400m world record at the 2016 Olympics, 55.4% to 44.6%
We know you're busy this week and it may be hard to find time to cast your vote. So we're going to keep the voting open until the end of the day (midnight ET) on Thursday, December 26, with the winner revealed on Friday, December 27. You can vote below, beneath the videos and quick summaries of each race.
To keep things suspenseful, we're hiding the results of the votes until voting is complete. You'll have to check back on Friday to see who won.
Seeds are in ().
Race descriptions by Jonathan Gault.
2010s Race of the Decade FINAL
(1) 2012 Olympics, men's 800 meters
David Rudisha's finest hour, which featured two Americans breaking 1:43 and poor Andrew Osagie running 1:43.77 and finishing last, is best described by 17 letters: WR, WJR, PB, PB, PB, NR, SB, PB.
LRC David Rudisha Becomes A Legend By Winning Gold With A World Record In A Truly Historic 800
(5) 2018 Berlin Marathon, men's race
By September 2018, Eliud Kipchoge was already widely acknowledged as the greatest marathoner of all time. But whether due to weather, faulty equipment, or other factors, the world record had eluded him. Kipchoge put that right by crushing the 2:02 barrier and taking 78 seconds off Dennis Kimetto's world record with a 2:01:39 in Berlin.
LRC The Greatest Ever – 2:01:39 – Eliud Kipchoge Crushes World Record to Win 2018 Berlin Marathon
Semifinal Results
Updated bracket and quarterfinal results below.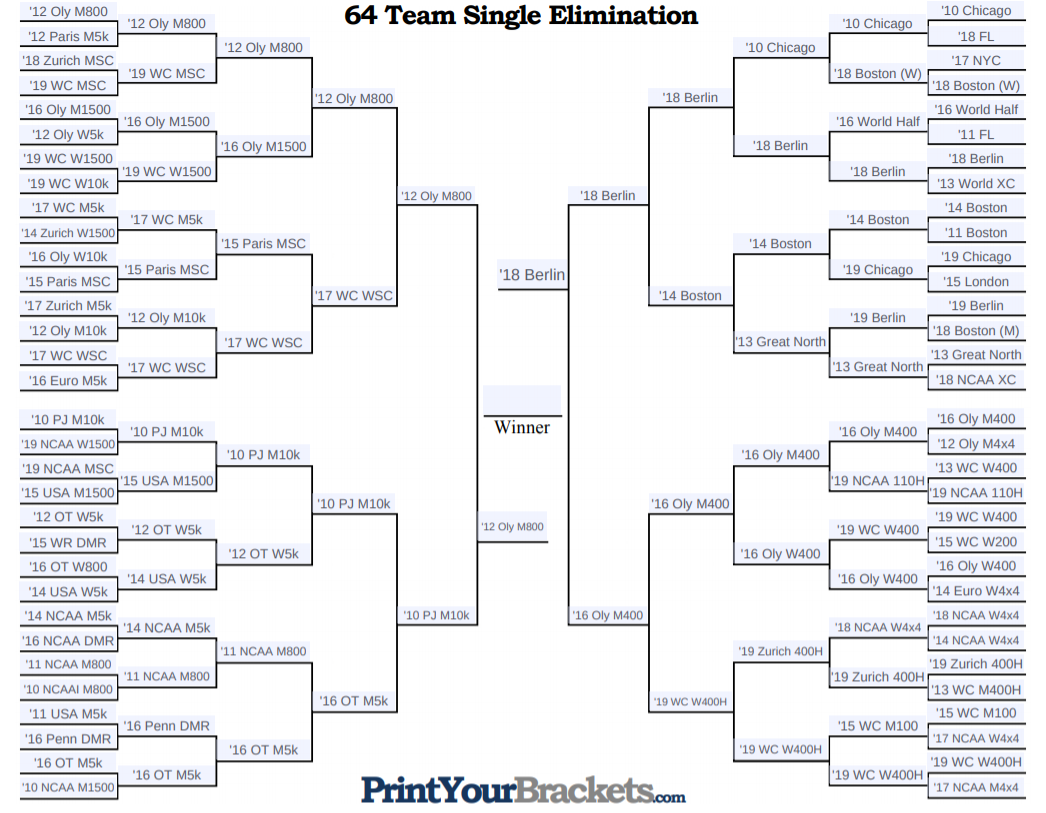 Semifinal results
(1) 2012 Olympic men's 800 74.2%
(1) 2010 Payton Jordan men's 10,000 25.8%
(1) 2016 Olympic men's 400 44.6%
(5) 2018 Berlin Marathon, men's race 55.4%
More: Round 1 Recap: Kenenisa Bekele's 2019 Berlin Win Defeats Yuki Kawauchi's 2018 Boston Win In Controversial Fashion, Plus Des Linden Takes Down Shalane Flanagan
Round 2 Recap: What Was The Race Of The Decade? Vote Now In The Sweet 16
Round 3 Recap: LRC's Race of the Decade: It's Time for the Elite Eight
Quarterfinal Recap: LRC's Race Of The Decade: The Final Four Is Here!
---
Advertisement
The 1:59:40 GOAT shirts are here