The Road to Sapporo: Where the US Men's Marathoners Stand 3+ Months Out From the Olympic Trials
By Jonathan Gault
November 11, 2019
The 2019 TCS New York City Marathon represented the final World Marathon Major of 2019. And while there a few marathons of interest remaining this year — Fukuoka, Honolulu, CIM — the eyes of the US marathon community have now shifted to the greatest 26.2-mile race on American soil: the US Olympic Marathon Trials, which will be held on February 29 in Atlanta.
The Trials function as a quadrennial checkup on the state of US long-distance running, the only race where all of America's best marathoners come together on the same course on the same day. They are also cruelly, beautifully cutthroat: the top three across the line make the Olympic team. Everyone else? See you in four years.
Article continues below player
In the 16 weeks between now and the Trials, we're not going to learn much new information. Yes, there will be an injury withdrawal or two, and perhaps someone surprises with a fast half in Houston in January. But we have almost all of the data. So let's dig into it.
Below, we've categorized the top contenders for the men's Olympic team (we performed the same exercise for the women here). Who's looking good? Who needs to turn it around? And who is Wilkerson Given? Read on for the answers as we examine who's on track to make it to Tokyo Sapporo next year.
The Men: Galen Rupp (Probably), Then Who?
The Favorite
Galen Rupp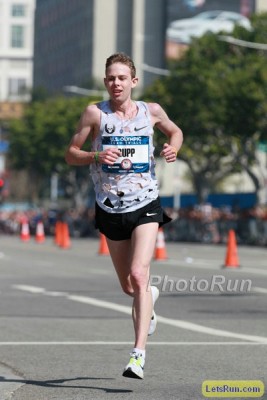 Rupp has been the best marathoner in the United States ever since he debuted at the 2016 Trials, snatching the title from Meb Keflezighi with three miles to go en route to victory in Los Angeles. He followed that up with an Olympic bronze in Rio, a major marathon victory in Chicago in 2017, and a 2:06:07 in Prague last year to make him the second-fastest American marathoner ever (record-eligible courses). In the six marathons he has completed, no American has finished within 48 seconds of him. He is a cut above his domestic peers.
As recently as 13 months ago, Rupp was an absolute lock for the team. He is still the biggest favorite of any athlete — male or female — to make it to Sapporo, but the last few months have been rough for Rupp. First, on September 30, his coach/second father Alberto Salazar was banned for the sport for four years for multiple anti-doping rule violations. Then, on October 10, Nike CEO Mark Parker announced that he was disbanding the Oregon Project, the training group founded by Salazar in 2001 and built around Rupp. Just three days after that, Rupp dropped out of the Chicago Marathon after 22 miles with a calf strain. Not what you want heading into an Olympic year.
Of those three incidents, the biggest concern, by far, is the DNF in Chicago. Salazar is the only coach Rupp has ever known and the two have an incredibly close relationship, so losing him as a mentor/sounding board hurts. But after almost 20 years — and seven marathon buildups — together, Rupp knows Salazar's system inside and out. If he doesn't seek out a new coach, he should know what to do for his Trials buildup. NOP was shuttered for cosmetic reasons, but apart from a new singlet, that development won't affect Rupp; he will still have access to Nike's doctors and facilities.
But if Rupp isn't healthy, that significantly hurts his chances at the Trials. Rupp admitted that the rehab from the Achilles surgery he underwent in October 2018 had not gone smoothly, and it showed in Chicago. The upside for Rupp: he was still on 2:08 pace in Chicago through 35k. With four months to heal, he should be okay for the Trials, and if he's completely healthy, he's a lock. But he may not be completely healthy in Atlanta.
Chance of making Olympic team: 90%
The Next Three
Leonard Korir, Scott Fauble, Jared Ward
Just as there is a gap from Rupp to these guys, there is a gap from these guys to everyone else in the United States. Korir, Fauble, and Ward are the three men aside from Rupp who have broken 2:10 within this Olympic cycle, and there is a lot to like about each of them. At least one really good marathoner isn't going to make the team as Rupp, Korir, Fauble, and Ward can't all make it.
The Kenyan-born Korir is the fastest of the three, clocking a US debut record of 2:07:56 last month in Amsterdam. His talent is undeniable: aside from Rupp, he owns the fastest half marathon pb in the field (59:52) and the #2 times at 10,000 (27:20) and the marathon. And he has room for improvement: he went out in 63:02 for the first half in Amsterdam.
Fauble and Ward were the top Americans in New York last year and Boston this year, where both men broke 2:10. Given Amsterdam is a flatter, faster course than Boston, those times (2:09:09 for Fauble, 2:09:25 for Ward) are worth close to Korir's performance in Amsterdam, where he finished only 11th in the race.
Of this trio, Ward has been the most reliable (Fauble has been reliable too, but the sample size is smaller; he's run just three marathons). Aside from an injury-plagued 2017, the rest of Ward's marathons have been terrific — most recently he ran 2:10:45 in New York on Sunday, the fastest by an American there since Meb in 2011. He's also the only one to have made an Olympic marathon team in the past. Korir has the fastest PRs, while Fauble beat Ward when they last faced each other in Boston. There is a little concern around Fauble after he battled a back injury this fall, but he appears to be over it now.
Chance of making Olympic team: 50% each
The (Super Talented) Old Guys
Bernard Lagat, Abdi Abdirahman, Dathan Ritzenhein
On race day, these three men will have combined for 12 Olympic appearances and 125 years on Earth (Lagat will be 45, Abdi 43; Ritz, a toddler by comparison, will be 37). It is a credit to their longevity that we are even contemplating the possibility that one of them could make the 2020 Olympic team. Consider: at the 1997 NCAA Cross Country Championships, Lagat finished 3rd, Abdi 7th; that race was held closer to the Vietnam War than the 2020 Olympic marathon.
Yet both men are still going strong in 2019. In July, Lagat ran 2:12:10 in Australia to break the US masters record. Abdi lowered that record to 2:11:34 by placing 9th in New York this fall.
Ritzenhein, meanwhile, has struggled to put it together in the marathon (he's finished just one since 2015), but has shown signs of life in the half, including a 61:24 in New Orleans in February — the fastest by an American in 2019.
Of the three, Abdi has the best shot at the team — 2:11 in New York, a course similar to the one he'll face in Atlanta, is no joke (Meb ran 2:13 there in 2015 and made the Olympic team three months later). Lagat's 2:12 is super impressive for a 44-year-old, particularly for one who ran 3:26 for 1500, but he won't receive bonus points for his age at the Trials or for being history's 2nd fastest man in the 1500. The fact is, plenty of Americans can run 2:12 on a flat course like Gold Coast. Making a sixth (!!!) Olympic team would be remarkable, but Lagat is a longshot. As for Ritz: what does his best look like at age 37? It could be good enough to make the team, but he simply hasn't proven that he can stay healthy enough to post a good marathon. Ritz was in a better position to make the marathon team in 2012 and 2016 and didn't make either squad; he hasn't broken 2:10 since 2013.
Chance of making Olympic team: Abdirahman: 15%; Lagat: 5%; Ritzenhein: 5%
All Those Guys Who Ran Fast in Chicago
Jake Riley, Jerrell Mock, Parker Stinson, Andrew Bumbalough, Matt McDonald, Scott Smith, Brendan Gregg, Noah Droddy, Wilkerson Given, Diego Estrada
A staggering 10 Americans ran between 2:10:36 and 2:11:54 in Chicago this year, and good luck to anyone trying to figure out which one of them has the best shot at the Olympic team. Riley was the top finisher in Chicago, taking 9th in 2:10:36, one second ahead of Mock. Bumbalough has the best track PRs, making a Worlds team at 5,000 in 2011, while Estrada has the fastest half pb at 60:51.
Throwing these guys in the Trials is the equivalent of hurling a plate of spaghetti against the wall; something will end up sticking. But we won't know until February which one of these guys is the lucky noodle.
Chance of making Olympic team: 15% (entire group combined)
Assorted Others
Matt Llano, Elkanah Kibet, Connor McMillan, Andrew Colley, Augustus Maiyo, Shadrack Biwott, Tyler Pennel, Chris Derrick, Brogan Austin, Tim Ritchie
All of these guys have shown hints of Olympic potential, but nothing recently that would place them among firm favorites to make the team. Biwott is the most credentialed of the group, and 18 months ago would have been a strong top-three pick at the Trials based on a string of top-10 performances in majors (5th 2016 NYC, 4th 2017 Boston, 10th 2017 NYC, 9th 2017 NYC, 3rd 2018 Boston, 9th 2018 NYC). But 2019 was a rough year for Biwott as he battled a case of patellar tendinitis, which led to a 15th-place finish in Boston and caused him to withdraw from Worlds. Now healthy, if Biwott can return to his 2017-18 form, he will be a serious contender at the Trials.
Chance of making Olympic team: 20% (entire group combined)
***
The Bottom Line
The Olympic Trials are always a must-watch event, but what stands out about the 2020 Trials is the depth. While Rupp is the only US man who can put a scare into the top Africans right now, Ward, Fauble, and Korir would all be top-10 threats should they make it to Sapporo, and there are a ton of 2:10/2:11/2:12 guys behind them, one of whom could break out and make the team.
The table below illustrates just how much faster Americans have run in 2019 compared to the rest of this decade. The number of Americans under 2:11, 2:12, and 2:13 are easily tops compared to the rest of the 2010s.
| | | | | | | | | | | |
| --- | --- | --- | --- | --- | --- | --- | --- | --- | --- | --- |
| Year | 2010 | 2011 | 2012 | 2013 | 2014 | 2015 | 2016 | 2017 | 2018 | 2019 |
| Sub-2:10 | 2 | 2 | 4 | 1 | 1 | 0 | 0 | 1 | 1 | 3 |
| Sub-2:11 | 3 | 2 | 4 | 1 | 3 | 1 | 1 | 1 | 1 | 7 |
| Sub-2:12 | 5 | 4 | 9 | 1 | 6 | 3 | 4 | 2 | 1 | 16 |
| Sub-2:13 | 7 | 4 | 12 | 3 | 8 | 7 | 6 | 10 | 7 | 20 |
While a fast day in Chicago certainly helped those numbers, they also don't include Rupp, who did not finish a marathon in 2019. And then there's the shoe factor: it certainly didn't hurt that eight of the 16 men to break 2:12 this year did so in Nike Vaporflys.
What we do know: the 2020 Olympic team will be one of the toughest to make in US history, which should make for some incredible racing in Atlanta. Only 115 days to go.
Be a fan and tell us your views on the race on our messageaboard. MB: Who are the favorites for the 2020 US Olympic Marathon Trials? We tell you here.