By Robert Johnson
August 18, 2019
The three Diamond League women's middle distance and distance events at today's 2019 Muller Grand Prix Birmingham — the 11th IAAF Diamond League track and field/athletics meet of the year — went very much according to form as the three favorites all earned victories. In the Millicent Fawcett mile, Germany's Konstanze Klosterhalfen, running in her first race since setting a 14:26.76 national record in the 5,000 just over two weeks ago, ran 4:21.11 to win and break another German record. In the steeplechase, world record holder Beatrice Chepkoech of Kenya got out to a big mid-race lead and held on late to win in 9:05.55. And in the women's 800, American Ajee' Wilson did what she almost always does when she's racing XX women — win — as she won comfortably in 2:00.76. The only thing really hindering the three favorites were the cool and breezy conditions (mid-60s temp, wind gusts up to 25 mph), which made super fast times unlikely.
There were two exciting men's mid-d events in Birmingham, a 1500 and 800, though neither counted in the DL points race. In the 1500, Ugandan national record holder Ronald Musagala got a narrow win as American Craig Engels was third. And in the men's 800, Irishman Mark English came on very late to win.
We'll recap the three women's events in the order they occurred before getting to the men.
For the rest of the meet, including a big win by Shaunae Miller-Uibo in a loaded women's 200, go here: IAAF Recap Part 1: Miller-Uibo comes from behind to win stacked 200 *IAAF Recap Part 2. US visitor's can watch the women's 200 here, international viewers here.
Article continues below player
Women's Mile: Konstanze Klosterhalfen Wins And Gets German Record
Former world indoor 800 champ Chanelle Price rabbitted this one out in a quick 62.74 for the first lap and the runners were soon running pretty much single-file as a result. Klosterhalfen and Canadian record holder Gabriela DeBues-Stafford were the only ones able to stick with Price, who hit 800 in 2:09.22. For the rest of the race, Klosterhalfen had lead of a couple meters on DeBues-Stafford, who was still within striking distance with 200 meters left. Over the final 100, Klosterhalfen's strength showed itself and she pulled away to win by 1.36 seconds in 4:21.11 over DeBues-Stafford, who was never more than half a second down during the first 1400 meters.
"It's nice to take my first Diamond League win. It was windy out there but I still produced a good time like that and I'm delighted," said Klosterhalfen. "I need to use a lot of power in the wind and to win was incredible. Approaching Doha this is perfect preparation, now we head back to altitude training in St Moritz and we prepare for the World Championships."
There was a tight battle for third place won by Brit Eilish McColgan, who PR'd in 4:24.71 to edge Australia's Linden Hall (4:24.72) as 2018 NCAA 1500 champ Jessica Hull was fifth in 4:24.93.
The three Americans in the field didn't fare very well as Elinor Purrier was 7th in 4:30.30, Heather MacLean 9th in 4:31.13, and Helen Schlachtenhaufen 10th in 4:35.70.
One Mile - Women  - Diamond Discipline
                                                             Pts
    1 Klosterhalfen , Konstanze        GER    4:21.11          8
    2 DeBues-Stafford , Gabriela       CAN    4:22.47          7
    3 McColgan , Eilish                GBR    4:24.71          6
    4 Hall , Linden                    AUS    4:24.72          5
    5 Hull , Jessica                   AUS    4:24.93          4
    6 Reekie , Jemma                   GBR    4:27.00          3
    7 Purrier , Elinor                 USA    4:30.30          2
    8 Embaye , Axumawit                ETH    4:30.36          1
    9 MacLean , Heather                USA    4:31.13           
   10 Schlachtenhaufen , Helen         USA    4:35.70           
   11 Bobocea , Claudia Mihaela        ROU    4:37.67           
   12 Healy , Sarah                    IRL    4:40.72           
   13 Ennaoui , Sofia                  POL    4:45.69           
      Price , Chanelle                 USA        DNF
Quick Take: This race didn't tell us much about Worlds
Klosterhalfen has had a great year so far, but the big question for her is, "What type of kick will she have left in the final 200 of Worlds, whether she's in the 1500 or 5000?" That question remains. This was a strength race and KoKo's fastest lap by far was her first. Her last 409 was covered in 66.26 — that's 64.8 400 pace.
Quick Take: Eilish McColgan is having quite a year
The 28-year-old Brit is having quite a year. Best known by many for being the daughter of 1991 world 10,000 champ Liz McColgan, Eilish has PR'd this year at 1500 (from 4:01.60 to 4:00.97), mile (from 4:25.07 to 4:24.71), 5000 (from 14:48.49 to 14:47.94) and 10,000 (from 32:10.59 to 31:16.76). She now has a better PB than her mother at every event on the track except for the 10,000.
| | | | | | |
| --- | --- | --- | --- | --- | --- |
| | 1500 |  Mile  | 3k | 5k | 10k |
| Liz McColgan PBs | 4:01.38 | 4:26.11 | 8:34.80 | 14:59.56 | 30:57.07 |
| Eilish McColgan PBs | 4:00.97 | 4:24.71 | 8:31.00 | 14:47.94 | 31:16.76 |
Women's Steeplechase: Beatrice Chepkoech Wins But Doesn't Impress
World record holder Beatrice Chepkoech built up a sizeable lead during the 2nd kilometer (5:58.15) as she stayed on sub-9 pace after the rabbit dropped out at 1k. With 2 laps remaining, she led by more than 20 meters (4.3 seconds). Heading into the bell, her lead was basically the same, but she was far from impressive on the last lap. A 70-second lap would have given her a sub-9:00 clocking, but she only managed a 76.
Her lead was never really in jeopardy as she looked totally relaxed until a less-than-impressive final water jump (but then again, most of her water jumps aren't impressive — it's almost as if she falls into the water rather than propelling herself off the barrier). Heading into the final barrier, Chepkoech probably realized that a fall would cost her the title as a pack of four women who entered the bell tightly bunched were getting closer as they battled it out for second.
Chepkoech stuttered her steps before the barrier and lost all momentum, but she got over it and won without having to dig deep for a sprint in 9:05.55, as Celliphine Chespol, the 3rd-fastest woman in history, won the battle for second in 9:06.76 as Bahrain's Winfred Yavi ran a PB of 9:07.23 (previous pb of 9:10.74), just ahead of 2015 world champ Hyvin Kiyeng (9:07.25). 2019 world #2 Norah Jeruto was just 5th in 9:10.72.
3000 Metres Steeplechase - Women  - Diamond Discipline
                                                             Pts
    1 Chepkoech , Beatrice             KEN    9:05.55          8
    2 Chespol , Celliphine Chepteek    KEN    9:06.76          7
    3 Yavi , Winfred Mutile            BRN    9:07.23          6
    4 Kiyeng , Hyvin                   KEN    9:07.25          5
    5 Jeruto , Norah                   KEN    9:10.72          4
    6 Krause , Gesa Felicitas          GER    9:20.55          3
    7 Jepkemei , Daisy                 KEN    9:20.68          2
    8 Grøvdal , Karoline Bjerkeli      NOR    9:22.69          1
    9 Møller , Anna Emilie             DEN    9:26.96           
   10 Sánchez-Escribano , Irene        ESP    9:27.53           
   11 Lalonde , Geneviève              CAN    9:31.07           
   12 Richardsson , Camilla            FIN    9:39.85           
   13 Bird , Elizabeth                 GBR    9:50.97           
   14 Lawrence , Mel                   USA    9:53.61           
   15 Clarke , Rosie                   GBR    9:54.25           
   16 Pratt , Aimee                    GBR    9:58.68           
      Tuigong , Caroline               KEN        DNF
Quick Take: This race should THRILL US fans
At the 2017 World Championships, after favorite Chepkoech missed a water jump and later fell trying to catch back up, Americans Emma Coburn and Courtney Frerich went 1-2. With Chepkoech running 8:44 last year and three times breaking 9:00, repeating that feat looked like a tall order.
After today's result, however,  it looks possible and two American medals certainly seems doable.
Here are the four fastest women in the world this year.
1 8:55.58 Beatrice Chepkoech KEN
2 9:03.71 Norah Jeruto KEN 
3 9:04.90 Emma Coburn USA 
4 9:05.81 Hyvin Jepkemoi KEN
The three Kenyans on that list were all in the race today and none ran amazing. While Chepkoech won, her last lap was far from impressive and has to give hope to the Americans. If Chepkoech shows up at Worlds in sub-8:55 shape, no one is beating her. If she's only in 9:00 shape or 9:05 shape, she's beatable. Jeruto, who beat Chepkoech this year in Oslo, only ran 9:10 and Kiyeng wasn't a whole lot better at 9:07.
The only negative for the Americans today was that Chespol ran her best race of the year. Chespol, who sports an 8:58.78 pb, had only run 9:11.70 coming in.
Quick Take: American Courtney Frerichs makes it into the DL final; Colleen Quigley looks set to miss out
The Bowerman Track Club is known for its light racing schedule and that continued today as neither Frerichs nor Colleen Quigley ran in Birmingham. Frerichs made the final anyway, finishing in a tie for 9th in the standings (12 make it), but Quigley is now tied for 13th and will need someone to scratch in order to get in. Coburn will be in the final.
Women's 800: Ajee' Wilson Wins Again
When Caster Semenya and the other XY DSD women aren't in the race, Ajee' Wilson has shown herself to almost be unbeatable in recent years and that continued today as she led from start to finish, winning in a modest 2:00.76 (1st lap 57.8 for Wilson, 600 in 1:29.39). Jamaica's Natoya Goule, the second-fastest XX woman in the world this year, tried to keep things close but she faded big time in the final 100, all the way back to 6th in 2:02.70. Brit Lynsey Sharp, who ran right behind Goule for the first three-quarters of the race, was 2nd in 2:01.09. Wilson's training partner Raevyn Rogers of the US had the best final 200 and 100 of anyone in the field as she went from just 6th at both 600 and 700 to third at the finish in 2:01.40, thanks to a final 200 of 30.8 (Wilson's final 200 was 31.4)
American Kate Grace, the 2016 Olympic finalist who ran the 1500 at the US trials, was a non-factor. She ran in the back for the first lap but only moved up to 7th (2:03.19).
800 Metres - Women  - Diamond Discipline
                                                             Pts
    1 Wilson , Ajee                    USA    2:00.76          8
    2 Sharp , Lynsey                   GBR    2:01.09          7
    3 Rogers , Raevyn                  USA    2:01.40          6
    4 Lamote , Renelle                 FRA    2:01.46          5
    5 Bell , Alexandra                 GBR    2:02.41          4
    6 Goule , Natoya                   JAM    2:02.70          3
    7 Grace , Kate                     USA    2:03.19          2
    8 Nakaayi , Halimah                UGA    2:03.40          1
    9 Lyakhova , Olha                  UKR    2:03.64           
   10 Mitchell , Morgan                AUS    2:04.14           
      Lemiesz , Aneta                  POL        DNF
Quick Take: Yet another win for Wilson
The maddeningly inconsistent Goule did beat Wilson in Monaco last year and came pretty close to her in Monaco this year (1:57.72 to 1:57.90) but they've now raced head to head 21 times according to Tilastopaja and Wilson has won 20 of the 21 contests.
Quick Take: This result makes us think the 1500 might have been the right call after all for Grace
That being said Grace should race a lot the rest of the summer. She needs to figure out what event she's going for in 2020 — 800 or 1500 — and not look back.
MB: Calling it now: Kate Grace – Grace will beat Ajee Wilson and win Birmingham DL 800
Men's 1500: Musagala Wins A Tight One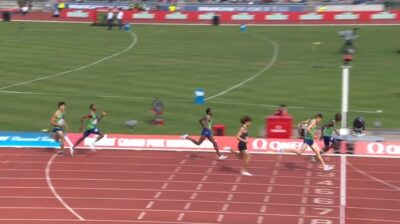 Kiwi Julian Oakley did an amazing job of rabbitting this race as he was supposed to hit 800 in 1:54 and he very evenly hit 1:53.52, going 56.05-57.47. Behind the honest pace up front, the expected contenders for the win were all up front from start to finish. There were three men in the field who had run under 3:35 on the year — Ethiopian world indoor 1500 record holder Samuel Tefera (3:31.39 sb), Aussie Stewart McSweyn (3:31.81 sb), and Ugandan Ronald Musagala (3:30.58 sb) — and they got right behind the rabbits and didn't leave those spots until the final 100. American Craig Engels ran a little farther back — he was 5th at 800, but moved up a lot between 800 and 1k as the pace slowed a lot on the third lap, which was run in just 60.12.
A fast time was out the window but an exciting race for the win would take place over the final 300.
Coming off the final turn, Tefera, who had been the first racer throughout the race, still led with McSweyn to his outside and Engels and Musagala just behind as shown here: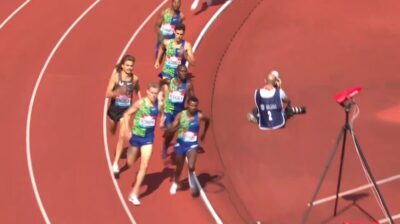 Musagala used an inside pass to get the win in 3:35.12 with McSweyn second in 3:35.21 and Engels third in 3:35.51 as Tefera faded to 4th (3:35.77).
Quick Take: It's a shame it was breezy
Engels competed well against some 3:30/3:31 guys, so it was a shame it was breezy as the rabbiting was great and this would have been a great time for Engels to become the first American to get the 3:35.00 Olympic standard.
Nonetheless, we said coming into this race that Engels needed to be able to compete well in a field like this if he's going to get a medal in Doha and he did just that.
Of course, one of the guys he lost to doesn't really even view himself as a medal contender in the 1500. Check out what McSweyn said after this one.
"I didn't have the strength for the win. My best chance of being up and in the medals for Doha will be in the 5000m but I'll be doubling up and doing the 1500m and the 5000m. If I stay healthy, there's no reason why I can't do something special in Doha," said McSweyn.
1500 Metres - Men  - Promotional Event
                                                                
    1 Musagala , Ronald                UGA    3:35.12           
    2 McSweyn , Stewart                AUS    3:35.21           
    3 Engels , Craig                   USA    3:35.51           
    4 Tefera , Samuel                  ETH    3:35.77           
    5 Tuwei , Cornelius                KEN    3:36.26           
    6 Gomez , Jesus                    ESP    3:36.40           
    7 Gregson , Ryan                   AUS    3:38.15           
    8 Ramsden , Matthew                AUS    3:39.53           
    9 Holuša , Jakub                   CZE    3:40.52           
   10 O'Hare , Chris                   GBR    3:41.98           
   11 Copeland , Piers                 GBR    3:43.55           
   12 Heyward , Jake                   GBR    3:43.72           
   13 Seddon , Zak                     GBR    3:44.44           
   14 Berglund , Kalle                 SWE    3:45.35           
   15 Williamsz , Jordan               AUS    3:46.68           
   16 Bedrani , Djilali                FRA    3:46.90           
   17 Bartelsmeyer , Amos              GER    3:47.32           
      Kiplangat , Cornelius            KEN        DNF           
      Oakley , Julian                  NZL        DNF
Men's 800: English Comes From Way Back To Win
770 meters into this 800-meter race full of a ton of guys who had run 1:45 this year (seven 1:45 sbs were in the field, only one 1:44 sb), it looked like the win was going to the lone Kenyan in the field, Alfred Kipketer, who ran up front throughout (51.4 at 400, 1:18.45 at 600). Just as international broadcaster Tim Hutchings declared Kipketer, a world championship and Olympic finalist in 2015 and 2016 who sports a 1:42.87 pb from 2016, as the winner, Ireland's Mark English stormed from way back to steal the win in 1:45.94 to Kipketer's 1:46.10. English, a world and Olympic semifinalist in 2015 and 2016, was just 8th entering the final 100 and just 4th with 50 meters to go. Just four days ago, English dropped out of an 800 in his native Ireland so the win was far from expected. For more on English's shock win, go here: I'm ready for Doha', Mark English targets World Athletics Championships after 800m win.
British teen phenom Max Burgin, who earlier this year ran 1:45.36 just a month after turning 17, was never a factor. He ran in last for the first 500 before moving up to 10th in 1:47.99.
800 Metres - Men  - Promotional Event
                                                                
    1 English , Mark                   IRL    1:45.94           
    2 Kipketer , Alfred                KEN    1:46.10           
    3 Giles , Elliot                   GBR    1:46.27           
    4 Webb , Jamie                     GBR    1:46.38           
    5 Learmonth , Guy                  GBR    1:46.50           
    6 Sowinski , Erik                  USA    1:46.80           
    7 Thomas , Spencer                 GBR    1:46.88           
    8 Staines , Thomas                 GBR    1:47.28           
    9 Kramer , Andreas                 SWE    1:47.60           
   10 Burgin , Max                     GBR    1:47.99           
   11 Deng , Joseph                    AUS    1:48.20           
      Abda , Harun                     USA        DNF  



Talk about the meet on our messageboard.
*MB: Official 2019 Birmingham DL Discussion Thread
*MB: Calling it now: Kate Grace – Grace will beat Ajee Wilson and win Birmingham DL 800
---
Note: After publication, this article was updated with results, videos and a little more info on Mark English.