TV & Streaming Information for 2019 USATF Outdoor Championships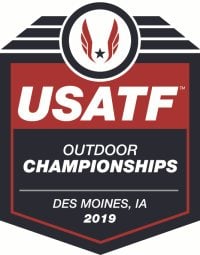 July 25, 2019 to July 28, 2019
By LetsRun.com
July 19, 2019
The 2019 USATF Outdoor Championships will be held from Thursday, July 25, through Sunday, July 28, at Drake Stadium in Des Moines, Iowa. Television and streaming information for the meet is listed below.
Article continues below player
The entirety of the meet will be streamed live on NBC Sports Gold, which you can buy here. In addition, NBCSN and NBC will air some TV coverage, as shown below.
TV broadcast schedule (ALL TIMES EASTERN)
Thursday, July 25
No TV coverage — all events streamed through NBC Sports Gold
Friday, July 26
NBCSN, 7-9 p.m.
Saturday, July 27
NBC, 4-6 p.m.
Sunday, July 28
NBCSN, 7-8 p.m.
NBC, 8-9 p.m.