Schedule, Entries, & Results for 2019 USATF Outdoor Championships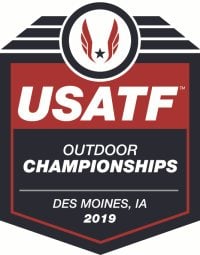 July 25, 2019 to July 28, 2019
By LetsRun.com
July 19, 2018
Below you will find the schedule and entries for the 2019 USATF Outdoor Championships, which will be held from Thursday, July 25, through Sunday, July 28, at Drake Stadium in Des Moines, Iowa.
Article continues below player
*Entries *TV/streaming information
ALL TIMES BELOW ARE U.S. CENTRAL. ADD ONE HOUR FOR EASTERN TIME.
Schedule below courtesy USATF. Finals in bold.
DAY ONE / THURSDAY, JULY 25TH
NBC Sports Gold 2:45 CT
Time (CT)
Event
Division
Round
2:45 PM
100m
Men
Decathlon
3:30 PM
Long Jump
Men
Decathlon
4:30 PM
Shot Put
Men
Decathlon
4:40 PM
100m
Women
First Round
5:05 PM
100m
Men
First Round
5:30 PM
1,500m
Women
First Round
5:30 PM
Discus Throw
Men
Final
5:45 PM
High Jump
Men
Decathlon
5:57 PM
400m Hurdles
Men
First Round
6:00 PM
Javelin Throw
Women
Final
6:22 PM
800m
Women
First Round
6:30 PM
Triple Jump
Women
Final
6:47 PM
800m
Men
First Round
7:12 PM
400m
Women
First Round
7:37 PM
400m
Men
First Round
8:02 PM
400m
Men
Decathlon
8:21 PM
3,000m Steeple
Men
First Round
8:50 PM
10,000m
Women
Final
9:29 PM
10,000m
Men
Final
End of Day 1
DAY TWO / FRIDAY, JULY 26TH
NBC Sports Gold 12:30 PM CT
NBCSN 6:00 PM – 8:00 PM CT
Time (CT)
Event
Division
Round
12:30 PM
110m Hurdles
Men
Decathlon
1:30 PM
Discus Throw
Men
Decathlon
3:15 PM
Pole Vault
Men
Decathlon
4:00 PM
Hammer Throw
Men
Final
4:05 PM
100m Hurdles
Women
First Round
4:30 PM
1,500m
Men
First Round
4:45 PM
Javelin Throw "A"
Men
Decathlon
4:57 PM
3,000m Steeple
Women
First Round
5:25 PM
400m Hurdles
Women
First Round
5:30 PM
Triple Jump
Men
Final
5:40 PM
Javelin Throw "B"
Men
Decathlon
5:48 PM
100m
Women
Semifinal
6:02 PM
100m
Men
Semifinal
6:10 PM
Chocolate Milk Shot Put
Men
Final
6:18 PM
800m
Women
Semifinal
6:32 PM
800m
Men
Semifinal
6:46 PM
1,500m
Men
Decathlon
6:56 PM
400m
Women
Semifinal
7:14 PM
400m
Men
Semifinal
7:28 PM
400m Hurdles
Men
Semifinal
7:44 PM
Michelob Ultra 100m
Women
Final
7:53 PM
Nike 100m
Men
Final
End of Day 2
DAY THREE / SATURDAY, JULY 27TH
NBC Sports Gold 1:00 PM CT
NBC 3:00 PM – 5:00 PM CT
Time (CT)
Event
Division
Round
11:30 AM
100m Hurdles
Women
Heptathlon
12:20 PM
High Jump
Women
Heptathlon
12:30 PM
Hammer Throw
Women
Final
1:15 PM
Masters 50+ 200m
Women
Exhibition
1:23 PM
Masters 50+ 200m
Men
Exhibition
1:33 PM
200m
Women
First Round
1:58 PM
200m
Men
First Round
2:00 PM
Pole Vault
Men
Final
2:15 PM
Shot Put
Women
Heptathlon
2:20 PM
Javelin Throw
Men
Final
2:23 PM
110m Hurdles
Men
First Round
2:40 PM
High Jump
Women
Final
2:48 PM
National Anthem
Ceremony
2:52 PM
Legend Coach Award
Ceremony
3:00 PM
Long Jump
Women
Final
3:04 PM
100m Hurdles
Women
Semifinal
3:19 PM
200m
Women
Heptathlon
3:42 PM
Nike 1,500m
Women
Final
3:54 PM
Michelob Ultra 3,000m Steeple
Men
Final
4:09 PM
400m Hurdles
Women
Semifinal
4:25 PM
Chocolate Milk 400m Hurdles
Men
Final
4:34 PM
Xfinity 400m
Women
Final
4:43 PM
Toyota 400m
Men
Final
4:52 PM
100m Hurdles
Women
Final
End of Day 3
DAY FOUR / SUNDAY, JULY 28TH
NBC Sports Gold 3:00 PM CT
NBCSN 6:00 PM – 7:00 PM CT
NBC 7:00 PM – 8:00 PM CT
Time (CT)
Event
Division
Round
7:00 AM
10,000m Race Walk
Men
Final
7:50 AM
10,000m Race Walk
Women
Final
3:00 PM
Long Jump
Women
Heptathlon
3:00 PM
Discus Throw
Women
Final
4:05 PM
Javelin Throw
Women
Heptathlon
4:35 PM
High Jump
Men
Final
5:00 PM
200m
Men
Semifinal
5:10 PM
Pole Vault
Women
Final
5:14 PM
200m
Women
Semifinal
5:28 PM
110m Hurdles
Men
Semifinal
5:42 PM
800m
Women
Heptathlon
6:00 PM
Long Jump
Men
Final
6:02 PM
Michelob Ultra 800m
Men
Final
6:09 PM
Nike 3,000m Steeple
Women
Final
6:20 PM
Shot Put
Women
Final
6:23 PM
Toyota 5,000m
Men
Final
6:42 PM
Chocolate Milk 5,000m
Women
Final
7:04 PM
400m Hurdles
Women
Final
7:12 PM
Toyota 800m
Women
Final
7:20 PM
110m Hurdles
Men
Final
7:33 PM
Chocolate Milk 1,500m
Men
Final
7:43 PM
Nike 200m
Women
Final
7:51 PM
Xfinity 200m
Men
Final
End of Championship