Loaded Ethiopian 10,000 Trials Race is Wednesday — Kejelcha, Barega, Gebrhiwet, & More
By LetsRun.com
July 16, 2019
On Wednesday in Hengelo, a 10,000-meter race will be held and Alberto Stretti is reporting the race will act as the trials for the Ethiopian World Championship team. The field is loaded, and while it is not restricted to athletes from Ethiopia, that is where most of the talent hails from.
At the 5,000 distance, Ethiopia currently is dominating the 2019 world list as they have six of the nine fastest men in the world this year (13:02 or faster). Of those six men, five of them — all of them but world leader Telahun Bekele — are entered in tomorrow's 10,000. The field also includes 2011 world champ Ibrahim Jeilan, who hasn't finished a track race since 2016, and Olympic bronze medalist Tamirat Tola.
Article continues below player
American Eric Jenkins is listed among the entries, but Matt Sonnenfeldt from Jenkins' agency, Flynn Sports, confirmed to us that Jenkins is injured and will not race in Hengelo or at USAs next week.
Below we briefly break down the field for you, starting with the Ethiopians, whom we've divided into three categories: track studs, road studs, and others. After that, we give you our quick take analysis.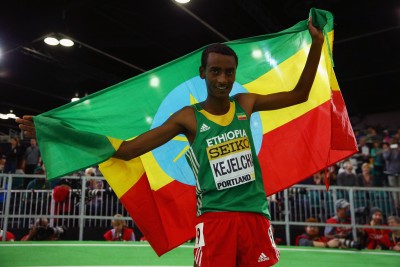 Track Studs From Ethiopia
Hagos Gebrhiwet – 25 – 12:45/27:01 – 3-time global 5000 medallist. Ran 27:01 in poor conditions in Stockholm.
Yomif Kejelcha – 21 – 12:46 – 10,000 debut (59:17 half marathon)
Selemon Barega – 19 – 12:43/28:23 – Won Ethiopian champs in 28:23 at altitude earlier this year.
Abadi Hadis – 21 – 7:39/12:56/28:29/58:44 – Has run 58:44 twice. 5th in Rome and Lausanne 5000s this year. 28:29 for 3rd at national champs this year.
Ibrahim Jeilan – 30 – 13:03/26:58 – 2011 world champ hasn't finished a track race since 2016.
Jemal Yimer Mekonnen – 22 – 26:56/58:33 – DNF in Stockholm 10,000 this year. 5th at 2017 Worlds.
Solomon Berihu – 19 – 13:02 – 13:02 this year in Hengelo but only 13th in Lausanne. 10,000 debut.
Tamirat Tola – 27 – 26:57/59:37/2:04:06 – 10,000 Olympic bronze, 2017 WC silver in marathon. 2:06:57 in London this year.
Road Studs From Ethiopia
Andamlak Belihu – 20 – 27:48 road/59:18 – Winner of New Delhi Half last year (59:18). 28:25 at altitude (2nd to Barega earlier this year).
Guye Adola – 28 – 27:09/59:06/2:03:46 – Trying to find form of 2017, when he ran 2:03 and almost upset Eliud Kipchoge in Berlin. Ran 60:17 in March, then 61:44 in April. 
Others From Ethiopia
Mogos Tuemay – 22 – 13:15/27:34 – 4th in Stockholm 10,000 this year. 18th at World XC.
Haftu Teklu – 19 – 13:15/27:30 – Both PRs were set this year.
Berehan Tsegay – ?? – 27:36 road/59:42 – 59:42 for 2nd in Lisbon earlier this year.
Milkesa Mengesha – 19 – 27:47 road – Was 4th in Ethiopian champs earlier this year (28:49). 13:25 pb. World junior XC champ in March.
Mulat Bazezew – 20 – 28:57 – 5th at Ethiopian champs this year (28:57).
Tesfahun Akalnew – 20 – 13:24/27:30 – Won a 10,000 in 27:30 last month.
Selemun Kahsay – ?? – 28:00 road 10k.
Belay Tilahun Bezabeh – 24 – 27:11 /61:51 – Only 16th in 10,000 at nationals in May (28:46). Won NYC Half in March as a non-invited athlete.
Leta Abebe Desis – ??
Bayelign Teshager – 19 – 60:31 half.
Muluken Fikre – ?? – IAAF lists him as a 400 guy but there are lots of other Fikres.

Non-Ethiopians
Vincent Kibet – Kenya – 18 – 13:30
Sylvester Kiptoo – Kenya – ??
Roy Hornweg – Netherlands – 30 – 13:31/28:37
Julien Wanders – Switzerland – 23 – 13:13/27:44/59:13 – All pbs from 2019. Just missed Worlds standard (27:40) in Stockholm.
Ali Kaya – Turkey – 25 – 13:00/27:24/60:16 – Ran 27:53 in Stockholm.
Stephen Kissa – Uganda – 23 – 13:10/27:47 – Ran 27:13 on roads in March.
Abdallah Mande – Uganda – 24 – 13:30/27:46
Ronald Musagala – Uganda – 26 – 3:30/13:24 – Set national record at 1500 in last two races.
Quick Take #1: It's not a shock to see so many studs in this race
With Mo Farah, the winner of the last five global 10,000-meter titles, retired from the track, the world of athletics will be looking for a new long distance king on the track and many of the top Ethiopian talents are going to take a shot. The fact that many view the gold as open for the taking is one reason why so many people are trying the 10,000 this year when they've never done it before. Hagos Gebrhiwet made his debut last month and now Yomif Kejelcha and Solomon Berihu (and others of lesser stature) will make their debuts here.
The second reason the field is so loaded is because this year the 10,000 at Worlds comes after the 5,000, so many leading 5,000 men probably figure they have nothing to lose by doubling up and also doing the 10,000 (assuming they make the team in both). America's top 5,000 man, Paul Chelimo, initially planned on doing this as well but bagged it after he failed to get the Worlds standard in Stockholm.
And the third reason to try out for the 10,000 is it's a form of insurance in case you don't make the 5,000-meter team, which is going to be super hard to make even though Ethiopia gets four entrants.
Quick Take #2: Is Ronald Musagala really running this?
Yes, we know indoor mile WR holder Yomif Kejelcha is in the race, but that's not a surprise as he's a 59-minute half marathoner. What is a surprise is to see Ronald Musagala on the start list. In Monaco last Friday, he ran 3:30 for 1500, which equates to 3:47 in the mile — the same as Kejelcha's pb. But he only has a 13:24 5,000 pb and has never run anything longer than the 1500 at a major championship (he was 11th at the 2016 Olympics at that distance). Musagala is represented by Global Sports Communication, Jos Hermens' agency that usually puts on meets in Hengelo, so we imagine he won't really be racing it and will act as a pacemaker instead.
Quick Take #3: One never seems to know how Ethiopia is going to pick its team, but this appears to be the real deal
The selection procedures for the Ethiopian team aren't always clear, even to the athletes themselves, but this race does appear to be a genuine trials race in which we'd expect at least the top two men to be given spots on the World Championship team. However, times are often a factor in the Ethiopian selection process as well. Hagos Gebrhiwet ran 27:01 in Stockholm earlier this year — no other Ethiopian this year has broken 27:30 — so we imagine that if third place in this race fails to break 27:01, Gebrhiwet may be awarded the third spot on the team as a result of that time (which was worth even faster than 27:01 considering conditions in Stockholm weren't great).
Talk about the field on our fan forum / messageboard. MB: 2019 Ethiopian 10,000 Trials is Wednesday and it's loaded – Kejelcha, Barega, Gebrhiwet, & More – Who you got?
---
PS. If Jenkins was in the race, we were going to say this.
Quick Take #4: Jenkins is smart to enter the 10,000
Every track runner wants to go to Worlds and Eric Jenkins, who made the team for the US in the 5000 in 2017, made a wise move to enter this race. In terms of the US, there are 10 men with the 5000 standard – one of whom is Eric Jenkins. In the 10,000, right now, there are only 4 men with the standard. So Jenkins can get the 27:40 standard in this race, then all he'll have to do is beat 2 of those men to make it to Worlds where in the 5000, he'd have to beat 7.
List of US Athletes With 5000 Standard
13:05.70 Paul Chelimo 13:05.70 Paul Chelimo
13:09.81 Ben True USA 13:09.81 Ben True USA
13:10.23 Emmanuel Bor 13:10.23 Emmanuel Bor
13:14.96 Hillary Bor 13:14.96 Hillary Bor
13:17.23 Kirubel Erassa 13:17.23 Kirubel Erassa
13:21.18 Drew Hunter 13:21.18 Drew Hunter
13:21.35 Sean McGorty 13:21.35 Sean McGorty
13:21.71 Eric Jenkins 13:21.71 Eric Jenkins
13:22.28 Josef Tessema 13:22.28 Josef Tessema
Hassan Mead – NACAC Champ
List of US Men With the 10,000 Standard
27:32.89 Kirubel Erassa 27:32.89 Kirubel Erassa
27:34.01 Leonard Korir 27:34.01 Leonard Korir
27:43.89 Paul Chelimo 27:43.89 Paul Chelimo
Lopez Lomong – NACAC Champ