Up To 39 Athletes May Have Had Their Spot on Team USA Denied Thanks To USATF's Incompetence, Hear Some of Their Stories Here
By Robert Johnson
June 27, 2019
This week, we've published two stories detailing how USA Track & Field (USATF) has totally butchered its selection of the 2019 Pan American Games team.
In case you aren't familiar with the details, here's a CliffsNotes version. On December 13, 2018, USATF published a 20-page document that explained in great detail how the 2019 USATF Pan American Games team would be picked. Since the US championships are so late this year and the team rosters were due yesterday, USATF couldn't pick the team like they normally do — based on how people did at USAs. Instead, USATF said the team would be picked based off whoever put up the best marks in 2019. Here is what USATF published on December 13, 2018, regarding how the team would be picked.
What we didn't realize until this afternoon was that 20-page document was signed by USATF CEO Max Siegel as well as Managing Director of International & Championship Teams Aretha Thurmond.
Article continues below player.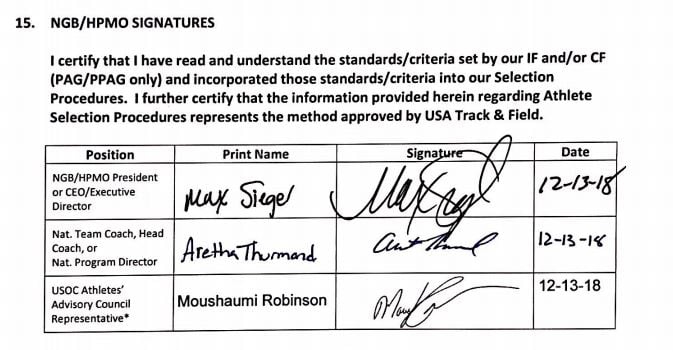 Yet last week, USATF sent out an email saying they'd pick the team by going down a combined 2018 and 2019 list.
Many athletes who put up a top mark in 2019 but weren't named to the team were justifiably outraged. A grievance was filed by at least one coach and an emergency hearing was held last night. Amazingly, several athletes who would be impacted by the hearing said USATF didn't notify them about the hearing.
We haven't heard the outcome of the hearing, but a source told us that if the 2019 marks were used as they were supposed to, that it could impact as many as 39 people who currently aren't on the team.
| | |
| --- | --- |
| Overall | |
| Comfort | |
| Cushioning | |
| Durability | |
| Appearance | |
| Value | |
Some of those 39 people have started to express their frustration about being left off of Team USA. We share some of their reactions below.
Former 800 runner Mike Rutt, a close friend of Travis Mahoney, emailed to tell us how Mahoney changed his whole 2019 season to try to make Pan Ams, and how Mahoney was never told about last night's Section 9 hearing. Rutt is also the one who pointed out to us that USATF head Max Siegel signed the document saying only 2019 marks would be considered:
Hey guys,
First off, I respect the fact that you seem to be the only ones that are going after this story regarding USATF and their botched selection process for the Pan Am Games.  It can be uncomfortable for some media outlets to call out an organization that they work closely with, but I appreciate you putting the athletes first.
Travis Mahoney is an athlete who has been affected by this ordeal.  He's currently ranked #4 on the US list for 2019 in the 3k Steeple.  He ran 8:28.76 at Stanford in May.  I recall after the race, I spoke with Travis and he was changing his racing schedule based off of that performance and the chance at running at PanAms.  He changed his whole season based off of the fact that he thought he had a chance to be on the team.  Given the qualifying procedure that USATF had in writing (while requiring the athletes to sign a 20 page document acknowledging that they understood the selection procedure), and the fact that Bor, Kebenei, and Bayer declined spots on the team, Travis should have been the first person offered a spot.
I'm aware that USATF decided to email some athletes regarding an arbitration hearing for athletes that felt they earned a spot.  I know that Travis never received an email from USATF about the arbitration hearing.  He has emailed and called the offices in Indy, to which he has received no response.
I told Travis that I would be emailing you so he is aware.  He said he's willing to chat with you if you're interested.  His number is **
Thanks again guys!
####  (From a second Rutt email)
I'm angry and I'm not even involved in it!  It's a really big deal for a lot of athletes who are waiting for that opportunity to represent their country.  Regardless of whether or not they accidentally put the wrong info out there, they have to go by their word.  It's the right thing to do and maybe the legal one.
I let Travis know what I had emailed you guys, and he corrected me about the document.  The athletes didn't sign the document, but it was signed by 3 of the 'higher ups' at USATF (Max Siegal, Aretha Thurmond, and Moushaumi Robinson) stating that they hereby understand the criteria put forth.  I don't recall what part of the process that was, but the document is still on the USATF website under the athlete info and selection procedure.  Page of 11/20 has the signatures.
Marissa Howard, who would be on the team if 2019 marks were used, emailed to say she was never told about last night's hearing and how we're now officially in a "lose-lose" situation:
Hello!
Just wanted to reach out about the Pan Am Games situation. As of the June 10th, 2019 cut off I was 2nd on the 3000m Steeplechase list. From June 11th-June 24th I patiently waited an email about being selected. I read and reread the selection procedures multiple times, wondering if I missed something. On June 24th we got the email from USATF saying that many athletes were confused by the selection procedures and that they were in fact using the 2018 and 2019 list. I was bummed of course but knew my focus is to make the World Team in July.
At the end of the day it is a lose-lose situation. I would love to go and represent our country at the Pan Am Games, but would now be taking a spot from someone they have already offered it to. 
We will see how this all plays out. The only communication I have had with USATF in the last 3 weeks is the email that was sent to all athletes from Kimberly Sims. I did not receive the survey that was sent to some athletes asking them to reply with a "yes" or "no" regarding understanding of the selection procedures and I did not receive any information about the hearing last night. 
Thank you,
Marisa Howard
A high school coach emailed to tell us how his athlete was told she was on the team as she's the #2 athlete in 2019 but was then removed from the team:
Wejo and Rojo,
I am a high school coach and one of my athletes was impacted by the convoluted USATF Pan-Am selection process.  She is currently #2 on the list for 2019 but was not offered a spot.  She was actually sent an email telling her that she had made the team.  This emailed was followed up later that day with another saying that they looked at the list incorrectly and she was actually #3 so she would not be on the team but would be the first alternate.  As a high school coach this is obviously my first dealing with a USATF team selection but needless to say that I was furious at how it was handled.  If she wasn't on the team I could have been fine with that but not to send a high school kid an invitation to Pan-Ams only to take it back right away.
I double checked the list.  She is the #2 mark for US women in 2019.  The two women who are on the list in her event *redacted* [did better] than she did in 2018, but not in 2019.  As I read your posts and the USATF selection criteria, it sounds like it should have been only the 2019 list that was used for selection…..  I have emailed USATF last night and received a response this morning stating that my email would be forwarded to the appropriate personnel and then I will hear back later.  
Thanks,
*Redacted*
Josef Tessema, who initially was on the 5,000 team (based on his 2019 mark), emailed to tell us how upset he was and how USATF had actually bought him a plane ticket which may now go to waste:
Hello, my Name is Josef Tessema, I was one of the runners who got selected for Pan In the 5k. They even sent me my flight ticket last week and as far as I knew I was already in the team. I just don't understand what happened. I am finally healthy and been doing great this year ran a 30secs Pr in the 5k at payton Jordan 13:51-13:22 and ran my 1st sub 4. For me it was finally a breakthrough knowing I will be representing my country in August. I  just feel like it's not fair.
David Goodman, who didn't qualify but spent $$$ trying to under 2019 guidelines, took to Instagram to rant about how he spent hundreds of dollars trying to qualify with a 2019 time, even though he came up short.
So I'm not one to complain and throw a pity party, but this does piss me off! I sat down with my coach this spring and told him I wanted to change my season plans so that I had the best chance to make the Pan American team. The @usatfprocedures for the team selection were posted online, and said it would take the top two athletes in a descending list for performances from Jan 1, 2019 to June 9th, 2019. I thought I had a pretty good shot as I sat between 2nd-5th for most of the spring season. So I changed race plans, spent more money (Unsponsored) and flew out to more races to try and better my position. THEN a day after the selection period is over, I get an email from @usatfthat the team selection would be from a list dating back to 2018, not the 2019 list that they had posted on their website for team selection procedures. Had I known that I would not have adjusted my season plans, and would have stayed with my original goal of getting ready for USA nationals. Granted I would not have made the team if it was just the 2019 list, as I just fell short of that goal. BUT what a load of ?. Very unprofessional @usatf 
Check out @letsrundotcom For more crazy stories about what happened to other athletes! *
Talk about the Pan Am Games debacle on our messageboard/fan forum:
MB: USATF completely botches selection of 2019 Pan American Games team.
Previous: USA Track and Field Tries To Hide The Fact That They Messed Up BIG TIME, Quietly Names New Pan Am Team Instead of issuing a press release admitting they butchered the national team selection for the Pan Am Games, USATF today took the unprofessional route and simply changed the names on the web page they published on Monday without telling anyone. Kind of like how they changed the qualifying criteria without telling anyone either. An emergency Section 9 arbitration hearing is taking place tonight.
USATF Makes It Up As It Goes Along (Again), Ignores Its Own Selection Procedures For 2019 Pan American Games USATF said it was would pick the 2019 Pan Am team based on the 2019 US descending order list as of June 10, 2019. Then on June 20, it said it would actually use the 2018-19 list. Now the team is out and we have no idea what criteria they used.