Jim Walmsley Podcast: Ultramarathon Legend Talks Ultras, Olympic Marathon Trials, Legends of the Sport, Eliud Kipchoge, Nuclear Missiles and Much More
By LetsRun.com
May 19, 2019
The Podcast is sponsored by HOKA ONE ONE whose Carbon X shoe was worn by Jim Walmsley in his 50 mile world best and became available for purchase this week on Hokeoneone.com. LetsRun.com's exploration of the Ultra Marathon in the Month of May is sponsored by HOKA ONE ONE. They had no say on what was written in this piece or asked on the podcast. If you'd like to win a pair of Carbon X shoes, participate in our discussion of the ultra marathon.
Ultra marathoner star Jim Walmsley was going to be our special sponsored HOKA ONE ONE guest on our regular podcast this week, but we talked to Jim so long (2 hours) we decided he merited his own podcast.
Article continues below player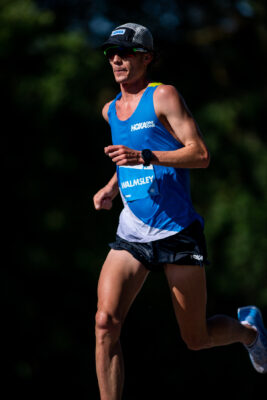 It's definitely worth a listen as Jim talks everything ultra running: from his recent 50 mile world best at the HOKA ONE ONE Project Carbon X event, to who the greatest ultra runners are of all time, to in what event Killian Jornet could beat Eliud Kipchoge, to his love of Western States, rim to rim to rim in the Grand Canyon and much more. Plus, he talks about the Olympic Marathon Trials, being a collegiate steeplechaser, whether he'd rather be the world's best marathoner or ultra marathoner and much more including being forced to leave the Air Force and reaching a really dark place, but battling back to reach the top of the ultra world. We wrote up a detailed transcript of the podcast you can read here. But we suggest you give it a listen and subscribe on itunes or whever you listen to podcasts (subscribers get to access the podcast before everyone else) or wherever you listen to your podcasts. Listen in the player below or you can click on a timestamp below the player to jump to that portion of the podcast.
[spp-player track_player url="https://www.talkshoe.com/recording/inline/key/e0a001a2e602bb241dfdd6ec557fce55e5d6ce8e.mp3″ title="Jim Walmsley Podcast"]
Show notes (click on a timestamp to start listening there):
[spp-timestamp time="0:00″] Intro and Walmsley's 50 mile world best at Project Carbon X Race
[spp-timestamp time="20:20″] Walmsley's training
[spp-timestamp time="37:04″] College Career, High School Career, Nuclear Silos, Being Fired from Air Force and Hitting Rock Bottom
[spp-timestamp time="65:21″] The Olympic Marathon Trials and a possible middle finger to the marathon community
[spp-timestamp time="95:54″] Eliud Kipchoge vs Mountain Runners, Rim to Rim to Rim, ITRA Scores
[spp-timestamp time="113:45″] Who Are the Great Ultra Marathoners of All-Time, "Hobby Joggers", and would you rather be the world's greatest marathoner?
[spp-timestamp time="122:25″] Jim on the Carbon X Shoe and how he checks LetsRun when camping in the forest
Boots are on the ground in Sactown. Wejo about to go to his first ultra press conference ever and getting bribed with the new @HOKAONEONE Carbon X shoes. World record attempt races tomorrow 9 am east pic.twitter.com/iKwH41hQrG

— LetsRun.com (@letsrundotcom) May 3, 2019
Click here for a summary transcript of the podcast.
The podcast is also sponsored by floydsofleadville.com. Use code RUN2019 to save 15% on certified CBD products.