HOKA Pros Michael Wardian and Sabrina Little Tell Us What They View As The Best Ultra Races, Runners and Records in History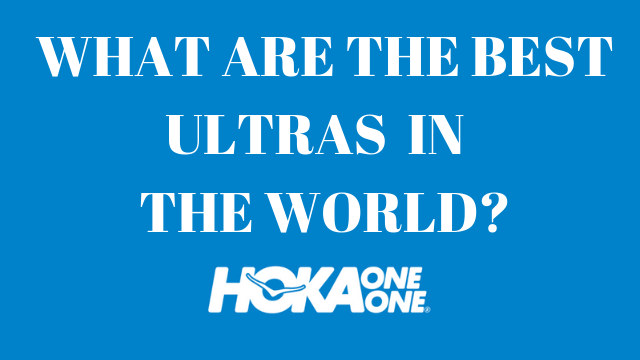 April 25, 2019 to May 31, 2019
by LetsRun.com
May 14, 2019
Editor's note: HOKA ONE ONE is sponsoring LetsRun.com's exploration of the ultramarathon over the month of May, trying to determine the answer to the question: "What are the best ultramarathons in the world?" You can join the debate here. While this is sponsored content, HOKA had no say in what was written. 
This month thanks to the sponsorship of HOKA ONE ONE, we're doing a month long deep look into the ultra world.
Article continues below player
For the final three weeks of the month, we are exploring the following topics, on each week,  "What are the best ultramarathon records?", "Who are the greatest ultra runners in history?", before concluding with "What the best ultra races in the world?"
Well we got a little antsy and asked some of the HOKA ultrarunning pros those three questions all at once. Below we show the responses we got from Michael Wardian and Sabrina Little, two people with some very interesting stories behind their accomplishments.
If you aren't familiar with Wardian, the 45-year old father of two has done a little of everything during his career including winning a ton of US ultra championships, running 7 marathons in 7 days on 7 continents in an average time of 2:45, winning a silver medal at the World 100k champs, setting a world record for an indoor marathon as well as setting one while pushing a baby stroller, winning a marathon in Fenway Park, winning the JFK 50 miler and competing in three US Olympic Marathon Trials. Not bad for a former college lacrosse player
(Wardian Wikipedia page *HOKA Wardian Video).
Little, 31, ran collegiately for William and Mary, but only for a year. Little, who ran her first marathon at age 8,  got started in the ultra scene at a young age as after her freshman year she ran a 100 miler to raise money for cancer research in honor of her mom who would die of cancer at age 59. As an ultra runner, Little has won 5 national titles, set the American record for 24 hours twice, becoming the first American woman to break 150 miles in a 24 hour period during her second record (152.03 miles was the best but it was broken by Camille Herron), won an individual silver medal at Worlds for the 24 hour race as Team USA won gold and more. Little's secret to success may be her mind-  she has a masters in divinity from Yale and is working on a PhD from Baylor.
(Great RW profile of Little *HOKA Little Video *Baylor profile of Little *Sabrinalittleruns.blogspot.com *Sabrina Little's 24-Hour American Record Race Report)
Little emailed us back her response first so we'll start with her.
You can follow them on twitter at @mikewardian and @beaninsneakers. 
Sabrina Little Tells Us What She Views Are The Best Ultra Races, Records and Runners In History
Lestrun.com:: 1) What do you consider to be the best ultras in the world and why? 
Sabrina Little: –JFK 50-miler. It has a deep history of some of the strongest athletes in the sport duking it out. The race was started in 1963, which is older than almost any race in the US.
–Western States 100. It's our de facto championships, and it has an old-school feel to it. There is nothing like it.
–Comrades. It's the biggest ultra in the world. Winning that is a huge deal.
–Mountain Masochist 50-Mile. It's another old school race that big-name stars in the sport have done throughout its history. It's a David Horton original (now directed by Clark Zealand), and it is just a classic, challenging east coast event.
Lestrun.com: 2)  What are the best ultra records?
–Honestly, the women's world 100K record is not going to fall any time soon. It's Tomoe Abe of Japan, and it's 6:33.11 (6:19 pace per mile). It would take a really special athlete on a really special day to break that.
-Ellie Greenwood's course record at Western States is super stout. It's 16:47.19, and no one has really come close. I think it would take a cool day and a really talented person to challenge it.
-For the men, Yiannis Kouros' 24-hour world record is 188.6. That is bonkers. I think it's one of the strongest records, and I don't see it falling any times soon. I'm not the only person to say that.
Lestrun.com: 3) Who are the greatest ultra runners in history ?
Ann Trason, Yiannis Kouros
As far as those still competing at a high level: Kilian Jornet, Nikki Kimball, Camille Herron, Courtney Dauwalter, and Jim Walmsley.
Michael Wardian Tells Us What He Views Are The Best Ultra Races, Records and Runners In History
Lestrun.com:: 1) What do you consider to be the best ultras in the world and why? After you answer that, are there any ultras that maybe shouldn't be considered a "major" but are super amazing and should be on every amateur's bucket list to do? 
Michael Wardian: I think these are the majors but broken them down for you into road and trails ultras:
Road Ultras:
1) Comrades Marathon-18,000-20,000 people and super fast-89K running from Durban to Pietermartizburg, South Africa, been around for ages and so cool..It is the race to do in South Africa. They have great marketing and the course switches directions each year so they get you to do it both ways and if you do it 10 times they retire your number and you get a green jacket.
2) Spartathlon-Running from Athens to Sparta, 153 Miles running from Athens to Sparta…it is not super popular in the USA but really popular around the world
3) Badwater-135: This race runs from the lowest point in the USA in Death Valley, CA to the highest point-Mount Whitney 135 miles..it is hot and hillier than people think
4) IAU-100K World Championships..This is a great event when they host it but they haven't gotten it going but every 2 years now
Trail Ultras:  This is what most ultra runners are doing currently and where the focus of brands, fans and the athletes are:
1) Western States 100 Miler: The original and first 100 miler and still considered to be the "Big Dance", the race is capped at around 400 runners, so really hard to get into and if you don't get in through the lottery, then they have "golden ticket" races where the first few runners can "earn" their way in. There are also sponsor spots and some Ultra Trail World Tour spots for elites. It is incredible and the hype gets crazy…it can make people into household names.
2) Ultra Trail du Mont Blac (UTMB)…This is another huge race and maybe the biggest ultra race in the world…over 3,000 runners for the main event and most people feel like it is "THE RACE" and UTMB have a huge pull of getting the biggest names and it is on everyone's bucket list. UTMB have smaller but also awesome events they same weekend in Chamonix and everyone is jazzed this feels like the Boston Marathon where the entire town is jacked up for it as are all the towns in the 3 different countries that it runs through, France, Switzerland and Italy. It is really incredible to see.
3) Hardrock 100 Miler-This is a race people do because of the culture and beauty. It usually gets a few big names but normally they just don't care, they have a huge lottery and if you get in you get in and if you don't then better luck next time. They don't do anything super special for elites but they take care of everyone and I mean everyone, It is awesome, probably one of my favorite races on the planet and one of the most beautiful places I have ever run. This race is really tough, super exposed, lots of elevation gain and loss and then altitude lots of the race is over 10,000 Feet
4) Leadville 100 Miler-This race is cool and special as it helped bring the town back from the brink. The race director is awesome, I mean super cool and it is one of the largest 100 milers in the USA. It is high, lots of altitude but very runnable and can be fast.
5) The North Face 50 Miler, San Francisco-This race is held in the fall and usually draws a hugely competitive field as they put up $10,000 in prize money which is a lot for ultras. It is fast, and lots of running so brings people to thowdown.
6) The JFK 50 Miler is the oldest 50 Miler in the USA and it doesn't draw a huge field of elites but each year a few guys make their names there and I love it. I have done it 10 times and it was my first ultra marathon.
7) The Barkley Marathons…This "race" is very crazy and definitely doesn't a lot of elites as it is set up for failure but it is super cool and if you haven't seen the Netflix about it and the race director, Laz, it is worth a view…
8) Marathon des Sables: I think this is one of the most highly competitive multi-day stage races on the planet. You are required to carry everything you are going to eat and use for 7 days on your back and run 250K through the Sahara desert.
These races I don't think are majors but I highly recommend for bucket list:
2) Ultra Trail Cape Town
3) Grand Raid Reunion

5) Tarawera Ultra Marathon, New Zealand
+++
Lestrun.com: 2)  What are the best ultra records?
Wardian: These are the world records: https://en.wikipedia.org/wiki/Ultramarathon
I think these times are pretty incredible and definitely some of the most insane but that being said:
Jim Walmsley's time at Western States of 14:30:42 is incredible
Jim Walmsley's 50 mile world record set last weekend of 4:50:07
Pete Kostelnick: Ran Across USA in 42 days: https://www.irunfar.com/2016/11/pete-kostelnick-2016-transcontinental-run-record-interview.html
3) Who are the greatest legends of the sport in your opinion?
Wardian:
+++
I am sure I am missing people..
---
---
Discuss the ultra scene on our messageboard and you might when a free pair of HOKAs. The HOKA Carbon X comes out tomorrow.
MB:What are the best ultramarathon records?
MB: What are the best ultras in the world?
Boots are on the ground in Sactown. Wejo about to go to his first ultra press conference ever and getting bribed with the new @HOKAONEONE Carbon X shoes. World record attempt races tomorrow 9 am east pic.twitter.com/iKwH41hQrG

— LetsRun.com (@letsrundotcom) May 3, 2019