What Are the Best Ultramarathons in the World?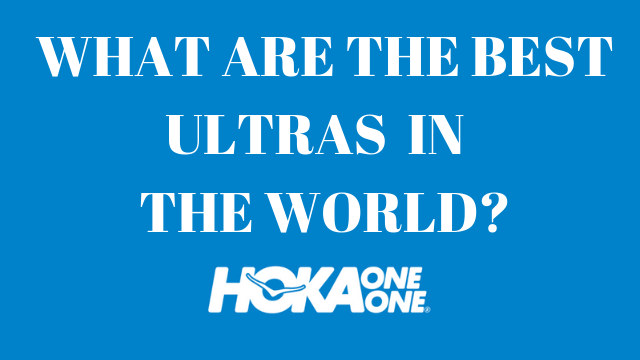 April 25, 2019 to May 31, 2019
By LetsRun.com (sponsored by HOKA ONE ONE)
April 25, 2019
What are the best ultramarathons in the world?
We at LetsRun.com admittedly don't have a clue.
Article continues below player
---
We know a lot about long distance running, but very little about ultra running.
And that's where we want your help.
Thanks to the support of HOKA ONE ONE, over the next five weeks we're going to educate ourselves — and hopefully you — on everything ultra running to try to settle the debate: What are the greatest ultra marathons in the world?
That may be easier said than done because the ultra scene is so diverse. You've got road ultras with storied traditions (Comrades Marathon in South Africa), trail ultras with great traditions (Western States), mountain races that are super prestigious but not even as old as LetsRun.com (UTMB), and some truly crazy races (how does running around a block in NYC for 3,100 miles sound?). Not to mention 24-hour runs, runs across countries, and much more.
One of the greatest things about the ultra scene is the unpredictability. Marathoners like to believe the marathon is the ultimate test of the human body and anything can happen in the final miles of the marathon. Anything can really happen the final miles of an ultra, including being on pace to crush a course record but getting lost.
Think of all the variables that change from race to race — distance, terrain, altitude, to name three. There are trail ultras, road ultras, track ultras, and mountain ultras. Ultramarathon may not even be the best term to use — we see why the acronym MUT (mountain, ultra, and trail) is growing in popularity.
Regardless of the name, we want to know what are the best races in the world longer than 26.2 miles.
Thankfully, we've found a partner that wants to know as well: HOKA ONE ONE. They've given us no stipulations. HOKA's DNA is ultra running. LetsRun.com's most definitely is not.
HOKA is simply sponsoring this conversation — and giving us free reign to mold it however we want. It's great that they understand the DNA of LetsRun.com is you, our visitor, and they trust us to figure out a way make sense of the ultra scene together with you.
So we're going to start the discussion in classic LetsRun.com fashion — with a message board thread: "What Are The Best Ultras In The World?"
10 Free Pairs HOKA ONE ONE Shoes
We don't know where this will end up, but we're going to select 10 LetsRun visitors as "winners" along the course of this discussion to receive the free pair of shoes of their choice from the HOKA ONE ONE website.
For now we're going to just have one thread on LetsRun.com to kick this off, but over the course of the month we're going to profile some of the top ultras in the world, talk to some ultra running pros, and break down the debate into smaller segments.
At the end of this, our goal is know some or all of the following:
What are the most prestigious/most competitive ultramarathons in the world to win? Or in other words, what are the equivalent of the "World Marathon Majors" for ultras?
What is your favorite ultra? What is the most beautiful ultra? Is there a bucket list of ultras that most amateurs should aspire to run?
Who is the GOAT of ultra running?
What are the hardest course/world records to break in ultra running?
So start posting in the thread. Or feel free to email us. You don't have to be registered to post on our forums, but if you want to win a prize you have to post under a registered name or email us at ultras@letsrun.com, so we have a way of contacting you (and no, we won't give your email addresses to HOKA).
This weekend, we just want to get the debate started before we turn our attention to the most competitive marathon in the world, the London Marathon.
To kick things off, we'll definitely give a HOKA prize pack to the person over the weekend who helps us frame this debate the best or has the best post. Stay tuned for the next five weeks.
Meanwhile start talking in this thread: What are the best ultras in the world?
Holy crap that's awesome!!! So happy for him!! RT @iRunFar: Jim Walmsley (@HokaOneOne) wins the 2018 Western States 100 in a course record 14:30:04 on a baking hot day! (Old record: Timothy Olson, 14:46:44, 2012) #WS100 pic.twitter.com/GFaIK95FS8

— traciwilson (@traciwilson) June 24, 2018
The post above is sponsored content, sponsored by HOKA ONE ONE.