CAS Delays Caster Semenya Case For At Least A Month
By Amby Burfoot
March 22, 2019
Thursday afternoon, just days before its March 26 deadline (next Tuesday), the Court of Arbitration for Sport decided to kick the can down the road in the long-simmering Caster Semenya vs. IAAF case. "The parties have filed additional submissions and materials, and agreed to postpone the issuance of the CAS award until the end of April," said a press release issued from CAS's headquarters in Lausanne, Switzerland.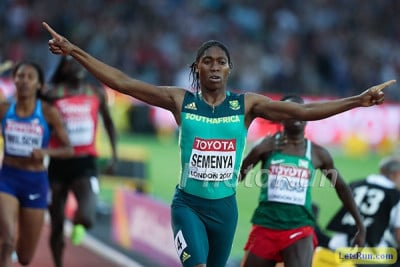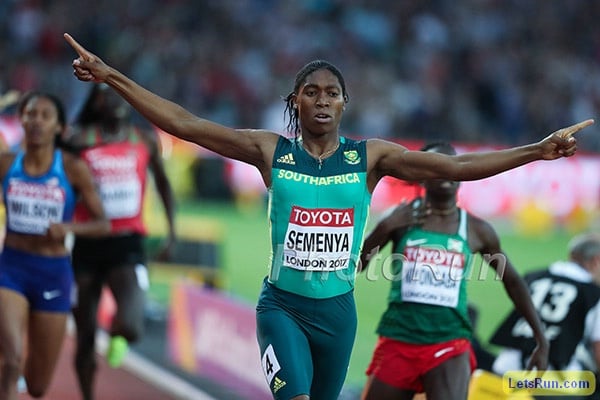 March 26 was a specific, important date—six months and a day before the opening of the 2019 IAAF World Championships in Doha, Qatar, on September 27. CAS was supposed to decide on the legality of the IAAF's "Differences of Sexual Development" regulation, released last April. That DSD rule required athletes with DSDs and high testosterone to go on testosterone-lowering therapy for six months before gaining eligibility for the World Championships, though in the wake Thursday's news, the IAAF stated that it will allow affected athletes to compete at Worlds this year as long as they begin undergoing therapy within one week of the decision.
Article continues below player
South Africa's Semenya has been the face of the IAAF's struggles with high-testosterone women since her first World Championship title in 2009, even though she's far from the only DSD woman competing at the international level. One IAAF study found DSD women overrepresented by a ratio of 140:1 in the 2011 and 2013 World Championships. Another estimated an astonishing ratio of 1700:1 for DSD winners in the "restricted events" (400, 400h, 800, 1500) at the World Championships and Olympics over the past 25 years. (Correction: the previous sentence has been updated since publication to note the ratio was found in "restricted events" not the 800.)
Another estimated an astonishing ratio of 1700:1 for DSD winners in the "restricted events" (see below) at the World Championships and Olympics over the past 25 years.
DSD athletes are not transgender women, but rather individuals who are often born with ambiguous genitals at birth, making their sex ID difficult. When they reach puberty, some of these individuals produce testosterone more in the typical male range than the typical female range. Teenage boys typically pump out 20 times more testosterone than teen girls.
Most experts agree that testosterone has a significant effect on physical performance, which is why the track world records for men are generally 10 to 12 percent faster than the women's records. There's less certainty about high endogenous (natural) testosterone in DSD athletes.
Four years ago, CAS "suspended" the IAAF's hyperandrogenism (high testosterone) regulations in the case of Dutee Chand vs. IAAF. Many incorrectly think that Chand "won" while the IAAF and testosterone "lost," but that's not true. Rather, CAS agreed that testosterone might be a reasonable way to separate men and women, and asked the IAAF to come back in several years with more evidence. CAS was also concerned about individual "rights" in a case that only affected women, but not men, and that disqualified some women from entering all track and field meets at all levels.
The current Semenya vs. IAAF case looks similar. It seems to be about women with high testosterone again. But it has several potentially crucial differences from the Chand case. For one, affected athletes with high T are barred only from a handful of international races— in "restricted events" from 400 meters to the mile. For example, they could run the 200 meters or steeplechase if they choose. And they can continue entering non-international competitions in any event.
Second, IAAF might be forcing CAS to answer the nearly-insoluble question: What makes a man or woman a … man or woman? Is it their biology, or their gender ID? The IAAF believes the former approach is fairest to the 99 percent of women athletes who don't have a DSD. Gender activists favor the second path.
In mid-February, the Times of London and the IAAF got into a hair-splitting language argument on this front. The Times claimed the IAAF was going to call Semenya a "biological male." The IAAF responded immediately: No, we have no plan to make Semenya compete in men's races. But, "if a DSD athlete has testes and male levels of testosterone…" and wants to compete in female races, she must lower her testosterone.
The next month will fly by quickly, and CAS's job won't get any easier. The entire country of South Africa is fiercely supporting her, and the whole world is watching—other sports federations, colleges, and high schools. As noted, this isn't a transgender debate like the one that generated acrimony recently among Martina Navratilova and many observers. But the transgender question is similar, as it's also largely about testosterone. And since trans women outnumber DSD athletes by an estimated 100 to one, it's barreling down the track with unstoppable momentum.
Correction: Since publication the article was changed to note that the study found a ratio of 1700:1 for DSD winners in the "restricted events" (400, 800, 1500) at the World Championships and Olympics over the past 25 years
---
Amby Burfoot won the 1968 Boston Marathon, and has been writing about running and track and field since the mid-1970s.