Donavan Brazier Opens Up About His Switch to NOP, Sydney McLaughlin Explains Why She Left Edrick Floreal, & More Ahead of 2019 New Balance Indoor Grand Prix
By Jonathan Gault
January 25, 2019
BOSTON — Another year on the pro track & field circuit begins, and there is a lot to catch up on. We've got familiar faces in new places (Donavan Brazier and Clayton Murphy are…Nike Oregon Project teammates?) and new events (Jenny Simpson in a…5k?) and the professional debut of one of the most hyped American track & field prodigies ever (someone named Sydney?). So before they all hit the track tomorrow night at the 2019 New Balance Indoor Grand Prix, let me hit on a few things I learned at today's pre-meet press event.
Donavan Brazier is slowly adapting to life as a member of the Nike Oregon Project
Brazier ran his first race as a member of the Nike Oregon Project last weekend at Texas A&M, clocking 1:15.46 for 600, but tomorrow's race, against Murphy and World Indoor bronze medalist Saul Ordonez of Spain, will be a much bigger test. It's taken a long time for Brazier to reach this point, and he still has a long way to go in a season that he hopes will stretch until the World Championship final on October 1.
Most of the world last saw Brazier being disqualified in his semi at the World Indoor Championships in Birmingham last March. Shortly after that, he felt something in his Achilles, and rather than race and risk aggravating it during an off year, he decided to shut his season down. He was also in the process of changing training groups, from his college coach Alleyne Francique to NOP.
Article continues below player.
Brazier was still cross training in the fall, and did not return to normal training until the new year, running on the track for the first time during the first week of January. His race last week at Texas A&M was his first time wearing spikes since last season. As a result, he says he's more focused on simply competing tomorrow rather than aiming for a specific time.
As for his transition in training, Brazier says that he's following a "10% plan" — keeping most of what he had in place under Francique, but trying to sub out the 10% that he didn't need with stuff that he does. One key addition: Brazier has lengthened his warmups before track sessions, which he has found to be an easy — and important — way to add mileage.
"At A&M, I was probably doing a half-mile warmup, which is silly, especially if you're doing speed work and really getting after it, which is what we did most days," said Brazier, who added that he now runs 1.5 miles before sessions and hopes to get up to the 2-3 miles that his NOP teammates do. Brazier also says he has recorded at least one PR with NOP: longest run ever (8.1 miles, up from 7.6).
Brazier also jogs between reps during practice, which was an entirely new concept for him.
"I never realized that people actually jogged during their recovery, but apparently that's a thing."
Brazier said he doesn't run every session with Murphy (Pete Julian handles Brazier's training, while Alberto Salazar is Murphy's lead coach), but they do speed sessions together, and when guys like Murphy and Craig Engels run longer reps, Brazier might hop in for a portion of each rep.
Jenny Simpson doesn't know what to expect from the 5k; but don't expect her to move up from the 1500 this year
It was almost 10 years ago that Simpson ran her one and only indoor 5k, a 15:01.70 as a collegian at Colorado on February 14, 2009. While that came on an oversized track, it's easily the fastest collegiate 5000 ever run indoors or out as Kim Smith is the only other collegian ever under 15:10 at 15:09.72 (Simpson also ran a 15:07.64 outdoors that year). Now Simpson is returning to the event, and though she's starting to get up there for a 1500 runner (she's 32), she says that she still plans on being a 1500 runner moving forward.
"I'm not going to base the future of my career off of one switch in January," Simpson said. "The 1500 is my love and is the thing that I think I'm best at."
It's a smart decision. Shelby Houlihan surpassed Simpson to win the US title last year, but Houlihan is one of the best 1500 runners on the planet. Simpson is still the reigning silver medalist at Worlds, and her odds of medalling in Doha in the 1500 are way better than they would be in the 5,000. Consider: last year, six women broke 14:30 in the 5,000. Simpson's PR is 14:56. The American record is 14:34. Simpson would probably never have the strength to be a factor in the 5k globally, but she has the experience and tactical smarts to remain a threat in the 1500 even if she loses half a step.
Simpson said she's running the 5k on Saturday just to "mix things up" and has no idea what she is capable of. The American record (14:47.62 by Shalane Flanagan at this meet 10 years ago) has been mentioned, but Simpson wanted to downplay expectations on that front. It's unlikely that record goes as the pacer is supposed to go out on 15:00 pace.
"Shalane, a few years out of college, running 14:47 against incredible competition here, I have a lot of respect for how seriously good that is," Simpson said. "I don't want to be so confident in my ability to just think as a 1500-meter runner I can step out and surpass that time."
Sydney McLaughlin on her time at Kentucky: "In the environment that I was in, I didn't feel like I was happy. I think I lost the love for the sport when I started making it a job too soon — before I even went pro." On her pro debut: "It's kind of a practice."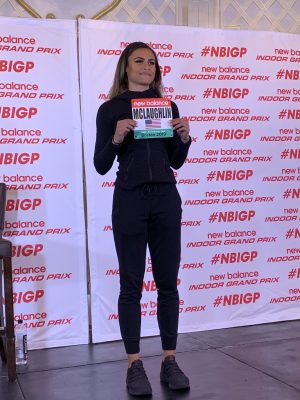 Nineteen-year-old Sydney McLaughlin, New Balance's big investment, will run her first professional race on Saturday in the 500 meters, something we weren't very happy about in our meet preview considering she's lining up against a field engineered to deliver her a victory while any runner that might beat her (US indoor 400 record holder Kendall Ellis, US outdoor 400 champ Shakima Wimbley) has been shepherded into the 300 meters instead.
I asked McLaughlin how she ended up in the 500, and she said that she was given the choice of running any distance between 300 and 600 and was not told ahead of time who she would be racing.
"I was not running the 600," McLaughlin said. "It's just January, there's no need to open up in the 4. The 3, I feel like we're working on strength right now, so there's no need to be going that fast. So we picked the 5 as a strength workout. I've never run one before, so we'll just see how it goes."
McLaughlin is so talented that I have to at least mention the American record (it's 1:07.34 by Courtney Okolo in 2017), but she knows that whatever she runs on Saturday in what she said will be her only indoor race this year, it's not the be-all, end-all. In fact, McLaughlin admitted to something that we often point out at LetsRun.com — that outside of the major championships, most of these meets don't matter all that much.
"It's kind of a practice," McLaughlin said.
She wasn't the only one expressing that sentiment as Rai Benjamin, the hurdles star who will be running the 300 tomorrow, also referred to his race as "a practice meet" before catching himself and adding, "Well it's to break up practice. That's what I was told."
As for the rest of McLaughlin's life, she is enjoying her new training base of Los Angeles, though she has yet to become a true Angeleno in one respect: she doesn't drive.
"People in LA don't use their blinkers," she joked.
McLaughlin also opened up on her coaching switch, from Edrick Floreal to Joanna Hayes. McLaughlin enjoyed plenty of success last year under Floreal at the University of Kentucky — PRs across almost every distance, including a world U20 record/world leader of 52.75 in the 400 hurdles — but when Floreal took the job as the head coach at the University of Texas, McLaughlin did not follow along to Austin and chose to begin working with Hayes, the USC hurdles coach. Under Floreal, McLaughlin trained alongside 100 hurdles world record holder Keni Harrison and 400 hurdles world champ Kori Carter, but she said that being in a group with women who were that accomplished brought unwanted pressure.
"In the environment that I was in, I didn't feel like I was happy," McLaughlin said. "I think I lost the love for the sport when I started making it a job too soon — before I even went pro. And I think I put a lot of pressure on myself. In the environment that I was in, you're surrounded by a lot of professional athletes who have already been to the highest stages and have world records and stuff. I just think I needed to step away from all of that and focus on myself and my event, taking it at my pace instead of trying to jump on board with everybody else."
Could Edward Cheserek run World XC unattached? Don't rule it out
Cheserek is entered in the 3k tomorrow against Hagos Gebrhiwet, and though this will be his first race of the year, everything we've heard indicates that he is very, very fit. Cheserek wouldn't commit to a time goal for Saturday's race, but there's already a lot of buzz about his showdown with Yomif Kejelcha in the Wanamaker Mile at Millrose on February 9, with the world record (3:48.45 by Hicham El Guerrouj) not out of the question.
I also bumped into Cheserek's coach/agent Stephen Haas and had to share LRC co-founder Robert Johnson's Cheserek proposal: that he should run World XC this spring. The race would be perfect for Cheserek: he doesn't want to represent Kenya internationally and set back the clock as he tries to become an American citizen, but the IAAF is allowing a limited number of people to sign up and run the senior race at World XC unattached. I definitely piqued Haas's interest (he said he was not previously aware of this provision), but he didn't want to commit to anything; Cheserek's focus is on the indoor season right now, and he's really hoping to peak with a fast 5k at Boston University on February 24. Haas said they would reevaluate after that race, but I came away from our conversation thinking there just might be a chance Cheserek runs World XC.