Q&A: Half Marathon WR Holder Abraham Kiptum Reveals His Workouts Before Running 58:18
By LetsRun.com
November 7, 2018
On Tuesday morning, we received an email from Juan Pineda, the agent of the new half marathon world record holder Abraham Kiptum of Kenya. We wrote an article last week about Kiptum and his backstory — he was a virtual unknown before breaking the world record in Valencia on October 28 — but if you want to learn more, here is your chance. In his email to LetsRun.com, Pineda attached a Q&A with Kiptum, 29, which we have reprinted in its entirety below (note: LetsRun.com was not the one asking the questions).
With that context, here is the Q&A with Kiptum.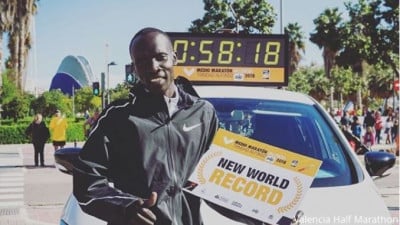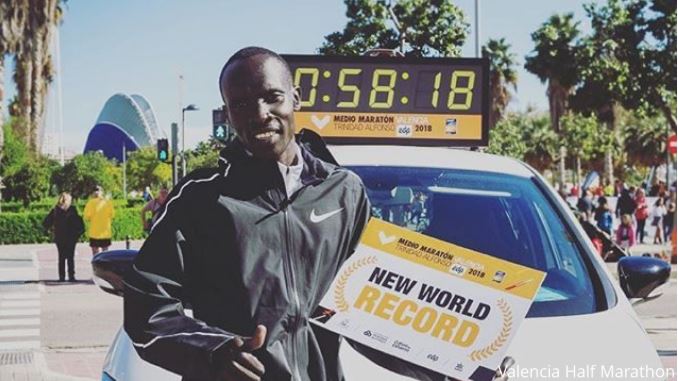 Were you thinking of breaking the world record before the race?
No, I was going there to try winning the race and do my PB, which was 59:09 in Copenhagen Half Marathon [six] weeks earlier.
Article continues below player.
During the race, what made you push to leave other runners behind?
Was trying to open the gap with the one I considered my biggest rival (Jemal Yimer of Ethiopia), who actually became number 2 just after me.
When did you realize the record was possible?
At 15K when the organizer, Rachid Ben Meziane, who was following me on a motorbike told me and encourage[d] me to go for it.
How [did] you feel after crossing the finish line? And now?
I felt extremely happy and satisfied. I now think everything is possible for me.
What are your next goals in athletics from now?
Am focusing on Abu Dhabi Marathon on December 7, and next year I want to perform in a major marathon like London or Boston, not forgetting world cross country championships.
And what are your goals in your personal life now?
Am preparing my wedding with my longtime girlfriend, Judith Jepngetich, who is also a track athlete (they will be married on December 20). She was recently recruited by the Kenyan Defence Forces (KDF).
Let us know some training done by you before breaking the world record.
I knew I was in good shape after my last track workout: 400m×15, recovering 1 min, all done in 60-61 seconds. I was also doing fartlek, 30x 1′-1′, that's 30 times 1 min fast followed by 1 min not so fast, at an average of 3:15 per km, at an altitude over 2,000 meters (6,562 feet). I was really feeling comfortable.
Tell us something about your personal background.
I was born in Chepketei Kosirai village, in Nandi County, 1989. Am third born of four kids — two boys, two girls. I went to Chepketei and also to Kosirai primary schools, before joining Kipmokoch secondary school. I started running as a kid in school, participating in the track, 3,000-5,000 meters as well as cross countries.
Am son of Mikel Sugut, who was a cook in school for over 10 years, and Sarah Sugut, who has always been taking care of the house. My talent comes from my grandfather, who was also an athlete those years back when it was difficult to find a manager to assist you in your career. His name was William Kipsugut Lagat, and he passed away recently. I dedicate him my record. After winning Lagos Marathon in 2016 ($50,000) I told my parents to relax. I took care of them and built them a house in our village. I won that race again in 2017.
Many people were surprised I broke the [half marathon world] record, but I have won many different and very hard races in Kenya and all around the world. It was just a matter of time for me to shine in a big race like Valencia Half Marathon.
Let us know about your current coach.
He is called Joshua Kiprugut Kemei, who is married to Eunice Kirwa, winner of bronze medal in marathon in Beijing world champs 2015 and again silver in Olympics one year later. They are also my relatives as my coach is younger brother to my father. He is very strict but very supportive as well, and he follows me closely to make sure I do the best out of my talent. Big part of my success is because of him.
Back to Valencia Half Marathon, what can you say about the race and the organization?
Valencia Half Marathon is among the best and flattest races in the world, that's why they have already the world record in men and women already. The day of my race weather was fantastic. Organization is wonderful, starting with my friend and organizer Rachid Ben Meziane. They are all very cooperative and welcoming people, and I highly recommend everyone to try at least once to run there, they shall not regret for sure.
Finally, tell us about your management.
Am working with Juan Pedro Pineda, from Spain, since 2015, after a marathon I ran in Morocco. The first race under his management was in China, and I could not finish, but he kept trusting me. Next was the above mentioned Lagos City Marathon, and despite some very few failures I have produced very good results, up to now.
I also consider very important to mention my main sponsor, Nike. Nike company has been supporting me from the beginning. Even when I was not under their contract I used to wear their clothes and shoes, which I consider the best for training and competing. In fact, the new sub 2 shoe model I used during the race in Valencia this year is the best I ever used before, by far. I advise all athletes to try it, they will probably improve their best times. Am proud to run under Nike and am waiting forward to do much more together with them. I also have two other sponsors, Indiba for massaging me and Quamtrax for all concern with food supplementation.
---
If you enjoyd this article, we imagine you'll enjoy this earlier one as well: LRC Who Is New Half Marathon World Record Holder Abraham Kiptum, And How Did He Run So Fast In Valencia? Get the inside scoop on the new half marathon WR holder. Turned down for a spot at the 2018 Chicago Marathon, he decided to test himself at the 13.1 distance and the rest is history.
*MB: Meet new Half Marathon WR Holder Abraham Kiptum – Turned down by Chicago, he ran a half marathon instead and broke the WR!!