Paul Chelimo Wins USATF 5k Champs In Sprint Over Kipchirchir, Emily Sisson Cruises
By LetsRun.com
November 3, 2018
NEW YORK — Paul Chelimo and Emily Sisson claimed national titles in very different fashions on a damp morning at the USATF 5K Championships. Chelimo prevailed in a thrilling kick over teammate (and defending champion) Shadrack Kipchirchir, as both men were credited with a time of 13:45 (electronic timing had Chelimo ahead by .32 of a second. Those two and Stanley Kebenei — also a member of Scott Simmons' American Distance Project — broke away from the field a mile in and would run together until Chelimo and Kipchirchir dropped Kebenei just under half a mile from the finish line in Central Park. Kebenei wound up third in 13:53. Chelimo's time was a course record.
Sisson, meanwhile, dominated the race, running 15:38 to win by 12 seconds over the B.A.A.'s Erika Kemp. Sisson was at the front of a large group in the early stages of the race before making a strong move to string out the pack at the one-mile mark. By two miles, she was all alone and would not be challenged the rest of the way.
Article continues below player
Other notable results included Matthew Centrowitz finishing seventh in the men's race in 14:02, Dathan Ritzenhein taking 12th in 14:10, and Amy Cragg claiming third in the women's race in 15:54 in her first race since the Tokyo Marathon.
The two most credentialed athletes in the race, Chelimo and Centrowitz, were not wearing their traditional racing gear, and announced to LetsRun.com that they are both leaving the teams that had been representing.
Chelimo was not wearing his customary World Class Athlete Program kit, but was wearing the Nike pro kit instead, and after the race revealed he is leaving the Army (but staying with coach Scott Simmons) and will be sponsored by Nike.
Centrowitz was also wearing traditional Nike pro kit and not his customary Nike Oregon Project gear and said he has left the NOP.
Men's top 10 results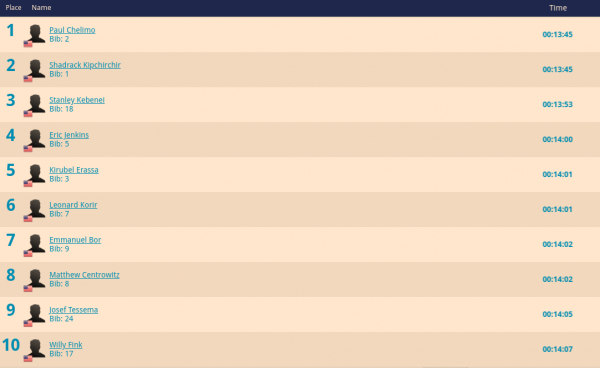 Women's top 10 results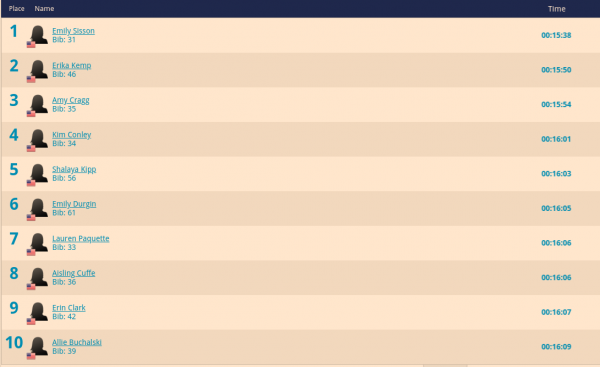 Meet Erika Kemp
The breakthrough performance of the day was from the BAA's Erika Kemp who finished second. Kemp graduated from NC State this year and was only 10th at NCAAs in the 5000 (her best finish at NCAAs was a 5th indoors at 5000 in 2016). She was 15th at the USATF 10k Champs at Peachtree and was hoping to crack the top 10 or top 5 today but exceeded that.
Paul Chelimo had fun pulling out the win against his teammates
Last year, Chelimo didn't have much training under his belt heading into this race and only finished fourth. But he told us on Thursday he felt a lot fitter this year and his result backed that up as he took the victory.
"This thing we planned for like one month ago," Chelimo said. "Stanley declared warfare. Stanley say by the time we get to mile one, you guys are going to see fire."
Even though the next World Championships are 11 months away, Chelimo says he's already hitting it hard in training. Two weeks ago, he ran 16×400 at 60-61 seconds per rep, followed that with an eight-mile tempo on Wednesday and a nine-mile tempo on Friday. He said that he felt so tired at the end of that week that he "died" but clearly he recovered by today's race.
Chelimo did not want to talk about his new Nike deal yet as he is still waiting to be officially discharged from the Army next week.
Amy Cragg happy to be racing again
Cragg ran a marathon PR of 2:21:42 in Tokyo in February and was slated to run Chicago last month, but she injured her hamstring after slipping on a run and was forced to withdraw. But she is back to training now, and based on today, it is going pretty well.
"Coming off of marathon training, it felt really hard and really fast, shock to the system, but I'm very happy with it," Cragg said.
Cragg is in a unique spot as she has trained with all three of the top American contenders in tomorrow's NYC Marathon. She was teammates with Des Linden in college at Arizona State, trained with Molly Huddle under Ray Treacy in Providence, and now runs with Shalane Flanagan as part of the Bowerman Track Club. So who is Cragg pulling for tomorrow?
"I'm cheering for all American women," Cragg said. "It's going to be an exciting race."
Dathan Ritzenhein returns to racing after seven months off, talks lack of sub-2:10 American marathoners, Des' comments about him
Today was the first race in seven months for 35-year-old Dathan Ritzenhein as he hadn't toed the line since the NYC Half Marathon in March. Ritz got injured after that and had to miss the Boston Marathon, but believes speed and power are essential for running fast in the marathon so he ran the 5k here.
It was a shock to the system.
"I think it just solidified for me I'm never going back to the track," he said.
We asked Ritz about the dearth of sub-2:10 marathoners in the US (he, Galen Rupp, and Abdi Abdirahman are the only active sub-2:10 guys in the US). He said he thought there were other guys with fast track credentials who could go sub-2:10 but that they wait too long to try the marathon. Ritz believes you need speed and to be in touch with it to run fast in the marathon.
"To run 4:50 (per mile for the marathon)… you have to have a big engine," he said.
"I think a lot of the guys right now who have run fast for those shorter distances if they were to step out and did it right now (run the marathon) they probably could [run sub-2:10]. A lot of time they wait too long and don't try it. [Then] they just go strictly to long stuff," he said.
Ritz still thinks he can run fast. "Maybe I'm getting long in the tooth and maybe I'll never run 2:06. I'd like to think if I can stay healthy I can run 2:08, 2:09," he said.
Ritz will do a spring marathon and then focus on making the 2020 Olympic team. If he makes the team, he'll definitely continue another year to cash in on his Olympic spot.
"If I make the team I'm definitely sticking around another year for the appearance fees," he said. In general Ritz said, "As long as the fire is still there, [I'll keep going]."
Ritz has shown if he's healthy, he'll likely be on the Olympic team (he's made it three times), but that's easier said than done. "That's the lesson kids, don't get hurt," he said.
Ritz talks about Des Linden's comments on him
Ritz joined the Hansons-Brooks team over a year ago, and this spring former team member Des Linden told LetsRun.com she wasn't supportive of Ritz joining the team because of the anti-doping investigation on Ritz's former team the Nike Oregon Project.
We asked Ritz what he thought of Des' comments and whether they bothered him. "Not much bothers me. I'm the kind of person stuff rolls off my back. I don't hold any grudges. I really wish Des the best. I think she's great. Everyone has an opinion and that's fine. I think most people who know me know I'm a good person….I'll be cheering for her tomorrow," he said.
When Ritz was asked if he wished he had done anything differently under the NOP he said, "There's a lot of things I'd do differently in life in general, but to tell you the truth I'm ok with myself. I can't get into everything with you but to tell you the truth I'm ok with myself. There's things I'd change but I don't walk around with regrets in life," he said.
Shadrack Kipchirchir and Stanley Kebenei Talk Paul Chelimo: "In Racing He's a Monster"
Kebenei pushed the pace from the gun and Kipchirchir tried his best to outkick Chelimo, but it was all in vain and their more credentialed teammated Chelimo got the win. Kebenei said he pushed the pace at the beginning not necessarily because he thought it would help him beat Chelimo, but because he wanted "to make the race interesting."
Chelimo and Kebenei said they want to get to Chelimo's Olympic medal level, but the main thing that sets Chelimo apart is not his training, but his racing. When asked if Chelimo did anything in training that sets him apart, Kipchirchir said, "In training no, but in racing he's a monster. I don't know where he gets it."
When Chelimo was asked what set him apart, he said he had it tougher than others even in Kenya. "I have a lot of troubles man. My life has been tough. Where I grew up, they (Kebenei, Kipchirchir, and others in Kenya) read the magazine and I got it a week later [because I lived so far in the country]. These guys had an easy life," he said, half-joking. Kebenei stressed his life wasn't easy in Kenya.
Kebenei cherishes the American dream and opportunity in America
While life wasn't easy for Kebenei in Kenya, one thing that he really relishes is the opportunity he has as an American immigrant. And he said it is that opportunity that helped him become a professional runner. "If I was born in the US I could have had privileges maybe, but I wouldn't have been an athlete because I would have had a lot of [other] opportunities [besides running]. We didn't have a lot of opportunities [in Kenya] and that makes us more tough. Everything we see, we see opportunity," he said.
The opportunity makes him cherish being an American even more and the American flag that was draped on his back after today's race.
"And wearing this flag, I'm really proud because it's something I fight for, something I acknowledge, something I treasure because I have freedom," he said.
(The video below is the same above, but has the whole interaction between Kebenei, Chelimo, and Kipchirchir)