Find Out Which Men's Teams Are Going to the Big Dance: We Project the 2018 NCAA XC Championships Field
By LetsRun.com
November 8, 2018
Friday, November 9, is one of the most important days on the American cross country calendar. It is the day of NCAA regionals, when 31 men's teams and 31 women's teams will punch their tickets to the Big Dance in Madison, Wisconsin, on November 17.
Eighteen of those spots for each gender will go to the teams that finish in the top two of each of the nine regions. The other 13 at-large spots are determined by a complicated system based on wins over teams already in the NCAA field.
Article continues below player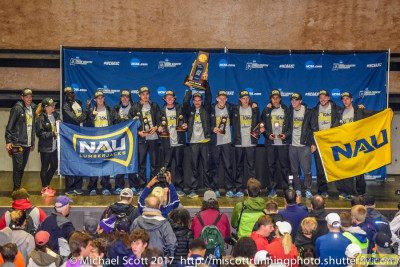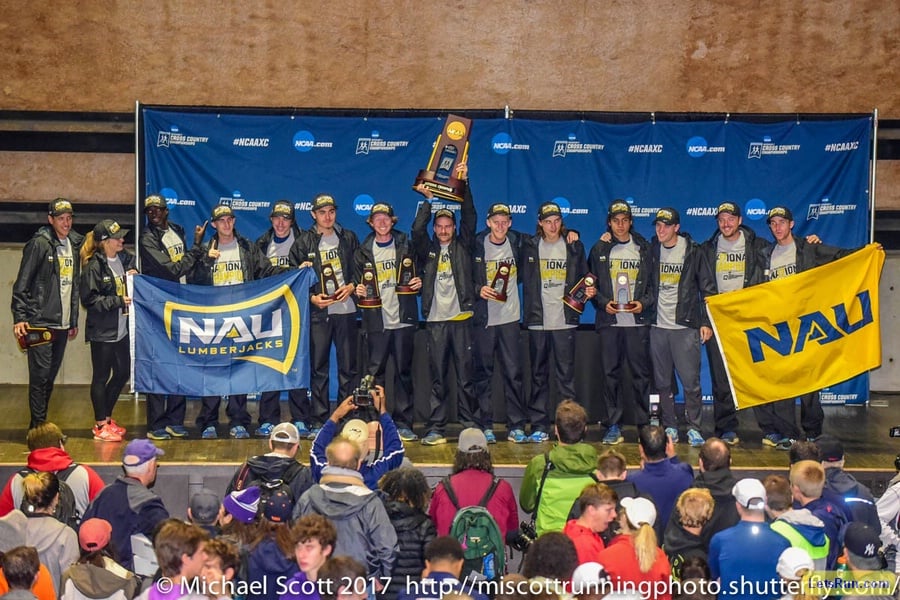 Officially, the NCAA will not announce the 13 at-large qualifiers until Saturday, but thanks to former Duke runner Bo Waggoner and his computer program, we can project which teams will make it to Madison as soon as the final regional result is in on Friday.
But why wait until then?
We've run Waggoner's program already, and can reveal the projected fields if the latest USTFCCCA regional rankings hold. Obviously not every result in every region will go to form, but this is a good starting point to get a sense of where things stand right now.
Below, we've listed the projected men's qualifiers (auto-qualifiers in bold), followed by the full selection process. Some schools that should be paying extra-close attention: UCLA (last team in), Michigan (first team out), Iona, Harvard, Weber State. Check back on Friday as we'll be running the program all day as results come in to give up-to-the-minute projections.We should be able to project the full field within 5 minutes of the final regional being over.
Talk about our projections on our world famous messageboard. MB: Official 2018 NCAA D1 XC Regional Discussion Thread – Who is going to the big dance?
Projected NCAA qualifiers (if USTFCCCA regional rankings hold)
Automatic qualifiers in bold
1 Wisconsin
2 Notre Dame
3 Princeton
4 Georgetown
5 Iowa St
6 Oklahoma St
7 NAU
8 BYU
9 Syracuse
10 Harvard
11 Arkansas
12 Texas
13 Ole Miss
14 Tennessee
15 Eastern Kentucky
16 Furman
17 Portland
18 Stanford
19 Colorado
20 Air Force
21 Colorado St
22 Washington
23 Boise St
24 Purdue
25 Wyoming
26 Weber St
27 Southern Utah
28 Oregon
29 Washington St
30 Indiana
31 UCLA
Rationale for selections
Automatically selected:
1: Wisconsin (#1 Great Lakes PROJECTED) is selected, has no losses to teams remaining
2: Notre Dame (#2 Great Lakes PROJECTED) is selected, has losses to (Pre-Nationals White Race) Washington, UCLA; (Joe Piane Notre Dame Invite) Wyoming;
3: Princeton (#1 Mid-Atlantic PROJECTED) is selected, has losses to (Spike Shoe) Penn St, St Josephs, Navy, Georgetown B Team, Pitt, American;
4: Georgetown (#2 Mid-Atlantic PROJECTED) is selected, has losses to (Penn State National Open) UVA, Michigan St; (Nuttycombe) Boise St, Colorado St, Air Force, Colorado, Purdue, Southern Utah, Washington St, Michigan, Indiana, NC State, Iona;
5: Iowa St (#1 Midwest PROJECTED) is selected, has no losses to teams remaining
6: Oklahoma St (#2 Midwest PROJECTED) is selected, has losses to (Nuttycombe) Boise St, Colorado St, Air Force, Colorado, Purdue, Southern Utah, Washington St, Michigan, Indiana;
7: NAU (#1 Mountain PROJECTED) is selected, has no losses to teams remaining
8: BYU (#2 Mountain PROJECTED) is selected, has no losses to teams remaining
9: Syracuse (#1 Northeast PROJECTED) is selected, has losses to (Pre-Nationals White Race) Washington;
10: Harvard (#2 Northeast PROJECTED) is selected, has losses to (Pre-Nationals White Race) Washington, UCLA, Air Force, Purdue, Indiana, Portland B Team, Washington St, Wake Forest, New Mexico; (Roy Griak) Duke, Minnesota;
11: Arkansas (#1 South Central PROJECTED) is selected, has losses to (Penn State National Open) UVA;
12: Texas (#2 South Central PROJECTED) is selected, has losses to (Nuttycombe) Boise St, Colorado St, Air Force, Colorado, Purdue, Southern Utah, Washington St, Michigan, Indiana, NC State, Iona, Michigan St, Villanova, Tulsa;
13: Ole Miss (#1 South PROJECTED) is selected, has losses to (Battle in Beantown) Washington; (Pre-Nationals Cardinal Race) Colorado, Oregon, Wyoming, Colorado St;
14: Tennessee (#2 South PROJECTED) is selected, has losses to (Nuttycombe) Boise St, Colorado St, Air Force, Colorado, Purdue, Southern Utah, Washington St, Michigan, Indiana, NC State, Iona, Michigan St, Villanova, Tulsa; (SEC Championships) Kentucky;
15: Eastern Kentucky (#1 Southeast PROJECTED) is selected, has losses to (Penn State National Open) UVA; (Nuttycombe) Boise St, Colorado St, Air Force, Colorado, Purdue, Southern Utah, Washington St;
16: Furman (#2 Southeast PROJECTED) is selected, has losses to (Joe Piane Notre Dame Invite) Wyoming; (Pre-Nationals Cardinal Race) Colorado, Oregon, Wyoming, Colorado St;
17: Portland (#1 West PROJECTED) is selected, has no losses to teams remaining
18: Stanford (#2 West PROJECTED) is selected, has no losses to teams remaining
Teams under consideration by points: 7 Colorado 6 Purdue, Air Force 5 Indiana, Boise St 4 Washington 3 NC State, UVA, Iona 2 Villanova, Tulsa 0 UT Rio Grande Valley, Texas A&M, Penn, Army, Belmont, Florida St, Bradley Others with points: Colorado St (7), Washington St (6), Southern Utah (5), Michigan (4), Wyoming (4), Michigan St (3), Oregon (2), UCLA (2), Duke (1), St Josephs (1), Kentucky (1), Georgetown B Team (1), Wake Forest (1), Pitt (1), Portland B Team (1), New Mexico (1), Penn St (1), Navy (1), Minnesota (1), American (1)
19: Colorado (#3 Mountain PROJECTED) is selected, has losses to (Nuttycombe) Boise St, Colorado St, Air Force; (Pac 12 Championships) Washington;
Teams under consideration by points: 8 Colorado St 7 Air Force 6 Purdue, Boise St 5 Indiana, Washington 3 NC State, UVA, Iona 2 Villanova, Tulsa 0 UT Rio Grande Valley, Texas A&M, Penn, Army, Belmont, Florida St, Bradley Others with points: Washington St (6), Southern Utah (5), Michigan (4), Wyoming (4), Michigan St (3), Oregon (2), UCLA (2), Duke (1), Portland B Team (1), St Josephs (1), Georgetown B Team (1), Kentucky (1), Wake Forest (1), Pitt (1), New Mexico (1), Penn St (1), Navy (1), Minnesota (1), American (1)
Colorado St not selected with push (gets in later on their own)
20: Air Force (#4 Mountain PROJECTED) is selected, has losses to (Mountain West Championships) Boise St; (Pre-Nationals White Race) Washington, UCLA; (Nuttycombe) Boise St, Colorado St;
Teams under consideration by points: 9 Colorado St 8 Boise St 6 Purdue, Washington 5 Indiana 4 Wyoming 3 NC State, UVA, Iona 2 Villanova, Tulsa 0 UT Rio Grande Valley, Texas A&M, Penn, Army, Belmont, Florida St, Bradley Others with points: Washington St (6), Southern Utah (5), Michigan (4), UCLA (3), Michigan St (3), Oregon (2), Duke (1), Portland B Team (1), St Josephs (1), Georgetown B Team (1), Kentucky (1), Wake Forest (1), Pitt (1), New Mexico (1), Penn St (1), Navy (1), Minnesota (1), American (1)
21: Colorado St (#5 Mountain PROJECTED) is selected, has losses to (Mountain West Championships) Boise St; (Nuttycombe) Boise St; (Pre-Nationals Cardinal Race) Oregon, Wyoming;
Teams under consideration by points: 10 Boise St 6 Purdue, Washington 5 Indiana, Wyoming 3 NC State, UVA, Iona 2 Villanova, Tulsa 0 UT Rio Grande Valley, Texas A&M, Penn, Army, Belmont, Florida St, Bradley, Weber St Others with points: Washington St (6), Southern Utah (5), Michigan (4), Oregon (3), UCLA (3), Michigan St (3), Duke (1), St Josephs (1), Kentucky (1), Georgetown B Team (1), Wake Forest (1), Pitt (1), Portland B Team (1), New Mexico (1), Penn St (1), Navy (1), Minnesota (1), American (1)
Boise St not selected with push (gets in later on their own) Breaking ties between Purdue, Washington using head-to-head Purdue loses head-to-head vs Washington, is not selected (Pre-Nationals White Race)
22: Washington (#3 West PROJECTED) is selected, has no losses to teams remaining
Teams under consideration by points: 10 Boise St 6 Purdue 5 Indiana, Wyoming 3 NC State, UVA, Iona, Oregon 2 Villanova, Tulsa 0 UT Rio Grande Valley, Texas A&M, Penn, Army, Belmont, Florida St, Bradley, Weber St Others with points: Washington St (6), Southern Utah (5), Michigan (4), UCLA (3), Michigan St (3), Duke (1), St Josephs (1), Kentucky (1), Georgetown B Team (1), Wake Forest (1), Pitt (1), Portland B Team (1), New Mexico (1), Penn St (1), Navy (1), Minnesota (1), American (1)
23: Boise St (#4 West PROJECTED) is selected, has no losses to teams remaining
Teams under consideration by points: 6 Purdue, Washington St 5 Indiana, Wyoming 3 NC State, UVA, Iona, Oregon 2 Villanova, Tulsa 0 UT Rio Grande Valley, Texas A&M, Penn, Army, Belmont, Florida St, Bradley, Weber St Others with points: Southern Utah (5), Michigan (4), UCLA (3), Michigan St (3), Duke (1), Portland B Team (1), St Josephs (1), Georgetown B Team (1), Kentucky (1), Wake Forest (1), Pitt (1), New Mexico (1), Penn St (1), Navy (1), Minnesota (1), American (1)
Breaking ties between Purdue, Washington St using head-to-head Washington St loses head-to-head vs Purdue, is not selected (Nuttycombe, Pre-Nationals White Race)
24: Purdue (#3 Great Lakes PROJECTED) is selected, has losses to (Pre-Nationals White Race) UCLA;
Teams under consideration by points: 6 Washington St 5 Indiana, Wyoming 4 Michigan 3 NC State, UVA, Iona, Oregon 2 Villanova, Tulsa 0 UT Rio Grande Valley, Texas A&M, Penn, Army, Belmont, Florida St, Bradley, Weber St Others with points: Southern Utah (5), UCLA (4), Michigan St (3), Duke (1), St Josephs (1), Kentucky (1), Georgetown B Team (1), Wake Forest (1), Pitt (1), Portland B Team (1), New Mexico (1), Penn St (1), Navy (1), Minnesota (1), American (1)
Washington St not selected with push (gets in later on their own) Breaking ties between Indiana, Wyoming using head-to-head No head-to-head tiebreaker for Indiana and Wyoming Breaking ties between Indiana, Wyoming using common opponents Indiana loses common opponents vs Wyoming, is not selected (win percentages: 0.5769230769230769, 0.45) (common opponents: Notre Dame, San Jose St, NAU, Southern Utah, BYU, Michigan, NC State, Colorado, Weber St, Air Force, New Mexico, Dayton, Boise St, Iowa, Colorado St)
25: Wyoming (#6 Mountain PROJECTED) is selected, has losses to (Pre-Nationals Cardinal Race) Oregon;
Teams under consideration by points: 5 Indiana, Southern Utah 4 Michigan, Oregon 3 NC State, UVA, Iona 2 Villanova, Tulsa 0 UT Rio Grande Valley, Texas A&M, Penn, Army, Belmont, Florida St, Bradley, Weber St Others with points: Washington St (6), UCLA (4), Michigan St (3), Duke (1), St Josephs (1), Kentucky (1), Georgetown B Team (1), Wake Forest (1), Pitt (1), Portland B Team (1), New Mexico (1), Penn St (1), Navy (1), Minnesota (1), American (1)
Breaking ties between Indiana, Southern Utah using head-to-head Indiana loses head-to-head vs Southern Utah, is not selected (Nuttycombe)
26: Weber St (#7 Mountain PROJECTED) is selected, gives no points (pushed in)
27: Southern Utah (#8 Mountain PROJECTED) is selected, has losses to (Pre-Nationals Cardinal Race) Oregon, Gonzaga;
Teams under consideration by points: 5 Indiana, Oregon 4 Michigan 3 NC State, UVA, Iona 2 Villanova, Tulsa 0 UT Rio Grande Valley, Texas A&M, Penn, Army, Belmont, Florida St, Bradley, Utah St Others with points: Washington St (6), UCLA (4), Michigan St (3), Gonzaga (1), Duke (1), St Josephs (1), Kentucky (1), Georgetown B Team (1), Wake Forest (1), Pitt (1), Portland B Team (1), New Mexico (1), Penn St (1), Navy (1), Minnesota (1), American (1)
Breaking ties between Indiana, Oregon using head-to-head No head-to-head tiebreaker for Indiana and Oregon Breaking ties between Indiana, Oregon using common opponents Indiana loses common opponents vs Oregon, is not selected (win percentages: 0.5789473684210527, 0.4444444444444444) (common opponents: San Francisco, Washington St, NAU, Southern Utah, Washington, Michigan, NC State, Colorado, Colorado St, Dayton, Portland, Boise St, UCLA, Iowa)
28: Oregon (#5 West PROJECTED) is selected, has no losses to teams remaining
Teams under consideration by points: 6 Washington St 5 Indiana 4 Michigan, UCLA 3 NC State, UVA, Iona 2 Villanova, Tulsa 0 UT Rio Grande Valley, Texas A&M, Penn, Army, Belmont, Florida St, Bradley, Utah St Others with points: Michigan St (3), Gonzaga (1), Duke (1), Portland B Team (1), St Josephs (1), Georgetown B Team (1), Kentucky (1), Wake Forest (1), Pitt (1), New Mexico (1), Penn St (1), Navy (1), Minnesota (1), American (1)
29: Washington St (#6 West PROJECTED) is selected, has losses to (Pre-Nationals White Race) UCLA, Indiana, Portland B Team;
Teams under consideration by points: 6 Indiana 5 UCLA 4 Michigan 3 NC State, UVA, Iona 2 Villanova, Tulsa 1 Gonzaga 0 UT Rio Grande Valley, Texas A&M, Penn, Army, Belmont, Florida St, Bradley, Utah St Others with points: Michigan St (3), Portland B Team (2), Duke (1), St Josephs (1), Kentucky (1), Georgetown B Team (1), Wake Forest (1), Pitt (1), New Mexico (1), Penn St (1), Navy (1), Minnesota (1), American (1)
30: Indiana (#4 Great Lakes PROJECTED) is selected, has losses to (Pre-Nationals White Race) UCLA; (Nuttycombe) Michigan;
Teams under consideration by points: 6 UCLA 5 Michigan 3 NC State, Iona 2 Villanova, Tulsa 0 UT Rio Grande Valley, Belmont, Utah St Others with points: Michigan St (3), UVA (3), Portland B Team (2), Gonzaga (1), Duke (1), St Josephs (1), Georgetown B Team (1), Kentucky (1), Wake Forest (1), Pitt (1), New Mexico (1), Penn St (1), Navy (1), Minnesota (1), American (1)
31: UCLA (#7 West PROJECTED) is selected, has no losses to teams remaining