WTW: Marathon Racing Tips via Mo Farah, Sara Hall is Back Beating Molly Huddle, Katelyn Tuohy Amazes Again
The Week That Was in Running – October 1 – 7, 2018
by LetsRun.com
October 9, 2018
Past editions of the Week That Was can be found here. Questions, comments, or a tip? Please call us at 844-LETSRUN (538-7786), email us, or post on our forum.
If you missed our coverage of the 2018 Bank of America Chicago Marathon, catch up now.
****
Two Lessons Re-Learned From Chicago
Article continues below player
History is bound to repeat itself unless we learn from our experiences, and in that light, there are a couple of things to be learned from Sunday's Chicago Marathon. To be honest, we already knew both of the lessons below, but Chicago reinforced them, and we hope that they're clear to everyone else now too after watching Chicago.
Negative split every time — it's way better to go out too slow instead of too fast in a marathon.

What do the 2012 and 2018 Chicago Marathons have in common besides being two of the deepest races in history (nine men broke 2:08 in Chicago in both 2012 and 2018; that has only happened two other times in history)? They both are races where the leaders went out way slower than expected (the first half in 2012 was 62:55 instead of the prescribed 62:15, the first half in 2018 was 63:03 instead of the prescribed 62:15-62:30).That is not a coincidence; the second sentence is what resulted in the first sentence becoming true.The 2018 Chicago race ended up being incredibly deep as instead of going out 62 low on a very humid day, the lead pack went out in 63 low and as a result, a slew of runners had good races. If Chicago had gone out in 62 flat, perhaps Mo Farah would have run faster but the majority of the field would have been decimated.
There is little reason to go with or make a surge in a marathon. Bide your time, save energy, and wait until you are ready to lead until the finish.


Multiple times during the race, Mo Farah let himself fall more than 20 meters behind the front of the lead pack (once between mile 13 and 14 and once between 19 and 20). But when the race was over, Farah was the victor. Farah, more than anyone, realizes there is zero reason to surge in the middle of the race. All a surge does is waste energy. Farah saves energy until it's time to strike, and when he strikes it is lethal.Compare Farah's smart racing strategy to that of Geoffrey Kirui — our #1 ranked marathoner in the world for 2017. While Kirui was just 6th on Sunday, we still think the world of Kirui's talent. But in both in Chicago on Sunday and in Boston in April, Kirui looked bored running with the lead pack. In both races he made big moves before mile 20 and in both races he ended up not winning.If we were coaching Kirui, we'd instruct him as follows. "Some say the marathon's halfway point is the 20-mile marker. Remember that. Do not make a single move until mile 20. Better yet, run with the lead pack until the 35k mark and then race for glory."

After the race, Farah said he realized in Chicago that he is very suited to a marathon that starts off slowish and finishes fast. He said he knows he's capable of running quicker, saying, "In terms of myself, I know as well I could have gone a lot faster today."

It's a good thing as check out our stat of the week.
****
Stat of the Week
2 – number of career marathons (out of 12, so 16.7%) that Eliud Kipchoge has run over 2:05:00. Those two races were his 2:05:30 debut win in Hamburg and a 2:08:44 gold medal win at the Olympics.
Editor's note: One of our team members argued Meb surged to win Boston in 2014, and Yuki Kawauchi surged to win Boston this year. In 2014, if the chasers behind Meb had just not let him open such a big lead and just ran a consistent pace to the finish they would have won. No need to go with Meb's surge. Their mistake was continuing to go at way too slow a pace before trying to catch Meb. This year, Kawauchi pushed the pace very fast the opening miles hoping to tire out the other runners. If the pace was too fast, the runners should have done what Mo did and not gone with the surge.
****
Yuki Kawauchi Runs Nearly The Exact Same Time As He Did In Boston, But…
It's kind of eerie how similar Yuki Kawauchi's splits were for the 2018 Boston and Chicago Marathons.
65:59 – first half split for Yuki Kawauchi at the 2018 Boston Marathon.
66:09 – first half split for Yuki Kawauchi at the 2018 Chicago Marathon.
69:59 – second half split for Yuki Kawauchi at the 2018 Boston Marathon.
70:17 – second half split for Yuki Kawauchi at the 2018 Chicago Marathon.
There was one BIG difference between the two races — his finishing place. While he ran just 26 seconds slower in Chicago than Boston, he finished 18 places lower: first in Boston, 19th in Chicago.
After his subpar showing, Kawauchi said he was "ashamed" by the performance. Here is what he told Brett Larner, his agent and the brains behind Japan Running News:
"I just couldn't move. I had trouble training in the heat in Saitama this summer. I knew some of my results over the summer weren't great but I thought I had put it all together for this race. I'm ashamed to have run a time like this in Chicago and it only reinforces how much I'm looking forward to leaving my job so I can go away somewhere cooler this summer and do the kind of training that will let me be competitive in a race like this."
Kawauchi's struggles weren't a surprise to us or Larner. Prior to the race, Larner pointed out that while Kawauchi has broken 2:11 an incredible 20 times in his career, he's never done it during a fall marathon as he has always struggled to train properly in the heat (and with a full-time job he can't relocate to a cooler climate).
MB: YUKI KAWAUCHI goes home DEVASTATED
More: Pre-race: Know Your Japanese Runners in Chicago
*Osako Brings Japanese National Record Back to Chicago
****
Sara Hall Beats Molly Huddle
11 – races in a row where Molly Huddle had defeated Sara Hall before last weekend when Hall defeated Huddle by one second to win the US 10-mile title at the Medtronic TC 10 Miler.
Yes, Huddle is in marathon training — she's running New York in four weeks — but so is Hall, she is running Frankfurt in three weeks. Both have been training in Flagstaff.
True distance aficionados may remember the last time Hall defeated Huddle. While Huddle will unfortunately always be known in part for letting up before the line and blowing a bronze medal at the 2015 Worlds, that wasn't the first time Huddle celebrated too early. At the 2012 USA XC champs, Huddle and Hall were neck-and-neck coming home and Huddle put her arms up in celebration only to lose to Hall at the line. See it for yourself.
While the result was close last week in Minnesota, we went and watched the USATF.TV+ video of the race and can confirm that Huddle didn't let up early. See for yourself.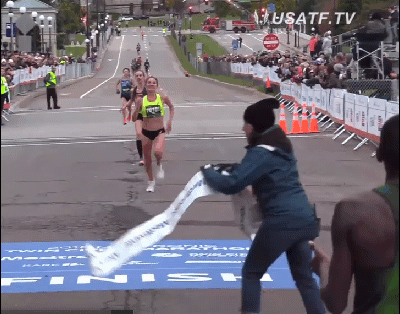 Huddle, 34, and Hall, 35, actually have a long racing history that dates to their days in the NCAA when Hall (then known as Sara Bei) was one year ahead of Huddle. Collegiately, one could argue Hall was more successful than Huddle. While Huddle was a 10-time All-American and Hall a 7-time All-American, Hall's collegiate PBs at 3000 and 5000 were both faster than Huddle's (9:05.02 vs 9:08.60 and 15:24.74 vs 15:32.55) and Hall was a three-time NCAA runner-up on the track while Huddle was a runner-up only once. Hall's top NCAA XC finish (3rd) was also better than Huddle's (5th).
Huddle was in two of the three races in which Hall finished second at NCAAs, including the 2004 outdoor 5,000 final where Hall outkicked Huddle — Hall was second in 16:24.90 and Huddle third in 16:25.44. The winner of that race? Kim Smith, who ran away with it in 15:48.86.
As pros, Huddle clearly has a big edge. According to Tilastopaja, Huddle holds a career 21-10 edge head-to-head (though it may be missing a few races) and Huddle's PBs at 3000, 5000, 10,000, and the half marathon are all WAY better than Hall's (Huddle is the American record holder in the latter two events and used to hold the AR in the 5,000). What's interesting is that, in her mid-30s, Hall has become relevant again on the roads as a marathoner, where her PB is better than Huddle's (although Huddle only has two career marathon finishes, and one was in the horrific weather of Boston 2018).
Molly Huddle's PBs: 4:08.09, 8:42.99, 14:42.64, 30:13.17, 67:25, 2:28:13
Sara Hall's PBs: 4:08.55, 8:52.35, 15:20.88, 32:35.87, 69:27, 2:26:20
*Huddle Post-Race Interview
*Hall Post-Race Interview
More: MB: Sara Hall BEAT Molly Huddle Today
****
Nike Joins The LRC Bandwagon and Starts Noting Who Is Foreign-Born / Foreign-Born Guys Dominate US 10 Miler
We know it drives some people NUTS when we mention where certain athletes were born. Maybe those critics will calm down now that Nike is noting people's places of birth in its inspirational ad campaigns. Check out this ad that was in Chicago.
In case you can't read it, the ad says "Be more than a national hero. Be a national hero in a country you weren't born in."
Speaking of foreign-born athletes, the big winner in Minnesota at the US 10-mile champs was Kenyan-born Shadrack Kipchirchir as he took home $22,000 — $12,000 for the win (in 46:32) and a $10,000 bonus for winning the battle of the sexes race (the women were given a 5:45 head start).
The men's race was noteworthy for another reason as well. The top eight finishers were all born outside of the United States.
USA 10-Mile Championships Top 10
1. Shadrack Kipchirchir, 29, Colorado Springs, CO 46:32 $12,000 + 10,000e – born in Kenya
2. Leonard Korir, 31, Colorado Springs, CO 46:35 10,000 – born in Kenya
3. Stanley Kebenei, 28, Colorado Springs, CO 46:39 7,000 – born in Kenya
4. Kirubel Erassa, 25, Colorado Springs, CO 47:23 4,000 – born in Ethiopia
5. Josef Tessema, 29, Castle Rock, CO 47:25 3,000 – born in Ethiopia
6. Abbabiya Simbassa, 25, Colorado Springs, CO 47:26 2,000 – born in Ethiopia
7. Abinet Adraro, 31, Albuquerque, NM 47:27 1,000 – born in Ethiopia
8. Futsum Zienasellassie, 25, Flagstaff, AZ 47:28 750 – born in Eritrea
9. Jerrell Mock, 23, Fort Collins, CO 47:29 500 – born in the US
10. Andrew Colley, 27, Blowing Rock, NC 47:36 250 – born in the US
****
Gwen Jorgensen Wasn't The Only One To Struggle in Chicago
Gwen Jorgensen wasn't the only sub-32 minute 10k woman to struggle in Chicago. Former Dartmouth runner Alexi Pappas, the Greek Olympian and onetime Runner's World cover girl, struggled even more in the second half than Jorgensen. In what was her first race since the November 2016, Pappas, who has a 31:36.16 10,000 pb, ran 2:43.38 by splitting 76:30-87:08.
first marathon in the books
harder than it looks
choosing half full cup
because bravies don't give up!!!
.
.
bravies your beyond incredible cheering inspired me to finish this marathon
.
felt hamstring partway thru
but knew giving up was not an option
thank you bravies thank you pic.twitter.com/CRZUSDM4xQ

— Alexi Pappas (@AlexiPappas) October 7, 2018
****
PR Of the Week
Australia's Jack Rayner, just 22, went into Sunday's inaugural Commonwealth Half Marathon Championships — held as part of the Cardiff University Cardiff Half Marathon — with a 13.1 pb of just 62:12 (and track pbs of 7:52, 13:41, and 28:59). He left the race with an incredible 61:01 pb, a victory in the race (Ugandans Fred Musobo and Timothy Toroitich were second and third) and likely dreams of being the Australian record holder as the fastest any Aussie has ever run on a record-eligible course like Cardiff is 60:56 (Collis Birmingham).
Rayner told Athletics Australia after the race that he got the win by following some very simple instructions:
"I went into the race with no expectations. My coach (Nic Bideau) told me to go with the front pack and stick on for as long as possible and kick down in the last 1km. Which is exactly what I did."
If only Geoffrey Kirui had someone giving him similar advice.
As we were looking into Rayner's win, we were shocked by how much he looks like American Craig Engels. And if Rayner's name sounds familiar to American fans, it might be because he outkicked Matthew Centrowitz to win the slow heat of the 5,000 at Payton Jordan last year as a 21-year-old.
Your Commonwealth Half Marathon Championships medallists in the men's race!

???- Jack Rayner 61:01
???- Fred Musobo 61:08
???- Timothy Toroitch 61:17 pic.twitter.com/dVhlAyFqVh

— Cardiff Half Marathon (@CardiffHalf) October 7, 2018
Well this is cool. @craigathor has come out last minute from the USA for a crack at the #MitchellStreetMle this Sunday in Darwin. ? pic.twitter.com/3rDQAAstuV

— Richard Welsh (@WelshyKnows) September 13, 2018
Uganda's Juliet Chekwel won the women's race in 69:45.
More: MB: Cardiff/Commonwealth half marathon
****
Katelyn Tuohy Destroys Holmdel CR
Two weeks ago NY high school junior Katelyn Tuohy put up the third-best Tully Runners girls' speed rating in high school history (175.7) when she won the Ocean State Invite by 2:15 in 16:06.87. Well this weekend, Tuohy took down the venerable Holmdel Park course record in NJ by 67 seconds and improved her speed rating to 177.0. That's an incredible feat — every significant NJ high school runner runs Holmdel since it is the state meet venue every year.
Tully Runners creator Bill Meylan explained after the race that in a normal year, Tuohy's time would probably have produced a speed rating of 180 but that his analysis showed the course ran 9-10 seconds faster this year as compared to last (each speed rating point is worth three seconds).
Tully Runners' Top 5 Girls' XC Speed Ratings
180.3 Amber Trotter 12 Redwood Valley CA 16:24.07 (2001) — Orlando Foot Locker course record
177.9 Melody Fairchild 12 Boulder CO 16:39.2 (1990) — Balboa Park Foot Locker course record
177.0 Katelyn Tuohy 11 North Rockland NY 16:21 (2018) — Broke Holmdel CR by 67 seconds
173.7 Cathy Schiro 12 Dover NH 16:46 (1984) — Kinney Northeast (VCP record)
173.0 Julia Stamps 10 Santa Rosa CA 16:41.9 (1994) — Won FL by 30.2 seconds
*****
Quotes Of The Day And Last Week's Home Pages
To see the actual quotes of the day from last week or last week's home page or any home page, go to our archive page.
Got a tip, question or comment? Please call us at 844-LETSRUN (538-7786), email us or post in our forum.