The Best Distance Runner in Europe is 17 Years Old: Jakob Ingebrigtsen Runs 54.09 Final Lap to Complete Euro 1500/5000 Double
By LetsRun.com
August 11, 2018
In the 84-year history of the European Athletics Championships, no one — man or woman, 17 years old or 117 years old — had ever won the 1500 and the 5,000 meters at the same championships. But Norway's Jakob Ingebrigtsen is a man — sorry, a boy — so impossibly precocious that he makes history with practically every step he takes on a track. The 17-year-old Ingebrigtsen wasn't going to let history prevent him from becoming the youngest-ever European champion in a track event when he won last night's 1500-meter title in Berlin. So why would he let it prevent him from doubling up?
Article continues below player
While Ingebrigtsen has the boyish face of a teenager, he races like a man a decade older.  He won tonight's 5,000-meter final — clocking a 13:17.06 personal best in the process — in much the same way he won last night's 1500, controlling the final kilometer before pulling away as he came off the final turn. Unlike last night, however, when Ingebrigtsen took almost a minute to celebrate the victory as he waited for confirmation of the result on the scoreboard, he was throwing his arms out in joy before even crossing the finish line, his 54.05 final lap far too good for anyone else in the field. Brother Henrik Ingebrigtsen, the 2012 European 1500 champ, earned silver in 13:18.75, as France's Morhad Amdouni, the 10,000m champ, took bronze in 13:19.14. Jakob's winning time was the second-fastest in meet history, behind only Jack Buckner's 13:10.15 from 1986.
After Mo Farah retired from the track last year, there was a gaping hole to fill as the planet's most dominant distance runner on the track. Jakob Ingebrigtsen still has a ways to go to fill those shoes at the global level, but he has already conquered an entire continent. That's right: the best distance runner in Europe is a 17-year-old from Norway, a boy who is still so young that his father/coach Gjert demanded he celebrate last night's victory in the 1500 with a glass of warm milk.
The race
With the big-kicking Ingebrigtsen brothers in the mix, the rest of the field tried their best to ensure this one did not come down to a kick, and the pace was honest from the gun as the leaders hit 4:19 at 1600. The field was on the same pace with four laps to go (9:09 at 3400, which is 13:27 5k pace), but by the time Jakob moved into the lead a lap later, there was still a large pack at the front.
Ingebrigtsen kept it going with a 64.96 third-to-last lap before picking it up to 61.95 on the penultimate lap. At that point, the lead group was beginning to splinter, and Jakob had company as Henrik had joined him in second place.
At the bell, the Ingebrigtsens dropped the hammer and began to separate down the back stretch. They were clear of the field by the final turn, and while Henrik had done well to hang with his kid brother to that point, he could not hold on any longer as Jakob pulled away with ease to cruise to his second European title in as many days. Henrik finished a clear second place as Amdouni outkicked Italy's Yemaneberhan Crippa for bronze.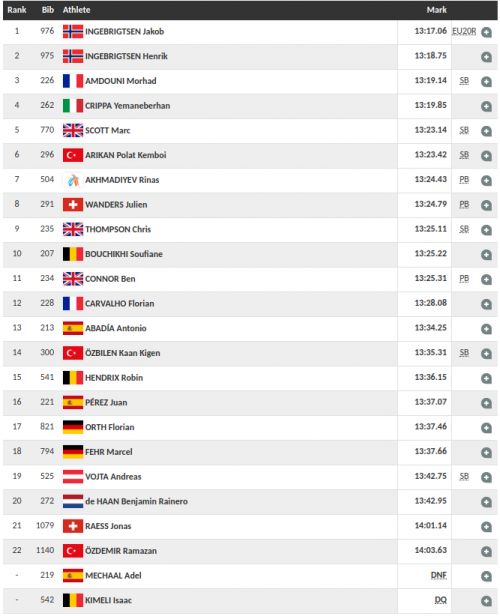 QT: A 17-year-old is the best runner in Europe
If Jakob Ingebrigtsen were American, he'd be starting his senior year of high school next month. U.S. fans went gaga when Alan Webb ran a 3:53 mile as an 18-year-old; Ingebrigtsen has already run a 3:52 mile (and a 3:31 1500) and now has two continental titles. What he's done this year is simply ridiculous.
QT: Ingebrigtsen got to celebrate this one
In the 1,500m, Ingebrigtsen was so surprised to be in the lead down the homestretch and no one right on him that he wondered if he had kicked a lap too early. Then things got very tight at the finish, and he couldn't fully comprehend and celebrate his victory for nearly a minute after he crossed the line. Tonight was a completely different story. Jakob was able to put up a big smile on his face and throw out his arms as he approached the finish. At 17 he is the best in Europe and he got to enjoy it.
QT: Ingebrigtsen made it look easy
Perhaps we shouldn't be surprised by a 3:31 1500m runner who had already run 13:20 this year dusting a field where no one had run under 13:16.97 this year, but Ingebrigtsen is only 17, and the 5,000m is not his best event. What was most impressive was how easy and effortless he made the last lap look. Many athletes are afraid to lead, but Ingebrigtsen embraced it in both the 1500 and 5000 finals, even though he was the youngest runner in both fields.
Ingebrigtsen was actually making it look easy well before the final lap as he stuck out his hand for a high-five from Henrik midway through the race.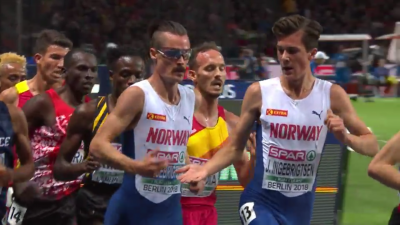 QT: Bring on the rest of the world
As good as Ingebrigtsen is, he was only 2nd at the World U20 champs in the 1,500 and 3rd in the 5,000m. We want to see what he does the rest of the year, but there may not be many opportunities for him. There are no opportunities remaining to earn Diamond League points in the 1500/mile and Ingebrigtsen is currently 14th in the DL points (top 12 make the final). So he'll need a couple of people to pull out to make the final. There is a non-Diamond League mile at the Birmingham Diamond League meet next Saturday, where he could race Matthew Centrowitz if he wants (Centro won't be in the DL final either).
Discuss Ingebrigtsen's incredible accomplishment on our messageboard:
MB: Jakob MF Ingebrigtsen X 2!!!!!!!!!!!!!!! 54.09 Final lap to dust field in 5000
MB: Jakob: This is ridiculous, I should do well in the 5 k tomorrow.