Shock USATF Qualifying Day 1: Robby Andrews is OUT, Drew Windle, Donavan Brazier, Sammy Watson, Sydney McLaughlin DNS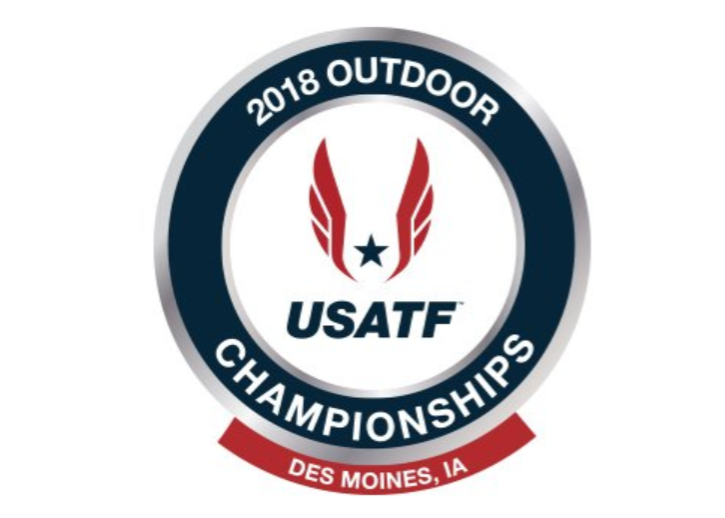 June 21, 2018 to June 24, 2018
by LetsRun.com
June 21, 2018
DES MOINES, Iowa — Those expecting an uneventful day in the distance qualifying at the 2018 USATF Outdoor Championships were in for a surprise.
First, a few prominent athletes on the start lists didn't show up on the starting line. Reining world junior and NCAA champ Sammy Watson– DNS. Then, World Indoor silver medallists Drew Windle was a surprising DNS, followed by 2017 USATF Champion Donavan Brazier.
Article continues below player
But the biggest bombshell was yet to come once the racing got underway in the final heat of the final distance prelim, the men's 1500, where reigning U.S. champion and 2018 US leader Robby Andrews was eliminated after finishing sixth in 3:43.89.
Throw in Sydney McLaughlin not starting the women's 400m and it was a very surprising day of qualifying.
Other minor surprises, in the women's 1500, four of the top 9 seeds based on 2018 seasonal best times failed to make the final – #4 (Stephanie Brown), #6 (Emily Lipari), 8th (Cory McGee), and #9 (Alexa Efraimson). 2016 World Indoor champ Boris Berian was eliminated in the men's 800 — though that wasn't as much of a shock considering he hadn't run faster than 1:48.84 this year as he continues to recover from the Achilles injury that cost him all of 2017. Berian was this first man out, and his time of 1:47.84 today was a season's best (he was .35 from qualifying).
We recap all the distance qualifying briefly below.
Women's Steeple
The women's steeple heats were without drama as all of the big players advanced including Olympians Emma Coburn, Courtney Frerichs and Shalaya Kipp. Only six women came into the meet with a seasonal best under 9:50 and all but one of them moved on with sixth seed Courtney Coppinger being the only casualty.
Top 6 Steeplechase Seeds/Results
1 9:08.13 Emma Coburn – won heat 1.
2 9:20.84 Courtney Frerichs – won heat 2
3 9:44.34 Shalaya Kipp – auto qualifier in heat 1(3rd)
4 9:44.80 Mel Lawrence – riunner-up in heat #2
5 9:48.57 Grayson Murphy – final time qualifier with 10:01.77 clocking.
6 9:49.04 Courtney Coppinger- eliminated after running 10:03 in heat #2.
Emma Coburn on what she thought when she heard about Ruth Jebet's reported drug positive: "Duh"
Coburn's race today was pretty boring considering her first two steeples of 2018 included a fall on the final water jump and a barrier that was set to the men's height. But Coburn still had plenty to talk about as she spoke for the first time publicly about Ruth Jebet, the world record holder and Olympic champion who reportedly tested positive for EPO (nothing has been announced officially, but Jebet has not competed this year and Coburn told us "the rumor is no one can even find her right now").
So what did Coburn think when she heard the news?
"My reaction was duh," Coburn said. "That's kind of how I personally felt. I've had many conversations with Ruth at meets and in call rooms and she's super friendly and sweet, but someone's personality, them being really friendly and nice, isn't necessarily an indication of how they choose to compete.
"I think in 2014, she ran, the first time I really noticed her and remember her was at the Continental Cup. And I beat her there and I think the following year, her best was in the 9:20s. I'm trying to remember, but I don't remember her stats fully (it was 9:21, though she ran 9:20 in 2014). And then the next year, she runs 8:52. [She also ran] the middle kilometer [of her 8:59 Olympic win in the] low-2:50s by herself in the heat of Rio. So I think just seeing that jump made a lot of people within the sport suspicious."
To be totally transparent, Jebet is still officially only 21 years old, and it's not unprecedented for an athlete to make a big jump from age 18 to age 19, as Jebet did. That said, even if Jebet's age is accurate, going from 9:20 to 8:52 in an event where no one else has ever run faster than 8:58 does raise a red flag.
Considering the news about Jebet only broke in March, it's unlikely that she'll be stripped of her Olympic gold. Coburn would stand to be elevated to bronze, but admitted, "I'm not going to hold my breath that she's gonna be officially sanctioned."
For the first time, Courtney Frerichs is here to win
Over the past four years, Coburn has ruled over the women's steeple like a queen. Frerichs admitted that in years past at USAs, she had only been focused on making the team. But after finishing second last year, she regretted not going with Coburn when she made her move, and now that she's the World Championship silver medalist (only 1.19 seconds behind Coburn), her goals have changed.
"This is definitely the first time I'm coming in eyeing the title," Frerichs said.
Frerichs was 4th at the Oslo Diamond League in 9:20, over 10 seconds behind Coburn, but said that she ran that race more cautiously after getting shuffled back early in order to score some Diamond League points. She estimated that she was between 9:10 and 9:12 shape at the time so she should give Coburn a better run in Saturday's final.
Women's 800
Women: Sammy Watson DNS
The women's 800 heats also went according to form as the top 4 seeds all won one of the four heats. Of the 10 women entered with a seasonal best under 2:01.50, nine of them moved on the semifinals with the lone casualty being 9th seed Darroneisha Lott who was eliminated after finishing 6th (2:04.82) in heat #2.
The biggest drama occurred off the track as NCAA champ Sammy Watson was a DNS. That makes sense as Watson has raced the last two weekends, winning NCAAs and US Juniors, and will be focusing on retaining her World U20 title in Finland next month.
Top 10 800 Seeds / Results
1 1:56.86 Ajee' Wilson – won heat 3
2 1:58.35 Charlene Lipsey – won heat 1
3 1:59.36 Raevyn Rogers – won heat 4
4 1:59.70 Ce'aira Brown – won heat 2
5 2:00.67 Emily Richards – finished 4th in heat #3, snagged a time qualifier
6 2:00.72 Sabrina Southerland – Auto qualifier, 2nd in heat #3.
7 2:00.88 Madeline Kopp – Finished 5th in heat #1 (2:04.08), eliminated.
8 2:01.06 Kaela Edwards – – Auto qualifier, runnerup in heat #2.
9 2:01.26 Darroneshia Lott – eliminated after finishing 6th (2:04.82) in heat #2.
10 2:01.40 Hanna Green – 3rd auto qualifier in heat #3
Raevyn Rogers was hoping for a souvenir from Hayward Field
Rogers hasn't competed since Pre on May 26 as she said she's been dealing with some health issues, but looked good today in winning heat 4. She also mentioned that she's tried to get back into Hayward Field since it closed following NCAAs but has been told no firmly by the security in place.
Ajee Wilson is hoping for a 1-2-3 finish for Derek Thompson's training group
Between Wilson, Lipsey, and Rogers, Thompson coaches the three fastest seeds and Wilson said she's hoping they can pull off the sweep.
Men's 800: Windle, Brazier DNS
In the men's 800 heats, 2017 champ Donavan Brazier, who hasn't raced all year outdoors, scratched a few hours before the start. Then, world indoor medallists Drew Windle who has raced outdoors was a surprising DNS.
Once the racing began, the big names all moved on as Isiah Harris (1;48.71), Clayton Murphy (1:47.17) and Erik Sowinski (1:46.37) all won their heats as did Jesse Garn (1:49.14).
The biggest name to not advance was 2016 world indoor champ Boris Berian. Berian, who is on the comeback trail from injury, looked better than he has all year but was the first guy left out of the semifinals. He led the first 700 of heat #3 before being passed by four men late. His seasonal best of 1:47.84 – a full second faster than what he'd run so far this year – was the 5th fastest time of the day at that point but he'd fail to move as Erik Sowinski took the 4th and final heat out hard and sixth place ended up being 1:47.10.
Men's 800 Top 12 Seeds / Results
1 1:44.76 Isaiah Harris – Won heat 1 in 1:48.71
2 1:45.07 Erik Sowinski – Won heat 4 in fastest time of day 1:46.37
3 1:45.67 Bryce Hoppel – NCAA 4th placer was eliminated in heat #4 (7th, 1:48.09)
4 1:45.83 Drew Piazza – 3rd auto qualifier in heat #1 (1:49.16)
5 1:45.85 Brandon Lasater – 2nd auto qualifier in heat #3 (1:47.38)
6 1:45.97 Clayton Murphy – won heat #3 in 1:47.17
7 1:46.06 Daniel Kuhn – time qualifier out of heat #4 where he was 4th (1:46.80) – that was the 4th fastest time of the day.
8 1:46.06 Cooper Williams – Finished 6th in heat #1 (1:50.04), didn't advance
9 1:46.17 Jesse Garn – Won heat #2 (1:49.14)
10 1:46.30 Quamel Prince – 3rd auto qualifier and 3rd fastest time of day in heat #3 (1:46.44)
11 1:46.31 Vincent Crisp – eliminated after finishing 5th in heat #1 (1:49.75)
12 1:46.64 Robert Ford- Auto qualifier as 2nd fastest man of day in heat #4 (1:46.37)
Danny Mackey explains why Drew Windle scratched
We asked Windle's coach Danny Mackey why Windle pulled out from the meet. Here's what he told us in a text message:
"Nothing acute, so it's tough to articulate, but he's just super worn down. I know he just won [the] Portland [Track Festival on June 10] but he looked off, then Monday in his Pre-race my gut was telling me to pull him. I just wanted to protect him from getting sick or hurt. He's taking this week off and will hopefully get in a few diamond leagues."
Isaiah Harris is undecided about turning pro
Harris looked good in winning the first heat today, and will be looking to add the U.S. title to the NCAA title he won two weeks ago in Eugene. We asked Harris, who made the Worlds team last year, if he had thought about turning pro since NCAAs.
"It's been going through my mind. Still making that decision right now, so we'll see," Harris said, noting that even if he returns to Penn State for his senior year, he'll still be happy.
Boris Berian still has work to do
Berian was in pretty good spirits after the race as his time (1:47.84) was the fastest since he returned from the Achilles injury that cost him all of 2017. Berian, who had platelet-rich plasma therapy (he's treating surgery as a last resort) said it's still tough doing speed work coming back from the Achilles injury but is optimistic as he's trending (slowly) in the right direction.
Clayton Murphy is coming around
Murphy is pleased with how training is going and said that after an up-and-down last two years that have included a coaching change and some setbacks last fall, he's back in good form.
"I'm finally starting to find that rhythm again and feeling that confidence again," Murphy said.
Women's 1500 Heats

The depth of the women's 1500 may have never been better in the US as more than 30 women hit the 4:11 qualifying standard and that showed today as four of the top 9 seeds based on 2018 seasonal best times failed to make the final as #4 Stephanie Brown, #6 Emily Lipari, 8th Cory McGree, and #9 Alexa Efraimson all failed to make the 12-person final.
While those four went home, the top three seeds had no problems as Shelby Houlihan, Jenny Simpson and Brenda Martinez all won one of the three heats.
Kate Grace, who has struggled in her transition to the Bowerman Track Club, looked much better today with a 59.3 final lap to qualify with Houlihan.
Top 12 Women's 1500 Seeds / Results
1 3:59.06 Shelby Houlihan – Won heat #3 in 4:14.79
2 3:59.37 Jenny Simpson – Won heat #1 in 4:07.67
3 4:02.65 Brenda Martinez – Won heat #2 in 4:10.52
4 4:06.71 Stephanie Brown – Finished 7th in heat #1 (4:09.25), did not qualify.
5 4:07.10 Kate Grace – Auto qualifier as runner up of heat #3 (4:14.95)
6 4:07.30 Emily Lipari – Eliminated after finishing 5th in heat #2 (4:12.15)
7 4:07.33 Dani Jones – Time qualifier after finishing 6th in heat #1 (4:08.82)
8 4:07.60 Cory McGee – Eliminated as 4th placer in heat #3 (4:15.66)
9 4:08.47 Alexa Efraimson – Eliminated after finishing 5th in heat #3 (4:15.90)
10 4:08.84 Rachel Schneider – Auto-qualifier as runner-up of heat 2 (4:10.64)
11 4:09.14 Nikki Hiltz – Auto-qualifier as 3rd placer in heat #3 (4:15.29)
12 4:09.38 Shannon Osika – Auto-qualifier as 3rd placer in heat #2 (4:10.65)
Shelby Houlihan interview
Jenny Simpson interview
Simpson said that the key to turning the tables on Houlihan — who beat her at Pre last month — is simple: she needs to be fitter than her (and she just might be).
Dani Jones interview
Jones snuck into her first U.S. final as the final time qualifier.
Men's 1500 Heats
Robby Andrews was the only one of the top 5 seeds based on 2018 seasonal bests to not advance but #6 seed David Ribich, now of the Brooks Beasts, fell and didn't advance. 5k/10k man Hassan Mead tried the 1500 in this off year and didn't make it either.
Top 12 Men's 1500 Seeds / Results
1 3:36.05 Robby Andrews – Finished 6th in heat #3 (3:43.89) and eliminated.
2 3:36.33 Robert Domanic – Auto Q in 2nd of heat #1 (3:46.08).
3 3:36.84 Sam Prakel – Runnerup (Q) in heat #3 (3:43.49)
4 3:36.95 Johnny Gregorek – Time qualifier in heat #2 (4th, 3:40.79)
5 3:37.06 Pat Casey – Winner of heat #3 – 3:43.48
6 3:37.35 David Ribich – Fell in heat #1 and finished last (3:59.16).
7 3:37.96 Matthew Centrowitz – Won heat #1 in 3:46.05.
8 3:38.32 Hassan Mead – Finished 5th in heat #3, eliminated (3:43.65)
9 3:38.67 Graham Crawford – Finished 7th in heat #3, eliminated (3:44.96)
10 3:39.07 Blake Haney – Finished last in heat #2 (3:53.19)
11 3:39.35 Rob Napolitano – Finished 6th in heat #1, eliminated (3:47.52)
12 3:39.49 Drew Hunter – Runnerup (Q) in heat #2 (3:40.68).
Robby Andrews: "I thought I gauged it well…I'm pretty shocked."
Andrews, the U.S. leader this year in addition to the reigning champion, had to come from behind in the home straight today, but that's not uncommon for him — he made his first U.S. team in 2015 by doing just that, and had to come from much further back to do it. He wasn't too upset with how he raced today and was at a loss to explain what happened.
"Hasn't happened to me a lot," Andrews said. "Thought I executed okay…I don't know what happened. That was frustrating for sure…I thought I gauged it well…I'm pretty shocked."
After the race, the athlete cooldown area was very loud as one or more athletes from Andrews' heat was banging loudly on something in frustration. But Andrews said he wasn't the one pulling a LeBron James and breaking his hand.
"My knuckles are okay," Andrews said. "I'll do that when I get home."
Matthew Centrowitz skipped this meet in 2014, but he's here this year
Centrowitz said that he only has one regret in his career: skipping USAs in 2014 (he ran the 1500 in Lausanne the following week instead, clocking 3:32.70). Other than that meet, Centrowitz has finished first or second at USAs every year since 2011, but that "did not compete" in 2014 breaks up the streak.
As for this meet, Centrowitz is feeling pleased with his fitness right now, and while he'll go off as the favorite in Saturday's final, he's not overlooking the field. Even before Andrews was eliminated, he told us:
"Might not just be just Robby and I. There are a couple of guys that are stepping down from other events. Should be a fun race."
Eric Jenkins has some wheels
Jenkins is known more as a 5k guy, but he's got some serious wheels — he won the Wanamaker Mile in 2017 — and showed it today by winning what was probably the deepest heat, top to bottom.
Jenkins, who is also entered in the 5k but said it was more of a "backup" plan, said that he thinks he'll have the most success by staying near the front in the final.
"I always run my best from the front, like today," Jenkins said. "I'm gonna need something special to pull out a similar performance in a day or two. I want to be in the front. I don't want to be in the back fighting for fifth."
We're glad everyone showed up in the 1500 as these were some entertaining heats
Several events at this meet aren't very deep, and several of the events that are deep have been hurt by withdrawals. Not the men's 1500. The big guys all showed up, and you even had guys from other events like Jenkins and reigning U.S. 10,000 champ Hassan Mead dropping down. The result was some great racing with meaningful consequences — Andrews wasn't at his best today, and he was punished for it with elimination. Johnny Gregorek, a World Championship finalist last year, only made the final on time. That sort of stuff probably wouldn't have happened if the 1500 was more like the women's steeple (great quality up top but no depth) or the men's 800 (several big names scratched).