Molly Huddle Crushes Final 4 Laps To Win 4th Straight USATF 10,000 Title Just 66 Days After Running Boston Marathon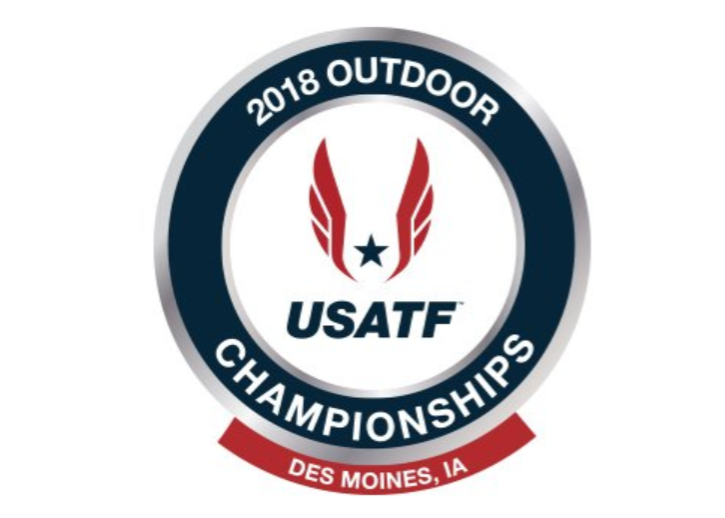 June 21, 2018 to June 21, 2018
by LetsRun.com
June 21, 2018
DES MOINES, Iowa — Just 66 days after she ran the Boston Marathon, Molly Huddle proved that she is still America's premier long distance runner on the track as she put on a masterclass performance on how to squeeze the life out of your opponents to win her fourth straight 10,000-meter title tonight at the 2018 USATF Outdoor Championships.
Huddle, who led for all 25 laps of the race, got the win by slamming home the final 4 laps. Her 73.14 fourth to last lap shredded the lead pack from 9 to 5, but she was only getting started. Then she ran a 71.76 and the lead pack was down to just two as Marielle Hall, the 2016 US Olympian at 10,000 who was running her first 10,000 since the Rio Olympics, was the only one able to maintain contact. A 68.99 penultimate lap didn't drop Hall. It was fair to wonder if the 33-year-old Huddle might be vulnerable to the 26-year-old Hall over the final 400, as Huddle not only is older, but trying to get her speed back after the marathon.
Article continues below player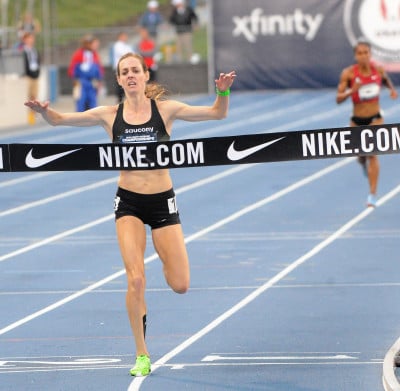 Far from it. Within the first 100 meters of the last lap, the race for all practical purposes was over as the final lap turned into a coronation for Huddle who ran it in 64.52 to close out a final 1600 of 4:38.39 to win in 31:52.32 to Hall's 31:56.68. Third place in 32:05.05 went to 34-year-old Stephanie Bruce, who was working on six fewer days' recovery than Huddle as Bruce ran the London Marathon on April 22. Huddle's training partner Emily Sisson was fourth in 32:06.31.
In her first US Championships on the track, Olympic triathlon champ Gwen Jorgensen stayed with the lead pack until Huddle began her push for home with four laps to go and ended up 7th in in 32:24.09.
Comments interviews/below results:
MB: My god Molly Huddle is good. 66 days after Boston she runs a 4:38 final 1600 to win her 4th straight 10k title
MB: Official 2018 USATF Outdoor Championshp Discussion Thread
Results
  1 Molly Huddle                 Saucony               31:52.32  
  2 Marielle Hall                NIKE/Bowerma          31:56.68  
  3 Stephanie Bruce              HOKA ONE ONE          32:05.05  
  4 Emily Sisson                 New Balance           32:06.31  
  5 Sarah Pagano                 Boston Athle          32:13.21  
  6 Rochelle Kanuho              Unattached            32:19.49  
  7 Gwen Jorgensen               Bowerman TC           32:24.09  
  8 Molly Seidel                 Saucony/Free          32:24.78  
  9 Chelsea Blaase               Hansons-Broo          32:28.97  
 10 Carrie Dimoff                Bowerman TC           32:32.00  
 11 Jessica Tonn                 Brooks/BROOK          32:47.29  
 12 Anne-Marie Blaney            Hansons-Broo          33:27.85  
 13 Samantha Bluske              rabbit                33:48.11  
 14 Bridget Lyons                Atlanta TC            33:49.40  
 15 Olivia Pratt                 Hansons-Broo          33:51.19  
 16 Emily Durgin                 New Balance           33:53.22  
 17 Katrina Spratford            NE Distance           34:04.11  
 18 Amy Regan                    Kansas City           34:04.32  
 19 Molly Grabill                Unattached            34:21.35  
 20 Hannah Dorman                Cal St. Chic          34:44.42
Quick Take: Molly Huddle's brilliance continues
In case you are counting, that's 7 outdoor track titles for Huddle (4 in the 10k, 3 in the 5k) and 27 overall counting the roads. While Huddle has made it look easy, gradually grinding her opponents into sawdust with her unrelenting front-running, it takes an incredible level of consistency to show up and crush it at this meet every year, especially this year, when Huddle had a brutally tough marathon to recover from.
And she doesn't have any plans to stop. Huddle said she wants to run a marathon this fall and another next spring but that she'd like to go back to the 10k for the 2019 Worlds.
We asked Huddle whether she had any regrets about toughing out her 2:50 13th-place finish at the Boston Marathon in April after seeing Galen Rupp and Kellyn Taylor — both of whom dropped out — bounce back with big PRs.
Huddle said that wasn't really an option for her as she had a root canal scheduled for the day after Boston and wound up having to get her wisdom teeth removed as well.
"I was pretty beat-up," Huddle said. "Maybe if I hadn't finished, I wouldn't have been so beat-up, but I still would have had to have all the tooth surgeries…I just don't think that would have worked out. So fortunately, I don't have hindsight digging at me, like regrets."
Quick Take: Gwen Jorgensen, like everyone else, just didn't have an answer for Molly Huddle tonight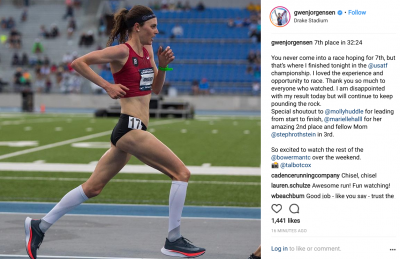 Jorgensen ran with the leaders until a mile to go, when she could not hang with Huddle's big move. She wound up a respectable 7th in her first USA champs on the track.
Jorgensen said she wished she held up a bit better over the final mile, but that she's been having fun doing track races (this is her last one for the time being) even though most of her training has been geared around getting her ready to run a fall marathon.
"I feel like I'm doing marathon training," Jorgensen said. "This past month, I was up at altitude in Mammoth Lakes and the goal was to just try to build those miles and get that fatigue in the legs, the marathon fatigue."
Jorgensen admitted that running mega-miles has been tough on her body, but she has kept a positive attitude throughout it all and completely trusts her coach Jerry Schumacher — who knows a thing or two about training women to do big things in the marathon.
"There were days that were a big struggle — you know, a couple long runs at the end of a 100-mile week that I was basically walking. I know that that's not anywhere [near where] I need to be to be successful so I know I have a lot of work to do, but I'm excited for the challenge."
PS. Do you recognize the voice of the woman asking the first questions? It's none other than Jorgensen's Bowerman TC teammate Colleen Quigley, who isn't racing here because of a foot injury, but was asking questions in the mixed zone.
Full Results Results.usatf.org.