Sara Hall Moves into US Top 10, Linden Hall Breaks Aussie Record, Geoffrey Kamworor Cashes In, The LetsRun.com Singlet PRs
The Week That Was In Running, May 21 – May 27, 2018
by LetsRun.com
May 30, 2018
Past editions of The Week That Was can be found here. Questions, comments, or a tip? Please call us at 844-LETSRUN (538-7786), email us or post on our forum.
If you missed our extensive coverage of the 2018 Prefontaine Classic, click here to catch up.
****
A Missed Storyline By NBC But We Sort Of Understand Why
Article continues below player
0 – number of words said pre-race and during NBC's national US telecast of the Bowerman Mile at the 2018 Prefontaine Classic about 17-year-old wunderkind Jakob Ingebrigtsen, who finished fourth in 3:52.28. They clearly missed one of the biggest storylines of the meet.
That being said, NBC was in a tough spot as they might have gotten a lot of grief if they hyped up the age of a 17-year-old white guy who ran 3:52 while not making a big deal about an 18-year-old black guy (Samuel Tefera) running 3:51. But in our mind, the age cheating in Africa has been so rampant over the years they've lost the benefit of the doubt.
After the race was over and just before they signed off the air, play by play man Leigh Diffey did mention Ingebrigtsen's name, saying, "Manangoi did hold off Jakob Ingebrigtsen for that third spot — the teenager."
****
Not Great Journalism by NBC
The omission above is debatable. One thing isn't debatable. We found it extremely poor from a journalistic standpoint that Diffey asked color commentator Craig Masback for his opinion on the Hayward Field renovations during the NBC telecast. Really? That's totally ridiculous.
Why is that ridiculous? Because Masback is a full-time Nike employee and the new stadium is behind paid for by Phil Knight — the co-founder of Nike. What do they think Masback is going to say? "Well Leigh, while I work for Nike, I doubt anyone from the company is actually watching this so I'll be honest with you — I actually hate the idea of a new stadium."
Masback is a totally compromised source when it comes to things Nike/Phil Knight. It should be disclosed Craig works for Nike when he's asked about Nike/Phil Knight.
***
Email of the Week / Pre Classic Can You Help This Super Fan Out?
Last week we got this heartbreaking email from a long-time super track fan.
Dear Sir or Madam—
I bought two tickets to the Pre Classic to take my 11-year-old daughter to the Saturday meet. The Ducks' website didn't provide the schedule, and neither did the tickets, so on Friday the 25th, I googled for the schedule and found your website, which said that the Saturday meet started at 3:40 PM. I printed it out. Based on that, we drove down from Portland, arrived at 3:20, only to learn that we had missed the entire meet.
Can you please explain the misinformation you provided?
Very truly yours,
*Name Redacted*
We wrote the fan back and explained to him that our schedule page clearly stated "ALL TIMES BELOW ARE U.S. EASTERN" (We often change the schedule from local time to US ET as many of our viewers are overseas and likely understand NYC time better than Eugene, Oregon, time) but expressed our sympathy for his mistake. We here at LetsRun.com know how hard it is for the average fan to be a fan. It's our full-time jobs to cover track and field and it's really hard for us to know when meets are, when they are on TV, etc. What meet organizers and governing bodies fail to realize but what we understand is that fans want the following above all else: schedule, entries, results, and TV info. Often, that info is not up on the meet website in fully accurate form until hours before the meet starts.
We also asked him if he had spoken to anyone at the meet. Maybe they'd show him some compassion and comp him tickets for next year's meet. Here's what he wrote back.
Thanks for your prompt response. I talked with a woman at the gate near the ticket office. She's the one who told me the meet was over. I went to the ticket office, which had already closed.
Today I called the Duck ticket office, spoke with *name redacted*, who said they can't do refunds for any reason. I didn't think to ask if we could get tickets for next year's Classic. I'd greatly appreciate it if you were able to do so. Although I live in Portland, I grew up in Eugene; my family regularly had seasons tickets to Oregon track, and I took my cousin to the decathlon Olympic trials in 1960, where both Rafer Johnson and C.K. Yang broke the world record (and was later told my dad that Rafer Johnson was his fraternity brother).
I'd be very grateful for anything you can do.
So what do you think Pre Classic organizers? Can you comp this fan some tickets for 2019 (assuming the meet is going to be in Oregon or 2020 if it's not)? If you want to do it, email us and we'll put you in touch with the fan. If not, maybe we'll buy him and his daughter some tickets.
*****
One More Piece of News from the Pre Classic
While many of the world's top distance runners were in action in the men's 2 mile at the Pre Classic, one notable name was sitting on the sidelines: two-time world indoor 3,000 champion Yomif Kejelcha of Ethiopia and the Nike Oregon Project. Though Kejelcha wasn't running, he came down to the meet to watch and we ran into him a couple of times in Eugene, first at Track Town Pizza (pros gotta eat too) and then in the media area at the meet on Saturday.
Kejelcha's English is still a work in progress, but from what we could gather chatting with him, he suffered a bone injury in one of his legs that has prevented him from running recently. He did not seem too optimistic about returning soon, saying that he was hoping to get back to running by July.
****
More Proof That Life Isn't Fair
6 – number of Bolder Boulder titles that Mamitu Daska has now won after she dominated yet again on Monday in Colorado, winning in 32:37 to American Aliphine Tuliamuk's 32:48.
$9,500 – amount of prize money that Daska won for winning the individual ($4,500) and team titles ($15,000 split three ways).
$15,916.66 – amount of prize money that Tuliamuk won for finishing second in the individual race ($6,750 prize money — enhanced as the top American) and third in the team race ($27,500 split three ways — enhanced for Americans).
More: Ethiopia's Mamitu Daska Wins Record Sixth Boulder Boulder 10k Ethiopia's Getaneh Tamire (28:18) won the men's race and led Ethiopia to the men's team title. *Results
*****
Kam Loves Racing The 10k On The Roads and In India
$75,500 – amount of prize money that Geoffrey Kamworor has won at the TCS World 10K in Bengaluru, India — the world's richest 10k — over the years after he won there for the third time in three appearances over the weekend. He clocked 28:18 for the win in his first race since his mesmerizing World Half win, picking up $26,000 in the process. In 2014, when Kamworor won and set the course record of 27:44, he earned $28,500 and in 2012 when he won in 28:00 he pocketed $21,000. Those three races are the only three road 10ks of Kamworor's career.
Ethiopia's Berhanu Legese, who debuted in 2:04:15 in Dubai in January, was second in 28:38.
Women's winner Agnes Tirop of Kenya, the 2015 world XC champ (and 2017 world 10,000 bronze medallist), took home the most cash this weekend as she pocketed $33,000 for winning and breaking Lucy Kubuu's four-year-old course record of 31:46 by 27 seconds with a 31:19. The top three women in the race all bettered the old course record as 14:29 5ker Senbere Teferi was second in 31:22 and Doha Diamond League 3k winner Caroline Kipkirui third in 31:28. Like Kamworor, 2018 world half marathon champ Netsanet Gudeta returned to action for the first time since winning Worlds in this one, but she was only fourth (31:53).
The 24-year-old Kipkirui has been racking up the frequent flier miles of late. On May 4, she ran and won the Doha 3000. Then she traveled 6,501 miles (10,463 km) to race and win the adidas Boost Boston 5,000 in 15:55 on May 19 and then 8,123 miles (13,073 km) to last weekend's race in Bengaluru on May 27.
****
Sara Hall Moves Into The US Top 10
9 – position on the all-time US list for the women's marathon that Sara Hall now finds herself after she ran a pb of 2:26:20 (previous pb of 2:27:21) last weekend to take third at the Ottawa Marathon.
Hall, 35, didn't take up the marathon until she was 31 and her first race in LA in 2015 ended up being a 2:48:02 disaster. While she didn't break 2:30 in the first four marathons of her career, she did run 2:31:14 in marathon #2 and 2:30:06 in marathon #3 and has now broken 2:29 in each of the last four that she has run. Last fall, she ran 2:27:21 (Frankfurt, October 29) and 2:28:10 (Sacramento, December 3) in the span of just five weeks. After being forced to pull out of Boston a few days before the start due to injury, she's back in fine form.
Pretty amazing to see her getting better and better, especially considering she and husband Ryan adopted four children from Ethiopia in 2015.
The Top 10 US Female Marathoners of All Time (Any Conditions) According to TFN
2:19:36 Deena Kastor (Asics) 4/23/06
2:20:57 Jordan Hasay (Nike Oregon Project) 10/08/17
2:21:14 Shalane Flanagan (Nike) 9/28/14
2:21:21 Joan Samuelson (Athletics West) 10/20/85
2:21:42 Amy Cragg (Bowerman TC) 2/25/18
2:22:38′ Desiree Linden (Hansons) 4/18/11
2:24:52′ Kara Goucher (Nike) 4/18/11
2:25:38 Laura Thweatt (Saucony) 4/23/17
2:26:20 Sara Hall (Asics) 5/28/18
2:26:22 Magdalena Lewy Boulet (Saucony) 4/11/10
'= non-records eligible course
Gave my all today on the streets of Ottawa, ended up with a PR!
Grateful, but hungry to keep improving!
Thankful to so many who helped me get to the line, esp @ryanhall3 @maximummobility & @JoshCox — fighting through the injury was worth it. #asics #teamfitbit
?: @joshcox pic.twitter.com/3kmyVkK673

— Sara Hall (@SaraHall3) May 27, 2018
The women's winner in Ottawa was Gelete Burka, who set a Canadian all-comers record of 2:22:17 while on the men's side, 2014 Ottawa champ and 2015 world championship silver medallist Yemane Tsegay, who didn't break 2:16 in 2017, returned to relevance with a 2:08:52 win. Tsegay came from behind to catch John Kipkosgei Korir, Wesley Korir's little brother, who had a nice 2:09:14 debut. Wesley is quite proud, as shown by the tweet below, and it looks like John is in need of a sponsor as he's wearing adidas in one photo and Nike in another.
Thanks @drinksword @catfan7 for helping my bro hydrate well today in his marathon debut !! Fastest debut in the Korir family so far!! pic.twitter.com/EZMUVATbI7

— Hon wesley korir (@weskorir) May 27, 2018
MB: Anyone have any info on John Kipkosgei Korir – Welsey's little brother – who just debut in Ottawa in 2:09
****
From A Career-Best Showing of 4th At Conference To 4:00 At Pre, Meet Australia's New 1500 Record Holder Linden Hall
4:00.86 – new Australian 1500 record that belongs to Linden Hall, who ran that to finish 6th at the Prefontaine Classic, just edging past Sarah Jamieson's 4:00.93 national record that had stood since 2006. Coming in Hall's pb was 4:01.78.
Hall, 26, has improved a ton since her time at Florida State, where she competed from 2011-2015. During an inconsistent career in Tallahassee, Hall scored a total of just seven points in the 1500 at her conference championships. Yes, you read that right. In four attempts at the 1500 at the outdoor ACC championships, Hall was just 8th as a freshman in 2012, 4th as a sophomore in 2013, 8th as a junior in 2014 (also 5th in the 5000 that year) and failed to make the final as a senior in 2015 after missing indoors with injury.
But if you think it's inconceivable that Hall could be this good now as a pro, think again. Despite those modest conference showings — and the first three of them can be discounted a little bit as remember the ACC used to be a total joke and hold its outdoor conference meet in mid-April — she did show some flashes of brilliance as she finished in the top nine at NCAA outdoors in the 1500 three times, with a career-best showing of third as a junior in 2014.
In that 2014 race, guess who the winner was? None other than 2018 Prefontaine Classic winner Shelby Houlihan. Houlihan won the 2014 NCAA title in 4:18.10, finishing 1.23 seconds ahead of Hall. At Pre on Saturday, Houlihan won and finished 1.80 seconds ahead of Hall.
In college, Hall also ran 4:15 as a sophomore in 2013 and then 4:10 in July of 2015 — just a month after her last NCAA meet — before running 4:01 in 2016.
From The LRC Archives: 2014 NCAA coverage
****
Prefontaine Was Deep But So Was This Meet In Belgium
23 – number of runners who broke 4:00 in the mile at the Pre Classic last week (11 in the Bowerman Mile and 12 in the International Mile).
21 – number of runners who broke the equivalent of 4:00 for the mile in the 1500 (3:42.2) at the iFam Outdoor Meeting in Oordegem, Belgium.
We've talked about the meet in the past in this column but its depth is amazing. For example, the 5th heat of the 5000 was won in 14:11.73.
More: Ifam results
The LetsRun.com Singlet Gets a New 5000m PR
At the iFAM meet, the trusty LetsRun.com singlet went sub-13:50 for the first time ever as Ben Rainero De Haan ran 13:47.87 for 4th at in the 2nd heat of the 5000 at iFAM. The old PB was 13:54.10 from way back in 2001, but the singlet (it really is the same singlet) did give Galen Rupp a run for his money last year in a 5000.
****
Quotes of the week (that weren't quote of the day)
#1 Kerron Stewart wants to be a coach
"I plan to be one of the best coaches in the world. That is something I am definitely working towards. My experience alone as an athlete won't do, so I am trying to learn as much as I can from different coaches and just people who have been in the sport.
" … You never really walk away from the sport. Jamaica has a huge talent pool, and the future is bright, so I definitely want to mentor and just to give back in that capacity in any way that I can because if you can teach somebody something, that is the best thing that you can do."
-2008 Olympic 100m silver medallist Kerron Stewart, 34, talking to the Jamaica Gleaner about her future plans after she retires from being an athlete this year. Stewart starred collegiately in the US for Auburn.
#2 Wycliffe Kinyamal wants to lower his pb so it's "more scary" to his competitors
"My focus right now is running faster times and just lowering the personal best time to digits more scary to my competitors. That way, I will have to be chasing it all the time and that will make me more competitive."
-Kenyan 800-meter runner Wycliffe Kinyamal, who sports a 1:43.91 pb, talking to mediamaxnetwork.co.ke about his goal for the 2018 Pre Classic. Kinyamal didn't lower his pb to a scary number, unfortunately, as he ran 1:46.14 for third.
****
Screenshot of the Week
For those of you who hate when we use terms like American-born, this will really set you off. Here is a screenshot we took last week from The Daily Nation last week in Kenya. Notice how they point out that cyclist Chris Froome is Kenyan-born.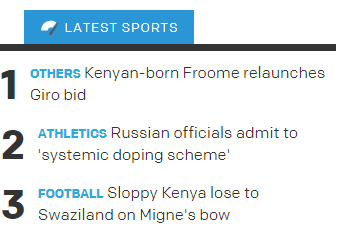 ****
RIP
****
Recommended Reads
To see our favorite reads from other weeks, go here.