adidas Boost Boston Games Day 2: Shaunae Miller-Uibo Breaks 150m WR; Tori Bowie (11.05 100m) & Noah Lyles (14.77 150m) Grab Wins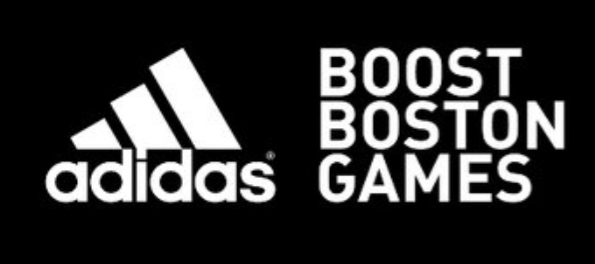 May 19, 2018 to May 20, 2018
By Jonathan Gault
May 20, 2018
BOSTON — Two appearances at the adidas Boost Boston Games for Shaunae Miller-Uibo, two world records. Last year, the Bahamian Olympic champion at 400 sprinted down the temporary track on the Boston Common and stopped the clock in the women's 200 meters at 21.76 seconds — the fastest ever in a straight 200. Today, Miller-Uibo dropped down in distance but the outcome was the same as she once again departed with a world record, running 16.23 to shave .07 of a second off the mark Tori Bowie set here in 2017.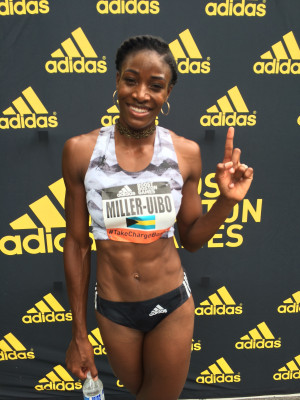 Miller-Uibo's win was one of several for her Clermont-based PURE Athletics training group as Bowie (11.05 in the 100) and Noah Lyles (14.77 in the 150) also earned victories.
Article continues below player
Recap, results and video interviews below.
Full results here. If you missed our day 1 recap of the distance action, catch up now: LRC Drew Hunter Earns His Biggest Win To Date, Ajee Wilson & Charlene Lipsey Impress On Day 1 At adidas Boost Boston Games.
Women's 150: Shaunae Miller breaks the world record
Miller-Uibo said that she did not have the world record in mind before the race; instead she was focused on the stoplight that overhangs the track, which she used as a landmark to judge her speed in the unfamiliar 150-meter race. But Miller-Uibo said there wasn't much shifting gears as she rarely runs a shorter race than this.
"The 150, it's go from the get-go for me," Miller-Uibo said.
For those unfamiliar with what a 16.23 in the 150 means, it's an average speed of 9.24 meters per second, slower than Florence Griffith-Joyner's world records in the 100 (9.53 m/s) and 200 (9.37 m/s). If Miller-Uibo could hold that speed for a full 200, it would come out to 21.64.
Up next for Miller-Uibo is the 400 at the Prefontaine Classic, and if today's result was any indication, we could be in store for something special. Miller-Uibo said at Friday's press conference that she did not try to peak for the Commonwealth Games last month, but she still showed up and won the in 22.06. Next week she'll get a shot at Allyson Felix and world champ Phyllis Francis at Pre in the 400; a time well under 50 seconds seems possible.

Men's 150: Noah Lyles catches Nethaneel Mitchell-Blake
Lyles didn't get the best start as he was behind Great Britain's Nethaneel Mitchell-Blake early on. But once Lyles gets his long limbs going, he's hard to beat, and he wound up winning, 14.77 to 14.81.
"I thought for a quick second I was like, hmm this guy could beat me," Lyles said of Mitchell-Blake. "And then I was like, you know what, I don't let anybody beat me, why should I let him beat me?…It takes me a little while to get started, but once I hit top speed, I'm done. It's over."
After the race, Lyles was having fun as he showed off some dance moves inspired by YouTuber King Vader before signing autographs and "racing" his agent Mark Wetmore's young sons down the track.
Lyles, like Miller-Uibo will also be in Eugene next week as he's running the 200 at Pre. Lyles said he's already got his next celebration planned, and says it will be "DBZ-themed." (Dragon Ball Z?)
"If you know what that means then you should be excited," Lyles said with a smile.

Women's 100: Tori Bowie is a little frustrated, but still wins in 11.05
Bowie hasn't run any major races this year, but that will change next week when she runs the 100 at the Pre Classic. She tuned up for it by running 11.05 today, and though Bowie wasn't pleased with her performance, saying she did not stay patient, it was only .02 slower than what she ran here in 2016 when she went on to claim Olympic silver.
To this point, Bowie has been putting in a lot of work at practice but now it's time to start racing, and she has a great track record at Pre. Bowie first made a name for herself with her surprise 200 win at Pre in 2014, and she won a loaded 200 last year in 21.77, which put her into the top 15 in the world all-time. She will run the 100 next week, though the rest of the field has yet to be announced.
I also asked Bowie what happened at USA Indoors, where she was initially entered in the 60 before withdrawing as a late scratch. Bowie declined to discuss it in detail, citing only "training issues."
100 meter hurdle world record holder Keni Harrison was also in this race – a rare flat 100 for her – and she was 4th in 11.39 not far off her 11.35 pb.

Men's 200: Steven Gardiner is the only man under 20 seconds
The Bahamas' Steven Gardiner has been on fire all year long and that continued today as he won the straight 200 in 19.88. Though the time was slower than the world-leading 19.75 Gardiner ran in Coral Gables last month, it was only .04 behind the 19.84 that Wayde van Niekerk ran at this meet in 2017. Van Niekerk, of course, went on to win the 400 at Worlds and earn 200 silver a few months later.

Men's 100: Zharnel Hughes comes on late to win
Hughes, like his British countryman Reece Prescod in Shanghai last week, came on late from the outside lane to defeat a field that included Olympic/World finalists Akani Simbine and Yohan Blake. Hughes clocked an impressive 9.99, though the wind (2.4 m/s) meant that it was not an official pb.

Women's 200 hurdles: Ebony Morrison wins in an American record of 25.80
Morrison, the ACC indoor champion for Miami last year in the 60 hurdles, shaved .10 off of Dalilah Muhammad's four-year-old American record in this rarely-contested event.

Men's 200 hurdles: Eric Futch prevails
Futch, who won the last two NCAA 400 hurdles titles for Florida, edged 2016 Olympian Byron Robinson, 22.55 to 22.62.

adidas Dream HS girls' 100: Jamaican phenom Briana Williams wins it
Williams, a 16-year-old who ran 11.27 to win the U17 title at the CARIFTA Games in March, crushed this field to win in a meet record of 11.35. Williams is Jamaican and coached by former 200m world champ Ato Boldon.
adidas Dream HS boys' 100: KeSean Carter breaks meet record
The meet record fell in the boys' 100 as well as KeSean Carter of The Woodlands, Texas, won a close one in 10.31 seconds. Carter, a wide receiver, will run and play football for Texas Tech next year.

Women's 200: Jamaica's Anastasia Le-Roy wins in 22.16
The 30-year-old Le-Roy earned Commonwealth Games silver in the 400 last month and looked strong dropping down in distance today. Her 22.16 on the straight track today was almost seven-tenths faster than her pb of 22.85 on the oval.

Men's 110 hurdles: Olympic silver medalist Orlando Ortega lowers his own meet record
Ortega, who finished .01 behind world champ Omar McLeod in Shanghai last week, got the win comfortably here over US indoor champ Jarret Eaton and US outdoor champ Aleec Harris, running 13.29 — .01 faster than the meet record he set last year.

Women's 100 hurdles: Sharika Nelvis wins
With Keni Harrison running the flat 100 (4th in 11.39), the women's 100 hurdles was a more open affair and US Indoor champ Sharika Nelvis seized the opportunity, edging 2015 world champ Danielle Williams to win in 12.76. Nelvis let up early before the line but it didn't end up costing her the victory.

More: Day 1 Recap: LRC Drew Hunter Earns His Biggest Win To Date, Ajee Wilson & Charlene Lipsey Impress On Day 1 At adidas Boost Boston Games
Messageboard Discussion: MB: Official adidas Boost Discussion Thread