2018 Boston Marathon Men's Media Day Highlights: Galen Rupp has run "significantly" more than before and gets front page Boston Globe coverage
Plus The Top Ethiopians Say They Are Ready
by LetsRun.com
April 13, 2018
BOSTON — Annually the Boston Marathon elite press conference at the Fairmont Copley Plaza is one of the most hectic 90 minutes of the year for journalists as rather than spread the elite interviews over several days like New York and London, Boston throws all 30+ elete athlete out there at once. We did our best to make a mad scramble to talk to the major players and did a fairly good job of it, but we apologize in advance for not being able to get to defending men's champ Geoffrey Kirui (we'll try to reach out to his coach Renato Canova via email). We share the highlights from the men we talked to at today's event below.
Article continues below player
The highlights from the women's press conference can be found here: The Elite Women Speak In Boston: Hasay Discusses Her Injury, Shalane Feels As Fit As Before NYC & Desi Thinks Her "A" Race Is Good Enough To Win.
Galen Rupp ran "significantly" higher mileage in this buildup than he ever has, feels completely prepared for Boston
Rupp was clearly very happy with how his buildup has gone for Boston. He noted that he's running the highest volume of his life. He wouldn't say exactly how much but said "it's a lot more than I've ever done before." That said, he said that he still feels that he's been able to keep his speed, as evidenced by his 59:47 half marathon in Rome last month.
Rupp also feels more prepared for the in-race challenges Boston presents. He has added more hills to his training — something his injury in last year's buildup prevented — and knows to be more patient this year after pushing a little too much on the Newton hills in 2017.
"That was a lesson I definitely took and tried to use in Chicago, is make sure that I saved a little bit for that last five or six miles," Rupp said. "That's really where the race is won and lost."
Rupp showed up on the front page of the Boston Globe today but may not have been thrilled with the publicity
The front page of the Boston Globe – not just the front page of the Sports section – looked like this.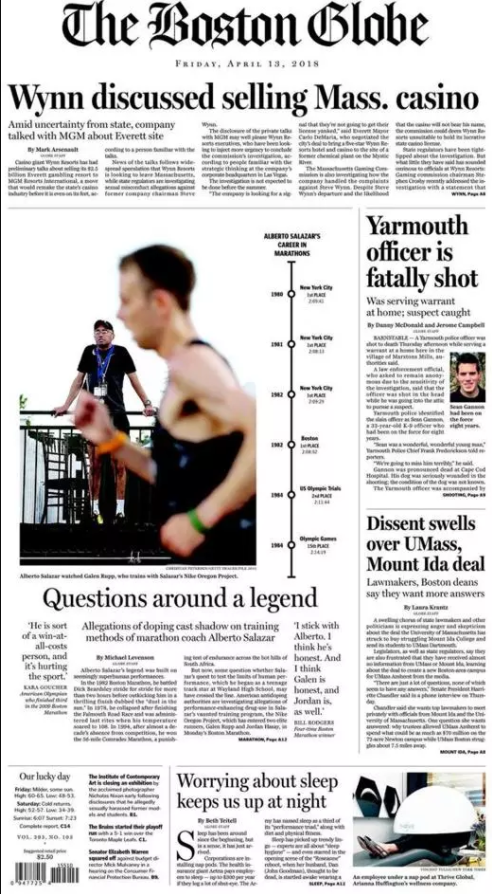 As you can see, it featured an article about the questions surrounding the Nike Oregon Project team which is coached by former Massachusetts legend Alberto Salazar.
More: As the celebrated coach Alberto Salazar faces doping allegations, a shadow is cast over two of his elite runners competing in the Boston Marathon
Related MB Discussion: Al Sal talking big b4 Boston: Rupp has had "by far" his best prep & "will definitely be much harder to beat than last yr" 
Two-time champ Lelisa Desisa says he's fit and ready to go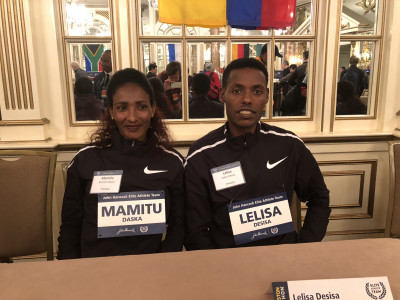 Lelisa Desisa has run Boston four times and has run really well here on three of those occasions (he won in 2013 and 2015 and was second in 2016, with a DNF in 2014). Expect a fourth strong showing in five appearances on Monday as Desisa said his training block has gone well and he feels it's similar to when he's won here in the past.
We asked Deissa to compare his fitness to last fall when he was third in New York and Desisa said that his third-place showing in NY wasn't a great result for his fitness level as he developed gastric problems and lost a lot of fluids once he arrived in NY a few days before the race. Desisa knows that even if you are in the best shape of your life, you aren't going to win a men's major if you are sick.
Last year, Desisa skipped Boston to run the Breaking2 event. We asked him if that was tough to do as he had to know based on his prep race (62:55) that he wouldn't be able to handle it. Desisa said his training was ok but he wasn't 100% healthy which made it impossible to handle the pace.
Ethiopian coach Gemedu Dedefo — the coach of both Tamirat Tola and Lemi Berhanu, the fastest two men in the field with pbs of 2:04:06 and 2:04:33 — said both of his men's stars are in good shape
Dedefo said he expected both men to be "top 3 for sure."
Tola, whom we ranked as the #3 marathoner in the world for 2017 based on 2:04:11 win in Dubai and his WC silver — also sounded very confident. He mentioned the fact that he has been training with 2:03:46 man Guye Adola, who is running London, and said he thought both of them were ready to win.
When we asked Dedefo to compare the three runners Berhanu, Tola and Adola, he was extremely high on the 26-year-old Tola and without hesitation said he's the one to watch "for the future" as he said Tola is "very serious about everything."
That being said, Dedefo did admit that he does "worry that maybe" that Tola didn't have quite enough time to recover from Dubai, which Tola ran on January 26 in 2:04:06 (3rd place) as Dubai and Boston are only 80 days apart this year (last year they were 87 days apart).
Dedefo said Berhanu was very much motivated to do well after his DNF last year which Dedefo blamed on the warm weather.
Abdi Abdirahman has been training with Mo Farah in Ethiopia
The 41-year-old Abdirahman had spent most of his recent marathon buildups training alone, and though the results were strong — he was the top American in New York each of the past two years — it was hard for him to grind out workouts by himself.
So for this one, he linked up with friend Mo Farah and together they've started a new group in Ethiopia called the Mudane Team. Abdi reports that Farah is looking fit and that it's been hard for the guys to hang with him in longer workouts, with some of the athletes having to rotate in and out in order to keep pushing the pace with Farah.
In recent years, out-of-competition drug testing has not been particularly robust in Ethiopia, but Abdi said that was not his experience.
"We get drug-tested all the time," Abdirahman said. "Actually, they came like once a week. Especially someone like Mo, they came, almost sometimes twice a week, three times a week. So I [was] tested three, four times while I was there."
As for his prospects on Monday, Abdi said that he came into last year's Boston Marathon (where he finished 6th) limited by illness in his buildup but he feels much better about his preparation this time around.
His goal?
"Goal is to win, man!" Abdirahman said. "You know, I'm here, we're all here to win the race, and that's my main goal."
Shadrack Biwott is hoping for a second straight top-five finish
Biwott was fourth last year but said that his buildup for that race was not ideal as he missed eight days of training three weeks before the race because of illness. He also said he got to train with Dathan Ritzenhein in Florida for four weeks during this buildup, which was a welcome change to grinding out workouts alone.
"This time around, everything has been going very well," Biwott said. "I'm healthy, I had great training."
Kevin Hanson shares more about Ritz's injury
We asked Kevin Hanson for more on Dathan Ritzenhein's SI joint injury that caused him to pull out of the race. Hanson said it all developed incredibly fast. It happened during Ritz's last major workout before the race (we think he said it was last Thursday but aren't sure). Ritz successfully completed a 4-mile (at marathon pace), 3-mile (5 seconds faster than marathon pace), 2-mile (at 10 seconds faster than marathon pace) workout but when he was done cooling down he said that things felt tight. "By that evening," Hanson said, Ritz "couldn't walk" and treatment –even an injection into the area — didn't get it better.
It was interesting to note that when we asked many of the African elites about the weather today, it appeared that they had no idea about the forecast, which predicts that they'll be racing in rain and into a stiff headwind.
When specifically asked about the forecast, neither Lelisa Desisa nor Tamirat Tola seemed fazed in the least (and one of them actually seemed a tad bit excited but unfortunately we couldn't remember who it was), but a few women did admit it could an issue.
Edna Kiplagat didn't like the fact that rain was in the forecast whereas Aselefech Mergia said the rain wouldn't be a problem for her — she raced in the rain before (of course it should be noted she was only 41st in at the rainy London Olympics in the year she ran her 2:19:31 pb) — but the wind would be an issue.
While the two African women that we asked about the weather didn't seem thrilled about it, one thing that surprised us was that Ethiopian coach Gemedu Dedefo said he thought the dicey forecast could benefit the Africans in the women's race. He said he thought if the Americans waited to make the race honest, they have "lost the race." He thought bad weather favored the Africans as "they do training in every weather."
Once again, the athlete introductions were painful
John Hancock pours a lot of money into sponsoring the elite fields at Boston every year, which we applaud. But the one guarantee at the elite press conference is that there is going to be an awkward moment as one of their employees tries to introduces the pro fields and elite athlete ambassadors. One year, they introduced Dathan Ritzenhein by using only his first name but totally butchered it.
This year, it came when John Hancock CMO Barbara Goose was introducing some of the legends assembled alongside her. She welcomed back "former Boston champions" Meb Keflezighi, Tatyana McFadden, Deena Kastor, Bill Rodgers, Joan Benoit Samuelson, and Ryan Hall, recognizing each by name.
The problem? Kastor and Hall never won Boston.
Even worse, she skipped over 1983 champ Greg Meyer (who was sitting right next to them). Fortunately, Meb was there to help out, quietly bringing this up to Goose, but instead of correcting herself, Goose compounded the error by introducing him as "Greg Meyers."
It's great to see all the legends together in one room, but if you're going to introduce them to the media, at least take the time to get the facts straight.