The Elite Women Speak In Boston: Hasay Discusses Her Injury, Shalane Feels As Fit As Before NYC & Desi Thinks Her "A" Race Is Good Enough To Win
By LetsRun.com
April 13, 2018
BOSTON — The 122nd Boston Marathon is three days away and it's time to get excited. The weather is great in Boston (well, today it is, at least; race day looks as if it will be wet and windy) and the big names were out in force at the Fairmont Copley Plaza Hotel today for the elite press conferences.
LetsRun.com had two pairs of boots on the ground today (co-founder Robert Johnson and staff writer Jonathan Gault) and we've put together two articles sharing everything we know. The women's article, which includes an update on Jordan Hasay's injury, Shalane Flanagan's fitness, and Desi Linden's thoughts on her chances, is below. The men's article, which includes interviews with Galen Rupp, Abdi Abdirahman, and insight from top Ethiopian coach Gemedu Dedefo, can be found here.
Article continues below player
Shalane Flanagan feels that her fitness is "about the same" as when she won New York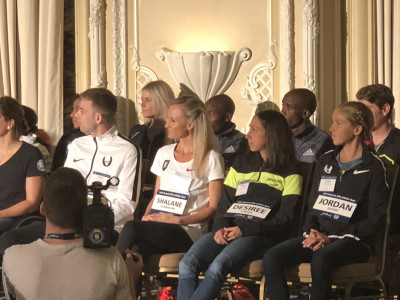 Flanagan said that her actual marathon buildup for Boston went very well, with Flanagan spending a good chunk of it at altitude in Colorado. She said that her fitness is about the same as it was when she won New York last fall and that this will likely be her final attempt to win her hometown marathon.
"I think it will probably be my last Boston, but I don't know that it will be my last marathon. I don't know," Flanagan said.
The one big difference between this buildup and her previous ones is that Flanagan enters as a World Marathon Major champion, which means that the usual decompression period that comes after finishing a marathon cycle did not exist.
"After New York, I was really fatigued doing a lot of extracurricular activities and I was still running and trying to train at the same time. And it's really exhausting trying to do both. I was more fatigued going into this buildup because I didn't really get a break or rest or anything."
But once Flanagan got into the meat of her buildup, she put those obligations aside and focused on training 100%. The result is that she goes into Boston with her best chance yet of winning the fabled race.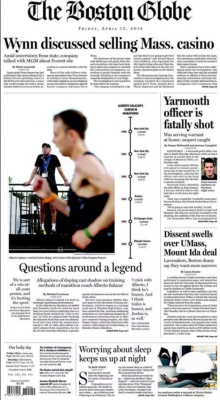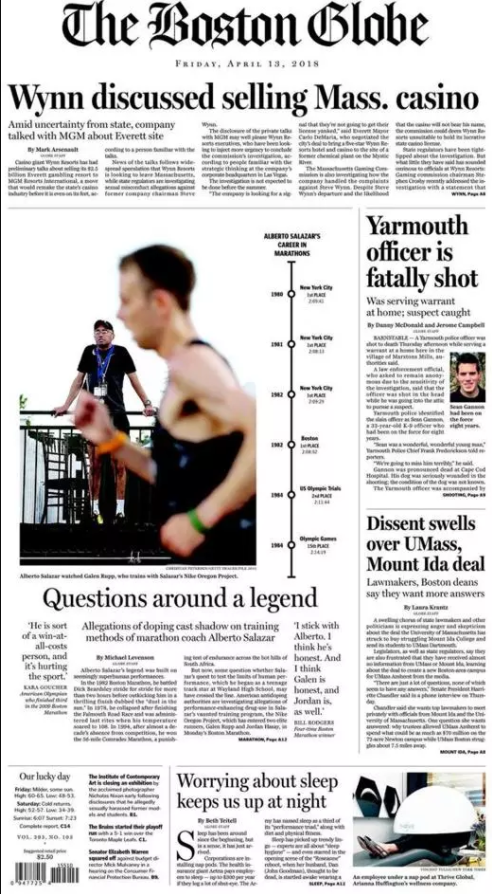 Desi Linden thinks her "A" race is good enough to win, not thrilled about Ritz joining Hansons-Brooks
This will be Boston Marathon #6 for Desi Linden, and when we asked her about it, she responded that, "I'm old, man."
For the record, she's 34 — not that old — but she has been running Boston since 2007 and wants to finally win the race after finishing in the top four on three occasions, including last year.
Linden said she's made some tweaks to her training — running slightly fewer miles and adding more shorter, faster sessions toward the end of her buildup — with the hope that those she can make small gains that will add up to enough to put her over the top and win a race like Boston. She's also following the Flanagan gameplan of skipping a major marathon, and while the reasons were different (Flanagan's absence in spring 2017 was forced by injury; Linden's absence in fall 2017 was self-determined), Linden is hoping for a similar result.
"I feel like hitting reset and mentally refreshing, physically refreshing, sharpening up, I think that will all help out on Monday, but it also gives me room to build into the next couple years so hopefully I can make little improvements to 2020," said Linden.
Linden also had some interesting things to say about Dathan Ritzenhein, a former member of the Nike Oregon Project, joining her training group which appears in a separate article.
Doping was certainly on many people's minds today as the front page of the Boston Globe has a story about the questions surrounding the NOP.
Jordan Hasay missed a week of workouts due to foot injury but still feels that she is in "PR shape"
The week after she finished second at the US 15K champs on March 10, Hasay's peroneal tendon flared up during a long run, forcing her to miss a week of workouts. But she's been diligent about receiving treatment and hasn't missed any sessions since then. Heading into Boston, she feels excited about her fitness. We asked her how fast she thought she could run right now on a fast course such as London or Berlin.
"Definitely PR shape," Hasay said. "I've done quite a few really great long runs…I was pleased with the races I did do. Overall, everything is right where I'd like it to be."
Hasay also noted that the silver lining of her injury is that it helped her from overcooking things before the race.
"In a way, my foot injury was good because it prevented me from maybe doing one more marathon in practice," Hasay said. "We've been doing 25-milers almost every week, so I had to skip one of those."
Hasay spent a good chunk of this buildup training at home in California, explaining that the weather was better and the terrain hillier than Portland, where the NOP is based, but said she still talks to coach Alberto Salazar "every day," sometimes twice a day.
Hasay also isn't fazed by the 20+ mph headwinds in the forecast, saying that she was rooting for hot weather and a headwind and wound up getting half of her wish.
Molly Huddle: "It's just good to have no excuses going in"
Huddle said that it's rare for her to have a training block with no hiccups but that is what she has had going into Boston despite running the highest mileage of her life.
Everything coming out of the Huddle camp has been positive, but if there is a reason to doubt her (other than the fact that this is just her 2nd marathon) it is that she has never raced a marathon of off such high mileage, which could leave her a little fatigued on race day. Huddle didn't back off for the US 15K champs last month and won there comfortably, and said that recently she's been able to recover well from her long runs in time for her track sessions a few days later. So the signs are good. But Huddle won't truly know if she rode the line between aggressiveness and overaggressiveness until the race is over.
"Marathons are weird like that," Huddle said. "So hopefully we'll see if this was the right mix of a lot more work but not so much that we're tired."
Defending women's champ Edna Kiplagat says she's in good form and ready to defend.
Kiplagat was upbeat about her chances as she said her training was "almost the same" as last year. When we asked the 38-year-old, who after winning in Boston last year was 2nd at Worlds and then 4th in NY, if her declining places as the year wore on last year was a sign that "Father Time" was catching up with her, she did not. She thought it was tough to win her other two marathons last year as she had less of a buildup for each of them, noting that while she had four months to train for Boston, , she only had three months to train for Worlds and 2.5 months for New York. Now that she's had a full training block once again, she's feeling confident.
That being said, Kiplagat did seem more concerned about the potential for rain than some of the others. "No one likes to run in the rain," said Kiplagat, who said "It was not good for me to run in the rain" at the 2012 Olympics where Kiplagat was just 19th. She said most of the days in Kenya during this buildup have been "warm and good."
Ethiopian coach Gemedu Dedefo said that Aselefech Mergia has the heart of a lion
Dedefo said the key for Aselefech Mergia, the woman with the fastest pb in the field (2:19:31), is simply to get to the 5k mark with a bib on her as once she gets in a race, she's a ferocious competitor. Once she puts a bib on, Dedefo said Merga is transformed and "changes her mind. She is like a lion."
Mergia, the three-time Dubai winner (2011, 2012 and 2015; she also won London in 2010), hasn't run a marathon faster than 2:23:53 or won a marathon since taking Dubai 2015 in 2:20:02, but Dedefo said he thought she was in 2:20 shape in Dubai this year where she ended up a DNF. He said she "stepped on water" at 10k and got injured (we didn't ask him to clarify if that means she just slipped or actually fell down).
Dedefo did admit that he wasn't sure how Mergia would do on the downhills of Boston as she's taller than most female runners and thus the "downhills are not easy for her."
Mamitu Daska says she's in better shape than when she was third in NY in November
On paper, things aren't looking great for Daska as the 34-year-old hasn't broken 2:24 since 2012 and she has finished just 9th and 12th in her two previous Boston runs. Plus she ran just 72:50 at the NYC Half last month. That being said, when we talked to her she said she thought she was fitter than she was when she was third in NY.
The LRC messageboard may have been obsessing over the Boston forecast for days but many of the top Africans didn't even know about the forecast.
It was interesting to note that when we asked many of the African elites about the weather today, it appeared that they had no idea about the forecast, which predicts that they'll be racing in rain and into a stiff headwind.
When specifically asked about the forecast, neither Lelisa Desisa nor Tamirat Tola seemed fazed in the last (and one of them actually seemed a tad bit excited but unfortunately we don't remember which one), but a few women did admit it could an issue.
Edna Kiplagat didn't like the fact that rain was in the forecast whereas Aselefech Mergia said the rain wouldn't be a problem for her — she raced in the rain before (of course it should be noted she was only 41st in at the rainy London Olympics in the year she ran her 2:19:31 pb) — but the wind would be an issue.
While the two African women that we asked about the weather didn't seem thrilled about it, one thing that surprised us was that Ethiopian coach Gemedu Dedefo said he thought the dicey forecast could benefit the Africans in the women's race. He said he thought if the Americans waited to make the race honest, they have "lost the race." He thought bad weather favored the Africans as "they do training in every weather."
Buzunesh Deba may struggle again
Boston course record holder Buzunesh Deba hasn't broken 2:30 in any marathon since 2015. That streak could continue on Monday as her husband said she's had a knee issue and he's not sure how her knee will hold up on the downhills.